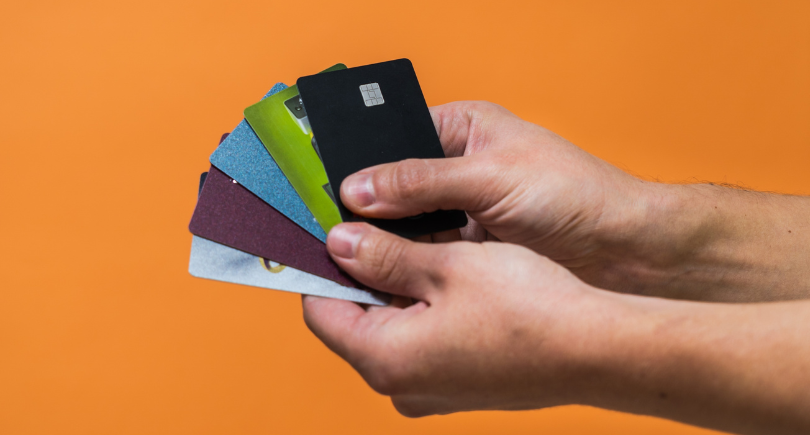 How many types of credit cards are there, exactly? Quickly put: a lot. However, there are a handful of categories that credit cards generally fall into which makes it much easier to navigate the various options available. Broadly speaking, here are the most important types of credit cards you should know about:
Rewards credit cards
Using your card to make a purchase earns you, the cardholder, some form of reward as a percentage of your purchase price. Rewards cards come in two main varieties: cash-back rewards and points/miles rewards, which may also be known as travel rewards.
Cash-back credit cards
A good cash-back rewards card can find a place in just about anyone's wallet. As the name implies, you earn cash back on all the purchases you make with the card. You can generally redeem your cash-back rewards as a statement credit, check in the mail or a deposit directly to a linked account. There are several forms of cash-back rewards cards including flat-rate, tiered, rotating category, and cardholder's choice cards. All earn rewards a little differently, but they're all the same in that they earn cash back on purchases made with the card.
Travel reward credit card cards
As with cash-back rewards cards, travel credit cards earn rewards on purchases (usually the most on travel purchases), but these rewards are often in the form of points or miles which can be redeem for forms of travel or travel experiences. It should be noted that travel rewards cards often also let you redeem rewards for cash back, gift cards, or statement credits, but most often, redeeming these rewards for travel will almost always offer you the best value. Sometimes points can even be transferred to airline and hotel loyalty programs for additional value.
Gas reward cards could easily fall under the travel reward credit card umbrella; however, since filling up your car with gas is something many Americans, not just travelers, have to budget for, it warrants a category of its own. These cards offer bonus rewards on gas purchases, and often in other categories as well. These can be a co-branded card, such as the CardName, or a non-branded card like the CardName. Citi is a CardRatings advertiser.
The rewards currency for these cards can vary. Most often they're cash-back cards, but rewards can sometimes come in the form of points or miles as well.
Co-branded credit cards
These cards are offered through traditional credit card issuers like American Express or Citi, but have a co-branded partnership, most often with an airline or hotel loyalty program such as American Airlines or Marriott Bonvoy. You'll ocassionally also see retail co-branded credit cards, as well as gas co-brands.
These cards often earn bonus rewards with their particular co-brand, and can be redeemed for the best value through the brand's loyalty program, store, or place of service.
Balance transfer credit cards
Many credit cards offer cardholders the option to transfer a balance from one card to another card, which is a worthwhile option to consider if you're paying higher interest on some outstanding debt on that first card. However, when people refer to "balance transfer credit cards" they are generally referring to a card that offers you an introductory 0% APR on transferred balances for a certain period of time when you apply for and are approved for that new card.
Obviously, going from paying 16.99% interest (for instance) on an existing balance to paying 0% interest can save you a ton of money and allow you to take a little extra time paying off that debt interest-free, but keep in mind that these cards usually charge an initial fee to make the transfer (often 3% or 5% of the transfer amount). You'll likely still save in the long term if you have a significant debt you need months to pay off, but this fee is important to keep in mind. You'll also want to make sure to pay off your transferred balance before the promotional period expires as regular APR will apply to any remaining balances once it does.
➤ LEARN MORE:What is a balance transfer credit card?
Another popular offer you might come across is intro 0% APR on new purchases. This is often a feature of many balance transfer cards, but you might also see it as part of a welcome bonus from other types of credit cards, like cash-back cards. Similar to balance transfer offers, intro 0% APR credit cards offer an introductory period where you won't have to pay any interest on new purchases made with the card. Once the introductory period is over, regular APR will apply to any balances carried.
Business credit cards
Business credit cards are designed for business owners – of businesses both big and small – to handle business expenses. Whether you're a freelancer or manage a team of 50, the rules about who can apply for these cards are pretty flexible. In order to get a business credit card you are required to be an "authorized officer" of a business, which means that you are in the legal position to enter into contracts with financial institutions on behalf of the business.
➤ LEARN MORE:Who can apply for a business credit card?
Business credit cards help users to keep personal and business expenses separate, but they also come with a number of lucrative perks such as free employee cards, business-management tools, and bonus rewards earned on business purchases.
➤ FURTHER READING:Why do you need a small business credit card?
Student credit cards
Just like business credit cards are designed for business owners, student credit cards are design for students.
Under current banking regulations, students must wait until after they reach age 18 to apply for a credit card in their own name. Beyond that, proof of enrollment and some sort of income are generally required to qualify for a student credit card offer. These cards don't often have the highest limit or the lowest annual percentage rate, but can still be valuable tools as they can help students build responsible financial habits. Plus, many student credit cards also come with at least a low level of rewards, incentivizing students to use them (responsibly). The CardName, for example, offers cardholders 1% cash back on all eligible purchases plus a $20 Good Standing Reward, which is earned by maintaining a healthy account, each account anniversary for up to five years.
➤ LEARN MORE:How to get a student credit card
Retail/store credit cards
These cards are often offered to you at the point-of-sale when you're shopping. They frequently come with a pitch that goes something like, "Would you like to save 10% on your purchase today by opening a [insert store brand here] credit card." Many, many retail brands offer a store credit card that you can use only when making a purchase at that store or within that store's brand. Be careful not to confuse these cards with branded credit cards, like the CardName. The Costco card is a co-branded card, so the rewards you earn are directly tied to the brand of the card BUT you can use the card anywhere that a credit card is normally accepted as opposed to only at Costco.
➤ FURTHER READING:Are retail credit cards worth it?
Secured credit cards and credit builder accounts
A secured credit card requires the cardholder to put down a refundable security deposit, often anywhere from about $50 up to a few hundred dollars, in order to secure the line of credit on the card. These cards help people with limited/no/bad credit history qualify for a credit card, which can, with responsible use, help you build a better credit history. Some offer rewards and other features, but all require that initial deposit in order to establish your line of credit. Once your credit improves and you can qualify for a non-secured or traditional credit card or you decide to close the account, the security deposit is fully refundable as long as your account is fully paid up.
➤ LEARN MORE:How do secured credit cards work?
Credit builder accounts generally don't require you have to have a good credit score, and many credit-builder lenders don't even run a credit check when you apply. If you're approved for a credit-builder account, the lender deposits the amount of the loan into a savings account which you'll make monthly payments on. Those payments are then reported to at least on of the major credit bureaus, so if you make on-time payments, it can help you build your credit score. Once the loan is paid off you'll have access to the money that you deposited.
➤ FURTHER READING:Tools for building credit: Credit builder accounts, secured cards
Non-reward credit cards
Yes, these still exist and they really are intended to simply offer someone a means of making purchases without cash or check. If you've been carrying the same card for 30 years, this is probably what you have. There's nothing inherently wrong with a non-rewards credit card, but if you're using a card at all, doesn't it make sense to earn some rewards or benefit from other perks like an intro 0% APR offer?
Final word
It should be noted that some of the categories above overlap. For instance, a retail/store card often offers some form of rewards, so you could consider it a "rewards card." There are also instances in which a bank markets a card as a "cash-back rewards card," but that cash back accumulates as points that can be redeemed for cash back or as travel rewards. CardName is a good example of this in that you earn "cash back" according to the marketing materials, but the rewards accumulate as Chase Ultimate Rewards points that can be redeemed for travel (or any number of other purchases and merchandise, actually). Some balance transfer credit cards also offer rewards on purchase; business and student credit cards are also rewards credit cards; etc. In general, though, the aforementioned categories are the most commonly mentioned types of credit cards.
If you are searching for something more niche, such as the best credit cards for dining, or the best credit cards for groceries, check out our list of the best credit cards, where you can explore top cards in various categories.