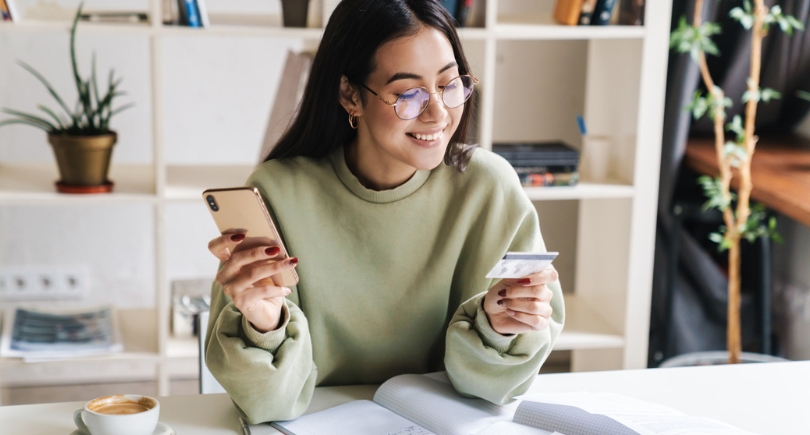 Bankruptcy, loss of income, repeated late payments, default or simply being new to credit can make it difficult or impossible to qualify for a traditional, unsecured credit card.
Has a bank turned you down for a credit card in the last three months? Are you trying to establish credit but finding lenders don't trust you yet? Becoming creditworthy again or establishing credit while having no credit history takes work. If your credit score is low and you need credit to build credit, what are your options?
One good option comes in the form of a secured credit card. Secured credit card issuers (which include some of the biggest names in the card market) require a security deposit in order to establish the line of credit for the card they issue you. It helps offset the the risk they feel they're assuming taking on a borrower with little, no or bad credit.
With a traditional unsecured credit card, your credit score, assuming it's good or better, speaks to your creditworthiness and that's the amount of confidence the issuer places in your ability to repay. For users with fair or bad credit scores, the security deposit, rather than your not-excellent credit score, secures the issuers' confidence that they won't lose money.
Secured cards are one of the fastest means to improving your credit if you use them responsibly. Let's take a look at the ins and outs.
How do secured credit cards work?
Secured credit cards require cardholders to use their own money as a security deposit, basically, collateral, to establish a line of credit. When using a secured card for a purchase, the charge doesn't subtract from the deposit. When the bill comes due, you must make at least the minimum payment or you could face fees.
If the cardholder continues to miss payments or allows the account to default, the issuing bank will use the security deposit to pay the balance and likely close the account. In such an instance, the card issuer recovers any losses, but the user's credit will certainly suffer.
Bottom line: Secured credit cards assure the issuer they won't lose money if you fail to repay your charges. On a day-to-day basis for the consumer, you use them the same way you would any other credit card.
Who qualifies for a secured card?
People with poor or bad credit or who are rebuilding their credit are those who typically need a secured card. Those with no established credit history can also qualify. The biggest catch with a secured card is that qualifying isn't enough — you also have to come up with the minimum security deposit, which is often $200.
Some issuers still require a minimum credit score to qualify, but for many the deposit is the most important factor since it acts to secure the card.
If you have poor or bad credit, don't despair; you aren't alone. Many credit card issuers have secured cards designed specifically for lower scores. Regardless of how troubled your credit history, there is a chance you can find a lender who will issue you a secured card.
Be aware that if you are denied a secured card because of something on your credit report, you have the right to know what it is. The law requires card issuers to inform credit card applicants of why their application was denied in what's known as an adverse action letter. Look for it to arrive electronically or via mail and read it carefully to understand the reason for denial. (cardratings.com)
➤ LEARN MORE: Credit card application denied? Next steps to consider
Do secured credit cards build credit?
Yes! One of, if not the most helpful thing about a secured card, is it does help build credit with responsible use.
First and foremost, it's important to understand whether your card issuer reports activity to the credit bureaus.
As with unsecured cards, issuers of secured cards typically report payments, credit utilization and more to the major credit agencies. All this information comes together to form your credit history and, ultimately, your credit score.
Here are some ways secured credit cards can improve your credit:
It helps establish a credit history. Since lack of credit history is an obstacle to an unsecured card, the use of a secured card can bridge the gap between no credit experience and showing a history of responsible credit usage. This is an important point: secured cards require timely, minimum payments for your credit history to help you.
Allows you to show responsible use/payment. Even if you only have a $200 credit limit, you can show you know how to spend it and repay it consistently and responsibly. Your payment history makes up an enormous part of your credit score. Demonstrating you understand how to use and repay revolving credit is among the best things you can do for your credit score.
Improve credit utilization. This is a tough one if you only have a $200 credit limit, but it is still possible. If all you have is $200 in available credit, yet you only put one $20 purchase on the card monthly and pay it off consistently, you will show low credit utilization. Your ratio of available credit to credit used factors heavily into your credit score.
BONUS TIP!

After showing timely, at-least-minimum payments, some issuers will convert an unsecured card to a secured card. Not only does that likely mean a larger credit limit, it also means the bank will return your security deposit to you.
What are the biggest differences between secured and unsecured cards?
The need for a security deposit is the biggest difference between the two types of cards, but there are three other important distinctions.
First, the approval process for secured cards can be easier than for unsecured cards because of the collateral required. The risk factor for issuers is lower because the full credit limit is already in hand in the form of your deposit.
A second difference is how the credit limit is determined. In most cases, your security deposit will equal your credit limit and a common minimum is $200. Admittedly, $200 could be a hefty sum for some people to hand over as a security deposit. In a few cases, your security deposit could be lower than the line of credit you're provided. An example is the CardNamediscontinued, for which applicants could pay as little $49, depending on credit worthiness, to establish their initial $200 line of credit.
Conversely, unsecured cards generally provide much higher credit limits, again based on the creditworthiness of the user. Limits of $15,000 per card are not unusual for users with excellent credit.
Finally, unsecured cards, because they are based on a proven credit history, typically offer lower APRs than secured cards. A proven credit history translates to a lower risk for credit issuers who then reward users with lower rates.
None of these differences are deal-breakers if you're just looking to improve your credit, but they are all worth keeping in mind.
What are the benefits of a secured credit card?
In addition to the benefits of building credit mentioned above, some companies do provide added benefits for secured cardholders, such as:.
Cash back or other rewards
Low introductory interest periods
A welcome bonuses
Choosing your own payment due date
No credit checks
Comparatively low ongoing interest rates
These, of course, vary by card, so choose the combination of benefits you desire plus deposit you can afford as your looking for the best secured credit card for your wallet.
Additionally, secured cards offer the same protections and security that unsecured cards do, meaning you aren't on the hook for fraudulent charges should your card be stolen.
Are secured credit cards worth it?
Yes, secured cards are worth for the cardholder who is looking to quickly build credit and has their budget and spending under control.
Although secured cards generally don't have the credit limits to allow for large purchases — the latest TV or a new bedroom suite might be out of reach unless you deposit major cash — they still offer benefits that can open doors for you in the future.
Credit is a fact of life in the 21st century for nearly everyone. Many people cannot pay cash for an automobile. Virtually no one can pay cash for a home of any size or type. Even your cell phone is likely on an installment plan. Loans vary from small to large, but the rates you can obtain — as well as whether you'll be approved at all — are affected by your credit score. The better your score the more favorable your rates and the more money you can save.
Secured cards can get you on the road to a solid credit future or back on the road to it if you've gotten into a ditch. Cash-back, a welcome bonus, or low introductory interest rates are bonuses to what building your credit score will bring.