Best credit cards for excellent credit of April 2021
Achieving excellent credit takes hard work. CardRatings editors reveal the best credit cards which reward those with excellent credit scores.
Jennifer Doss, CardRatings Editor
Last Updated, April 8, 2021
Our credit card articles, reviews and ratings maintain strict editorial integrity; however we may be compensated when you click on or are approved for offers (terms apply) from our partners. How we make money.
Don't let your excellent – and hard-earned – credit score gather dust. Use it to cash in on the amazing perks and features only those with your level of credit receive with our tops picks for the best credit cards for excellent credit from our partners.
The reality is that your top score makes you a hot commodity for credit card issuers because you've shown you know how to handle credit and you are likely to be a low-risk cardholder, also known as a person who uses their card and pays off the balance. In other words, you're the golden goose of credit card customers and issuers are willing to throw their best features, perks and rewards your way in hopes of landing you as a cardholder.
There's nothing wrong with being wooed by highly-coveted rewards, perks and features. All those extras could ultimately save you money, and not just when it comes to the rewards. Cards for people with excellent credit often feature some "fine print" features like auto rental insurance or travel reimbursements or purchase protections that will save you money because you won't be buying those features separately.
The cards below reflect our picks for individuals with excellent credit and they range from offers of travel rewards to cash back to low interest; there are even options for business credit cards, which often feature some of the best bonuses on the market.
BEST NO-ANNUAL-FEE CREDIT CARD
BEST CREDIT CARD WITH FLAT-RATE REWARDS
BEST CREDIT CARD WITH TIERED REWARDS
BEST REWARDS CREDIT CARD FOR BALANCE TRANSFERS
BEST CREDIT CARD FOR GROCERY PURCHASES
BEST CARD FOR RESTAURANT PURCHASES
BEST CREDIT CREDIT CARD FOR THE WELCOME BONUS OPPORTUNITY
BEST TRAVEL REWARDS CREDIT CARD FOR EVERYDAY PURCHASES
BEST LOW-ANNUAL-FEE TRAVEL REWARDS CREDIT CARD
BEST CREDIT CARD FOR TRAVEL PERKS
BEST CARD FOR AIR TRAVEL
BEST CREDIT CARD FOR GAS PURCHASES
BEST CREDIT CARD FOR INTRO 0% APR
BEST LOW INTEREST CREDIT CARD
BEST BUSINESS CREDIT CARD FOR CELL PHONE INSURANCE
---
BEST FOR FLEXIBLE BUSINESS SPEND
BEST CARD FOR EARNING REWARDS WHERE YOUR BUSINESS SPENDS MOST
WHAT ARE THE BEST CREDIT CARDS FOR EXCELLENT CREDIT?
This answer truly depends on what your expectations are from your credit card, but some of our favorite options include the Chase Freedom Unlimited® for cash back, the Citi® Diamond Preferred® Card for a long 0% intro APR period, and the Chase Sapphire Preferred® Card for travel rewards.
These cards all feature no, or a low annual fee, and plenty of perks to help keep you satisfied. Deciding which card if best for you though will depend on your spending habits and how you plan to use your card. For example, though the Citi® Diamond Preferred® Card is an excellent choice if you need an extended interest-free period to pay off a credit card balance or new purchases, it doesn't earn ongoing rewards, so it's not the best choice for someone wanting to rack up a ton of points on purchases. Opposite of this, the Chase Freedom Unlimited® card earns 1.5% cash back on all non-bonus category purchases, but it doesn't offer an interest-free balance transfer period. It does, however, offer an intro 0% APR period on new purchases. And then while the Chase Sapphire Preferred® Card might be great for those who love to eat out and travel with 2X points earned on these purchases, it's likely not the best choice for someone who rarely leaves home, especially considering the fact that the card carries an annual fee
As you can see from these examples, while one card could be a perfect fit for one user, it might not do much for the next. It's important to do your research, and choose a card based on what works best for your spending habits, instead of just choosing the first card that sounds appealing to you.
HOW TO CHOOSE THE RIGHT CREDIT CARD
Having a stellar credit score doesn't make choosing the right credit card for you any easier. On the contrary, you probably have a wider selection from which to choose than someone with an average/fair credit score, so compiling your short list can be more time consuming. Here are some key points to remember:
Focus on what matters to you. If you always pay down your card balance in full each month, you never pay any interest, so you shouldn't worry about purchase APRs. If, on the other hand, you often carry forward card debt, you definitely want to focus on purchase APRs.
The right type of rewards. Earning miles, points or cash back can be a big deal, so make sure your new card maximizes earning opportunities for someone with your spending patterns. It should simultaneously let you redeem the sorts of rewards that fit your lifestyle.
The right rewards program. Some cards make you jump through hoops to maximize the rewards you earn; others make earning automatic. Pick the one you're going to get the most from.
Remember to protect yourself. If such things are important to you (and why wouldn't they be?), make sure the card you pick provides you with extended warranties, price and purchase protection, travel insurance, and more.
Be realistic about annual fees. Don't automatically reject a card just because it has an annual fee. Ask yourself whether the benefits it buys you are worth the cost.
On the other hand, don't apply for a credit card just because you can. Make sure you understand the level of financial responsibility you're ready to assume. Remember that having a credit card opens a lot of doors in terms of ease of use, security and, of course, rewards, but it also opens the door to temptation. You've worked hard for that high credit score; don't ruin it with a spending spree you can't afford even if an issuer is willing to approve you for one of these fantastic cards.
HOW CREDIT SCORES WORK
If you landed on this article, but you're a bit confused about what a credit score is and when it matter, we understand. There's a lot to keep up with when it comes to the topic. But here's the thing: your credit score will determine not only what credit cards you are most likely to be approved for, but also the interest rates on those cards as well as your likelihood of being approved for other types of loans and their interest rates as well.
Credit scores can even impact your insurance rates and, depending on your industry, whether a company decides to hire you. In other words, you need to understand the importance of credit scores and also have a good grasp of where yours stands (as well as how to improve it).
Your individual score is determined by a variety of factors including the length of your credit history, the number and types of credit accounts or loans you have, what percentage of your available credit you're using at any given moment (your credit utilization), the number of times a lender has looked at your credit recently (these are called credit inquiries and they generally happen when you apply for a new loan or credit card) and how consistent you are about paying your bills on time, every time.
Some of these things, like the length of your credit history, you can't do much about besides wait for time to pass. But most of the factors are under your control. You can certainly control whether you'r paying your bills on time, keeping your overall utilization low (under 30% is the suggested amount) and only applying for cards/loans you truly need so as to avoid unnecessary credit inquiries.
WHAT IS CONSIDERED AN EXCELLENT CREDIT SCORE?
There are two major credit scoring systems used to evaluate your creditworthiness, and depending on which system you use, what qualifies as an excellent credit score can vary. These two systems, FICO and VantageScore, calculate credit scores based on the following factors:
FICO Score
A FICO score is based on data from the three major credit bureaus– Equifax, Experian, and TransUnion– which track people's credit information to generate a three-digit score ranging from 300 to 850 based on a person's payment activities; the higher the score, the better.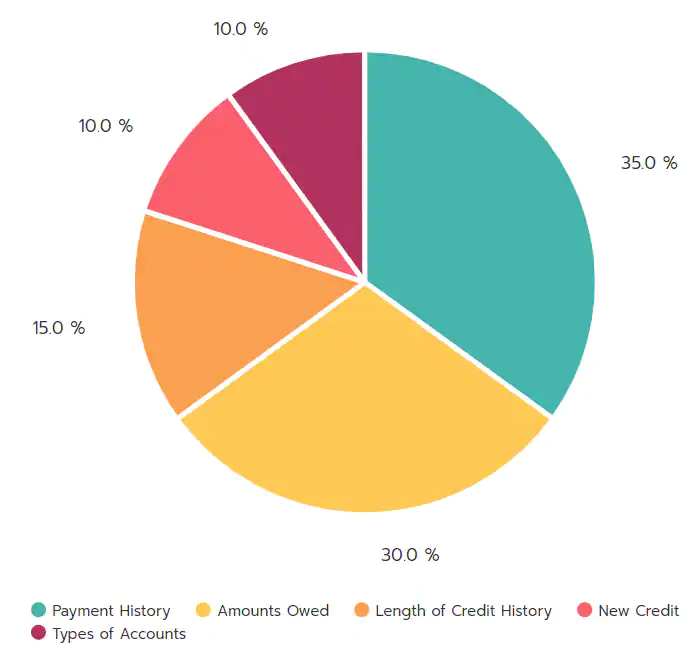 Payment history (counts as 35% of the score)
Credit utilization (30%)
Credit history length (15%)
New credit obtained (10%)
Mix of credit accounts (10%)
VantageScore
The VantageScore credit scoring model was developed in 2006 by the TransUnion, Equifax, and Experian credit bureaus in order to offer an alternative to FICO scores. Although it is not as widespread as the FICO scoring system, VantageScore has gained popularity in recent year as it is thought to provide a wider picture of a person's credit history rather than just a snapshot. Scoring criteria is based on:
People's payment history (extremely influential)
The age and type of credit used (highly influential
Percentage of credit limit used (highly influential)
Total balances and debt people owe (moderately influential)
Recent credit behavior and inquiries made (less influential)
Amount of available credit (less influential)
VantageScore is similar to FICO in that it works on a 300 to 850 scale.
Credit score ranges:
According to the FICO score model, an excellent credit score is anything above 800 points. According the the VantageScore model, and excellent credit score is anywhere within the 750-850 range.
>>Learn more about FICO vs. VantageScore
DON'T HAVE EXCELLENT CREDIT? DON'T GIVE UP ON A CREDIT CARD!
CardRatings.com recommends that you do not apply for credit cards that require excellent credit if you don't have excellent credit. If you apply for multiple cards and are denied repeatedly, these multiple credit card inquiries can end up lowering your credit. If you don't know your credit score, sign up for a free credit score, credit report card, as well as a personal credit analysis with our preferred partner, Credit Sesame. And if your credit score isn't strong, fret not – there are cards suited for every credit tier. Click the links on below to find a card that matches your credit.
>>Explore offers for Excellent credit, Good credit, Fair credit and/or Poor credit
Survey Methodology: CardRatings commissioned Op4G in September and October 2020 to conduct surveys among 1,746 cardholders nationwide. CardRatings website analytics from Jan. 1, 2020-Aug. 31, 2020 were used to determine a selection of the most popular cards and additional cards were added to add survey breadth. Responses to each of nine questions were given on a scale of 1-10 and respondents' scores were then averaged under broad topics. To determine the overall score, responses from questions 1-8 were summed and the answer to "How likely are you to recommend this card to a friend, coworker or family member?" was double weighted.
Ranking Methodology: CardRatings experts review the fine print, details, perks, rewards and features of hundreds of cards and compare them side-by-side with similar cards. A card that makes an excellent balance transfer card may not make a great cash-back rewards card even though it offers those rewards. While the Best of the Year list is announced annually, that list – and all other "best of" lists on CardRatings – are regularly reviewed and updated as issuers change the terms and features of each card often.
To see the rates and fees for the American Express cards mentioned in this post, please visit the following links: The Platinum Card® from American Express (See Rates and Fees); American Express® Business Gold Card (See Rates and Fees); American Express® Gold Card (See Rates and Fees); Blue Cash Preferred® Card from American Express (See Rates and Fees);