Best student credit cards of August 2022
Rewards, perks and a chance to build your credit with responsible use of a credit card. CardRatings editors compare the best student credit cards.
Terms apply; see the online credit card application for full terms and conditions of offers and rewards
20+
years
finding the best card for you
1,500+
cards
in our database
5,000+
cardholders
polled about their cards
243
reviews
from our experts
Learn about our methodology
The relationships you build with banks during college can directly impact future life events such as the job offers you'll get, the kind of credit card deals you'll qualify for, and the amount of interest you'll pay on a home or car loan. Because of this, establishing a healthy credit history as a young adult has never been more important, and is why we are bringing you our top picks for the best student credit cards from our partners.
Student credit cards often have low fees, reasonable APRs and perks that appeal specifically to college students. Some even offer cash-back or other rewards programs that can help with school expenses, accumulate miles toward a spring break trip or study abroad experience or just put more money in your pocket for the things that you love.
Choosing a student credit card can be overwhelming, but it doesn't have to be. You need to understand your goals, your current credit score/history as well as having a firm grasp on your budget. And it should go without saying, but it's important so we'll say it anyway: You also MUST have the responsibility and maturity to treat your credit card like cash; meaning that you only spend within your budget and don't go overboard trying to earn rewards or show off your spending power to impress your friends.
Compare:
Compare Cards
Delete All
FAQ
The best student credit card for you depends on your needs and wants with a credit card. Do you need a card to use during a semester abroad? Look for a card that doesn't charge foreign transaction fees. Do you want to earn great cash-back rewards on your purchases? Check out your budget and where you spend money and choose a card that offers cash back on those purchases.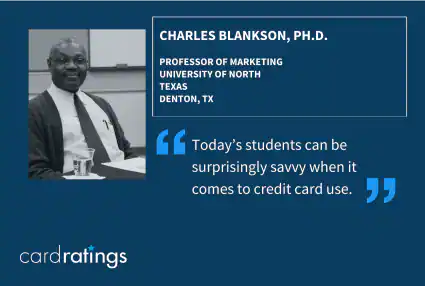 "Today's students can be surprisingly savvy when it comes to credit card use," says Charles Blankson, a professor of marketing at the University of North Texas. Blankson says his research has shown students tend to value four main things when it comes to credit cards:
Enhanced buying power. Credit cards provide convenience when it comes to shopping, paying for necessities and travel. It is far easier to use a credit card than to write a check.
Establishing credit. Students understand they will rely on credit when it comes to buying a car and later buying a home. They want to begin building a good credit history while they are in school because they know they will need it as they advance through life.
Incentives. Young people appreciate valuable incentives associated with using credit cards to pay for things they need. Cash back is very appealing to students and getting points for groceries or travel-related purchases helps them get the most for their money. Students have commented, "They pay me to use the credit card, so it makes sense to take advantage of that."
Customer service. Being able to pick up the phone and speak live with a real person actually matters to students. Credit card issuers with strong, personal customer service appeal to young cardholders just as they do to those in older age groups.
Some of the features to look for when choosing a credit card for students include the following:
No annual fee. According to credit scoring experts at FICO, the length of your oldest active line of credit can impact your credit score. You can keep a no-annual-fee card open without impacting your household budget for years after you graduate, especially if you don't use it for regular transactions.
No co-signer requirement. Although some parents eagerly co-sign on lines of credit with their college-age kids, these arrangements can lead to awkward situations and credit report damage. It's better to take a smaller line of credit on your own than to share a larger pool of potential debt with a loved one. Some banks use proprietary data models – based on your home zipcode, your school or even your major – to estimate your earning potential over the next few years. Remember that if you're under 18, you'll have to find a co-signer. Even if you are 18, you'll need to show proof of income or have a co-signer.
Clear communication. College students move frequently and change routines often. Therefore, banks with proactive payment reminders and transaction alerts help keep student borrowers from triggering late fees and penalties (and thereby damaging that baby credit you're trying to nurture).
Bonus perks and privileges. Instead of settling for the first offer you see, hunt for special deals that can earn rewards for the types of purchases you make often.
Rewards or rebates. It's a great time to learn how to use credit cards as tools for financial security instead of getting into debt. Rack up the biggest rebates when you behave as though your credit card is a debit card and pay your balance off in full every month.
A "graduation" program. The best student credit cards offer paths for cardholders to graduate into their full-service products after a year or two of responsible usage.
Potentially, yes - if you're over 21. Times have changed. It used to be that if you were an 18-year-old college freshman, you'd be walking around campus, and you'd see a student credit card information table with two or three people manning it and handing out free T-shirts, hats, coupons and more to get everyone's attention - and, hey, would you like to sign up for a credit card?
You would, because that sounded like a good idea even though you didn't have a job, but, hey you worked over the summer, so that counts, right? Or maybe you had a part-time job at the dorm store.
So college students, many of them freshmen, signed up for credit cards en masse without really thinking about it, and soon it became common to graduate not only with student debt but credit card debt as well - and lots of it.
So… are you saying college students shouldn't get credit cards?
Not at all. But you learn how to drive a car before you're given free rein on the interstate. If you take a summer job at a restaurant or in an office setting or anywhere, you generally get some training first. You get lessons before you swim. Universities are all about education and for decades college kids were being handed credit cards without any financial education on how to use them. Fortunately, colleges are offering more personal finance courses that provide student credit card information than they used to.
Things began changing in a big way with the Credit CARD Act of 2009 (CARD stands for Credit Card Accountability Responsibility and Disclosure). Now, if you're under the age of 21, you have to prove that you have the independent income (your own job), or you have to get a co-signer, like a parent, who will be responsible for getting the debt paid if you fall behind. The CARD Act also forbids credit card companies from marketing to anyone under the age of 21.
Of course, none of this means that you can't be a college student and still get in trouble with credit cards - but at least it's a bit harder to get in trouble.
If you're responsible with money, there are a lot of good arguments for getting a student credit card when you're still in college - the central one being that you can get a jump on building good credit, which will help you get better terms on loans down the road, not just for additional credit cards but a mortgage, a car loan, a business loan and so on.
"I definitely recommend that responsible college students open up a low-limit credit card account in their freshman year," says Lyn Alden, the owner of Lyn Alden Investment Strategy in Atlantic City, N.J. "Spend with it occasionally, never carry a balance and pay every bill on time. That way, by the time they graduate college in four years or so, they'll have a 4-year-old account with a perfect payment history and that will give them a great head start for building their credit score."
Jeff White, a finance writer at the business website Fit Small Business, agrees. In fact, he says: "Every college student should have a credit card, regardless of their financial situation."
Students who build credit while in college graduate with a head start on their personal finances during their young professional years. During college, many students have the benefit of a financial safety net in the form of their parents, which means that even if they do make a few personal finance mistakes, their parents can possibly help bail them out and guide them toward not making the same mistakes in the future.
You credit history and score will follow you throughout your life and play a role in whether you can get future loans or mortgages, whether you qualify for certain credit cards, how much you pay on some insurance premiums and even, in some cases, whether you're hired for a job.
Taking an opportunity to build your credit while still a student means that you can start your professional years with one less worry on your mind.
We've mentioned two ways already, but let's go into a bit more detail about credit cards available to you and the information you need to know about each option:
Apply directly for a credit card. If you have a job, even a part-time one, you can apply for a credit card and depending on the issuer, you may be granted one. Just do yourself a favor, and only apply if you feel like you're going to have this income for quite awhile. There's a reason for the CARD Act's existence, after all. If you have a credit card, but you don't have steady income, and you use that credit card, you're going to make it awfully easy to get yourself in financial trouble.
Now, if you're denied for your first-choice card, you might want to consider applying for a secured credit card. Those can be excellent vehicles for building credit, but they do require you to put down a cash deposit - and if you're a college student, extra cash may be in short supply.
Ask a parent to co-sign a credit card for you. You and your parents really want to think about this for awhile. Especially your parents. If things go south because you've spent more on the card than you can pay back, your co-signer is just as much on the hook as you are to pay the bill. If they don't have deep pockets, you could get them in a financial mess, which is presumably the last thing you want to do. Again, it really comes down to how responsible you are with money.
Ask your parents to make you an authorized user of one of their cards. This is probably the best strategy - again, provided you're responsible with money. Just as it sounds like, instead of applying for your own, you're able to use your parents' credit card. Your parents may feel a little less pressure in this scenario than they might co-signing a credit card.This is their card, and they can monitor every purchase you make. It helps everyone - it's kind of your version of training wheels for a credit card. You can learn how to use a credit card and get the benefits of your parents' credit score. Assuming they have a healthy credit score, that may help yours, too. It doesn't necessarily make it much easier to get your own credit card down the road, since future lenders recognize that authorized credit card users (you, in this case) aren't actually responsible for paying the bills. But being an authorized user will usually benefit your credit score, especially if up until this point, your credit score and history were basically non-existent.
"By becoming an authorized user on my father's credit card when I was in high school, and then opening my first credit card account right before my freshman year of college, I had a credit score over 800 by the time I graduated," says Alden, who is 29.
Generally, the worst credit scores can be as low as 300. The best is 850.
If you're wondering if you can get a regular, non-student credit card if you are a college student, you can. There's no rule prohibiting that.
That said, a student credit card is designed for first-time users who are in college. Some of these cards offer cash back rewards for good grades, many have lower fees or even waive some fees when you're late, and they generally don't have an annual fee, whereas many of the best regular credit cards do.
In other words, a student credit card generally factors in the fact that you've just started using credit cards - and they tend to be a little easier on you if you make a mistake.
Under current banking regulations, students must wait until after they reach age 18 (in most cases) to apply for a credit card in their own name. Even then, a student must show that he or she has access to enough income to pay the card's potential balance before they will qualify for an offer. Therefore, even the best credit card for students might not have the highest limit or the lowest annual percentage rate.
Good question, but it's the wrong question to ask. Much of the "easy factor" with applying for a student credit card depends on your credit history, credit score and your financial situation. What might be an easy student credit card for you to get - could be a difficult reach for somebody else.
So rather than focus on looking for the easiest credit card to apply for, you'll want to think about the various factors that a lender will consider - and then look for a student credit card that seems like a good fit for you. What are those factors?
Your job history. Credit card issuers like to loan money when they know they'll get it back. It's a weird pet peeve of theirs. We laugh about that now, but for several generations, credit card companies would give a credit card to pretty much any 18-year-old with a pulse, regardless of whether they had an income. Then that 18-year-old would rack up credit card debt and get into serious financial trouble.
The government eventually got involved with something called the Credit Card Act of 2009, which made the rules for lending more strict. This is a good thing though as there's a good chance you're already going to be in debt with student loans. Piling credit card debt on top of that won't help anything. So if you're going to get a credit card, you either need a job that pays enough that you can pay off the credit card every month - or your parents need to agree to pay it off every month. You simply don't want a credit card without a source of income.
Your credit score and credit history. Have you ever borrowed money from a financial institution? If the answer is no (the Bank of Mom and Dad doesn't count, in this case), you may not have a credit score or credit history. If you were an authorized user on one of your parent's credit cards, however, you do have a credit history, and if your parent's credit history is good, yours probably isn't too bad either. If your parents were constantly missing payments while you were an authorized user, on the other hand, your credit history may not be so hot. In any case, if you have a good credit score and history, you'll probably have an easy time getting a student credit card. If you have a bad credit score and spotty history, you'll likely have a tougher time. If you have no credit history, it really depends. Some student credit cards take that into account, and if you have a way to pay them back it may not matter if you don't have a credit history.
In short, any student credit card that doesn't charge a foreign transaction fee.
If you're going to study abroad and your student credit card does have a foreign transaction fee, then you really should think about applying for a for a different credit card, one without this fee. Foreign transaction fees are usually around 3%, and are charged on any purchase made in a foreign currency. This may not seem like much, but say you spend three months in Rome, and use your credit card for dining and grocery store purchases, spending $500 with your card each month that you're there. On those purchases alone you're looking at an extra $45 in fees. That's $45 that could instead go towards say, your next moped rental, or several extra cups of gelato.
Missing payments on your credit cards can be costly and have serious consequences on your credit history. Some of those consequences include:
Late fees. Many banks assess a fee when a cardholder fails to make the minimum payment by the due date. That fee does nothing to reduce your balance – it's just extra money you'll owe on top of whatever charges you put on your card.
Interest charges. Every dollar you leave on your balance past the due date is subject to an interest charge. Credit card interest compounds quickly, so you could find that your relatively small balance balloons to a mountain of debt if you aren't paying it off regularly (ideally, in full every billing cycle). Even if you can't pay in full, at least make a payment on time to cut down on the balance that will be subject to interest.
Penalty APRs. Sometimes missing a payment triggers a penalty APR that means you'll pay a higher interest rate on your balances going forward.
Forfeited rewards. Most credit card rewards programs state in the fine print that you could forfeit rewards if your account doesn't remain in good standing.
Lost introductory/special rates. Sometimes credit cards will offer a short-term 0% interest period, but most of the fine print states that you'll lose that rate if you miss payments.
Credit damage Miss enough payments and your credit score will take a hit. One of the big upsides of having a card in college is the opportunity to build credit before graduation, but you can also damage your credit before graduation if you don't handle your card responsibly.
Referral to collections. If you keep running up a bill and failing to make payments, the bank could refer you to a collections agency.
One other thing to keep in mind: If your credit card is co-signed by, say, your parents, your failure to pay a bill on time could also impact their credit score.
What you do with a student credit card after graduation depends on a number of factors, but the universal advice is DON'T just close the account.
If you opened a card while in college, you've had the past couple of years to build a credit history that shows (hopefully!) consistent on-time payments and responsible use. What has also happened is that you've built a couple of years worth of history just by having the card, and the length of your credit history is an important factor contributing to your score. Closing your card stunts that history, so you're going to want to keep the account open if at all possible.
The problem, of course, is that the card that worked well during your college years probably isn't going to be ideal for your young professional years. So what do you do?
Well, the good news is that some cards will simply roll your account over to a non-student credit card when you graduate. In some cases, this may happen automatically or you may be required to contact the credit card company and request to have your account reclassified. In fact, getting familiar with the product change process and pros and cons is something that will serve you well throughout your life. The new card you change to may offer better rewards, a lower interest rate or any number of other features that your old student card didn't have, and you can have all those things without losing out on that length of credit history you've established.
Your credit card bill is not just a way to know how much you need to pay every month – it also has a lot of useful information to help you make decisions about how you should use your card and any possible fees you could be assessed. You will find the following information on each credit card statement:
Account summary: This is the up-to-date information on what you have going on with your card, based on the activity that took place in the most recent billing cycle. Through this section of your credit card bill, you will learn what your current balance is, what interest and other fees you have been charged, how much credit is available, and if there is a past due amount.
Payment information: This section includes the minimum payment that must be made by the due date. If this payment is not made on time, late fees will be assessed and your missed payment will be reported to credit bureaus, so it will impact your credit score.
Warnings: Your bill will include minimum payment and late payment warnings, which are disclosures that let you know what the ramifications will be if a payment is missed or if the minimum is not paid.
Interest: This part of your bill outlines what your annual percentage rate (APR) is and if there have been any changes to that rate. This allows you to see how much interest you are paying every month.
Fees: If you have been charged late or over-the-limit fees, as well as an annual fee or transaction fee, in any given billing period, they will be listed here.
Transactions: The details of the purchases you made will be listed here. It's important to check this part of your bill to make sure that no fraudulent charges have been made on your account, so you can dispute anything if necessary. You can also get information about balance transfers and cash advances here.
Rewards: If you have a rewards card, such as a card with cash back or travel points rewards, what you have earned for each month will be listed in this part of the bill.
Survey Methodology: CardRatings commissioned Op4G in September and October 2021 to conduct surveys among 1,524 cardholders nationwide. CardRatings website analytics from Jan. 1, 2021-Aug. 31, 2021 were used to determine a selection of the most popular cards and additional cards were included to add survey breadth. Responses to each of nine questions were given on a scale of 1-10 and respondents' scores were then averaged under broad topics. To determine the overall score, responses from questions 1-8 were summed and the answer to "How likely are you to recommend this card to a friend, coworker or family member?" was double weighted. "Current Scores" reflect scores from the most recent survey; "Past Scores (avg.)" are the scores averaged over each prior year the card has been surveyed. "Past Scores" indicates a card has only been surveyed in one prior year.
Ranking Methodology: CardRatings experts review the fine print, details, perks, rewards and features of hundreds of cards and compare them side-by-side with similar cards. A card that makes an excellent balance transfer card may not make a great cash-back rewards card even though it offers those rewards. While the Best of the Year list is announced annually, that list – and all other "best of" lists on CardRatings – are regularly reviewed and updated as issuers change the terms and features of each card often.
Disclaimer:
The information in this article is believed to be accurate as of the date it was written. Please keep in mind that credit card offers change frequently. Therefore, we cannot guarantee the accuracy of the information in this article. Reasonable efforts are made to maintain accurate information. See the online credit card application for full terms and conditions on offers and rewards. Please verify all terms and conditions of any credit card prior to applying.
This content is not provided by any company mentioned in this article. Any opinions, analyses, reviews or recommendations expressed here are those of the author's alone, and have not been reviewed, approved or otherwise endorsed by any such company. CardRatings.com does not review every company or every offer available on the market.