Best travel rewards credit cards of April 2021
Whether you frequently fly, drive, stay in hotels or Airbnbs, there are credit cards which reward every type of travel. CardRatings editors reveal the best travel credit cards for airline and hotel rewards, as well as cards offering flexible travel rewards for those not loyal to one particular brand.
Jennifer Doss, CardRatings Editor
Last Updated, April 20, 2021
Our credit card articles, reviews and ratings maintain strict editorial integrity; however we may be compensated when you click on or are approved for offers (terms apply) from our partners. How we make money.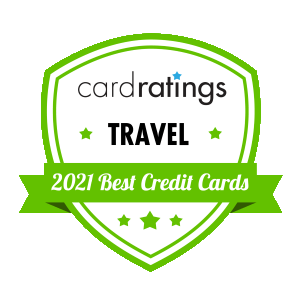 The COVID-19 pandemic has dramatically changed the way many of us live our lives, but a travel credit card can still be beneficial whether you're traveling right now or not. That's because many of the best travel credit cards also offer rewards on everyday purchases, and not just on travel purchases. Furthermore, many issuers have recently added redemption options which allow you to redeem your rewards for everyday expenses such as grocery store, home improvement, food delivery and takeout, and streaming service purchases. By doing this, travel credit cardholders are allowed a new level of flexibility never seen before with travel rewards credit cards.
Whether you've cut back on traveling or not, it's still easy to earn rewards, and equally as important, those rewards are still incredibly valuable. Continue using your rewards for travel, or, if your travel plans are put on hold right now, use them to help make your everyday expenses a bit easier to handle. Plus, if you're planning future travel, a travel rewards credit card is a fun way to prepare. With the help of the top travel rewards cards from our partners, you can travel better and less expensively and not have to jump through dozens of hoops to make it happen. Whether you're looking for the best travel rewards credit card, an airline card or are more focused on the best hotel credit cards, there are options out there that will reward you for your everyday purchases and help make your next dream vacation a reality.
Think about it, if you use your American Express® Gold Card, your mundane walk through the grocery store aisles could be the first step toward a stunning walk along a beach very, very far away from your local supermarket. Or, if you're more interested in making your business travel less expensive, your everyday business purchases with your Ink Business Preferred® Credit Card could help you rack up points toward a future business trip.
The key to all of this is understanding how travel credit cards work, what you should think about when comparing the many options on the market and, at last, looking at the best travel rewards credit cards on the market to determine which will best fit into your lifestyle. CardRatings experts consider the rewards, the fees, the perks/features, the ease of use and more to come up with our list of top travel rewards credit cards. This list is dynamic; credit card issuers sometimes change their terms, so we keep an eye on those terms and update our recommendations accordingly.
Whatever your wanderlust is dreaming of, we have a suggestion that will help you get there. Bon voyage!
BEST NO-ANNUAL-FEE TRAVEL REWARDS CREDIT CARD
---
BEST TRAVEL REWARDS CREDIT CARD FOR FLEXIBLE REDEMPTION OPTIONS
BEST TRAVEL CREDIT CARD FOR TRANSFERRING REWARDS
---
BEST TRAVEL REWARDS CREDIT CARD WITH INTRO 0% APR
BEST TRAVEL REWARDS CREDIT CARD FOR DINING OUT
---
BEST TRAVEL CREDIT CARD FOR GAS REWARDS
---
BEST TRAVEL REWARDS CREDIT CARD FOR RIDESHARES AND TRANSIT
BEST TRAVEL REWARDS CREDIT CARD FOR AIRPORT LOUNGE ACCESS
---
BEST TRAVEL REWARDS CREDIT CARD FOR GLOBAL ENTRY OR TSA PRE✔® REIMBURSEMENT
---
BEST TRAVEL CARD FOR PREMIUM TRAVEL REWARDS
---
BEST TRAVEL REWARDS CREDIT CARD FOR AIRLINE PERKS
---
BEST TRAVEL REWARDS CREDIT CARD FOR FREE COMPANION TRAVEL
---
BEST HOTEL CREDIT CARD FOR EVERYDAY PURCHASES
BEST HOTEL CREDIT CARD FOR FREE NIGHT REWARDS
---
BEST TRAVEL REWARDS CREDIT CARD FOR TRAVEL INSURANCE
BEST TRAVEL REWARDS CARD FOR FIRST AND BUSINESS CLASS AIR TRAVEL
---
WHAT IS THE BEST TRAVEL REWARDS CREDIT CARD?
Chase Sapphire Preferred® has long been a CardRatings favorite for travel rewards. This card offers a huge welcome bonus opportunity to new cardholders, and on an ongoing basis, earns two points on all travel and restaurant purchases. Chase Ultimate Rewards® points are consistently recognized as one of the most valuable point currencies on the market thanks to their flexibility, and with this card, points are worth 25% more when redeemed for travel through the Chase Ultimate Rewards® portal. Points can also be transferred directly to a number of airline and hotel loyalty programs, so this card truly is hard to beat when it comes to planning a vacation.
Furthermore, if you have another Chase-Ultimate-Rewards®-earning card, such as Chase Freedom Flex℠ or Chase Freedom Unlimited®, you can pool all of your points under your Chase Sapphire Preferred® account, making them worth 25% more towards travel. The no-annual-fee Chase Freedom Flex℠ earns 5% cash back on up to $1,500 in combined purchases in bonus categories each quarter you active, and the no-annual-fee Chase Freedom Unlimited® earns 1.5% cash back on all non-bonus purchases. Pairing these cards with the Chase Sapphire Preferred® card is a great rewards strategy and can help you rack up a ton of points for your next vacation with ease.

When it comes down to it though, all of our travel needs are unique, so the best card for one traveler might not be the best option for the next. The Chase Sapphire Preferred® card is great for travelers craving flexibility, but flexibility might not be an important trait for everyone. If you're loyal to a particular airline, for instance, you'll likely fare better with a branded airline card thanks to perks like free checked bags, lounge passes, and priority boarding. Or if you stay at the same hotel every time you travel, free night stays or room upgrades may mean more to you. Choosing the best credit card for travel rewards really just depends on how you travel, and how you spend your money. Continue on to learn more about how to compare and choose the best travel credit card for your needs.
HOW DO TRAVEL CREDIT CARDS WORK?
"Travel rewards credit card" is a broad term that actually takes in a far ranging variety of credit cards. In fact, cards you wouldn't necessarily think of as travel rewards cards can actually function that way if you use your rewards a particular way (see the editor's note above about Chase Freedom Flex℠ and Chase Freedom Unlimited® for a good example).
In a pure sense, though, travel cards generally fall into a few specific boxes, so let's take closer a look at those.
TYPES OF TRAVEL REWARDS CREDIT CARDS
TRANSFERABLE POINTS
These are cards that allow you to rack up rewards, often they're called something proprietary like Ultimate Rewards® (Chase's program) or Membership Rewards® (American Express' program), and either use your rewards within that proprietary system or transfer them to other travel loyalty programs such as airline frequent flyer accounts or hotel frequent stay programs.
If you have a points/rewards-value travel credit card, it basically means that your rewards don't always have a direct relationship to the actual cost of whatever you want to redeem them for. This situation is most apparent for things like airline reward flights. Usually, the number of points you need to redeem for a particular flight doesn't change as the actual monetary cost of the flight fluctuates (which you probably know can happen often and vary widely). A flight that requires 15,000 miles will likely require 15,000 miles whether the actual cost of that flight is $250 or $500.
In some cases, such as with the Chase Sapphire Preferred® Card and other cards that operate on the Chase Ultimate Rewards® point system, the rewards can can have both cash-value (if you redeem your points through the Ultimate Rewards® travel portal) or points-value (if you choose to transfer your Ultimate Rewards® points to one of a number of airline or hotel loyalty programs). Learn more in our Guide to Chase Ultimate Rewards®.
PROS OF THIS TYPE: You can often get even better value for your rewards when you transfer them to branded loyalty programs.
CONS OF THIS TYPE: It can be complicated to figure out how to get the most value out of your rewards.
FIXED VALUE/CASH VALUE
These cards are likely the ones that offer you the greatest range of flexibility when it comes to your travel rewards. In general, they aren't tied to a particular hotel or airline brand so you don't have to worry about things like maximizing your rewards by only staying with a specific hotel group or only flying on one airline; instead, your points or miles or rewards (different issuers call their rewards different things) are worth a fixed value, typically $.01 each. An example of this type is Discover it® Miles.
With these cards you typically pay for your travel purchase on your card and then redeem your rewards as statement credit to cover that purchase. So, for instance, let's say you need to book a flight and it costs $500 round-trip. You'll pay for your purchase on your Discover it® Miles card and, if you have 50,000 miles in your rewards account, you'll then redeem those 50,000 miles as statement credit to cover the cost of that ticket. Fly any airline, stay at any hotel, anytime – no blackout dates.
PRO OF THIS TYPE: These cards allow you to "double-dip" when it comes earning rewards. Since you purchase your flight or hotel stay on a credit card, you can still earn rewards within that airline's or hotel's loyalty program, but then you can redeem credit card rewards to cover the cost. If you redeem rewards directly with a hotel or airline, you won't earn rewards for that flight or stay.
CONS OF THIS TYPE: These rewards are worth what they're worth; you can't transfer them to other loyalty programs to take advantage of discount loyalty reward fares or prices.
AIRLINE REWARDS
Airline rewards credit cards are attached to a specific airline frequent flyer program. Your credit card rewards are frequent flyer miles/points for that specific airline. Often these types of travel cards offer the highest rewards when you make purchases with the specific airline, but more and more we're seeing additional categories for rewards added to these cards as issuers compete for cardholders.
PROS OF THIS TYPE: Your credit card purchases or any welcome bonus you earn can help you work toward status tiers within your airline of choice. This is even true of the coveted Southwest Companion Pass®, which your bonus and earnings with any one of Southwest's several credit cards can help you earn. Another pro is that, should you close the credit card, you generally get to keep any rewards you've earned because they are housed within your frequent flyer account and not within your credit card account. Lastly, airline-branded credit cardholders often enjoy a variety of loyalty perks like upgrades, free checked bags, access to heavily discounted tickets and more.
CONS OF THIS TYPE: These rewards are fairly limited in terms of how you can redeem them; furthermore, you often have to have a fairly large chunk of points/rewards accumulated before you can redeem them for much travel.
HOTEL REWARDS
Again, the rewards you earn accumulate within your hotel loyalty account and not on your card.
PROS OF THIS TYPE: Like with airline rewards cards, your purchase can help you earn status with your hotel brand of choice, and you can generally hold onto your points/rewards if you close your credit card account. Additionally, many hotel-branded credit cards offer cardholders a free night stay each year after you renew your card.
CONS OF THIS TYPE: As with airline cards, redeeming your rewards – particularly if you're interested in top value – is limited to stays with your hotel brand.
WHO SHOULD GET A TRAVEL REWARDS CARD?
Sit down. You won't believe this. These types of cards are best for… travelers.
Yeah. Who knew?
But, actually, it's not silly to point that out. Travel is fun and exciting, and almost everyone travels at one point or another, so it's easy to get caught up in the idea that you need one of these cards. But if you just travel occasionally, going here and there but sometimes a couple years pass without you going very far, then a different type of rewards credit card, one that doesn't focus on travel, is probably a much better idea.
You should, however, considering applying for a travel rewards credit card if you are one of these types of travelers:
You're a globe-trotter. If you're the sort of person who travels all the time for business or pleasure, then, of course, you can make a very solid argument for applying for a travel credit card. As for what type of card - a general travel rewards credit card, an airline credit card, a hotel branded one - the smart choice is whatever you prefer and seems to make sense. If you only fly one type of airline, then take a good look at applying for a credit card from your favorite airline. If you're up for anything and don't care where you're staying, maybe a general, all-purpose travel credit card is best. But the main thing is - if you're traveling all the time and spending money, you might as well get some of it back with things like airline miles and no fees for your luggage.
One big trip a year-ers. Yeah, that's a real phrase. (Er, don't look it up. Just take our word for it.) So you tend to go on a big vacation once a year? And you spend a small fortune every time? Then, sure, get some of that money back with your travel credit card. You're a good candidate for one of these cards, though you should probably stick to the cash-value rewards category discussed above.
Someone who lives far from your family. Assuming you wish you could see your parents or siblings or other relatives, a travel credit card could be your ticket for seeing them more often. Or at least when you do visit your family, you'll rack up points and miles that can go toward other trips (or more trips to see the family). So if this is your situation, once again, a CONS OF THIS TYPE: is probably something you should apply for.
HOW TO MAXIMIZE YOUR REWARDS WITH A TRAVEL REWARDS CARD
Now if you're getting to this section, and you follow some of the advice here, and you're excited about it, you probably should apply for a CONS OF THIS TYPE:. At least you plan on really utilizing it.
Some strategies you may want to consider…
Double dipping. That's when you can use your credit card to get points but also with the same purchase get points in another way. For instance, let's say you get a welcome bonus of 30,000 points. You can put them toward anything you buy, but if there's an online shopping portal that your credit card encourages you to use, and if you get a steeper discount there, you can go there instead and get even more bang for your buck. (Just make sure that what you're buying at the online portal is stuff you need. That's an obvious statement, but it's easy to get excited and carried away over a deal, only to later realize that without the deal in place, you weren't likely to buy the item.)
Or if you pay for your trip with your travel rewards card, you might earn loyalty points with an airline or hotel - and then you may possibly be able to also redeem your credit card rewards for a statement credit for that same purchase. If nothing else, you'll earn rewards on the purchase that you can then use for a future trip.
Of if you're shopping at a cash-back site with your travel credit card, you might save money from the cash-back site and rack up points with your credit card. Yet another form of double dipping.
Make sure you're still signed up for brand loyalty and frequent flyer programs. One, this is a good idea anyway if you've been using the program and you have a lot of points you don't want to lose. But even better, some travel cards let you transfer your points to an airline frequent flyer program. So even if your travel credit card isn't an airline-branded one, you may be able to, in effect, make it one by sending those points over to your frequent flyer program.
Keep track of incentives to redeem in specific ways. Sometimes you get more savings if you redeem your points or miles in a certain way. Like maybe it's worth more to redeem your points for cash than it is a gift card. Or maybe if you redeem your points for travel, you'll get a steeper discount than you would if you redeemed them for anything else. You just want to pay attention to how you redeem your points, so you can get the highest bang for your rewards buck that you can. In some cases, for instance, your points will be worth more if you redeem them through a proprietary site.
Use your credit card for purchases in categories in which you earn the most rewards. If you have one credit card, you'll use it to pay for whatever you darn well please, of course, but if you really want to maximize the heck out of the rewards you may want to, say, get a cash-back rewards credit card for bonus points on purchases like those at supermarkets or gas stations and use that card every time you fill up or stock the pantry. Then, use your travel rewards card for all of your airline and hotel purchases.
Travel in the off-season. If you can. Many people, especially parents with kids in school, can't vacation any other time but during the summer or spring break or during the end-of-the-year holiday season. But if you can swing it and go on that big vacation in September or January or some other time of the year when few people go get R&R, you'll save money on your vacation - and you can rack up points and discounts with your travel credit card. Plus, those cash-value points will take your further in the off-season.
Be financially responsible. In other words, don't apply for several credit cards if you aren't sure you can manage your money with multiple credit cards. And hopefully this goes without saying, but unless it's an emergency and you have to have cash right now, do not use your credit card for cash advances. Due to the high interest that kicks in immediately, it's just a bad idea. You also want to make sure that you pay your balance in full, every billing cycle.
If you can't pay the balance every time on each billing cycle, you can't. But carrying interest on a credit card is an effective way to undo all the work you've been doing to save money and reap rewards by using your travel credit card.
And it is, in a way, work, making sure that you're maximizing your rewards with travel credit cards. Still, if researching, applying for and using your travel credit card really does wipe you out, the good news is that you can take all of your points and use them to go find somewhere to relax and recover - like on a Caribbean beach.
HOW TO CHOOSE A TRAVEL REWARDS CREDIT CARD
Travel rewards credit cards sound amazing, but you have to understand how to make them work for you in order to maximize their benefits. Here are some things to keep in mind when you're comparing travel rewards cards and looking for the one that's right for you.
Know your credit score and history. We always have to start with this recommendation regardless of the type of credit card you're looking for. The first step when comparing credit cards is to narrow down your options based on your credit score and history. If you have excellent credit, this probably won't narrow down your options much since most cards will be available to you. If, however, you have fair or average credit, this step will probably narrow your options considerably, especially when it comes to rewards cards. Don't grow discouraged! Just work with the credit score you have, use responsibly the credit cards for which your eligible and you may soon qualify for a card designed for those with good or excellent credit. DON'T apply for cards that require excellent credit if you simply don't have excellent credit as that could very well damage your score.
Assess your travel goals. Are you someone who takes a mega-trip once a year? Or are you a person who escapes for weekend getaways whenever possible? Do you care about things like airport lounge access and VIP perks, or are you primarily concerned with top rewards for the lowest possible annual fee? Be honest about how you travel and don't convince yourself you will change your travel habits to fit a new credit card. Instead, find the card that fits the travel patterns you've already established.
Be honest about your spending habits. As with any rewards credit card, you want to find the one where the top rewards-earning most closely aligns with your regular spending habits. If, for instance, you rarely dine out than you aren't going to reap the full benefit of a travel rewards card that offers top rewards at restaurants. Likewise, if you prefer road trips to transatlantic flights, an airline rewards card probably isn't for you. Now, that sounds pretty basic, but it can be more nuanced. Let's say, for instance, that you are a bargain shopper who will fly any airline that offers you the cheapest airfare to your destination; conversely, maybe you are an airline loyalist who is prepared to pay a little bit more to fly the airline you've come to know and love.
Consider the fees. This is very important to look at - especially annual fees and foreign transaction fees. Some annual fees can be pretty steep, although often in the first year they're waived. But, still, next year, do you want to pay the annual fee? Maybe it's not a big deal if it's less than $100; maybe it's a bigger deal if it's $500.
Often, the more sizable the annual fee, the more perks you'll have with the card, but you want to make sure you're going to use the card enough and get enough perks, points and amenities to justify spending money on an annual fee. If you spend $495 on an annual fee, and you only land about $300 in discounts in a year, that's not math you can get excited about. On the other hand, if you spend $495 on an annual fee and the perks and discounts add up to $750 in a year, well, you're coming out well ahead.
As for foreign transaction fees, those are fees that your credit card issuer will sometimes add onto purchases you're making abroad. Not all travel credit cards have them - in fact, more and more of them don't - but some do. Usually the fees are between 3 and 5 percent. So if you travel abroad and use your travel rewards credit card for all of your purchases in another country, you may add 2 or 3 percent to the cost of your entire trip, which, of course, can eat into the discounts you're accruing when you use your card to begin with.
That might lead you to think, "Well, fine. I won't use my travel credit card when I travel abroad." But then you're missing out on discounts, earning rewards and the security of using a card as opposed to cash, all of which are kinda the whole idea behind travel credit cards.
There are reasons you really should use your travel credit card when you travel internationally. For one, you may get a better exchange rate when you use your credit card for purchases than if you use cash. And then if someone steals your credit card and spends, say, $5,000, the most you can be liable for is $50, and your bank or credit card may be able to get you a replacement overnight, if not sooner. If your debit card is stolen, or you have $5,000 in euros or dirhams in your wallet, and that's taken, you could lose it all and have nobody, other than friends or family who may or may not be able to wire you money, to help you get back home.
So, yes, it's much safer to use a credit card than a debit card or cash. If the foreign transaction fees bug you that much, find a credit card that doesn't have them. There are plenty that don't, including all the choices on this Best Travel Rewards Credit Cards list.
>MORE: Looking for cash back or other cards that don't have foreign transaction fees? Check out Best no-foreign-transaction-fee credit cards
Look at the extra perks and features. The top travel credit cards offer cardholders more than just rewards and the conveniences and security of paying with plastic. instead, they feature "fine print" benefits like included car rental insurance, lost luggage insurance or even trip cancellation/interruption insurance. Some cards reimburse you for some travel expenses or offer statement credit to cover Global Entry or TSA Pre✓™ application fees. And, of course, there are travel cards that offer complimentary checked bags on flights and/or airport lounge access or free room upgrades. Decide which of these features is important to you and search for a card that meets those needs. Here's a look at some of the most common "fine print" perks.
If you've been zeroing in on a travel rewards credit card, and you like the fact that the annual fee isn't crazy (or it's crazy, but you feel it's worth paying), and you aren't bothered by the foreign transaction fee (or better yet, there is none), and you do travel, and you like all of the perks and amenities, then these extra features we're about to discuss probably shouldn't change your mind. But if you're on the fence on a card, these features may get you to an enthusiastic yes - or the lack of them may bring you to a hard no.
Regardless, do your due diligence and see what your travel rewards card offers when it comes to …
Car rental insurance. Do you rent a lot of cars? Do you cringe when you're asked at the counter if you want the car rental's insurance? (It always sounds great to have, but it can significantly jack up the price of the rental.) Many credit cards offer rental car insurance. It generally won't provide as good as coverage as your own car insurance, or the rental car's protection, but sometimes it will cover things like theft and collision or will pick up the rest of your deductible. If you feel like your credit card's car insurance is solid, then between that and your own insurance (assuming you have car insurance), when asked if you want to pay extra for insurance, you may be able to finally confidently tell the inquiring rental car associate, "No, thanks."
>MORE: What does credit card car rental insurance cover?
Travel interruption/cancellation insurance. Just before you fly out to your brother's wedding, you wind up with walking pneumonia and have to eat the cost of the airline ticket, or fly out there and expose everyone to your germs. Except now in this alternate future, you'll get reimbursed for those tickets - assuming your travel credit card offers good travel interruption or cancellation insurance and you bought the ticket on that card (or redeemed card rewards for the ticket). Unfortunately, sometimes you won't be able to get the full details on perks like these until after you've applied for the card, and they're sending you a guide to all of your benefits. Still, if your travel card offers this, whether or not it does everything you'd like, it's a worthy benefit. It could save you hundreds in third-party trip insurance.
>MORE: Guide to credit card travel/trip insurance
Lost luggage insurance. Some travel credit cards will pay you up to a certain amount (say, $500) for any lost or stolen luggage while you're on a trip. So you don't want to put your most expensive jewelry or rare coin collection in a suitcase, especially if it's uninsured, but it is a reassuring perk to know that if you have a suitcase jam packed with shirts, sweaters and undergarments, and you lose it all, your credit card can help you out.
Concierge services. These services can be a little like having a personal assistant. A little. You won't be able to get the concierge on the other end of the phone to come to your house and wash your car, but if your request will end with you spending money on your credit card, then, hey, the credit card's concierge is naturally here to help. Do you want reservations at a restaurant? Your concierge can do that for you for free (assuming it's like most cards; read the guide to your benefits). Do you have some sightseeing excursions you want to set up? Your concierge can handle that. Need a hotel room but everything seems to be booked up? Let your concierge worry about that. The spending money snark aside, this can be a wonderful perk for the time crunched.
>MORE: Getting the most out of credit card consierge services
WHAT CAN A TRAVEL REWARDS CREDIT CARD DO FOR YOU?
When used correctly a travel rewards credit card can help you earn free or heavily discounted flights, hotel stays, and more. And these cards aren't just for the world-traveling jetsetter! Many of the best credit cards for travel rewards earn points and mi--les on everyday purchases such as groceries, gas, and online spending, making them a great choice even if you only travel once a year. CardRatings senior manager and site editor Brooklyn Lowery has more:
Ranking Methodology: CardRatings experts review the fine print, details, perks, rewards and features of hundreds of cards and compare them side-by-side with similar cards. A card that makes an excellent balance transfer card may not make a great cash-back rewards card even though it offers those rewards. While the Best of the Year list is announced annually, that list – and all other "best of" lists on CardRatings – are regularly reviewed and updated as issuers change the terms and features of each card often.
Survey Methodology: CardRatings commissioned Op4G in September and October 2020 to conduct surveys among 1,746 cardholders nationwide. CardRatings website analytics from Jan. 1, 2020-Aug. 31, 2020 were used to determine a selection of the most popular cards and additional cards were added to add survey breadth. Responses to each of nine questions were given on a scale of 1-10 and respondents' scores were then averaged under broad topics. To determine the overall score, responses from questions 1-8 were summed and the answer to "How likely are you to recommend this card to a friend, coworker or family member?" was double weighted.
To see the rates and fees for the American Express cards mentioned in this post, please visit the following links: The Business Platinum Card® from American Express (See Rates and Fees); The Platinum Card® from American Express (See Rates and Fees); American Express® Gold Card (See Rates and Fees);