Best travel credit cards of November 2023
The right travel rewards credit card could mean the difference between a fantastic getaway once every other year and a fantastic getaway (or two!) every year. It all depends on your budget, your spending and, of course, ensuring you have the best travel credit card for your specific needs. … View More
Think about it, if you use your American Express® Gold Card, your mundane walk through the grocery store aisles could be the first step toward a stunning walk along a beach very, very far away from your local supermarket. Or, if you're more interested in making your business travel less expensive, your everyday business purchases with your Ink Business Preferred® Credit Card could help you rack up points toward a future business or personal trip.
The key to all of this is understanding how travel credit cards work, what you should think about when comparing the many options on the market and, at last, looking at the best travel credit cards on the market to determine which will best fit into your lifestyle. CardRatings experts consider the rewards, the fees, the perks/features, the ease of use and more to come up with our list of top travel rewards credit cards. This list is dynamic; credit card issuers sometimes change their terms, so we keep an eye on those terms and update our recommendations accordingly.
Whatever your wanderlust is dreaming of, we have a suggestion that will help you get there. Bon voyage! View Less
Terms apply; see the online credit card application for full terms and conditions of offers and rewards.
20+ years
finding the best card for you
1,500+ cards
in our database
5,000+ cardholders
polled about their cards
243 reviews
from our experts
Compare:
Compare Cards
Delete All
FAQ
Travel credit cards earn rewards on purchases made with the card, particularly on travel purchases. There are four main types of travel credit cards, each featuring their own type of rewards. These include:
Transferable points
Fixed value/cash value
Airline rewards
Hotel rewards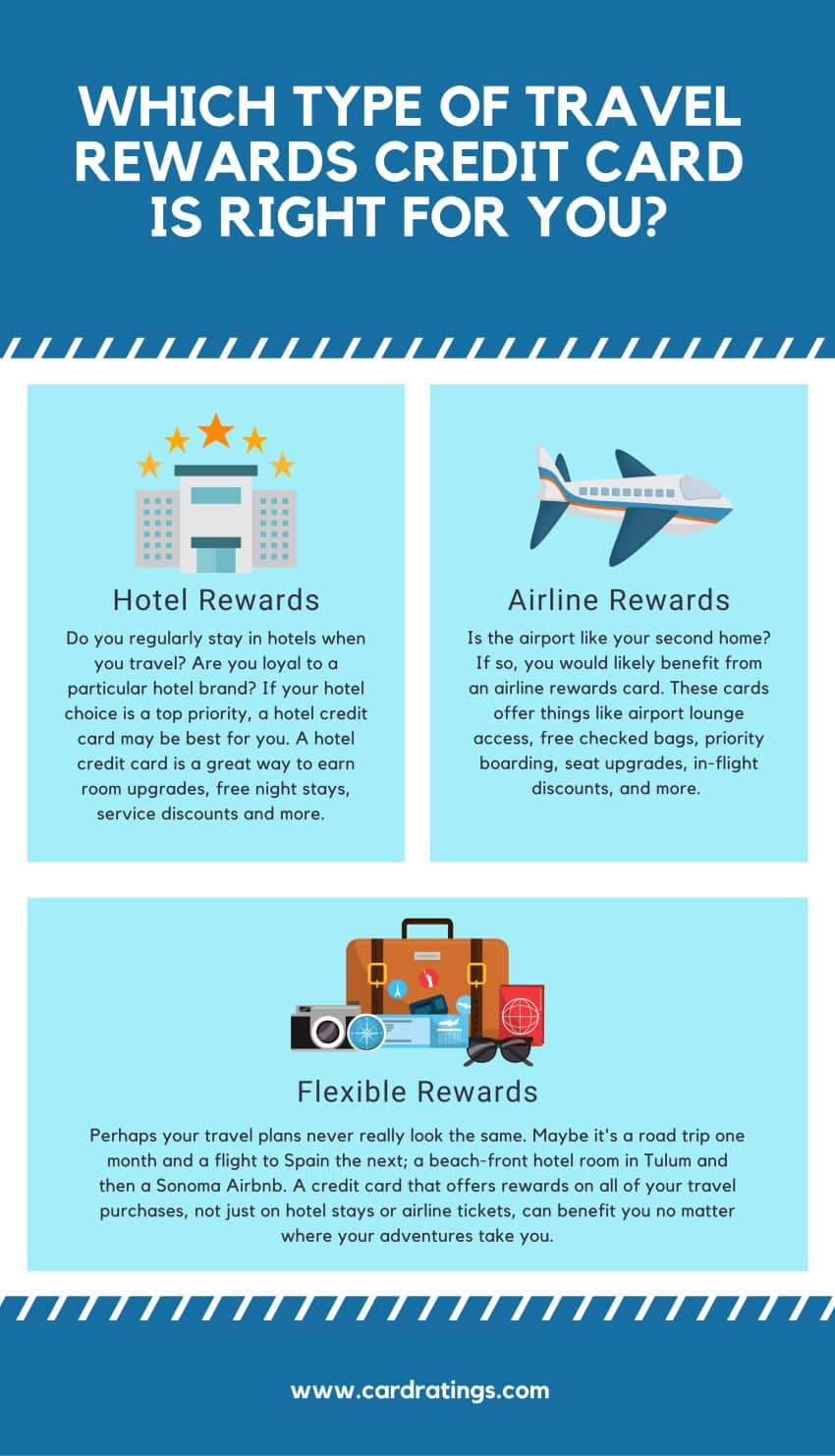 Which type of card is right for you will depend on your spending habits and how you prefer to earn and use travel rewards. Learn more about the four types of credit card travel rewards.
Now if you're getting to this section, and you follow some of the advice here, and you're excited about it, you probably should apply for a travel credit card. At least if you plan on really utilizing it.
Some strategies you may want to consider:
Double dipping. That's when you can use your credit card to get points but also with the same purchase get points in another way. For instance, let's say you get a welcome bonus of 30,000 points. You can put them toward anything you buy, but if there's an online shopping portal that your credit card encourages you to use, and if you get a steeper discount there, you can go there instead and get even more bang for your buck. (Just make sure that what you're buying at the online portal is stuff you need. That's an obvious statement, but it's easy to get excited and carried away over a deal, only to later realize that without the deal in place, you weren't likely to buy the item.) Or if you pay for your trip with your travel rewards card, you might earn loyalty points with an airline or hotel - and then you may possibly be able to also redeem your credit card rewards for a statement credit for that same purchase. If nothing else, you'll earn rewards on the purchase that you can then use for a future trip. Similarly, if you're shopping at a cash-back site with your travel credit card, you might save money from the cash-back site and rack up points with your credit card. Yet another form of double dipping.
Make sure you're still signed up for brand loyalty and frequent flyer programs. One, this is a good idea anyway if you've been using the program and you have a lot of points you don't want to lose. But even better, some travel cards let you transfer your points to an airline frequent flyer program. So even if your travel credit card isn't an airline-branded one, you may be able to, in effect, make it one by sending those points over to your frequent flyer program.
Keep track of incentives to redeem in specific ways. Sometimes you get more savings if you redeem your points or miles in a certain way. Like maybe it's worth more to redeem your points for cash than it is a gift card. Or maybe if you redeem your points for travel, you'll get a steeper discount than you would if you redeemed them for anything else. You just want to pay attention to how you redeem your points, so you can get the highest bang for your rewards buck that you can. In some cases, for instance, your points will be worth more if you redeem them through a proprietary site.
Use your credit card for purchases in categories in which you earn the most rewards. If you have one credit card, you'll use it to pay for whatever you darn well please, of course, but if you really want to maximize the heck out of the rewards you may want to, say, get a cash-back rewards credit card for bonus points on purchases like those at supermarkets or gas stations and use that card every time you fill up or stock the pantry. Then, use your travel rewards card for all of your airline and hotel purchases.
Travel in the off-season. If you can. Many people, especially parents with kids in school, can't vacation any other time but during the summer or spring break or during the end-of-the-year holiday season. But if you can swing it and go on that big vacation in September or January or some other time of the year when few people go get R&R, you'll save money on your vacation - and you can rack up points and discounts with your travel credit card. Plus, those cash-value points will take your further in the off-season.

Be financially responsible. In other words, don't apply for several credit cards if you aren't sure you can manage your money with multiple credit cards. And hopefully this goes without saying, but unless it's an emergency and you have to have cash right now, do not use your credit card for cash advances. Due to the high interest that kicks in immediately, it's just a bad idea. You also want to make sure that you pay your balance in full, every billing cycle.

If you can't pay the balance every time on each billing cycle, you can't. But carrying interest on a credit card is an effective way to undo all the work you've been doing to save money and reap rewards by using your travel credit card.

And it is, in a way, work, making sure that you're maximizing your rewards with travel credit cards. Still, if researching, applying for and using your travel credit card really does wipe you out, the good news is that you can take all of your points and use them to go find somewhere to relax and recover - like on a Caribbean beach.

For more, see what CardRatings Senior Manager Brooklyn Lowery has to say:
Learn more about how to maximize travel credit card rewards.
Travel rewards credit cards can be alluring, but you have to understand how to make them work for you in order to maximize their benefits. Here are some things to keep in mind when you're comparing travel rewards cards and looking for the one that's right for you:
Know your credit score and history
Assess your travel goals
Be honest about your spending habits
Consider the fees
Look at the extra perks and features
Once you've considered these things you'll be in a better position to start comparing options. The right card for you may not be right for the next person, so taking into account your spending habits, lifestyle, and card expectations will help set you up for a successful travel credit card experience. Learn more about how to choose a travel rewards credit card .
Jennifer Doss is a credit card analyst and the senior managing editor of CardRatings.com. She has worked as both a print and online journalist and has over a decade of experience in the media industry. Her published work has covered a broad range of topics, from finance and technology to travel and dining. Through extensive travel experiences and her personal...Read more
---
Survey Methodology: CardRatings commissioned Op4G in September and October 2022 to conduct surveys among 1,554 cardholders nationwide. CardRatings website analytics from Jan. 1, 2022-Aug. 31, 2022 were used to determine a selection of the most popular cards and additional cards were included to add survey breadth. Responses to each of nine questions were given on a scale of 1-10 and respondents' scores were then averaged under broad topics. To determine the overall score, responses from questions 1-8 were summed and the answer to "How likely are you to recommend this card to a friend, coworker or family member?" was double weighted. "Current Scores" reflect scores from the most recent survey (2022); "Past Scores" reflect scores from the 2021 survey.
Ranking Methodology: CardRatings experts review the fine print, details, perks, rewards and features of hundreds of cards and compare them side-by-side with similar cards. A card that makes an excellent balance transfer card may not make a great cash-back rewards card even though it offers those rewards. While the Best of the Year list is announced annually, that list – and all other "best of" lists on CardRatings – are regularly reviewed and updated as issuers change the terms and features of each card often.
To see the rates and fees for the American Express cards mentioned in this post, please visit the following links: CardName (See Rates and Fees); CardName (See Rates and Fees); CardName (See Rates and Fees); CardName (See Rates and Fees)
For Capital One products listed on this page, some of the above benefits are provided by Visa® or Mastercard® and may vary by product. See the respective Guide to Benefits for details, as terms and exclusions apply.
Disclaimer:
The information in this article is believed to be accurate as of the date it was written. Please keep in mind that credit card offers change frequently. Therefore, we cannot guarantee the accuracy of the information in this article. Reasonable efforts are made to maintain accurate information. See the online credit card application for full terms and conditions on offers and rewards. Please verify all terms and conditions of any credit card prior to applying.
This content is not provided by any company mentioned in this article. Any opinions, analyses, reviews or recommendations expressed here are those of the author's alone, and have not been reviewed, approved or otherwise endorsed by any such company. CardRatings.com does not review every company or every offer available on the market.