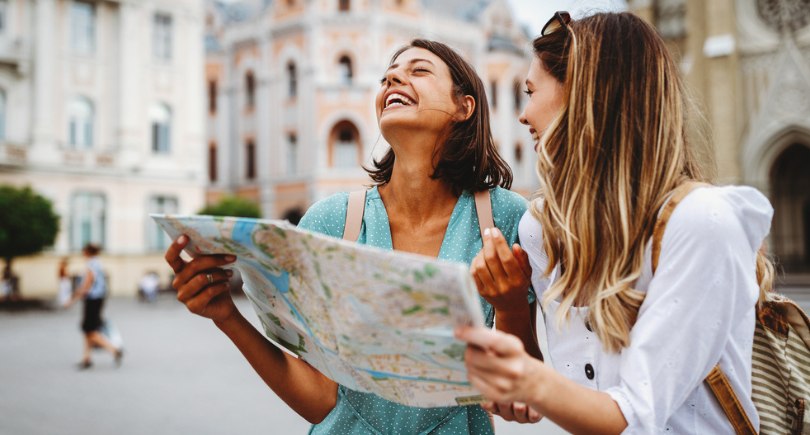 Travel credit cards work in the same way that any other rewards credit card works: they earn rewards on purchases made with the card, in this case particularly on travel purchases. There are various types of travel credit cards, and each earns rewards differently depending on the card, but in short, they all earn rewards on travel purchases, and those rewards can later be redeemed for future travel, or for other options such as gift cards or cash back.
Travel credit cards generally fall into a few specific categories, so let's take closer a look at those.
There are four main types of travel credit cards, each featuring their own type of rewards. These include:
Transferable points
Fixed value/cash value
Airline rewards
Hotel rewards
Which type of card is right for you will depend on your spending habits and how you prefer to earn and use travel rewards. Let's look at each rewards type in closer detail:
Credit card travel rewards
Transferable points
Transferable point cards are cards that allow you to rack up rewards, often they're called something proprietary like Ultimate Rewards (Chase's program) or Membership Rewards (American Express' program), and either use your rewards within that proprietary system or transfer them to other travel loyalty programs such as airline frequent flyer accounts or hotel frequent stay programs.
If you have a points/rewards-value travel credit card, it basically means that your rewards don't always have a direct relationship to the actual cost of whatever you want to redeem them for. This situation is most apparent for things like airline reward flights. Usually, the number of points you need to redeem for a particular flight doesn't change as the actual monetary cost of the flight fluctuates (which you probably know can happen often and vary widely). A flight that requires 15,000 miles will likely require 15,000 miles whether the actual cost of that flight is $250 or $500.
In some cases, such as with the CardName and other cards that operate on the Chase Ultimate Rewards point system, the rewards can have both cash-value (if you redeem your points through the Ultimate Rewards travel portal) or points-value (if you choose to transfer your Ultimate Rewards points to one of a number of airline or hotel loyalty programs).
PROS: You can often get even better value for your rewards when you transfer them to branded loyalty programs.
CONS: It can be complicated to figure out how to get the most value out of your rewards.
Fixed value/cash value
Cash value cards are likely the ones that offer you the greatest range of flexibility when it comes to your travel rewards. In general, they aren't tied to a particular hotel or airline brand so you don't have to worry about things like maximizing your rewards by only staying with a specific hotel group or only flying on one airline; instead, your points or miles or rewards (different issuers call their rewards different things) are worth a fixed value, typically $.01 each. An example of this type of card is CardName.
With these cards you typically pay for your travel purchase on your card and then redeem your rewards as statement credit to cover that purchase. So, for instance, let's say you need to book a flight and it costs $500 round-trip. You'll pay for your purchase on your CardName card and, if you have 50,000 miles in your rewards account, you'll then redeem those 50,000 miles as statement credit to cover the cost of that ticket. This approach allows you to travel on any airline, stay at any hotel, anytime with no blackout dates.
PROS: These cards allow you to "double-dip" when it comes earning rewards. Since you purchase your flight or hotel stay on a credit card, you can still earn rewards within that airline's or hotel's loyalty program, but then you can redeem credit card rewards to cover the cost. If you redeem rewards directly with a hotel or airline, you won't earn rewards for that flight or stay.
CONS: These rewards are worth what they're worth; you usually can't transfer them to other loyalty programs to take advantage of discount loyalty reward fares or prices.
Airline rewards
Airline rewards credit cards are attached to a specific airline frequent flyer program. Your credit card rewards are frequent flyer miles/points for that specific airline. Often these types of travel cards offer the highest rewards when you make purchases with the specific airline, but more and more we're seeing additional categories for rewards added to these cards as issuers compete for cardholders.
PROS: Your credit card purchases or any welcome bonus you earn can help you work toward status tiers within your airline of choice. This is even true of the coveted Southwest Companion Pass®, which your bonus and earnings with any one of Southwest's several credit cards can help you earn. Another pro is that, should you close the credit card, you generally get to keep any rewards you've earned because they are often housed within your frequent flyer account and not within your credit card account. Lastly, airline-branded credit cardholders often enjoy a variety of loyalty perks like upgrades, free checked bags, access to heavily discounted tickets and more.
CONS: These rewards are fairly limited in terms of how you can redeem them; furthermore, you often have to have a fairly large chunk of points/rewards accumulated before you can redeem them for travel.
Hotel rewards
Like airline cards, hotel credit cards are attached to a specific brand of hotels. You'll earn the most when you make purchases with the hotel, but often, hotel credit cards offer bonus rewards in other categories as well to remain competitive. Again, the rewards you earn accumulate within your hotel loyalty account and not on your card. Hotel credit cards often offer additional cardholder perks such as early check-in/late check-out, free room upgrades, and complimentary welcome gifts.
PROS: Your purchases can help you earn status with your hotel brand of choice, and you can generally hold onto your points/rewards if you close your credit card account. Additionally, many hotel-branded credit cards offer cardholders a free night stay each year after you renew your card.
CONS: As with airline cards, redeeming your rewards – particularly if you're interested in top value – is limited to stays with your hotel brand.
What is the difference between points and miles?
Practically speaking, not much.
Airline cards and those with a focus on air travel will often issue their rewards in the form of miles while other rewards credit cards may prefer the term points. Regardless of which word is used, miles and points are usually earned and redeemed in a similar way.
Don't assume miles can only be used for flights either. Some programs that award miles provide just as many redemption options as those that use a points system. CardName miles, for instance, can be redeemed for cash back and gift cards as well as transfers to partnering airline programs and other travel of all kinds.
As always, check the fine print so you understand how you can redeem miles or points to be sure a card is a good fit for you.
How to use a travel credit card
A travel credit card doesn't mean you can only use it for travel purchases. Instead, you can use a travel credit card for everyday purchases to earn travel rewards to put towards your next trip. Using it to pay for travel can boost your rewards-earning potential, but travel rewards credit cards are certainly good for more than just that. Certainly use them while traveling so that you can take advantage of extra travel-related perks like free checked bags, priority boarding, trip insurance, and more, but using them on a daily basis is a great way to help you save on future trips.
➤ SEE MORE: How to maximize travel credit card rewards
What can a travel rewards credit card do for you?
When used correctly a travel rewards credit card can help you earn free or heavily discounted flights, hotel stays, and more. And these cards aren't just for the world-traveling jetsetter! Many of the best credit cards for travel rewards earn points and miles on everyday purchases such as groceries, gas, and online spending, making them a great choice even if you only travel once a year.
Ready to jet with your new travel card? See our article on how to choose a travel rewards credit card or browse our top picks for the best travel credit cards and start planning your next getaway!