Terms apply; see the online credit card application for full terms and conditions of offers and rewards.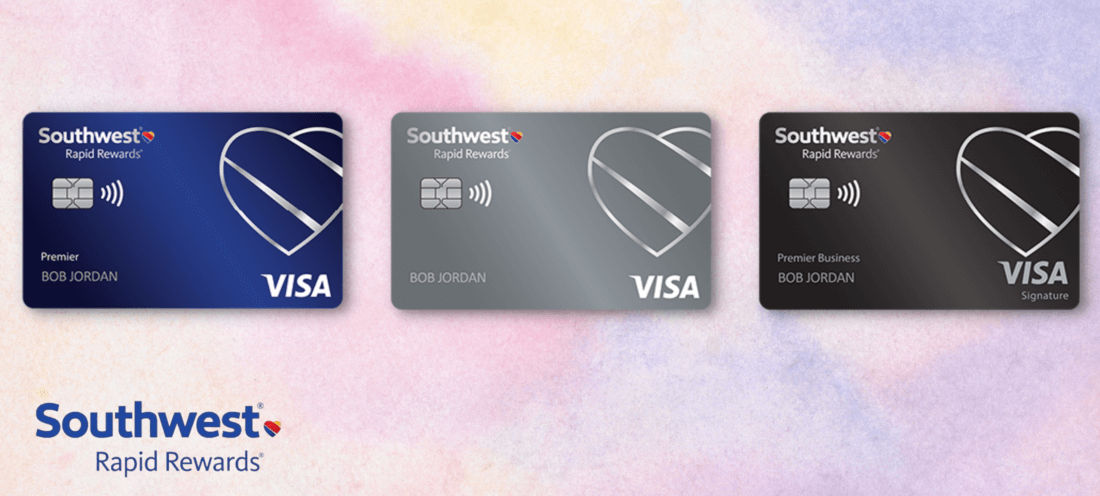 What is the Southwest Companion Pass?
The Southwest Companion Pass is one of the most valuable statuses available to frequent travelers. A perk exclusive to Southwest Airlines, Companion Pass status can be earned through a variety of methods, but effectively, it allows you to choose one person to fly with you whenever you book a flight with Southwest, at no additional cost (other than taxes and fees). Essentially, this status gains you access to two-for-one tickets.
For instance, if you book a round trip ticket to Hawaii on Southwest, with the Companion Pass you could add your designated companion on those flights with you for no charge other than taxes and fees. As there isn't a maximum number of flights that you can use this benefit on, you can derive tremendous value from this benefit if you frequently travel with a companion approximately lowering your airline costs by half.
How does the Southwest Companion Pass work?
Once you have earned the Companion Pass (more on this below), you are allowed to immediately begin utilizing its benefits. First, you will designate an individual to fly with you on Southwest flights purchased by you, booked through Southwest, and completed during the Companion Pass validity period (flights that take place in the calendar year the pass was earned plus the full year after).
After you have purchased airfare for yourself, you can then add your designated companion on to the flight as long as there is still a seat available. For the companion ticket you'll only pay for the taxes and fees (from $5.60 one way) and not the full fare for the flight.
You also have the ability to change your companion (with certain restrictions and limitations) if you would like to have a different person accompany you on a particular trip, so you are not locked in to only having the ability to travel with the initial companion that you chose.
Additionally, there are no blackout dates or seat restrictions on Companion Pass travel. If there is a seat available on a flight, you can add a companion to it.
How do you get the Southwest Companion Pass?
With a benefit this valuable, it should come as no surprise that it is going to take some effort to qualify. In order to earn the Southwest Companion Pass you will need to earn 135,000 qualifying Southwest Airlines Rapid Rewards points or travel on 100 qualifying one-way Southwest flights in a calendar year. Southwest will award 10,000 bonus Companion Pass qualifying points to individuals with an open Southwest Rapid Rewards Credit Card on the first business day of each calendar year. That means that the number of points cardholders need to "earn" is effectively 125,000 points as long as you have your card on the first business day of the calendar year.
There are many different points earning activities that qualify for the 135,000 Rapid Rewards points that are required to be earned in a calendar year. These activities include:
Points earned from revenues flights booked through Southwest Airlines
Points earned by making purchases with Southwest Airlines Rapid Rewards credit cards
Base points earned from Rapid Rewards partners
Qualifying partner activities that count towards Companion Pass include points earned through co-branded Southwest Rapid Rewards credit cards, shopping with partner online retailers as well as dining with participating restaurants, and home and lifestyle partner purchases.
Activities that do not count towards Companion Pass status include points transferred from Chase Ultimate Rewards and hotel partners as well as points purchased from Southwest.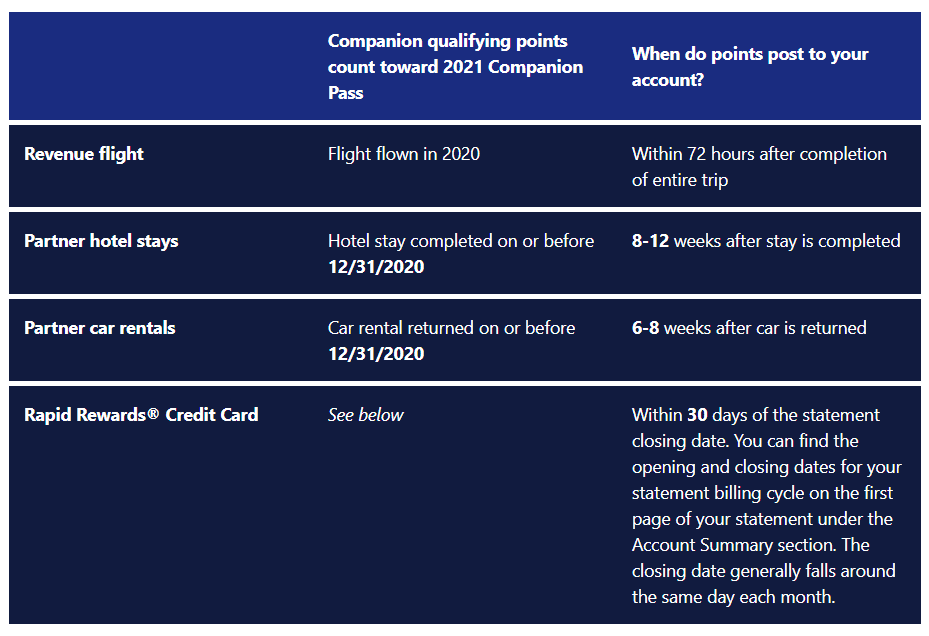 Which credit cards earn Rapid Rewards points?
SOUTHWEST CREDIT CARDS
Southwest Business Credit Cards
Using a Southwest credit card is an excellent way to quickly rack up Rapid Rewards points, especially thanks to hefty welcome bonuses, but with limitations on bonus earnings, the best way to earn the Southwest Companion Pass involves a mixture of different points earning activities.
For example, let's say you sign up for the CardName and make it your go-to card while you're working towards Companion Pass status. Let's play with some hypothetical numbers…
If you spend $5,000 on purchases in your first three months as a cardholder (which is likely easier than you might think, especially if you're using your card for all of your business purchases – think gas, office supplies, business dinners, bills, etc.) you'll pocket 80,000 points. Within just three months you're already well over halfway to your 135,000-point goal.
Say $2,000 of those purchases were on social media and search engine advertising, internet, cable and phone services – that's an additional 4,000 points. And then 3,000 points for those $3,000 worth of "other" purchases.
So three months in and you're already up to 87,000 points.
Now, say you spend just $10,000 over the next three months, but this time $2,500 of that is on Southwest purchases, Business Select tickets in particular. You'll earn 7,500 points on your everyday purchases, and 7,500 points on your Southwest purchases. That's an extra 15,000 points. But better still, because Southwest offers 12X points for every base dollar spent (excluding taxes and fees) on Business Select flights, you'll add approximately* 30,000 extra points (*this figure does not account for taxes and fees) to your Rapid Rewards account. In this scenario, in your first six months as a cardholder, you're already up to approximately 132,000 points and a fraction of the way remains to reach your 135,000-point Companion Pass goal.
Once earned, you will maintain Companion Pass status through the remainder of the calendar year that it was earned in as well as throughout the following calendar year. If you can qualify early in a calendar year, you can effectively get two years of adding on an additional traveler to your Southwest flights for just the cost of taxes and fees.
With all of this said though, we never recommend spending beyond your means with a credit card just to obtain a bonus. The fastest way to make a credit card bonus decrease in value is to pay interest on the amount you spent just trying to earn the bonus. If you can't pay for what you're putting on the card, no amount of rewards or bonuses is going to be worth it.
Chase's 5/24 rule
Southwest Rapid Rewards credit cards are all issued by Chase bank. Chase has instituted some stipulations to ensure that individuals signing up for cards are using them in legitimate ways and not just trying to take advantage of signup bonuses only. One of those stipulations is their 5/24 rule, which states that an individual who has signed up for credit cards in excess of five in the past 24 months will have their application denied by Chase if applying for a new credit card.
In addition to this stipulation, the personal Rapid Rewards credit cards have recently added language that limits how often you can sign up for and receive the new card member bonus on these cards. The recent change, in summary, doesn't allow you to open a Southwest personal card if you already have one in your possession and you can't earn the signup bonus from a personal card if you have received a bonus in the past 24 months.
The good news, however, is that applying for one of the Rapid Rewards business cards won't add to your 5/24 count. Let's say, for instance, that you've applied for four cards in the past two years, and now you want a Rapid Rewards business card to use for business travel. Go ahead and apply! You'll still only be at four applications in the past 24 months as far as Chase is concerned. One final note on this: Chase doesn't specifically describe this rule; rather, all we know about it is anecdotal. In other words, think of this as a guideline rather than a hard and fast rule. There's enough evidence out there to suggest it's true and accurate, but Chase hasn't publicly discussed it so they could make changes at any time.
Frequently Asked Questions
Can I still redeem Southwest points for flights once I earn the Companion Pass? If I use my Rapid Rewards points will I still earn the Companion Pass?
Yes, you can use the points after you have earned the Companion Pass as well as use them as you are earning them. The qualifying points activity for Companion Pass are tracked as you earn them and do not diminish if you redeem them in the calendar year in which you earn them.
For instance, if you earned the bonus of 50,000 points from the CardName after spending $1,000 in the first three months and then redeemed 20,000 points for a reward flight, your progress towards earning the Companion Pass will not be affected by the points that you redeemed.
It can be a useful strategy, however, to save your points to be redeemed after you earn Companion Pass. That way you can use all those points you earned to book a flight for yourself and then add on a companion for just the cost of taxes and fees.
If I cancel my Southwest card, will I lose my Companion Pass?
While there are numerous benefits to maintaining the Southwest Rapid Reward® credit cards in your wallet, including the ongoing Rapid Rewards points earning on all purchases, bonus points earned on Southwest purchases, yearly bonus points and relatively low annual fees, you will not lose your Companion Pass if you cancel your Southwest credit cards.
So if you, for instance, signed up for one of the cards and achieved the Companion Pass status through earning the qualifying points from a combination of credit card spend and flights booked, you would not lose the pass if you were to close the card at a later date.
How many times can I change my companion?
One of the nice features of the Southwest Companion Pass is that you are not locked in to maintaining the same companion for the entire time that you have the pass. Maybe you have a best friend who you normally travel with and have designated as your companion, but want to take your mom on a dream beach vacation to Hawaii. Southwest allows you to change your designated companion up to three times each calendar year that you maintain Companion Pass status.
So, you could change your companion from your best friend to your mom (1st change), go sit oceanside with a coconut cocktail, and then come back with a new suntan and change your designated companion back to your bestie (2nd change).
Are there restrictions on where I can travel or when I can go?
This is another wonderful benefit of the Southwest Companion Pass. You are not limited by blackout dates or route restrictions; any flight booked on a Southwest route with additional seats available can be used for a companion. In other words, if it's a Southwest operated flight with seats available, you can use your companion pass.
Can I use the Southwest Companion Pass for award flights that are booked with points?
Your Southwest Companion Pass can be used for any flight booked with cash or award flights booked with Rapid Rewards points.
Do transferred points from Chase Ultimate Rewards and travel partners count towards the Southwest Companion Pass requirement?
Points transferred from other Chase accounts or from hotel/travel partners do not qualify for the Companion Pass earning threshold. While this is a limitation of these partnerships, the transfer activities do have legitimate benefits. For instance, if you have already earned the Companion Pass but have utilized all of your Rapid Rewards points in your account, you can transfer points from another Chase account to book an award flight that you can add a companion on to.
Some notable Chase credit cards that allow you to transfer rewards to your Rapid Rewards account include:
Chase Ultimate Rewards Credit Cards
Chase Ultimate Rewards Business Credit Cards
Is the Southwest Companion Pass worth it?
Yes, the Southwest Companion Pass is truly one of most valuable perks for frequent travelers. Coveted membership to this club allows travel for two by paying for the full fare (cash or points) for only one traveler and only the taxes and fees for the other. However, if you do not frequently travel with other people or you are not able to easily fly on Southwest, the Companion Pass may not be as valuable to you.