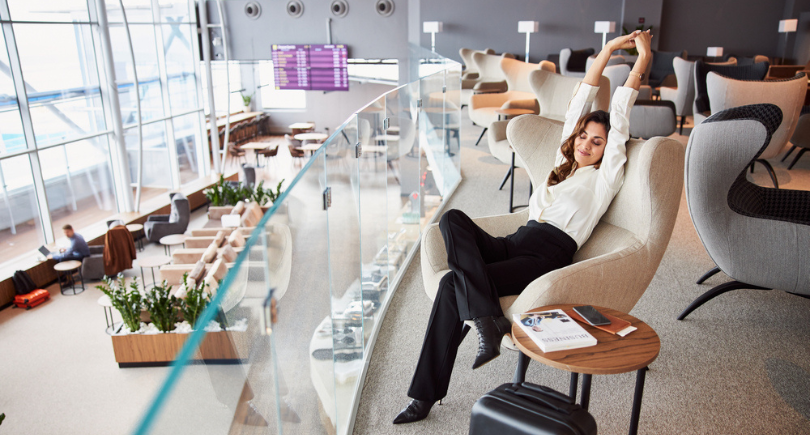 Going on vacation is a joy, but getting there is rarely half the fun. In fact, between smaller seats, scaled down amenities and long layovers, air travel can often feel like something to be endured rather than to be enjoyed.
While we can't help with cramped seating in economy, we do have a tip to help make layovers more pleasant: visit an airport lounge.
Yes, an airport lounge can make your time between flights infinitely better. A lounge not only has comfortable seating and free food, but it may have showers, workspaces and even beds for napping.
The only catch is that not everyone can access a lounge. You'll need to be a member of a lounge network or have the right airline ticket, credit card or elite status to be admitted.
How do I get airport lounge access?
Airport lounges have different rules, depending on who is operating them. However, generally speaking, you'll need membership in the lounge network and an eligible boarding pass to enter.
Many lounges restrict access to only a certain number of hours before a flight so don't expect to be able to spend an overnight layover there. They may also have rules limiting the number of guests or restricting access to only those who are flying business or first-class. If a lounge reaches its capacity, you could be turned away as well.
With that in mind, here are five ways to access an airport lounge.
Book a premium ticket
As we'll cover below, many airline carriers operate their own lounges, and those flying business or first-class can often access those lounges during a layover.
However, not every premium ticket may be eligible for lounge access. For instance, Alaska Airlines provides first-class lounge access only to those traveling at least 2,100 miles on that day. Meanwhile, only business-class passengers flying internationally can visit a United Polaris lounge.
If you access a lounge with a premium ticket, be aware you may not be able to bring a guest into the lounge with you. That means any traveling companions sitting in economy would be excluded.
Apply for a credit card with airport lounge access
One of the easiest – and most affordable – ways to gain lounge access is through a travel rewards credit card. Many cards that offer lounge access as a perk have an annual fee, but the value of the lounge membership, card rewards and other statement credits and benefits can far outweigh the fee.
Credit cards with airport lounge access
You have two options when it comes to credit cards that offer lounge access: branded cards and general-purpose travel cards.
Some branded airline card options include the CardName discontinued which features complimentary Delta Sky Club access plus two one-time guest passes each year when you fly Delta, as well as complimentary access to the Centurion Lounge or Escape Lounge – the Centurion studio partner – when you book a Delta flight with your Reserve card. (Effective 2/1/25, Reserve Card members will receive 15 visits per year to the Delta Sky Club; to earn an unlimited number of visits each year starting on 2/1/25, the total eligible purchases on the card must equal $75,000 or more between 1/1/24 and 12/31/24, and each calendar year thereafter.)
If American Airline is your preferred airline, you might want to consider the CardName which comes with an Admirals Club membership for you and your immediate family (or up to two traveling guests that accompany you). Some branded hotel cards – such as the CardName discontinued – also come with an airport lounge membership offerings. American Express and Citi are CardRatings advertisers.
General travel cards aren't tied to a specific airline or brand. Examples of these cards include the CardName and CardName discontinued. These luxury cards might provide access to multiple lounge options. For instance, with CardName, you can visit Priority Pass lounges, The Centurion Lounge and even Delta Sky Club lounges (when flying Delta). (Terms apply. Enrollment may be required.)
Many of the general travel cards that come with lounge access also come with a significant annual fee. In most cases, the fee is more than offset by card benefits. However, if you don't want to pay much for a card, check out the CardNamediscontinued or CardName discontinued cards – neither of which has a hefty annual fee, yet both have some lounge privileges.
Earn elite status with an airline
Almost all airlines have loyalty programs that reward frequent travelers with elite status. Once you have reached a certain level, you may be entitled to lounge access as a benefit.
For instance, Delta SkyMiles members with elite status can purchase a lounge membership with their miles. Meanwhile, AAdvantage Executive Platinum, Platinum Pro and Platinum members can access Admirals Club lounges with qualifying international flights.
Join an airport lounge network
If you are looking for a more direct way to gain airport lounge access, you could buy membership into a lounge network. Some networks, such as Priority Pass, are operated independently while others, like the American Airlines Admirals Club, are affiliated with a specific airline.
Depending on the lounge, you may be able to purchase a single day pass or an annual membership. Before buying a membership, estimate how often you expect to use lounges to determine whether the day or annual pass option offers a better value.
Tag along with a friend or family member who has access
Even if none of the above apply to you, it may still be possible to access airport lounges if one of your traveling companions is a member. If someone pays for membership or has a membership through a travel credit card, there is a good chance they are allowed to bring guests.
Depending on the lounge, guest passes may be free or there may be a charge. Either way, lounges may also limit the number of guests who are admitted with each member.
What are the different airport lounge networks?
Airport lounges are operated by airlines, credit card companies and independent businesses. The following are the most common lounges, but be aware that not all lounges are available in all locations.
Priority Pass – This independent network offers more than 1,300 airport lounges and experiences worldwide. Annual memberships range in price from $99 – $469 per year and may include complimentary access or provide the opportunity to purchase day passes. Members can access lounges regardless of their airline or class of travel. Several travel rewards credit cards offer Priority Pass Select membership as a cardholder perk. Learn more about Priority Pass.
Plaza Premium – Launched at airports in Hong Kong and Kuala Lumpur in 1998, Plaza Premium lounges are part of an independent network with more than 250 locations in more than 30 countries and regions. To access these lounges, you'll have to buy a pass or have access through a partnering program, such as Capital One Lounges. A two-visit pass that can be used globally is $99, but cheaper options are available for specific regions.
Capital One Lounges – The first Capital One lounge opened at Dallas/Fort Worth International Airport in 2022, and the credit card company is expected to open additional locations this year. Capital One customers who have CardName discontinued, CardName discontinued or CardName discontinued cards are eligible for free or specially priced access. All others pay $65 per visit, with kids younger than two being free. Card members may also be able to access Priority Pass and Plaza Premium Lounges.
The Centurion Network – Operated by American Express, The Centurion Network includes more than 40 Centurion Lounges and Escape Lounges worldwide. You'll need to have an eligible American Express card, such as CardName discontinued, to gain admittance. Depending on your annual card spending, you may be able to bring two guests into the lounge for free. Otherwise, guest passes as $50 for adults, $30 for minors and free for children age two and younger.
Delta Sky Club – Membership for the Delta Sky Club lounge network is limited to those who have Diamond, Platinum, Gold or Silver Medallion elite status with the airline's loyalty program. Annual fees range from $695 – or 69,500 miles – for an individual membership to $1,495 – or 149,500 miles – for an executive membership. Guest passes cost $50, or 5,000 miles, each. Diamond Medallion members can also select an executive membership with their choice benefits. Access to Delta Sky Club locations may also be available to certain credit card holders and those with qualifying premium tickets.
Admirals Club – Operated by American Airlines, there are more than 50 Admirals Club locations. Members also get access to more than 50 partner lounges. You can purchase membership to the Admirals Club for $650 and that will entitle you and two guests admittance to lounges. Elite members may have access to lower pricing. Lounge access is also granted to certain credit card holders, elite members and premium ticket holders. If none of those apply to you, then a day pass can be purchased at select locations for $59 or 5,900 AAdvantage Miles.
United Club – Travelers can access United Club lounges through a variety of methods, including premium tickets, Star Alliance Gold status and travel credit cards. Membership can also be purchased for a cost of up to $650 or 85,000 miles, depending on your MileagePlus status. One-day passes are also available at some lounges.
Alaska Lounge – Alaska Airlines maintains nine lounges in six airports. Members of this lounge network also get access to more than 90 partner lounges worldwide. Elite members may get complimentary access to lounges when flying on international itineraries, and long-haul premium flights may also make travelers eligible to visit a lounge. For those who want to purchase a membership, pricing begins at $400 for elites and $500 for non-elites. Day passes are available for some locations.
Qantas Club – Australian airline Qantas offers travelers access to more than 640 lounges worldwide through its Qantas Club. Lounge access is available for free to eligible frequent flyers, or a membership to the club can be purchased. Qantas Club asks visitors to wear "smart casual clothing and shoes," and you may be barred from admittance if you are dressed in gym wear, beachwear or other clothing deemed too casual or inappropriate.
Chase Sapphire Lounges by The Club – As one of the newest lounge options, Chase Sapphire Lounges can be found in Boston and Hong Kong with a third location in Las Vegas coming soon. CardName and The Ritz-Carlton Credit Card accountholders can access these lounges as part their card's Priority Pass membership perk. Other Priority Pass members can access a Sapphire Lounge by The Club once per year.
If all these options sound overwhelming, you could use a service such as LoungeBuddy. Available for iPhone users, this app allows travelers to quickly see which lounges might be available to them while traveling.
What does airport lounge access include?
In all lounges, you'll find comfortable seating and, hopefully, a quieter place to relax compared to the main terminal. Most lounges also have free Wi-Fi access and some sort of food, often either a buffet or grab-and-go items.
Beyond that, amenities can vary depending on the lounge network and location. For instance, you might find the following:
Showers
Private workspaces
Sleeping quarters
Prayer rooms
Lockers
Exercise rooms
Gaming experiences
Bars
Spas
If you are able to access several different lounges, you may want to check to see which offers the best amenities rather than simply choosing the one closest to your terminal.
How much does airport lounge access cost?
As mentioned before, many people can access lounges for free thanks to their elite status, premium tickets or credit card.
However, if you have to pay, expect to spend at least $500 for annual lounge membership that comes with complimentary access. Cheaper plans may be available through some lounge networks, but these could also require you to spend as much as $50 each time you want to access a lounge. Before buying a lounge membership, consider how many times you expect to use a lounge to determine which plan is right for you.
Since lounge memberships aren't cheap, many people find it worthwhile to get a credit card that offers lounge access as a perk, even if that card has a higher annual fee. The value of the lounge membership alone is often enough to offset the fee.
Are airport lounges worth it?
If you travel rarely or only have short layovers, you might not get much use out of a lounge membership. The same is true if you mainly travel through smaller, regional airports that don't have lounges.
However, frequent travelers and those on long-haul flights or with long layovers will likely benefit from lounge access. Even if you have to pay for a single day pass, that can be money well-spent if it saves you from spending hours sitting on hard chairs in a loud and busy terminal.