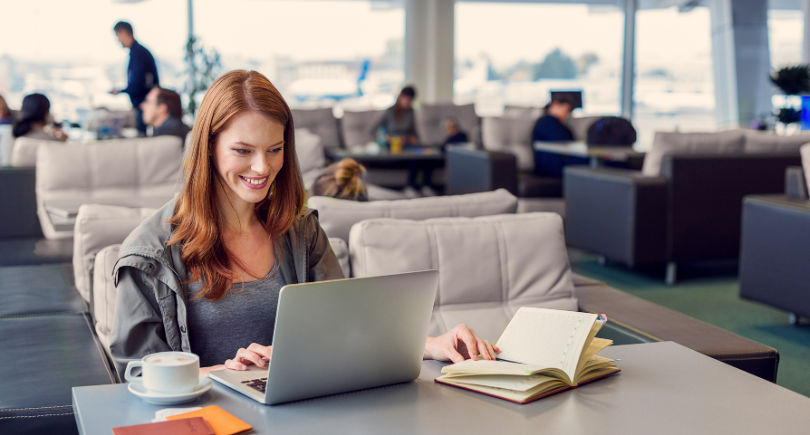 Airport layovers can be exhausting and uncomfortable – unless you have access to a lounge. In that case, you can relax in comfortable chairs, enjoy free food and fast Wi-Fi, take a shower or even nap on a bed.
Some airlines, such as Delta and American Airlines, maintain their own lounges, but these may be reserved for those with elite status or first-class tickets. However, if you belong to Priority Pass, you can gain access to lounges in more than 600 cities worldwide.
Here's everything you need to know about Priority Pass lounges and how to become a member.
What is Priority Pass?
Priority Pass was founded in 1992 to provide independent airport lounges. The goal was to create a lounge network that would be available to all travelers, regardless of their airline or class of ticket.
Today, Priority Pass provides its members with more than 1,300 "airport experiences" in 600 cities across 148 countries. Amenities can vary by lounge, but all provide a comfortable seating area, Wi-Fi service and food. In addition, you may have access to spa treatments, gaming experiences and sleeping areas.
➤ SEE MORE:Find a Priority Pass lounge
Who can join Priority Pass?
Anyone can become a member of Priority Pass. There are three levels of membership currently available:
Standard: $99 annual fee plus $35 for each member and guest visit
Standard Plus: $329 annual fee which comes with 10 free member visits; additional member visits and all guest visits are $35 each
Prestige: $469 annual fee which comes with unlimited free member visits; guest visits cost $35 each
However, it is also possible to become a Priority Pass member without paying a fee. Several credit cards include a Priority Pass membership as a free accountholder perk.
Priority Pass vs. Priority Pass Select
If you receive your Priority Pass membership through a credit card, you'll have a Priority Pass Select membership.
With a Select membership, your benefits may be different than those listed above. For instance, with the CardName, you get unlimited Priority Pass lounge access for you and your travel party, but you can't access "non-lounge experiences" such as shopping and spa services.
If your credit card comes with a Priority Pass Select membership, you'll need to activate it within your credit card account before you can begin using it.
Priority Pass benefits
Along with lounge access, Priority Pass membership comes with the following benefits:
Wi-Fi service
Food and beverage service
Spa treatments
Sleeping quarters
Complimentary WithU fitness app membership
Airport takeout (pay-as-you-go)
Duty-free shopping
Gaming experiences
Discounts on other services such as car rentals
Not all benefits are available at all Priority Pass lounges. What's more, Priority Pass Select members may not have access to all perks. Check your credit card benefits for details regarding what comes with your Select membership.
Which credit cards offer Priority Pass membership?
You have several options for a free Priority Pass Select membership. The following are some credit cards that offer enrollment as a perk to cardholders:
American Express and Citi are CardRatings advertisers.
What is the best credit card for Priority Pass access?
We like the CardName for Priority Pass access because it provides membership to authorized users (which can be added for free) as well as the main cardholder. That's a valuable perk not found on all cards.
CardName is also a good choice. It too will provide membership to authorized users plus you can receive free dining credits that can be used at nearly 30 airport restaurants and bars in lieu of a lounge visit.
While many of the cards that offer Priority Pass Select memberships have significant annual fees, the CardName is an affordable option to consider. It has a AnnualFees. However, this card doesn't come with the same level of perks and statement credits found with higher tier travel rewards credit cards.
➤ SEE MORE:Best credit cards for airport lounge access
Is Priority Pass worth it?
Lounge access can certainly make air travel more comfortable, and a Priority Pass membership is a convenient way to use lounges regardless of which airline or class you're flying. However, be aware that Priority Pass members may be the first to be waitlisted or turned away if a lounge is busy or at capacity.
Our opinion is that purchasing a Priority Pass membership really only makes sense for frequent travelers. For those who vacation once or twice a year, it's likely not worth the annual cost. That's particularly true if you travel with others and would need to pay for guest passes.
The better option for either type of traveler would be to seek out a credit card that offers Priority Pass membership rather than paying for lounge access out of pocket. Often, you'll be entitled to free guest passes along with your membership. Plus, credit cards offering lounge access typically offer other valuable travel perks and rewards which can help offset the cost of card membership.
Ready to find the right travel card for lounge access and other benefits? Check out the best travel rewards credit cards of 2023.