Best credit cards with airport lounge access
Airport lounge access and other valuable travel perks help these cards rise to the top. CardRatings editors compare the best credit cards for airport lounge access.
Brooklyn Lowery, CardRatings Senior Manager
Last Updated, September 16, 2021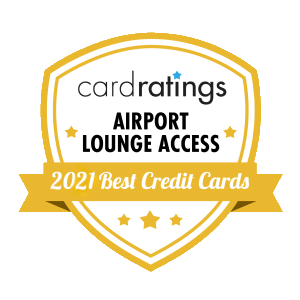 TOP CREDIT CARDS OFFERING AIRPORT LOUNGE ACCESS
Let's face it: Airports are not generally the most pleasant of environments, what with their fluorescent lights, blaring intercoms, screaming children and harried travelers. Enter the airport lounge. It's an oasis in the midst of an otherwise chaotic landscape and experience, but getting in isn't cheap, so take a look at our picks for the best airport lounge credit cards from our partners and get even more than a great lounge experience.
Access to these lounges, as you may know, can be pricey. An annual pass could set you back more than $550 and a day pass is likely to cost you at least $50 (do that a few times, and it adds up quickly). The fee may be worth it given the complimentary drinks and food many lounges offer as well as the calm away from the storm while you await your flight, but there's a better way: How about paying a lesser annual fee for a credit card that both grants you lounge access and provides you with a host of other benefits that stretch well beyond your time in an airport?
There are a number of luxury credit cards out there that offer complimentary airport lounge access as one of the many perks offered to their members. These cards also offer travel fee reimbursements, concierge services and so much more, making those hefty annual fees all worth it.
Here are our picks for the best cards for airport lounge access.
BEST CREDIT CARD FOR PRIORITY PASS AIRPORT LOUNGE ACCESS
BEST CREDIT CARD WITH AIRPORT LOUNGE ACCESS FOR AMERICAN AIRLINES FLYERS
BEST LUXURY CARD FOR AIRPORT LOUNGE ACCESS
BEST HOTEL CREDIT CARD FOR AIRPORT LOUNGE ACCESS
---
BEST BUSINESS CARD FOR AIRPORT LOUNGE ACCESS
BEST CREDIT CARD WITH AIRPORT LOUNGE ACCESS FOR DELTA FLYERS
BEST HOTEL CREDIT CARD WITH AIRPORT LOUNGE ACCESS FOR BUSINESS TRAVELERS
---
---
Survey Methodology: CardRatings commissioned Op4G in September and October 2020 to conduct surveys among 1,746 cardholders nationwide. CardRatings website analytics from Jan. 1, 2020-Aug. 31, 2020 were used to determine a selection of the most popular cards and additional cards were added to add survey breadth. Responses to each of nine questions were given on a scale of 1-10 and respondents' scores were then averaged under broad topics. To determine the overall score, responses from questions 1-8 were summed and the answer to "How likely are you to recommend this card to a friend, coworker or family member?" was double weighted.
Ranking Methodology: CardRatings experts review the fine print, details, perks, rewards and features of hundreds of cards and compare them side-by-side with similar cards. A card that makes an excellent balance transfer card may not make a great cash-back rewards card even though it offers those rewards. While the Best of the Year list is announced annually, that list – and all other "best of" lists on CardRatings – are regularly reviewed and updated as issuers change the terms and features of each card often.
Disclaimer: The information in this article is believed to be accurate as of the date it was written. Please keep in mind that credit card offers change frequently. Therefore, we cannot guarantee the accuracy of the information in this article. Reasonable efforts are made to maintain accurate information. See the online credit card application for full terms and conditions on offers and rewards. Please verify all terms and conditions of any credit card prior to applying.
This content is not provided by any company mentioned in this article. Any opinions, analyses, reviews or recommendations expressed here are those of the author's alone, and have not been reviewed, approved or otherwise endorsed by any such company. CardRatings.com does not review every company or every offer available on the market.