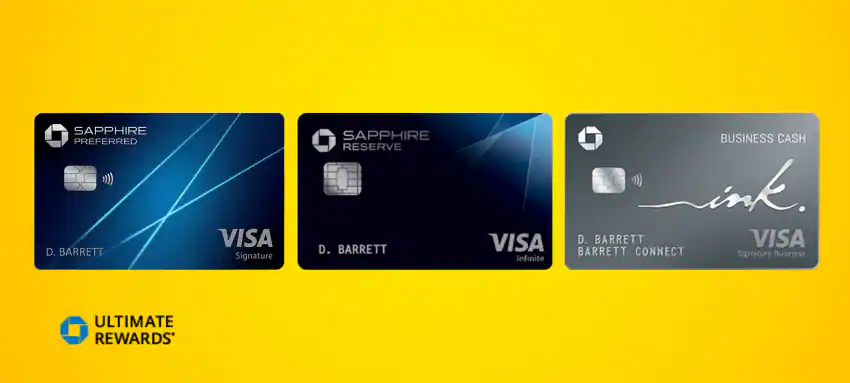 Terms apply; see the online credit card application for full terms and conditions of offers and rewards.
Chase Ultimate Rewards points— What are they? How do you earn them? How valuable are they?
In short, Chase Ultimate Rewards points are something you earn by using certain Chase credit cards, which can then be redeemed for things like gift cards, cash back or travel.
Chase Ultimate Rewards points are considered one of the most valuable loyalty currencies in the credit card industry thanks to their flexible redemption options. In addition to gift card and cash back redemption, points can be transferred to a number of travel partners, or redeemed for travel through the Chase Ultimate Rewards travel portal, usually at an increased value. For example, points earned with the CardName are worth 25% more when redeemed for travel through the Chase Ultimate Rewards portal, meaning 60,000 points are actually worth $750 in travel.
We'll cover more card details shortly, as well as provide answers to the questions above, but for now, let's start by looking at a few pros and cons of the Chase Ultimate Rewards program.
Here are some reasons to love Chase Ultimate Rewards:
With certain cards, points are worth more when redeemed for travel through the Chase Ultimate Rewards portal.
There are a number of travel partners (11 airline and three hotel programs, to be exact), so there's a good chance you can use your points to go almost anywhere you want.
Points don't expire as long as your account is open and in good standing.
However, no loyalty program is perfect. Here are a couple of reasons Chase Ultimate Rewards points may not be a good fit for you:
There's potential to get confused if you are planning travel hastily.
Annual fees, if your card has one, are never fun to pay. But the idea, of course, is that you only get a credit card with an annual fee if you believe that you'll collect enough perks and discounts to pay for that annual fee.
Which credit cards earn Chase Ultimate Rewards points?
Among the cards that earn Chase Ultimate Rewards points, you'll find there are a variety of ways to earn your points and, perhaps more importantly, a variety of ways to redeem those rewards in order to maximize their value; in fact, because Chase allows you to combine all of your rewards into the account of whichever card makes rewards the most valuable, if you hold several credit cards that earn Chase Ultimate Rewards points, all of your rewards have the potential to be worth more. We cover how to maximize your Chase Ultimate Rewards points later in this article, but for now, let's start with some of the top features of the Chase credit cards that will be part of that strategy.
BONUS TIP!

You'll notice that some of the cards below earn "cash back" instead of "points," but don't be so quick to rule them out if it's Chase Ultimate Rewards points you're after. Your cash back for the cards below does accumulate as Ultimate Rewards points and points are transferable among any of these cards. Remember, you can transfer your rewards to the account that makes your rewards worth the most whether they're called "points" or "cash back." We'll go more into card use strategy below.
Chase Ultimate Rewards consumer credit cards
Chase Ultimate Rewards business credit cards
What are Chase Ultimate Rewards points worth?
Chase Ultimate Rewards points are, at a baseline, worth about 1 to 1.5 cents each, and you can redeem for, well, a lot of things, such as cash back, gift cards, Amazon purchases, Apple purchases through the Apple Ultimate Rewards store, and more. Cash back is one option through which you'll redeem at a flat rate of one cent per point; however, where your points will be worth the most is towards travel. There are two main ways to go about redeeming Chase Ultimate Rewards points for travel:
Transfer to travel partners. Points can be transferred in 1,000-point increments at a 1:1 ratio to numerous Chase Ultimate Rewards travel partners. Overall this is where the real value is with these points. If an airline's reward flights, for instance, require significantly fewer points than the cash value of the flight, your points will go far further than $.01 per point. The same is true with hotel loyalty rewards.
Redemption though the Chase Ultimate Rewards travel portal. This portal allows you to use points to pay for things like plane tickets, hotel stays, car rentals, experiences and more. What's great about this option is that some Chase credit cards offer extra value on your points when redeemed this way: points can be worth either 25% or 50% more, depending on the card. And the big thing when it comes to value with these points is that you can make your points worth more just by combining them under a particular Chase card. More on that below.
Who are Chase Ultimate Rewards travel partners?
The Chase Ultimate Rewards airline partners are, in alphabetical order:
Aer Lingus AerClub
Aeroplan
British Airways Executive Club
Emirates Skywards
Flying Blue AIR FRANCE KLM
Iberia Plus
JetBlue TrueBlue
Singapore Airlines KrisFlyer
Southwest Airlines Rapid Rewards
United MileagePlus
Virgin Atlantic Flying Club
Chase hotel partner programs include those with the following properties:
IHG Rewards Club
Marriott Bonvoy
World of Hyatt
There are a few things you'll want to remember about using a Chase partner, however. First of all, if you're transferring your points to a partner, you are still in the Chase galaxy, but you are no longer on planet Chase. In other words, you're subject to the rules, fees and price charts of its partners— and not those of Chase. So you want to make sure you check any differences related to partners, such as blackout dates for the airlines. And when you transfer points to a partner, it's non-reversible, so it's important to make sure you are clear on the terms before making a transfer.
Sounds a little intimidating, but that doesn't mean you shouldn't transfer points. Plenty of people do, and what's nice about using points for airline miles in particular is that many of Chase's airline partners participate in airline alliances. So you can use your Chase Ultimate Rewards points to fly on more airlines than you might think. For instance, British Airways, a Chase partner, is part of Oneworld Alliance, and Singapore Airlines, another Chase partner, is part of Star Alliance.
Why is that important?
Because maybe you don't have a big need to fly on British Airways, but American Airlines is a Oneworld Alliance Airline, and maybe that's exactly what you need for your next trip. Meanwhile, EgyptAir is part of Star Alliance Airlines, and so you can start to see how these alliances can allow you to use your points to pretty much take you anywhere in the world if you play your cards (er, points) right. If you do wind up using your points to help you reduce your costs for flying on EgyptAir, be familiar with that airline's rules on blackout dates or any hidden fees, so you gain maximum advantage from your points.
How to maximize Chase Ultimate Rewards points
Thanks to the ability to combine Ultimate Rewards points earned through the use of several different cards under a single card, savvy cardholders can make the rewards they earn with a no-annual-fee card go as far as the ones they earn with a card that charges an annual fee… and maximize how they earn those rewards as well.
To truly earn the most rewards and then get the most value out of them, you'll want to carry (and regularly use) two or even three Chase cards that earn Ultimate Rewards points. Let's say you have CardName and you earn 5% back on the first $1,500 you spend in the rotating categories each quarter you activate. Instead of earning just 1% back on your other purchases outside of bonus categories, why not carry CardName, another no-annual-fee card, so that you can earn 1.5% cash back on those purchases. Better still, if you carry the CardName, you'll earn two points per $1 on all travel purchases AND you can combine all your points earned with your CardName and your CardName in the CardName bucket so all those points are worth 25% more when redeemed for travel through the Ultimate Rewards portal.
Taking things one step further, if you can justify the annual fee of the CardName, you could add it to mix and make your points worth a whopping 50% more. That means if you have 50,000 points to redeem towards travel through the Chase Ultimate Rewards portal, you're looking at a value of $750!
Can you combine Ultimate Rewards points with another cardholder?
Yes, Chase allows cardholders to combine points with one other cardholder as long as both cardholders are members of the same household. In other words, it doesn't have to be your spouse or a family member, but you do have to live together. Under those conditions a room mate would certainly qualify.
To combine points, you'll need the card number of the person you want to combine points with. You used to be able to add the other account via your Chase app or account, but lately it seems you'll need to contact Chase customer service to get it. It isn't a long phone call and shouldn't be a surprise activity for the customer service rep you speak with, as this is a fairly straightforward and common request.
Keep in mind that Chase does not take it well if you try and manipulate the system and can claw back points, cancel cards and even blacklist you from future cards if they think you've broken the rules. It's not a risk worth taking, so stick with combining points with one qualified household member.
Do Chase Ultimate Rewards points expire?
No, Chase Ultimate Rewards points do not expire, but that doesn't mean you can lose them.
It is possible to lose Chase Ultimate Rewards points if:
You close the credit card account with points still left in it.
You return items that you've bought with your card. In other words, you bought something with your Chase credit card. You got 11 points. You returned the item. Alas, Chase will be taking back those 11 points.
You made a late payment. If you've been collecting points for a long time, don't worry— all your hard work isn't for naught. But you'll lose the points that you collected during the month that the payment was due.
If you transfer your points to a Chase partner, there could be a case in which those points expire since they are no longer Ultimate Rewards points then, but are the rewards/points for whatever program you transferred them to. In that case, your rewards' expiration status will be subject to the rules of that other program.
➤ LEARN ABOUT EXPIRATION POLICIES:Should you save credit card rewards?
Otherwise, you're safe.