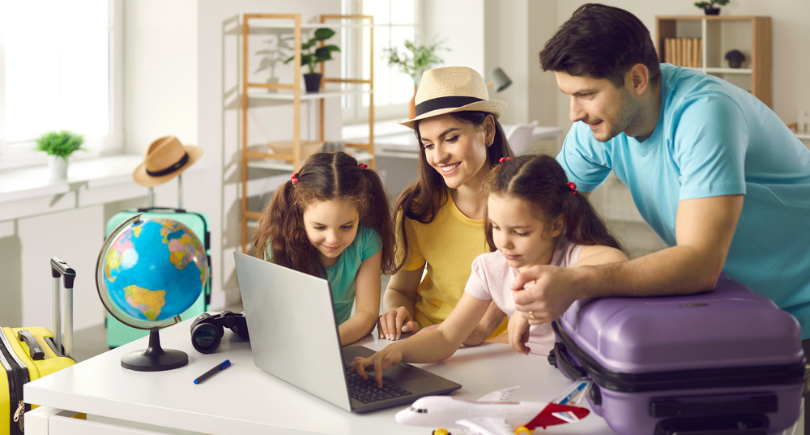 The right credit card could be your ticket to an enhanced travel experience, but with so many options available to apply for, how do you know which card to choose? Before applying for a travel credit card you have to understand how to make them work for you in order to maximize their benefits. The right card for one person could differ drastically from the next. Here are some things to keep in mind when you're comparing travel rewards cards:
Know your credit score and history
We always have to start with this recommendation regardless of the type of credit card you're looking for. The first step when comparing credit cards is to narrow down your options based on your credit score and history. If you have excellent credit, this probably won't narrow down your options much since most cards will be available to you. If, however, you have fair or average credit, this step will probably narrow your options considerably, especially when it comes to rewards cards. Don't grow discouraged! Just work with the credit score you have, use responsibly the credit cards for which your eligible and you may soon qualify for a card designed for those with good or excellent credit. DON'T apply for cards that require excellent credit if you simply don't have excellent credit as that could very well damage your score.
Assess your travel goals
Are you someone who takes a mega-trip once a year? Or are you a person who escapes for weekend getaways whenever possible? Do you care about things like airport lounge access and VIP perks, or are you primarily concerned with top rewards for the lowest possible annual fee? Be honest about how you travel and don't convince yourself you will change your travel habits to fit a new credit card. Instead, find the card that fits the travel patterns you've already established.
Be honest about your spending habits
As with any rewards credit card, you want to find the one where the rewards offered most closely align with your regular spending habits. If, for instance, you rarely dine out, then you aren't going to reap the full benefits of a travel rewards card that offers bonus rewards at restaurants. Likewise, if you prefer road trips to transatlantic flights, an airline rewards card probably isn't for you. Now, that sounds pretty basic, but it can be more nuanced. Let's say, for instance, that you are a bargain shopper who will fly any airline that offers you the cheapest airfare to your destination; conversely, maybe you are an airline loyalist who is prepared to pay a little bit more to fly the airline you've come to know and love.
Consider the fees
This is very important to look at – especially annual fees and foreign transaction fees. Some annual fees can be pretty steep, although often in the first year they're waived. But, still, next year, do you want to pay the annual fee? Maybe it's not a big deal if it's less than $100; maybe it's a bigger deal if it's $500.
Often, the more sizable the annual fee, the more perks you'll have with the card, but you want to make sure you're going to use the card enough and get enough perks, points and amenities to justify spending money on an annual fee. If you spend $495 on an annual fee, and you only land about $300 in discounts in a year, that's not math you can get excited about. On the other hand, if you spend $495 on an annual fee and the perks and discounts add up to $750 in a year, well, you're coming out well ahead.
➤ SEE MORE:Are credit cards with annual fees worth it?
As for foreign transaction fees – fees that your credit card issuer will sometimes add onto purchases you're making abroad – you need to be mindful about this if you regularly travel outside of the United States. Not all travel credit cards charge foreign transaction fees – in fact, more and more of them don't – but some do. Usually the fees are between 2%-3%. If you travel abroad and use a travel rewards credit card that charges this fee, you'll add to the total cost of your entire trip, which, of course, can eat into the discounts you're accruing when you use your card to begin with.
That might lead you to think, "Well, fine, I won't use my travel credit card when I travel abroad," but then you're missing out on discounts, earning rewards and the security of using a card as opposed to cash, all of which are kind of the whole idea behind travel credit cards.
There are reasons you really should use your travel credit card when you travel internationally. For one, you may get a better exchange rate when you use your credit card for purchases than if you use cash. And then if someone steals your credit card and spends, say, $5,000, the most you can be liable for is $50, and your bank or credit card issuer may be able to get you a replacement overnight. If your debit card is stolen, or you have $5,000 in euros or dirhams in your wallet, and that's taken, you could lose it all and have nobody, other than friends or family who may or may not be able to wire you money, to help you get back home. So, yes, it's much safer to use a credit card than a debit card or cash. If foreign transaction fees bug you that much, find a credit card that doesn't charge them. You can start here by browsing our top picks for no foreign transaction fee credit cards.
Look at the extra perks and features
The top travel credit cards offer cardholders more than just rewards and the conveniences and security of paying with plastic. Instead, they feature "fine print" benefits like included car rental insurance, lost luggage insurance or even trip cancellation/interruption insurance. Some cards even reimburse you for some travel expenses or offer a statement credit to cover Global Entry or TSA PreCheck application fees. And, of course, there are travel cards that offer complimentary checked bags on flights and/or airport lounge access or free room upgrades. Decide which of these features is important to you and search for a card that meets those needs.
If you've been zeroing in on a travel rewards credit card, and you like the fact that the annual fee isn't crazy (or it is crazy, but you feel it's worth paying), and you aren't bothered by the foreign transaction fee (or better yet, there is none), and you like all of the perks and amenities, then these extra features we're about to discuss probably shouldn't change your mind. But if you're on the fence about a card, these features may get you to an enthusiastic yes – or the lack of them may bring you to a hard no.
Regardless, do your due diligence and see what your travel credit card offers when it comes to…
Car rental insurance
Do you regularly rent cards? Do you cringe when you're asked at the counter if you want the car rental's insurance? (It always sounds great to have, but it can significantly jack up the price of the rental.) Many credit cards offer rental car insurance. It generally won't provide as good as coverage as your own car insurance, or the rental car's protection, but sometimes it will cover things like theft and collision or will pick up the rest of your deductible. If you feel like your credit card's car insurance is solid, then between that and your own insurance (assuming you have car insurance), when asked if you want to pay extra for insurance, you may be able to finally confidently tell the inquiring rental car associate, "No, thanks."
➤ SEE MORE: What does credit card car rental insurance cover?
Travel interruption/cancellation insurance
Just before you fly out to your brother's wedding, you wind up with walking pneumonia and have to eat the cost of the airline ticket, or fly out there and expose everyone to your germs. Except now in this alternate future, you'll get reimbursed for those tickets – assuming your travel credit card offers good travel interruption or cancellation insurance and you bought the ticket on that card (or redeemed card rewards for the ticket). Unfortunately, sometimes you won't be able to get the full details on perks like these until after you've applied for the card, and they're sending you a guide to all of your benefits. Still, if your travel card offers this, whether or not it does everything you'd like, it's a worthy benefit. It could save you hundreds in third-party trip insurance fees.
➤ SEE MORE: Guide to credit card travel insurance
Lost luggage insurance
Some travel credit cards will pay you up to a certain amount for any lost or stolen luggage while you're on a trip. While you don't want to put your most expensive jewelry or rare coin collection in a suitcase, especially if it's uninsured, it is a reassuring perk to know that if you have a suitcase jam packed with shirts, sweaters and undergarments, and you lose it all, your credit card can help you out.
Concierge services
These services can be a little like having a personal assistant. Do you need reservations at a restaurant? Your concierge can help you with that. Do you have some sightseeing excursions you want to set up? Your concierge can handle that, too. Need a hotel room but everything seems to be booked up? Let your concierge worry about it. This can be a wonderful perk for the time crunched.
➤ SEE MORE: Getting the most out of credit card concierge services
Applying for a travel credit card
Now that you've learned how to choose a travel credit card, it's time to actually apply. Start by browsing our list of the best travel credit cards and narrowing down the cards that best suit your spending habits and needs. Once you find the right card for your lifestyle simply apply online and begin enjoying the perks of your new card. Bon voyage!