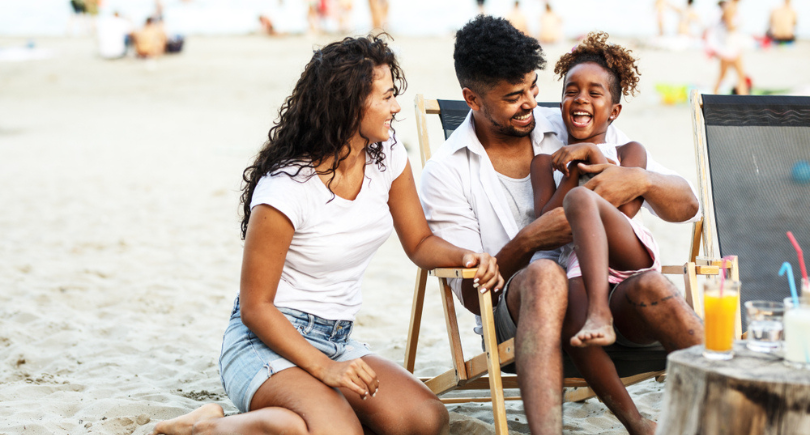 Paying for vacation with a credit card can have its benefits, but it's important to make sure you're using the right card, and using it correctly. Whether you're a weekend jetsetter or you only go on vacation once a year, there's an ideal credit card fit for you. We break down the various types of vacation credit cards and offer tips for making the most of them while planning and taking your next vacation.
Types of vacation credit cards
Airline credit cards
Family vacationers and solo wanderlusters alike can benefit from the numerous rewards that airline credit cards offer. If you're loyal to a particular airline, there's no faster way to rack up points with that airline than to use a co-branded credit card to pay for your flights, and then to fly on that airline, of course. What's great about these cards though is that the rewards earning doesn't stop there. The best airline credit cards earn points on all purchases, so you aren't limited to just earning when you travel. By using an airline credit card for your vacation purchases, as well as everyday purchases, you're sure to rack up points in a hurry to use towards your upcoming, or even a future, vacation.
These travel credit cards are also a great way to make the most out of your flight experience. Co-branded airline cards offer cardholders things like free checked bags and in-flight discounts–saving you money; priority boarding–saving you time; and seat upgrades and complimentary lounge access–saving you from discomfort. All invaluable perks for frequent flyers.
➤ LEARN MORE:Are airline credit cards worth it? What they offer that general travel cards don't
Hotel credit cards
Whether you're looking for a swanky Manhattan hotel room for a romantic getaway or a tropical resort with a massive pool to let the kids burn off energy, hotel credit cards are a smart way to make the most of your vacation budget. These co-branded travel cards offer cardholders access to things like free night stays, room upgrades, resort credits to be used on experiences such as resort dining or visits to the spa, complimentary breakfast and more.
If you're loyal to a particular hotel brand, these travel credit cards can save you a ton of money for future travel. That's because branded hotel credit cards often earn really competitive rates per dollar spent at that particular hotel chain. For example, the CardName discontinued earns 7X Hilton Honors bonus points for each dollar of eligible purchases charged directly with a hotel or resort within the Hilton Honors portfolio of brands. Beyond that, earn 5X points for each dollar of eligible purchases at U.S. restaurants, U.S. supermarkets, and U.S. gas stations. Earn 3X points for other eligible purchases on your card. That means the more you use your card to pay for your hotel stays and everyday purchases, the more points you have to help offset the cost of your trip. American Express is a CardRatings advertiser.
Hotel credit cards are also a great way to gain access to elite status programs, which are usually reserved for the most loyal hotel guests. Access to these programs can gain you even more hotel benefits such as additional bonus points earned on stays, executive lounge access, priority late checkout, 48-hour guaranteed room availability, and welcome gifts.
➤ LEARN MORE:Hotel credit cards: How do they work, what are their benefits, how to choose a card?
Gas credit cards
Own a RV or just prefer to drive to get to your vacation destination? Don't leave home without your gas credit card. Gas cards are a great travel credit card to have on hand for road-trip vacations as they earn rewards on every dollar spent at the gas pump. If you're spending a lot on gas, the rewards can really add up and help to offset the cost of your trip. Plus, these cards often earn on other purchases too, so the rewards don't stop there.
Take the CardName for example. Not only does it earn unlimited three points on gas purchases, but it earns unlimited three points on hotels and air travel, and at restaurants and supermarkets as well. So say if for your next vacation you fly to San Francisco, stay a few nights in a hotel, dine out on Fisherman's Wharf, and then rent a campervan, stock up on groceries at the supermarket, and road trip to Yosemite, you'll earn rewards on it all! Citi is a CardRatings advertiser.
➤ LEARN MORE:Gas credit cards: What are they, how to choose a card, are they worth it?
No foreign transaction fee credit cards
If you regularly vacation abroad a no foreign transaction fee credit card can really save you a bundle. Travel credit cards with no foreign transaction fees can save you, on average, 3% of the total cost of your trip– that is, the total cost you spend in a foreign currency.
People oftentimes misunderstand how this works, thinking that if they are using a U.S. credit card, they are paying in U.S. currency. When you use a credit card abroad though, each time you swipe your card, that amount is automatically converted into the local currency. To cover the costs associated with this, many credit card issuers charge a foreign transaction fee. If you're only spending a couple hundred dollars here and there in a foreign currency, you might not mind this much; however, if you're taking a big vacation in another country this can really add up.
For example, let's say you take a two-week vacation to Spain. You most likely won't have to worry about your plane tickets facing a foreign transaction fee (unless you're taking a local airline to travel around Europe once you get there), but your hotel, meals, entertainment, and everything else purchased in Spain are subject to a foreign transaction fee charge. So say while abroad you spend $6,000 on your credit card. If that card charges a 3% foreign transaction fee, you're looking at $180 extra in fees. You could eat a lot of tapas for that amount.
Instead, if you use a no foreign transaction fee credit card, that's money in your pocket. That may sound too good to be true, but these cards really aren't difficult to come by. Many of the best travel credit cards offer this as a perk, so if this is an area that's important to you, just be sure to check the fine print before you apply. You'll be glad that you did next international vacation you take!
➤ LEARN MORE:Guide to foreign transaction fees
Flexible travel credit cards
Perhaps each vacation you take is unique. You fly one trip staying in a hotel; drive the next staying in an Airbnb. Flexible travel credit cards are the perfect option for those travelers who, well, want to remain flexible. If you aren't loyal to a particular hotel or airline, these travel credit cards are great because they'll earn you rewards on all travel purchases; not just on travel purchases made with a particular brand. Rewards earned with these cards can also often be transferred to a number of travel partners, adding to their flexibility.
The CardName is a favorite for flexibility as it earns rewards on all purchases– not just on travel purchases. And those rewards can be redeemed on all travel expenses– not just on travel expenses with a certain hotel or airline. Eligible train tickets, campsite bookings, guided excursions, cruises, and more can all be redeemed with Capital One miles.
Another favorite is the CardName, particularly because points are worth 25% more when redeemed for travel. That's a perk that can really help to stretch your vacation budget. Take the signup bonus alone, for example. New cardholders who spend $4,000 within the first three months of opening an account can earn 60,000 bonus points – that's worth $750 when redeemed for travel through the Chase portal! On an ongoing basis, cardholders earn five points per $1 on purchases through the Chase portal; three points on dining, select streaming services and online grocery purchases (excluding Target, Walmart and wholesale clubs); two points on other travel purchases; and one point per $1 on your other purchases – and yes, those rewards are worth 25% more when redeemed for travel, too.
How can a credit card benefit your vacation?
When it comes to paying for your vacation with a credit card there are two main points to think about: security benefits and rewards and bonuses. Both can add significant value to your vacation. Here's how:
Security benefits
For starters, the peace and mind that credit card use while on vacation can bring is huge. Of course there is always the risk of losing your credit card while on vacation, but at least if this happens, it can be replaced, oftentimes within 24-48 hours, even if you're traveling internationally. And if someone steals your card and makes fraudulent charges, you're covered. On the other hand though, if you lose cash, that money is gone. You could always withdraw more from an ATM or at the bank, but still, you're spending more money on your vacation than you planned to, and that's never any fun.
Credit card issuers these days make credit card security a huge priority. Oftentimes you can set up account alerts so you'll get automatic security updates – via text, email, or phone – and you can choose to sign up for personalized emails or texts to stay on top of account information. You'll oftentimes see issuers offering $0 fraud liability as well if your card is ever lost or stolen. No one wants to pay for a purchase they didn't make, and thanks to top-notch credit card security, with most credit cards, you won't have to.
Rewards and bonuses
Welcome bonuses are an easy way to make your credit card work to your advantage. If you want to cash in on travel rewards credit card perks, it'll help to follow these tips:
If you apply for a credit card with a large welcome bonus, be sure to meet the qualifying spend threshold before the promotional deadline. A large bonus can go a long way when it comes to planning a vacation. Depending on the size of the bonus, your travel location, and your travel dates, you may even be able to cash in on free hotel stays or airfare. Just be sure to plan your application date accordingly and don't expect to book plane tickets for your trip in July with your bonus if you don't apply for the card until June.
Funnel all the personal expenses you can on your rewards credit card leading up to your trip (and all year long if feasible). As long as you're paying your credit card bill off each month, this can be a great way to seriously rack up some rewards points which you can use towards your next vacation. If you can't pay off your bill every month though, ease up. Rewards points will only technically benefit you if you didn't go into debt to earn them.
Build loyalty with travel industry brands that offer generous redemption options, elite status upgrades, and comprehensive destination lists. The more you travel within these brands, the more rewards you'll earn to use towards future trips.
Research all the benefits your credit card offers. Did you know that some credit cards offer car rental insurance? How about insurance for lost baggage, or reimbursement for delayed or canceled trips? Some credit cards even offer travel accident insurance and roadside assistance services, as well as statement credits for things like Global Entry or TSA PreCheck applications. Knowing these details could save you a lot of money when it comes to your vacation.
➤ LEARN MORE:Guide to credit card travel insurance
If you've got excellent credit, you can usually find significant welcome bonus offers for new credit card customers. The biggest deals usually come from airline credit cards issued by major national banks. Many of these partnerships offer enough frequent flier miles or rewards points to cover one or two round trip domestic tickets.
On the other hand, if you have enough time to play a longer game, you can turn your everyday purchases or reimbursed business expenses into discounted airfares and hotel nights. Hotel chain credit cards multiply rewards points for purchases at participating properties, speeding you toward exclusive status along the way. With many hotels adopting flexible, market-based redemption programs, picking an off-season date or a less central property for your vacation can stretch your rewards balance even further.
When searching for the best credit card that fits your needs for your vacation, remember that credit card companies don't set up rewards points programs just to be generous. Annual fees and finance charges on travel rewards cards tend to come in significantly higher than similar "no frills" credit cards. Squeezing maximum value from your rewards card means redeeming far more in value than the cost of your annual fee. Likewise, paying your bill in full at the close of each statement cycle can prevent high APRs from diminishing your card's rebate credits. Map out a sample reward itinerary to see just how much you'll need to spend if you want to fly, dine or lodge using your rewards.
In other words, getting the most of out of the best credit cards for vacation takes about as much work as you're doing to plan your vacation itself. That's the bad news. The good news is that by planning both, and really looking over the details, it should pay off. Your memories may be priceless, but that doesn't mean you have to pay a fortune for them.
Bottom line: Should you pay for vacation with a credit card?
The short answer: it depends. There's a not-so advised way to pay for a vacation with a credit card. There is also a very strategic smart way to pay for a vacation with a credit card.
The not-so advised approach: You know that you don't have the money for a vacation, but you throw caution to the wind, anyway, and you max out your credit card and go on a vacation. By the end of the year, you're still struggling to pay off the vacation.
The strategic smart way: You do have money for your vacation, and what's more, you've put some savings aside because you have a cash-back rewards credit card – and every time you saved money on purchases earlier in the year, you made sure some of that savings went into a bank account. What's more, you bought your airline tickets or hotel rooms through your credit card's travel portal, and because of that, you saved even more money.
Now, we don't begrudge the vacationers who maxed out their credit cards to go on a vacation. The memories are priceless, and if you needed a vacation, well, you needed one. This is where intro 0% APR offers could come in handy. If you need some extra time to pay off vacation expenses, or need to transfer a balance, be sure to utilize these offers as they'll give you some extra time to pay off balances interest free.
Obviously though, it's better if you can use your credit cards to help you save money on the vacation, rather than utilizing credit cards to make a vacation more expensive, due to interest charges.
For instance, if you have a travel rewards credit card that offers you airline miles for the money you spend, you could collect enough in airfare to fly somewhere for "free." We say "free" since, as we know, nothing is free, and you had to spend a lot to get those tickets. But, still, it is very possible to use your credit cards so that paying for a vacation is strategically worked into your budget and cash flow – so that paying for it isn't too crazy of an undertaking.