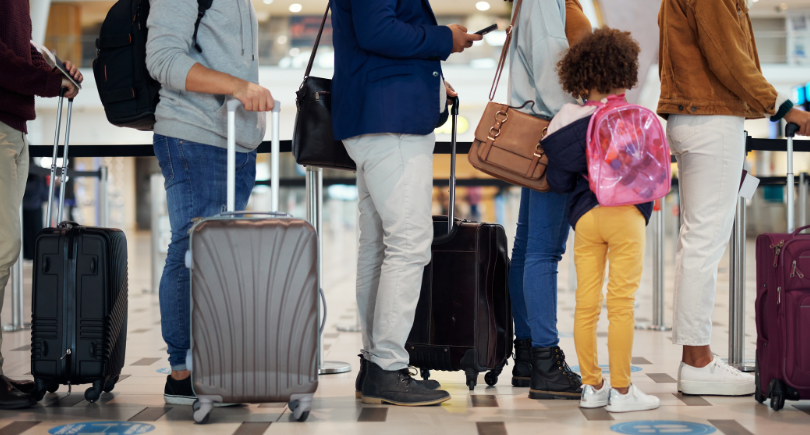 Two of the most well-known memberships from the Trusted Traveler Program, Global Entry and TSA PreCheck, allow members to use expedited lanes at U.S. airports and when crossing international borders. Both programs can help reduce time spent at the airport and can alleviate some of the stress often involved with travel, but which program is better?
They're both reputable programs, but each has its own advantages that will best suit certain types of travelers.
Let's dive further into exactly what these programs are to help you determine which is the better program for your travel needs.
What is Global Entry?
Global Entry is a U.S. Customs and Border Protection (CBP) program that allows expedited clearance for pre-approved, low-risk travelers upon arrival in the United States.
With Global Entry membership, upon entering the United States you:
Proceed to Global Entry kiosks
Present your readable passport or U.S. permeant resident card
Place your fingerprints on the scanner for fingerprint verification
Complete a customs declaration
The kiosk then issues a transaction receipt and will direct you to baggage claim and the exit.
This process should help travelers by-pass lengthy customs lines, however, the CBP does state that "members may still be selected for further examination when entering the United States. Any violation of the program's terms and conditions will result in the appropriate enforcement action and termination of the traveler's membership privileges."
How to apply for Global Entry
Global Entry membership lasts for five years and costs $100 to apply.
You must be pre-approved for the Global Entry program and undergo a rigorous background check and in-person interview before enrollment.
To apply for Global Entry membership you:
Submit an online application through the Homeland Security Trusted Traveler Program website.
Once conditionally approved, you must find an enrollment center and schedule an interview to be approved for enrollment. Alternatively, you can find a Global Entry EoA location and complete an interview upon arriving in the United States.
Once accepted, you'll have access to Global Entry Customs kiosks for five years at more than 75 airports when returning to the U.S. from traveling abroad.
It's also worth noting that Global Entry membership includes membership to TSA PreCheck. This means you won't need to apply separately for TSA PreCheck if you have Global Entry membership.
What is TSA PreCheck?
TSA PreCheck is a Trusted Traveler Program available to eligible U.S. citizens which helps to expedite traveler screening through participating TSA security checkpoints.
Some of the benefits of TSA PreCheck include:
Access to an expedited screening line
No need to remove shoes, laptops, 3-1-1 liquids, belts or light jackets at the security checkpoint
Children under 12 may accompany a parent or guardian with TSA PreCheck
With TSA PreCheck membership, simply add your Known Traveler Number to your airline reservations to access these benefits while traveling.
TSA PreCheck membership last for five years and cost $78 to apply. Once membership expires, online renewals cost $70 for another five years of membership.
How to apply for TSA PreCheck
To apply for TSA Precheck membership you:
Submit an online application and schedule an appointment at any of the 500+ enrollment centers.
Attend your in-person appointment to provide fingerprints, supply citizenship and identity documents and pay the enrollment fee.
Once approved, add your Known Traveler Number to your airline reservations and enjoy your membership for five years.
Global Entry vs. TSA Precheck: Which is better?
Because being a part of the Global Entry program also makes you eligible for TSA PreCheck, if an extra $22 every five years isn't that big of a deal to you, then we'd say Global Entry is probably your best bet. Even if you only travel internationally once or twice a year, being a part of this program can still save you valuable time. And $22 really isn't that big of a deal in the grand scheme of things. Plus, if you pay for your membership with select credit cards, you don't have to worry about a fee at all. There are a number of popular travel credit cards out there that offer an application fee reimbursement for these programs.
That said, let's break these programs down side by side to help you best determine which program is right for you.
Global Entry vs. TSA PreCheck
U.S. citizens, U.S. lawful permanent residents and citizens of select countries.
There is no minimum age requirement; however, individuals under the age of 18 must have a parent or legal guardian's consent to participate in the program, and a parent or legal guardian must be present at the time of interview. The parent or legal guardian does not have to be a Global Entry member.
The TSA PreCheck application program membership is open to U.S. citizens, U.S. nationals and lawful permanent residents.
There is no age restriction to apply; however, family members ages 12 and under traveling with an eligible parent or guardian with a TSA PreCheck indicator on their boarding pass can participate in expedited screening.
The benefits of Global Entry include:
No processing lines
Access to expedited entry benefits in other countries
Available at Major U.S. airports
Reduced wait times
TSA PreCheck eligibility
The benefits of TSA PreCheck include:
Reduced wait times
Available at more than 200 airports and with 85 airlines
No need to remove: shoes, laptops, 3-1-1 liquids, belts, or light jackets while going through security
According to the CBP website, applying for Global Entry is as easy following these four simple steps:
Create a Trusted Traveler Programs (TTP) account. Regardless of age, you must have your own TTP account.
Log in to your TTP account and complete the application. A $100 non-refundable fee* is required with each completed application. (*NOTE: this fee could be refundable by your credit card company depending on which credit card you use to pay for the fee. We cover more details on this below.)
After accepting your completed application and fee, CBP will review your application. If your application is conditionally approved, then your TTP account will instruct you to schedule an interview at a Global Entry Enrollment Center. Each applicant much schedule a separate interview.
You will need to bring your valid passport(s) and one other form of identification, such as a driver's license or ID card to the interview. If you are a lawful permanent resident, you must present your machine readable permanent resident card.
According to the TSA website, to apply for TSA PreCheck you:
Submit an online application in 5 minutes and schedule an appointment at any of 380+ enrollment centers. A $78 fee will be required at this time, but like with Global Entry, depending on your payment method, you may be eligible for reimbursement from your credit card company.
Schedule a 10 minute, in person appointment that includes a background check and fingerprinting.
If approved, you'll receive a Known Traveler Number (KTN) which you can add to your plane tickets to enjoy the benefits of TSA PreCheck.
Global Entry and TSA PreCheck credit cards
There are a number of credit cards that offer the perk of free Global Entry and TSA PreCheck membership. Generally, this benefit is available to the primary account holder and is good for one membership reimbursement every four to five years. Simply use your eligible credit card to pay your membership fee and your account will later be credited with that cost.
Some of our favorite Global Entry and TSA PreCheck credit cards include:
discontinued
Receive up to a $100 credit once every four years when you use your card to pay your Global Entry or TSA PreCheck application fee.
Earn 2x miles for every purchase made with the card, plus 5x miles on hotels and rental cars booked through Capital One Travel.
Miles earned can be used to cover any travel purchase, or you can book travel through Capital One's travel portal, or transfer your miles to eligible travel partners.
New cardholders are also eligible for a one-time bonus of 75,000 miles – worth $750 in travel – once you spend $4,000 within the first three months from opening an account.
discontinued
Cardholders receive up to $100 in airline incidental credits annually plus TSA PreCheck/Global Entry statement credits of up to $100 every four years.
Earn unlimited two points for every dollar spent on travel and dining purchases and unlimited 1.5 points per dollar spent on all other purchases.
New cardholders can earn 60,000 online bonus points – a $600 value – once spending at least $4,000 on the card in the first 90 days of account opening.
If you're a Bank of America Preferred Rewards client, you can earn 25-75% more points on every purchase.
discontinued
Receive up to a $100 credit once every four years when you use your card to pay your Global Entry or TSA PreCheck application fee.
Earn an introductory 60,000 points after spending $4,000 within the first three months of opening an account. Points are worth $900 when redeemed for travel through Chase Ultimate Rewards.
Receive $300 in statement credit each year (based on your account anniversary) to cover travel expenses like airfare and hotels. After earning that reimbursement, earn five points on flights and 10 points on car rentals and hotels booked through the Ultimate Rewards portal. Earn three points per $1 spent on dining and on other travel purchases (after you've earned your annual reimbursement) and one point on all other purchases.
discontinued
Up to $100 for Global Entry, TSA PreCheck® or NEXUS fee credit every four years.
Earn 60,000 miles after you spend $3,000 on purchases in the first three months your account is open.
Earn two miles per $1 spent at restaurants, on hotel stays, and on purchases from United. Earn one mile per $1 spent on everything else.
➤ ADDITIONAL OPTIONS:Best credit cards for Global Entry and TSA PreCheck
Are Global Entry and TSA PreCheck worth it?
If you're a frequent traveler, then absolutely. Anyone who has waited in a long security line while watching others breeze through TSA PreCheck without having to remove their shoes or laptop can understand the appeal of these programs.
Even infrequent travelers may find that being able to skip long lines and avoid the hassle of regular security procedures is worth the cost and time involved in the application process. And then of course, there is no cost if you have a credit card that will reimburse you the fee. What's more, your Known Traveler Number is good for five years, and in some cases, you may be able to skip the interview process when renewing your number.
Beyond having access to shorter TSA PreCheck security lines, Global Entry allows international travelers to skip customs processing lines when re-entering the country. This is beneficial for frequent international travelers, but ultimately, it's TSA PreCheck that's likely going to save you the most time overall. Remember though that Global Entry membership also includes TSA PreCheck membership, so you might as well apply for Global Entry so you can have access to all perks.
If you are a parent, your children, age 12 and under, automatically get access to the TSA PreCheck line along with you. However, children of all ages must apply and pay for Global Entry membership status of their own. This is something to keep in mind if you regularly travel abroad with your family. That said, if you're debating between Global Entry or TSA PreCheck, Global Entry is still probably your best bet – even if you do travel regularly with children and don't want to pay for them to have a membership of their own. You can still use expedited lines when you aren't with dependents, and then of course, you'll have access to TSA PreCheck benefits, with or without children in tow.