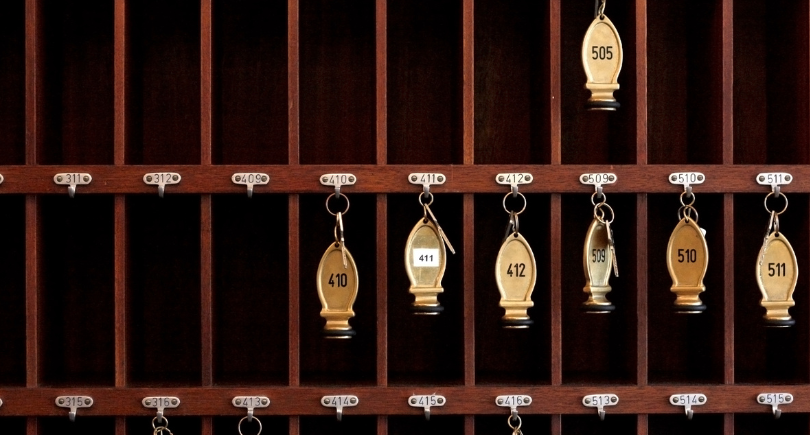 Whether you travel for business or pleasure, a hotel credit card can open the door to savings, upgrades and more. These are specialty rewards cards that are often – but not always – affiliated with a specific hotel brand.
Keep reading to learn more about why you need a hotel credit card and how to select the right one.
How do hotel credit cards work?
Most hotel loyalty credit cards are co-branded. That means they are issued in partnership with a specific chain. Examples include the CardName discontinued and CardName. American Express is a CardRatings advertiser. Information related to The World of Hyatt Credit Card has been collected independently by CardRatings and was neither reviewed nor provided by the card issuer
Co-branded cards are linked directly to your loyalty account with the brand, which creates a seamless experience. Points earned with the card are automatically deposited into your account, and any perks from your card – such as complimentary elite status – are automatically applied to bookings made with your loyalty number.
There are also some all-purpose travel credit cards, such as the CardName and the CardName, which offer valuable rewards for hotel stays. Citi is a CardRatings advertiser.
Regardless of which type of hotel credit card you select, you generally earn loyalty points in one of two ways:
Welcome offer: Also known as a sign-on bonus, most hotel credit cards will award extra points if you spend a certain amount within a certain timeframe after opening an account. For instance, for a limited time the CardName is awarding 60,000 bonus points to new cardholders who spend $2,000 within three months of the account opening. Information related to the Marriott Bonvoy Bold® Credit Card has been collected independently by CardRatings and was neither reviewed nor provided by the card issuer
Everyday spending: Hotel credit cards also award points based on everyday spending. Some cards, such as the CardName, use a flat-rate system and award the same amount of rewards per dollar for every purchase. Others use a tiered system that provides greater points for certain spending categories. The CardName is an example of this. It awards 26 points per dollar spent at IHG properties, five points per dollar spent on travel, gas and restaurants and three points per dollar spent on everything else.
How does hotel elite status work?
One nice perk of hotel credit cards is that they often come with complimentary elite status for their affiliated loyalty program. Hilton credit cards operate in the Hilton Honors program and Marriott cards in the Marriott Bonvoy program, for instance. While each hotel rewards program is different, having elite status may come with the following benefits, among others:
Complimentary room upgrades
Early check-in and late check-out
Accelerated point earning opportunities
Perks such as a check-in amenity, free Wi-Fi or free breakfast
Some all-purpose travel credit cards also provide complimentary hotel elite status. For instance, CardName discontinued gives its cardholders Marriott Bonvoy Gold Elite status and Hilton Honors Gold status. Enrollment required.
How do hotel rewards work?
Most hotel rewards programs make it simple to earn and redeem points. Signing up for a hotel rewards program is free, and if you don't already have an account, your hotel credit card should create one for you.
Then make sure your loyalty account number is recorded when you reserve a room. If you book a room through the hotel's website while logged into your account, this should happen automatically. Otherwise, you can contact the hotel directly, and staff should be able to ensure your loyalty number is attached to the reservation.
Shortly after check-out, you should see any points earned during your stay reflected on your account. Typically, points earned from credit card spending are automatically posted to your account monthly.
The only exception is if you have an all-purpose travel credit card like the CardName. In that case, your points will accumulate in your credit card's rewards account. From there, it can be used to book travel directly or transferred to a partnering hotel's loyalty program.
Redeeming points is just as simple. Once you have logged into your account, search for the property you'd like to reserve. Most hotel websites have an option to "pay with points" which allows you to reserve a room entirely with points or, for some programs, with a combination of points and cash.
What are the benefits of hotel credit cards?
While you could simply sign up for a hotel loyalty program and earn points that way, a hotel credit card offers additional earning potential plus plenty of other perks.
Each card is different, but many hotel cards offer the following:
Welcome offer that provides enough points for one or more free nights
Complimentary elite status
Fast-track to a higher elite status
Room upgrades
Booking discounts
Annual bonuses including free nights or extra points
Travel benefits such as trip interruption insurance
Statement credits for services such as TSA PreCheck or partnering companies
General purpose travel rewards credit cards may also come with additional perks not related to hotels. For instance, they may offer airport lounge access and airline fee credits.
➤ Learn more about thebenefits of having a hotel credit card
How to pick a hotel credit card
If you're ready to apply for a hotel credit card, answer these questions to help find the right one:
Do I have a favorite hotel brand? If so, applying for a co-branded card for that chain just makes sense. If you tend to stay at different hotels for every trip, a general purpose travel rewards card might be better.
How often do I travel? Many hotel credit cards have different tiers. If you travel infrequently, a basic card without an annual fee is probably your best bet. However, regular travelers often find they get enough value out of a premium card to pay a fee for it.
Can I earn the welcome bonus? Some travel and hotel credit cards offer substantial welcome bonuses to new cardholders, but you may need to spend $3,000, $4,000 or more within three months to earn it. If that would stretch your budget, consider a card with a lower spending requirement, even if that means a smaller sign-on bonus.
Once you know the answers to these questions, check out our picks for the best hotel credit cards to find the one that fits your criteria.