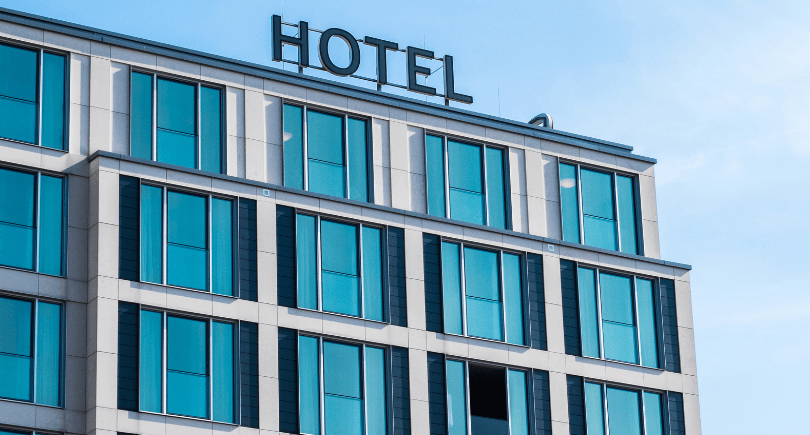 Ready for a trip that involves spending time in a hotel? You may want to pack a credit card that is co-branded with a hotel chain you frequent. These accounts come with amazing perks and incentives. Many will reduce the costs associated with lodging, as well as make your overall traveling experience easier and more enjoyable.
Here are 10 of the most compelling hotel credit card benefits, and why you might want to get one long before you leave for your next overnight stay.
1. Free hotel accommodations
Wouldn't it be nice to book a room but not have to pay for it when you leave? With the right hotel credit card, you can. With some cards you can earn free stays by making purchases and hitting a spending minimum, such as with the CardName, while others, like the CardName, will automatically give you a complimentary night at the anniversary of opening your account.
Information related to the Marriott Bonvoy Boundless® and The World of Hyatt credit cards has been collected independently by CardRatings and was neither reviewed nor provided by the card issuer
2. Free food and beverages
Here's a sweet and savory bonus: with some hotel credit cards you can get breakfast for free during your stay, while others will provide you with a daily food and beverage credit for dining at the property.
3. Free parking
Parking at a hotel can cost upwards of $40 a day. That's a lot of money for one night but if you're staying for a significant period of time, it can really add up. Some hotel credit cards, though, will waive the cost of parking, potentially saving you hundreds of dollars.
4. Free Wi-Fi
Bringing your laptop but would rather not pay for the Wi-Fi which often costs between $10 and $20 a day? Rather than having to go to the hotel's business center to enjoy free Wi-Fi, you can access the Internet at no extra charge with many hotel credit cards.
5. Instant elite status
Every hotel brand has its own loyalty program for VIPs. Some hotel credit cards will give you instant elite status when you get the card, granting you certain luxuries for your stay. For example, you may be entitled to rooms on floors with the best views, or can get you into lounges that are stocked with free snacks and drinks. You may also be entitled to a room upgrade when you check in.
6. Resort credit
There may be a fee to use a cabana at the pool, or other special amenities. With the right hotel credit card, you can get those luxuries at a discount or even for free. And you may be eligible for credits for dining poolside too.
7. Early check-in
Your flight lands early in the morning and all you want to do is take a shower and nap. Unfortunately, because hotel check-in times are typically in the late afternoon, instead of a shower and a nap you'd likely be left to wander around until your room is ready. However, with the right credit card, you could enjoy early check-in privileges, which would allow you to head straight to your room to relax.
8. Late check-out
On the flip-side, you may want to lounge around your room before you have to leave at the typical checkout time of 10 or 11 a.m. Some hotel credit cards offer late check out, allowing you to remain until around 3 or even 4 p.m., thus extending the enjoyment of your stay.
9. Welcome bonus + regular rewards
Most rewards credit cards offer a welcome bonus when you get the card and charge up to a minimum amount within a certain timeframe. When you meet that spend, you will have a large amount of points to use. You'll also rack up rewards each time you charge, earning hotel points that build up in the hotel's loyalty program. When you have enough rewards you can redeem them for hotel stays and other goodies.
10. General travel credit card perks
Clearly hotel credit cards can be great for when you stay at that hotel chain or a partner property, but often times these card have other perks that are associated with general travel cards. These may include:
Travel insurance, so you can be compensated for costs associated with delayed or canceled flights.
Lost baggage insurance. If the airlines misplaced your checked bags, or they were damaged, you can be financially compensated.
Entry into airport lounges.
Food credits for dining at the airport.
Global Entry/TSA PreCheck – two great programs to speed you through customs and the airport security line.
Discounts on rental cars and such car sharing companies as Lyft and Uber.
What is the best hotel rewards credit card?
Because there are many hotel rewards credit card on the market and each has its own series of benefits, it is important to get the right card for you.
The majority of hotel credit cards require that applicants have high credit scores. Check your scores before applying, then compare them to the cards that interest you.
Also look for a hotel credit card that matches your lifestyle. If you won't be driving, free parking, discounts and car rentals will go to waste, but maybe you really want to get everything possible from the resort. Or you want all the free services and luxuries that are available with elite status.
Another crucial factor when deciding is the brand of hotel. Do you like that chain? Is one close to you or to the area where you will be traveling? If so, focus on cards that rewards stays at those properties.
The key is to find the card that provides as many of the benefits that you want and really will use.
Are hotel credit cards worth it?
If you are a regular guest at a particular hotel chain, a co-branded credit card is an easy yes. Or maybe you have a big trip coming up and you know you want to take advantage of all the perks associated with a certain card. Even if a card has an annual fee, applying for it and reaping the benefits can save you a lot of money in the end and make your trip easier and more enjoyable. And every time you make a charge with the card, you will earn even more points, so the rewards keep coming.
As long as you keep the debt low or at zero, you'll have the full value of your benefits, making hotel credit cards worth it for regular hotel guests.