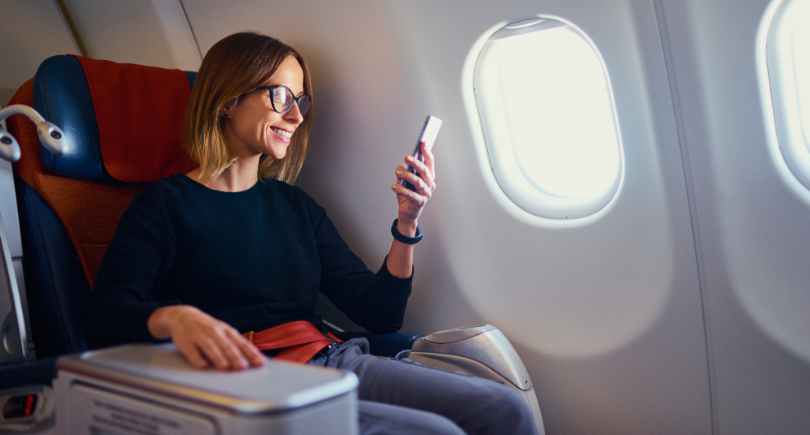 There are certain airlines that I prefer to fly, but when it comes to booking my airfare, I usually just go with the airline that offers the best schedule and price. Therefore, I've never thought too much about applying for an airline-specific credit card. I realized though after traveling for three weeks during the height of the summer-travel chaos that my thinking towards these credit cards has perhaps been a bit too narrow-minded. Airline credit cards offer bonus rewards on flights booked with that airline, sure, but what about their other perks? Because I don't usually fly with one particular airline, those additional benefits kind of fell off my radar. This trip may have changed my mind though, and here's why:
Free checked bags
If you feel like airlines nickel and dime you for everything these days, you're not alone. It still feels foreign to me that I can drop a large load of cash (or miles) on an international flight and still be expected to pay extra for a checked bag. For some bookings, you'll even get charged for carry-on luggage. With many airline credit cards, though, free checked luggage is a perk of being a cardholder. Depending on your travel itinerary, this benefit has the potential to save you hundreds.
Priority check-in
While many airline credit cards offer cardholders priority boarding, some also include access to priority check-in, which was actually the more alluring perk to me as I traveled this summer.
Though I have Global Entry/TSA PreCheck membership, knowing how overwhelmed and understaffed airports are right now, I showed up hours in advance for my flights. In the United States, such an early arrival turned out to be unnecessary thanks to an expedited security process. This was fine though as it gave me an opportunity to put my Priority Pass membership to work and scope out some new lounges. When I got to Europe, my Global Entry/TSA PreCheck membership was obsolete; however, it wasn't security that was a nightmare here, it was the stop before that was causing chaos: the airline check-in counter.
I always check in online ahead of my flight, but having picked up some souvenirs that couldn't fly in my carry-on bag, I was required to check baggage while flying within Europe, and then again on my way home, calling for an in-person stop at the airline check-in counter. Priority access here was never more than an alluring perk before, but this trip, I deeply longed to be able to skip ahead to the front of the check-in line.
This is because at the airports in which I traveled, the check-in counter wasn't even open to travelers until two hours before boarding time. While this system may help to lessen the chaos behind the scenes, it certainly seemed to create a bigger mess on the frontend. Showing up three hours early initially felt useless I had still had to wait around for an hour before I could even proceed to security. After seeing how deep the line was behind me though by the time I could actually check in, I no longer regretted showing up as early as I did. Behind me, travelers were certainly panicked, and we all watched the short priority check-in line with envy.
While priority check-in is usually reserved for SkyPriority or first-class travelers, some credit cards such as the CardName and the CardName also offer this perk.
Unfortunately, this benefit currently seems to be reserved for premium airline credit cards, likely making it out of reach for travelers who are just looking for a basic airline card. Priority boarding, on the other hand, is a more widely available airline credit card perk.
Priority boarding
Worried about finding a space for your carry-on? Or maybe you just want to settle in ahead of everyone else? Whatever your reason for wanting to board the plane early, the right airline credit card can help you do just that. When you get to board can vary depending on the airline and your credit card, but with priority boarding privileges, you will have access to your seat before many others on your flight.
Complimentary companion travel
This is another big money-saving perk exclusive to airline credit cards. Some credit cards such as the CardName discontinued and the CardName discontinued offer an annual companion certificate which allows you bring along a free travel partner (subject to taxes and fees). Other cards such as the CardName and the CardName can help you to quickly rack up enough rewards to earn Southwest Companion Pass status which allows you to choose one person to fly with you whenever you book a flight with Southwest, at no additional cost (other than taxes and fees).
Lounge access
This one isn't totally exclusive to airline credit cards as many general travel credit cards offer lounge access as well; however, there are airline-specific lounges that can only be accessed with a first-class boarding pass with that airline, the right credit card, or a hefty fee. If there's a particular lounge you really love to visit when you travel, an airline credit card may be just what you need.
So, are airline credit cards worth it?
Yes, for the right traveler, airline credit cards can absolutely be worth it.
Covered here are just some of the perks offered beyond the rewards earned with these cards. If you frequently travel with a particular airline, you can quickly rack up rewards to use towards your next flight, but beyond this, there are a plethora of benefits that airline credit cards can offer. Even if you only travel with a particular airline a few times a year, an airline credit card can be a great way to save you money, and perhaps even more important in our current travel climate, time.