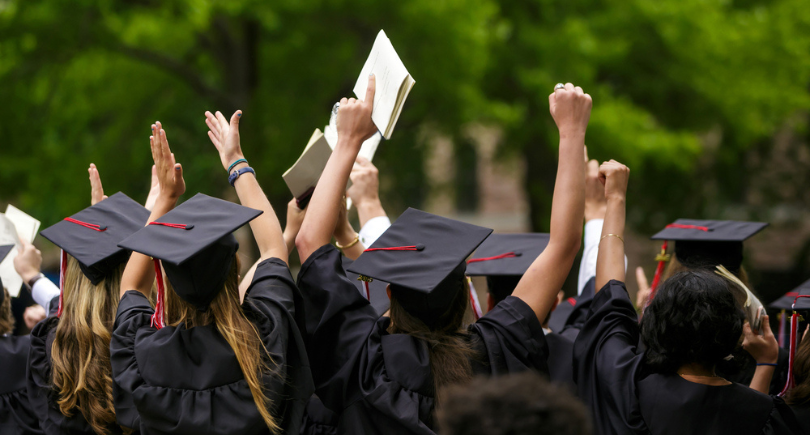 As this year's class of college graduates celebrates long-pursued educational success and embarks on brand-new careers, it's also a great time for them to get smart about credit-building and credit scores.
Buying a car and a home both take good credit, as do lots of other post-college purchases and activities. Getting started with a solid credit foundation can make life a whole lot easier. Everyone from landlords to perspective employers check your credit and you don't want some slack financial habits to stand in the way of a bright future.
A couple of student credit cards in college was a nice way to get started with credit but when those loans that helped you pay for your degree come due, you'll need to do some smart budgeting and credit moves to stay on top, especially if your dream job and a cushy salary is a couple of years away.
Five credit card tips for college graduates
Build more credit, not more debt. The latest class of college grads strapped with student loan debt may be tempted to pass on borrowing with a credit card even for a short time. But there are smart ways to build credit without piling up debt and using a credit card to pay a routine monthly bill, such as a smartphone bill, is an easy way to build credit (not to mention rack up rewards or cash if you do it on a cash-back credit card).

Paying off your smartphone or another bill each month with a credit card will help you build up a good payment history, which accounts for 35 percent of a credit score. Also, if you're a bit accident prone with that smartphone, some credit cards, like those issued by Wells Fargo, offer cellular phone protection when you pay your monthly bill on your card.

That same phone can even remind you via mobile app or text message not to pay late, and that's the way many millennials, individuals 17-35 years old, apparently like it. According to a new survey by FICO, 22 percent of millennials say they want to be notified about late payments by mobile apps on their phones.

Get a good mix of credit. Having a good mix of credit, such as student loans; installment loans, such as home and auto loans; and credit cards is good and accounts for about 10 percent of your a credit score.

That's another reason to reach for a credit card to pay for routine expenses, since you could be a year or two (or more) away from thinking about purchasing a new car or home. Your ever-growing credit score will thank you.

Keep plenty of room in your credit line. Whether you choose a student credit card or a new credit card for the next phase of your life, you'll want to give yourself plenty of breathing room with your credit line. Keeping balances below 10 percent of your available credit limit is ideal for credit building, so do everything you can to keep those balances low. Think small charges, instead of big ones, whenever possible. If you do charge big, make a plan to pay it off in a month or two. Interest charges add up fast, and no one wants to put off a great vacation or not buy a fabulous pair of shoes because of interest charges eating into their monthly income.

If you are already feeling strapped by your credit card payments, you may want to focus on paying down card balances before adding new charges. Twenty-six percent of millennials are making only minimum payments each month on credit cards, according to FICO. By adding just a few dollars more to what you're paying every month, you can dramatically reduce the length of time it will take to pay off your balance (and therefore reduce the amount of interest you pay long-term). Want to see that in action? Check out the CardRatings Credit Card Payoff Calculator.

The amount owed on your credit accounts makes up 30 percent of your credit score and keeping balances low or working very hard to pay them down is good for your credit score and your financial bottom line.

Get rewarded for building credit. Get something back when paying off your credit card charges each month. There are plenty of rewards cards out there without annual fees. And if you're constantly looking for a little extra green each month, sign up for a cash-back card. Many cash-back credit cards offer the option of having your cash rewards applied directly to your next credit card payment or sent straight to your checking or savings account, whichever you prefer.

Don't overlook credit cards from your the bank or credit union where you've had your checking and/or savings accounts for the past few years. As a college grad, they'd be happy to have more of your business, and it can make it easier to have your banking and credit card accounts housed with one financial institution. For example, many banks allow you to link one of their credit cards to your checking account for overdraft protection. Obviously you don't want to make it a habit to overdraft your checking account, but on the rare occasion that it occurs, it is nice to have that overdraft protection in place.

According to FICO, many younger millennials are discerning credit card shoppers already. Eighty percent say they are after no annual fee cards and 79 percent are on the lookout for a card with low interest rates — both excellent credit card terms to seek out.

Don't be nervous about checking your score. According to the Chase Slate Credit Outlook, 23 percent of millennials didn't check their credit score last year out of fear it would be low, and more than half didn't know that paying bills on time has the largest impact on your score. Don't let this be you. As with anything, the worst part is the not knowing. And no matter how low a score may be, following these easy credit-building tips will help you turn it around.

Paying bills on time and establishing month after month of positive payment history will do wonders for your credit score. And, while you're working on that part of your credit history, the simple fact that you have any credit history is working in your favor: length of credit history accounts for 15 percent of your credit score, so when you make the right credit moves, time is on your side.