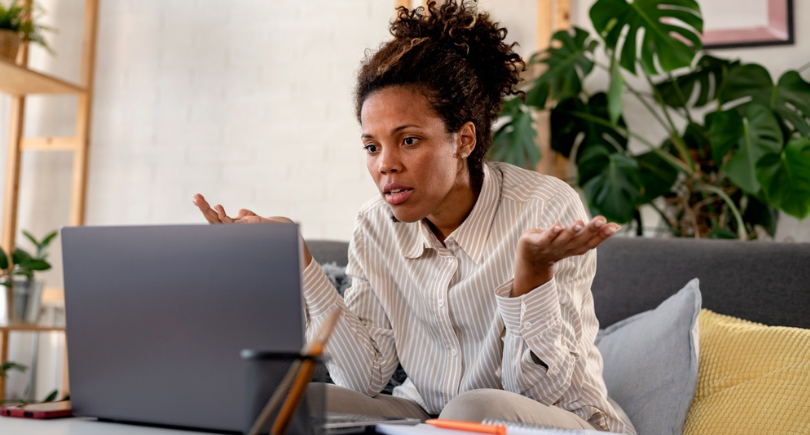 How can you dispute and fix errors on a credit report? You may be asking yourself this after looking at your report. And, of course, if you haven't looked at your credit report lately, you probably should. After all, a credit report is your history of borrowing money from lenders so it's important to regularly make sure it's error-free. If you do happen to find an error on your report (it happens…) you're going to want to know how to dispute it. We break down how to do this and more.
Common mistakes that cause credit report errors
Even though everything is automated and digitized these days, credit report blunders can still happen, especially if you share the name of somebody who isn't very good at managing their money. If that's the case, you could find your financial history getting mixed up with that person's. In any case, some of the common mistakes in credit reports tend to be…
Identity errors. As in, somebody else's file is mixed in with yours, or maybe it's a more simple error, like your name is spelled incorrectly.
Debts paid off that are reported as being open.
You are listed as the owner of an account, but you were actually an authorized user.
Accounts listed as late when you have proof that you were not late.
Repeated mentions of the same debt.
Incorrect amount of debt owed listed: You borrowed $5,000, not $50,000.
➤ MORE: How to protect yourself following identity theft: A step-by-step plan of action
How to fix credit report errors
Fixing credit report errors is a two-step process: communicate with credit bureaus and then give them the correct information.
It sure sounds easy, doesn't it? Well, it is, but it can be a process. If you're going to try and correct an error on your credit report, these are the steps you may want to take.
Get your free credit report. After all, you can't fix credit report errors if you haven't spotted them yet. All consumers are allowed one free credit report every year from each of the three credit-reporting agencies, Equifax, Experian and TransUnion. You can go to AnnualCreditReport.com to request the free annual reports from each agency. You can either request all three reports at once or spread them out over different times of the year. And currently, because of the COVID-19 pandemic, you are allowed to check your credit report with the three bureaus every week, if you want.
Check for errors and omissions. Review your credit report for mistakes. A poor credit report impacts your ability to obtain credit, insurance, rent an apartment or get a job. So it's very important to make sure the information is correct if it's not.

It's also important that your credit report doesn't short-change your history. Don't see that gas credit card you paid off last year? Make a note to get it added. An accurate and complete credit report is important.

If there's an error, gather documentation. This step is critical. Take the time to assemble all the information you'll need to prove your case, such as copies of canceled checks and creditor statements. That's a lot more powerful than sending a note to a credit bureau saying, "Honest, I promise – I paid this."

If, for instance, the credit report shows that you still owe money on a bill that has been paid in full, include the statement that documents the zero balance. After all, you're just stating the facts and making sure they understand your arguments.

Put it in writing. Contact the agency whose report you believe to be inaccurate, including information such as your name, Social Security number and date of birth. If you've moved recently, verify your previous address.

Write professionally as if you were writing to a potential employer. Type or print neatly. Explain that you are disputing certain items, and give clear, factual reasons why. Include all the details of your case such as account numbers, invoice numbers, check numbers and payment dates. Number your attachments to make it easy for the reader to find them. Make it clear what you want changed. Don't forget to sign your letter.

You can send your dispute to the credit reporting agency by mail or online. If you use mail, you may want to send your letter by certified mail, with the return receipt add-on requested, so you can document that the credit reporting agency received the letter. As well, keep a copy of the confirmation of receipt.

At the same time, let the creditor know you have issues with the report, so you're coming at this from both sides. Include copies of the disputed charges and proof you've paid them, just as you did for the agency.

The best place to start the dispute process is on the credit reporting agency's website. Here is the current contact information for each of the three major credit reporting agencies.

Equifax (www.equifax.com): Dispute online with Equifax
Experian (www.experian.com): Dispute online with Experian
TransUnion (www.transunion.com): Dispute online with TransUnion

Wait. Once the credit reporting agency receives your dispute their team must begin to investigate it immediately, and must finish their investigation within 30 days. The agency will notify the creditor initiating the report that they are investigating your dispute.

That triggers another investigation on the part of the creditor reporting. The creditor has to investigate and confirm the accuracy.

If the creditor finds the information is inaccurate, it must notify all three credit reporting agencies so they can correct information in your file.
➤ MORE: Why is it important to review your credit report on a regular basis?
What happens after you dispute information on your credit report?
Once a credit bureau receives word from you that you are disputing something from your report they must begin to review all the information and documents received from you within 30 days. If they don't, they're actually going afoul of the law put into place by the Fair Credit Reporting Act.
Within five business days, you should receive a notification from the bureau that they've received your dispute. If you've mailed something in, for instance, you need to know that it's arrived and isn't stuck somewhere in the postal system.
Now, if you're asked to provide more information to something you are disputing, the bureau may get an extra 15 days to investigate. In any case, after those 30 or 45 days are up, the bureau has to make a decision. And if there is a change, the bureau must contact the other two bureaus, so they can also make the appropriate change.
In all likelihood, the dispute will be settled in much less time than 30 days. In most instances, just seven to 10 days are required, but 30 days is the limit.
If you've built a good case in your dispute and you prevail, the credit reporting agency must remove the inaccurate information from your report. However, if the decision doesn't go your way, and the investigation does not confirm your side of the dispute, you have another option: You can ask the credit reporting agency to include a copy of the statement of dispute in your file, and that will go out with future credit reports.
This action may or may not make a difference to a future lender, but at least it shows you've done all you can to state your case.
If you disagree with the decision – maybe the bureau says that, "No, we believe that you really do owe this money that went into collections" — you're allowed to send a 100-word statement to be added to your credit report – and if you really feel you've been wronged, you may want to send your complaint to the Consumer Financial Protection Bureau.
Can disputing hurt your credit?
No. In fact, your credit score will either go up – or remain unchanged. But the worst that happens is that nothing happens.
It should go up, obviously, if you can get negative information, like a late payment, removed from your credit report. If you get the spelling of your name fixed, that probably will have zero impact on your credit score right now, but it may help in the future prevent a worse problem, like getting your credit report confused with somebody else's report.
All of this, of course, may sound like an awful lot of work, and it can be, but look at it this way: You are getting paid for your hard work — if it saves you potentially hundreds or thousands of dollars in the future, because you wind up getting a higher credit score and a lower interest rate.