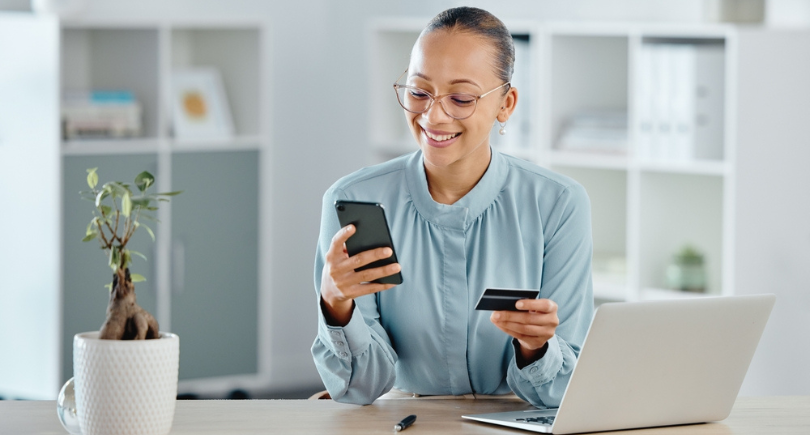 Here's a little-known tactic for helping you get out of debt: biweekly credit card payments. Paying your credit card biweekly is a quick and easy way to reduce your credit card debt and to ensure you never miss a payment.
Say you owe $5,000 on a credit card with a 17% interest rate and a 3% minimum payment. If you only send in the minimum amount every month, by the time you've paid off that $5,000, your interest bite would be $4,119. It would take 14 years to pay off your total tab of $9,119!
However, simply sending in half of your minimum payment every 14 days can help you pay your debt off more quickly, with less interest. In the example above, you would cut your interest bill by $2,521 and could be debt-free in three years and 18 weeks instead of 14 years.
Check out our credit card interest calculator to calculate your specific debt and interest rate and get an idea of how much biweekly credit card payments could save you.
Is it better to make two payments a month on a credit card?
Yes, in fact, paying twice a month on credit cards has many benefits. Some of these benefits include:
More payments within a year
With 52 weeks in a year, a half payment every two weeks results in 26 payments a year. That's the equivalent of 13 monthly payments, not 12. Paying your credit card biweekly contributes an entire extra month's payment toward your outstanding balance every year.
➤ FREE RESOURCE:Credit card monthly payment calculator
Fewer interest charges
Credit card companies calculate interest based on your average daily balance. Making a payment halfway through the month could lower this number. When the company calculates your interest, there could be a smaller charge than if you had only made one payment that month.
It can lower your credit utilization
Credit utilization is the percentage of your available credit that you are currently using across all cards and loans. Your utilization should stay below 30%, or it could negatively impact your credit score.
Even if you consistently pay off your entire balance, your score can still be affected. However, making a payment halfway through the month can lower your credit utilization, so you won't have to worry about your balance hurting your credit score if you're staying below that 30% threshold.
It can help you watch your budget
Surprise expenses can pop up that you didn't anticipate when you created your budget. Unfortunately, it's easy to charge these to your card and then forget to adjust your budget accordingly. This can cause an unexpectedly large credit card bill at the end of the month.
Biweekly credit card payments can help counter this problem. If you're signing in to your account every 14 days to make a payment, you can check your balance to ensure you're on track with your budget. This awareness can help you make better decisions with your purchases for the rest of the month.
➤ LEARN MORE:How to pay off debt and use your credit card at the same time
How to make biweekly credit card payments
Making biweekly credit card payments is easy. To pay your credit card bill twice a month, simply:
Pick the credit card with the highest interest rate and stop charging on that card.
Pay the current month's full minimum payment by the due date.
Split the minimum payment in half.
Send in the half payment every 14 days.
Ensure payments still reach the creditor by the due date on months that have 31 days.
Card issuers are required by law to credit payments when they're received. You can also ask your card issuer if you can authorize electronic transfers every 14 days. Most companies provide this service for free.
Also, consider the electronic bill-paying service where you bank. If the bank doesn't charge for this privilege and will automatically transfer the funds every 14 days, then this can be an excellent option.