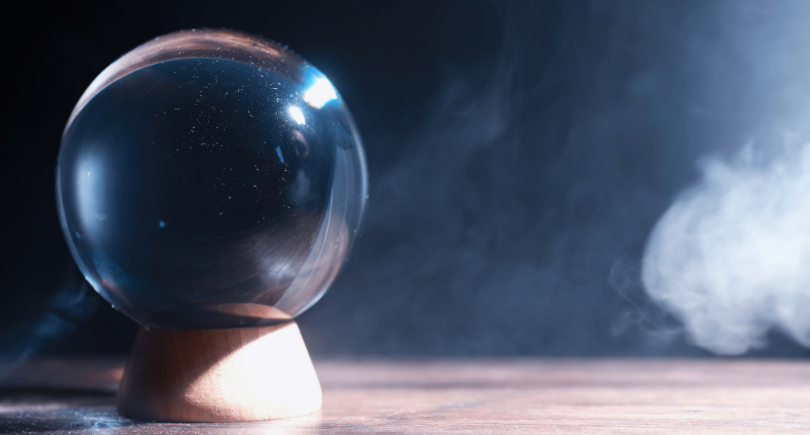 The editors at CardRatings generally take a look in their crystal balls at the end of each year and make predictions about credit card trends for the upcoming new year. It's a fun exercise, but mainly it's intended to help our readers make smart financial moves in the new year.
Last year, Brooklyn Lowery made some interesting predictions, including some fun pie-in-the-sky, "what if" predictions, most of which were right on target. Her prediction about rising interest rates definitely proved on target with the Fed announcing seven interest rate increases in 2022!
That many rate hikes in 2022 made for a tough year for consumers who are carrying card debt since rates have gone up significantly. Sadly, 2023 isn't looking a lot better…
We'll look at that and more in the following predictions for 2023. We hope these guide you as you make your New Year's financial resolutions. This year, we not only relied on our own in-house experts, but also surveyed leading national experts to help compile this list.
Rewards, particularly bonuses and travel perks, will get juicier
2022 has seen significant competition among reward cards, particularly cards with travel benefits, as pandemic concerns have lifted. Also, issuers have been dangling some big carrots in the form of rich signup bonus offers, including several "highest ever" opportunities.
CardNamediscontinued for example, is currently offering an extra 1.5% on all purchases (up to $20,000 spent) in the first year of card membership, which is worth up to $300. For business owners, the CardNamediscontinued is featuring an offer to earn $900 bonus cash back after you spend $6,000 on purchases in the first three months from account opening.
"Not having a crystal ball, my guess would be that flexible rewards will continue to be popular as well as signing bonus points/rewards," predicts Linda Sherry, a nationally recognized consumer advocate affiliated with Consumer Action.
We expect generous offers to continue in 2023 and possibly expand, particularly among travel reward cards as travel spending continues to increase. The U.S. Travel Foundation is forecasting an increase in travel spending in 2023 compared to 2022 according to Forbes. Similarly, a survey by Booking.com found that 43% of travelers are "willing to go all out when it comes to costs."
These stats bode well for the travel industry and competition is likely to heat up among travel cards. Although I have always personally been a bigger fan of cash-back cards (see below) than travel, keep an eye out for generous travel card offers in 2023, particularly if you anticipate traveling more than normal next year.
Beverly Harzog, consumer finance analyst with U.S. News and World Report and author of "The Debt Escape Plan: How to Free Yourself from Credit Card Balances, Boost Your Credit Score, and Live Debt-Free," echoes our prediction, saying she "expects travel rewards credit cards to continue the comeback we have seen in 2022 and to continue to include rewards for lifestyle categories, such as food delivery services (more on this below)."
BONUS TIP!

When comparing offers, don't just look at how much you can earn in points or miles for every $1 you spend (sometimes called the earn rate). Consider related benefits. For example, the CardNamediscontinued offers a unique annual hotel savings benefit, which allows you to enjoy $100 off a single hotel stay of $500 or more once per calendar year. (Citi is a CardRatings advertiser; See Rates and Fees)
Cash-back cards will help consumers fight inflation
With inflation at historic levels, consumers are understandably looking to cut costs as they "feel the pinch." One silver lining to higher prices, though, is that cardholders are earning more rewards since they are spending more than normal.
Indeed, cardholders used reward cards to do just that during the holidays. According to a recent survey by TD Bank, 76% of respondents use bank or store credit cards during the holidays to earn rewards or cash back on their spending.
While no sane personal finance expert would see a cash-back card as a cure-all for inflationary pressures, cash-back cards are actually offering a bit of relief from financial strain.
"Obviously, cash back rewards cannot completely offset inflation, but it's still nice to see those rewards rack up more quickly," CardRatings editorial director Brooklyn Lowery points out. "People can then redeem those rewards to offset higher costs."
Another unexpected related benefit is that since card interest rates have gone up quite a bit this year, profits for card issuers will likely increase. While this may not seem relevant to cardholders, increased profits will, fingers-crossed, result in additional card benefits and perks.
We saw examples of this in 2022. One recent example is that Capital One announced it is partnering with Uber to offer CardNamediscontinued holders 10% cash back on Uber rides and Uber Eats purchases. Additionally, cardholders will receive Uber One membership statement credits through 11/14/24.
➤ MORE TIPS:How to use credit cards to fight inflation
The bottom line is that we anticipate banks will continue tweaking their offerings in 2023 to best meet the changing needs and/or shopping habits of their customers in the current economic environment. Harzog agrees with our sentiment, saying she "expects a surge in cash-back offerings as consumers look for ways to save on everyday expenses."
This is welcomed news for lovers of cash-back cards (like me!), so watch for offers that appeal to you based on your own spending patterns and budget.
BONUS TIP!

It's always a good idea to take a look at the best current rewards cards on the market, even if you have an existing rewards card you're happy with. You can see how your card measures up. If you find a perk that your current card doesn't offer, just remember you aren't married to your current card!
Card rates and debt will continue to rise
The Fed raised rates yet again in December 2022. The latest increase is one of several that have happened this year and, since there are only a few fixed rate cards left, card rates have risen as well. According to an article published by OPB.org, the average interest rate on credit cards now tops 19%, significantly higher than the 16.3% average at the beginning of the year.
Rates are approaching levels we haven't seen in long, long time. I've covered the industry for 25+ years and don't recall this scenario. Unfortunately, most experts expect continued rate hikes in 2023, though at a slower pace.
Because of this trend, we are expecting it to be harder to find low rate credit cards in 2023. For many years, I have advised consumers that if they had good and excellent credit, they should look for a credit card with an ongoing rate (not an introductory rate) below 10%.
Unfortunately, the advice is changing for 2023. Sadly, I think it will be difficult to find a card with a rate below 10%. We are already seeing issuers that have historically offered attractive low-rate cards for many years start to pull back. For example, the Pentagon Federal Credit Union's CardNamediscontinued has for years ranked among the CardRatings picks for Best low interest cards, with rates as low as 7.99 or 8.99%, but it now carries an APR of RegAPR.
Unfortunately, we also predict higher card debt in 2023, which is particularly troubling news for revolvers or cardholders who don't pay their balance in full each month. With interest rates high (and rising) it's a terrible time to carry credit card debt, but we've already seen card debt increase substantially during 2022.
According to the Federal Reserve Bank of New York, card debt increased by $46 billion in the second quarter of 2022, a 13% increase over the second quarter of 2021. Sadly, it's the biggest cumulative increase in card balances in 20-plus years, which is especially disappointing considering consumers did so well paying off debt during the pandemic.
The trickle down effect of higher balances and delinquency means we also expect card issuers to tighten their credit requirements for being approved for a card, In layman's terms, this means the minimum credit score required for approval for certain types of cards may increase.
Capital One CEO Richard Fairbank, noted recently during an earnings call that his company has already begun to tighten credit requirements for lower-income consumers. Lower income consumers have started to go delinquent and are doing so more quickly than higher-income consumers.
BONUS TIP!

If you're considering a 0% transfer offer, take advantage of a good offer while you have the chance. Don't wait for a better offer to come along. You can "lock in" a 0% rate for a long term (hopefully at least for 18 months) while generous offers are still plentiful.

There is no guarantee that the 0% offers currently on the market will be as attractive in 6-12 months. Harzog concurs: "Card issuers are currently [aggressively] promoting 0% introductory APR balance transfer credit cards, which can help consumers ease their debt burden."
"Premium cards" catering to big spenders will expand
Premium cards offer luxury perks, such as travel credits and exclusive airport lounge access. This growing niche market caters to cardholders that are more affluent and tend to travel and spend a lot.
2023 will likely witness continued growth in this market, particularly given the likelihood that the delinquency rate among lower income cardholders will continue to rise. Put simply, card issuers will seek to offset revenue losses by focusing on more profitable customers.
We've heard rumors that Citibank could have something in the works in terms of a new premium offer, which would be nice given that the Prestige Card has been gone for a long time. Prestige offered lavish benefits such as a complimentary fourth night when you book a three-night stay at any hotel, but came with a $450 annual fee.
While we expect continued growth, there may be some reworking of the perks offered with these cards. One example is Capital One recently announced their popular CardNamediscontinued is reducing some features associated with access to airport restaurants and other "non-lounge benefits" as of 1/1/23.
Despite such reservations, we maintain that issuers are committed to this market going forward. During the same Capital One earnings call referenced above, Fairbanks said Capital One has been investing in travel cards and is looking to increase its share among big-spending, prime consumers. Harzog also expects "an increase in luxury-related perks, such as lounge access."
This is good news if you're in the market for a new card. Even if you already have a card that you're happy with, it's always a good idea to comparison shop for the best premium cards at least once a year to see how your current card stacks up against others.
BONUS TIP!

If you are considering applying for a premium card, be sure to do the math to make sure that the perks associated with the card justify the high price tag.

"I know some card users like the status of having premium cards, but these invariably carry high annual fees," Sherry explains. "[In order for such a card to work for you], you need to make sure the cash value of perks, points and benefits equal at least the amount of the annual fee."
Other brief, fun predictions by our experts
An increase in Buy Now, Pay Later (BNPL) Offers. "High prices are also fueling the demand for Buy Now, Pay Later offerings," Harzog notes. "The demand for this option will remain steady or even increase in 2023. If consumers pay as agreed, they'll be fine. But unfortunately, many consumers get into debt due to missed payments."
Legislators will vote on the Credit Card Competition Act of 2022 in 2023, but the bill will fail due to negative backlash from fans of reward credit cards.
Our website, CardRatings.com, that was founded in 1998, will continue to grow in popularity among consumers. 'Nuff said on this point!
I sincerely hope these predictions for the new year are helpful and would love your feedback on how they've helped or any predictions you might have. Who knows, I may include a tip from you in a future article. Here's to a Happy New Year!