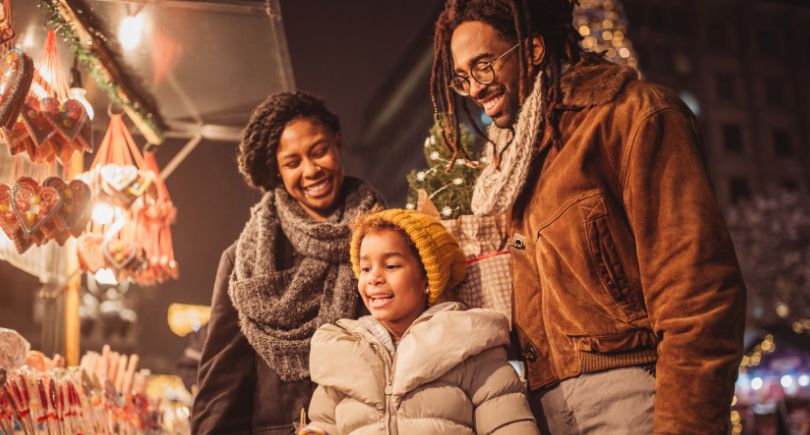 'Tis the season to spread holiday cheer and, if you're a creditor, what better way to do so than with a 0% financing offer! No-interest financing deals during the holidays are often more prevalent than peppermint lattes, especially if you have good credit. Creditors regularly vie for our business and inundate us with offers.
There are several types of no-interest offers, including 0% introductory credit card offers, which can last up to 18 months or longer, 'buy now, pay later' programs and traditional layaway programs, which according to Wikipedia first appeared way back in the Great Depression of the 1930s.
Such programs offer a savvy way purchase Christmas gifts, particularly big ticket items. The goal? Stretch (but don't blow!) your budget while avoiding interest charges and improving your cash flow.
It can be confusing, though, to decide which offer is best, especially if you're trying to navigate the "notorious fine print" while checking out at your favorite retailer or e-tailer. The following article seeks to compare the most popular programs and help you wade through the various offers to find one best suited for you personally.
Using 0% intro rate credit cards for holiday purchases
Most consumers associate 0% introductory rate cards with doing a balance transfer; however, many 0% balance transfer cards also feature a 0% intro rate on purchases as well. For example, CardNamediscontinued features a 0% introductory APR for 15 months on both purchases and balance transfers (then, RegAPR). In simple English, you won't pay a dime of interest for the first 15 months after you get your new card on any purchases that you make, whether large and small.
You can best put this option to use by applying for the card right before you start your holiday shopping (you should allow about 5-10 business days for your card to arrive in the mail). That way you'll effectively extend the 0% intro period as long as possible following the holiday shopping season.
Best practices for using intro 0% APR offers
Make at least minimum payments ON TIME during the intro period, otherwise your rate could skyrocket overnight. Strongly consider setting up auto payments, perhaps even two each month, so you know you won't miss a due date
Ensure you have a plan to pay off the balance completely before the intro period ends (and the rate increases to the normal APR)
Stick strictly to a holiday budget. The 0% offer should not entice you to overspend. Pretend you don't even have the card and are paying cash for an item, even if you see an amazing deal on a big screen TV you've been "salivating over" for months
Don't consider an intro offer of less than 12 months as there are plenty of offers out there that last more than a year. Compare the best 0% offers here
Be sure you have good credit before you apply as the best 0% offers are available to consumers with a good credit score.
➤ MORE ADVICE:Saving with an intro 0% APR card
"If you need to make an expensive purchase during the holidays and you don't have enough money to pay for it, using a credit card with a 0% introductory APR can be a cost-effective strategy," advises Beverly Harzog, a consumer finance analyst with U.S. News and World Report and author of "The Debt Escape Plan: How to Free Yourself from Credit Card Balances, Boost Your Credit Score, and Live Debt-Free." "If you pay off the balance before the intro period ends, you basically get a short-term interest-free loan."
BONUS TIP!

One nice thing about intro 0% purchase offers is that you don't pay fees like you usually do if you take advantage of balance transfer. Those balance transfer fees typically range from 3%-5% of the amount transferred.
Buy now, pay later programs vs. intro 0% card offers during the holidays
Buy now, pay later (BNPL) programs have surged in popularity in the past few years. According to an August 2022 Consumer Reports survey, 28% of Americans have paid for clothing, electronics, appliances or other goods this way. There are several large companies that offer BNPL services, such as Klarna, After Pay and Affirm. All of the companies tout BNPL as "a better way to shop."
In case you aren't aware of these programs, my colleague Geoff Williams has written an excellent article explaining the basics of how BNPL works. In general, buy now, pay later programs are pretty much what they sound like: You make your purchase and receive your product right away, but you pay for it in usually installments over time.
Signing up for these offers when you're checking out may seem like a no-brainer. You purchase a product and you make the first payment when you checkout. Then make the other payments later, generally over the next four weeks, though monthly payments may be offered as well.
Moreover, some companies advertise no fees even if you miss a payment! Affirm, for instance, claims that if miss a payment, "you'll never pay any fees."
Despite the appeal of BNPL, there are downsides and frequent complaints from consumers and consumer advocates alike about the industry.
Many of the complaints surround fees, getting refunds on goods and services purchased with BNPL programs and an overall lack of consumer protections. Sen. Richard Blumenthal has gone so far as to call the industry the "Wild Wild West," given that BNPL companies aren't tightly regulated by the government.
Additionally, with so many BNPL providers and the ability to easily opt-in at the time of purchase, it's possible to lose track of how many BNPL agreements you've entered into and when each of those payments is drafting from your account. That, of course, can lead to overspending or even over drafting your account.
Best practices for using BNPL programs
Read the fine print of EACH offer closely to understand potential pitfalls. Providers' rules differ; ensure you know what you're entering into
Understand that these offers don't generally help you build your credit. Having bad credit, though, usually won't stop you qualifying since they do NOT normally conduct a hard credit check, aka credit pull.
Pay on time even if they say there is no late fee! While the programs don't help you build credit, defaulting on payments could adversely affect your credit score.
BNPL plans, despite the marketing hype, in truth work similarly to intro 0% credit card offers.
"If you don't pay as agreed, you can end up paying interest and fees," Harzog explains. "Many have fallen into debt this way."
BONUS TIP!

If you make a purchase with a credit card, you will enjoy more consumer protections. Card purchases are protected by the Fair Credit Billing Act (FCBA), which, among other things, provides protections for items that are damaged on delivery or never received at all. BNPL programs aren't protected by FCBA.
Are layaway programs, like the new one by Amazon, the best way to make holiday purchases?
As mentioned above, layaway programs have been around since the 1930s and used to be widespread. They've waned in popularity in recent years. Walmart, for example scrapped its once popular layaway program last year and replaced it with BNPL.
Amazon, however, is "bucking the trend" and introduced a new online twist to the traditional layaway program in 2022. Here's how their program works:
No credit check, interest or fees.
Pay 20% of the total cost when you buy something to reserve your items and lock in the price. Cancel anytime for a full refund.
Make four additional payments over eight weeks. Pay off any time for earlier delivery.
You get your item after you pay for it in full. That differs from BNPL and credit cards with which you take the item home instantly, not after you've made all your payments
Please Note! Amazon Layaway isn't available on every product nor for every customer (it's based on your Amazon account history/status). It's also not currently available for orders shipping to CT, DC, IL, MD, OH, PA, and outside of the US.
You can easily use Amazon Layaway by putting an eligible item in your cart and checking the "Reserve with Layaway" option. Place your order to start your payment plan.
I like this new program. I'm glad Amazon has helped to resurrect layaway (though Burlington, Kmart and Hallmark all still offer layaway options according to USA Today). I also like that layaway programs allow you to lock in the price, which helps safeguard you against price hikes from inflation or supply and demand.
On the flip side, Harzog points out that layaway has its downsides.
"One advantage of using a card over layaway is that you build credit if you use it responsibly," Harzog notes. "You also take possession of the item now instead of waiting until it's paid for."
In addition, card purchases, as noted above, offer consumer protections that layaway programs don't. According to the FTC, there is no federal law that specifically governs layaway transac­tions.
My friend Jim Stewart has had generally positive experiences with layaway, but did have one bad experience.
"We used it mostly around Christmas," Stewart recalls. "We first used Walmart and when they stopped doing it, we started using Kmart's program. We usually bought toys and clothes. Walmart lost our stuff once and that was stressful, but thank God, they gave us a full refund!"
BONUS TIP!

Store credit cards, such as those offered by Target, Macy's, Gap, Sears and J.C. Penney, often offer good financing deals during the holidays. For example, the Home Depot Card is offering 0% financing for up to 24 months.

However, according to Harzog, you have to be careful. Some offers feature deferred interest plans, which means you get 0% interest, but only if you pay the balance off IN FULL before the intro period ends. If you have a balance when the introductory period ends, you pay deferred interest back to the purchase date! And the interest rates on store card purchases can be very high. The Target Card, for example is currently 25.90%.

Editor's Note: CardRatings independently collected the Information related to the Home Depot credit card and Target Card. Issuers of the cards did not provide the information and it may be out of date.
0% APR cards vs. BNPL vs. layaway
Choosing the best 0% financing offer can be overwhelming given the number and variety of offers out there. Each program has its pro and cons. My personal favorite is 0% credit cards, but I can see the appeal of some of the other programs. Furthermore, 0% credit card offers may not be right for you!
2022 has been a hard year from an economic perspective. Inflation and higher interest rates have made it difficult for so many families. As a result, leveraging 0% offers this holiday season could definitely be a Godsend.
Finally, don't neglect good personal finance tips when holiday shopping.
"Start by having a realistic budget," Harzog suggests. "Make a comprehensive gift list and, where possible, focus on giving your time instead of money.
"Also, I suggest you use a price comparison app, like the Amazon app or Price.com, so you can find the best deals. You'd be surprised by how much you can save using an app and tracking down sales!"
I sincerely hope these insider tips are helpful to you and would love your feedback on your personal experiences with 0% financing deals. Who knows, I may include a tip from you in a future article! Best wishes in using 0% cards to your financial advantage and happy holidays!