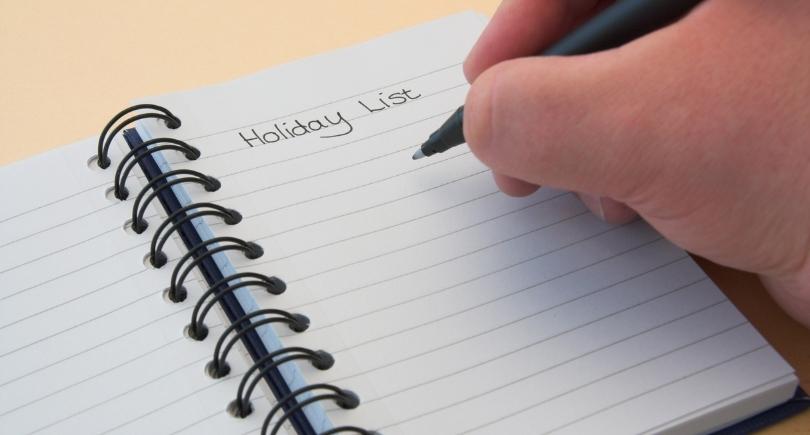 Americans are less than one month away from the holiday shopping season, traditionally the busiest shopping season of the year. Retail bottom lines bleed red or go black based on those few weeks.
During the fourth quarter annually, powered by consumer spending from Black Friday through Christmas, retailers traditionally get as much as 30% of their yearly sales. Per Statista, jewelry and hobby/game stores fare higher than that number, while home furnishings sales are a little lower.
With the effects of lingering inflation this year in everyone's mind, gift giving might be tighter than in recent years. In fact, one study projects "58 percent of U.S. consumers intend to cut back on non-food holiday spending this year."
With economics trending rather negative, is there anything you can do to prepare for gift-buying and giving this season? Yes, and here are seven financial steps to take ahead of the season so you can lessen the burden and enjoy the moment.
Take account of the amount of money you have on hand
Yes, I'm talking about the thing so many people love to hate: a budget.
Rather than going into the shopping season like driving in a sandstorm, be aware of what you have, any bonus(es) you can expect and ways you can save to make more money available for gift-giving.
If "creating a budget" sounds too ominous, create a limited budget for just the last two months of the year. The idea is to get you through the season successfully.
Creating a budget forces you to think about all the money you have going in and out, as well as potential income cost cutting.
Can you skip your morning coffee purchase for several weeks (or at least downgrade from a super-deluxe, triple shot, four-syrup latte to a medium coffee with cream)? Or better yet, make it at home.
Can you delay buying that new music, drop a streaming service — or two or three — for the season, hold off on those new clothes? Every dollar saved can be used for a gift.
Do you have any cash rewards on credit cards? Use them to buy gifts.
Unused gift cards or partial balances? Regift them or use them to defray out-of-pocket costs.
And, believe it or not, using a credit card can help you stay on budget.
Refine your gift-giving list
It really stinks to not be able to go all-out when giving gifts, but what's worse is paying for overspending for months after. The joy of giving dwindles to "bah humbug" when Christmas in July is all about the bills.
If you usually spend a few hundred dollars at Christmas, but realism shows you that you have much less this year, it will help to refine your list by deciding who you can afford to buy for and who you cannot.
Refining your list does not mean you have to cull everyone you know. Make gifts. Combine gifts for couples. Depending on the recipient, buy used books off Ebay or home décor from a local vintage shop or flea market. You'll save money and sometimes find a more meaningful gift.
Perhaps this is your year to lean into the adage, "It's the thought that counts."
Set a spending limit for each recipient
You don't have to spend the same amount for every person, but you can set one max amount for adult family members, another for child family members, another for friends, and another for co-workers.
You simply do not have to break the bank for everyone.
If your office exchanges gifts, ask for clarity on the max amount. Sometimes it is more fun to have a low max (say, $10) and do a White Elephant party (sometimes called Dirty Santa). The fun is of more value than spending another $10-15 for bigger gifts.
Look for deals
This longstanding, tried-and-true strategy when times are tough will likely get a lot of use this year. Retailers know inflation is still in play and are preparing to take a hit. This is good news for consumers!
Remember those often-annoying ads on social media? If one of those products is on your list, you can sometimes save as much as 20% by signing up for their email list or even text alerts. (To avoid cluttering up your inbox, set up an email address dedicated to email marketing and by all means clean out those text messages with regularity.)
Don't forget to check your snail-mailbox, too. Local companies still utilize fliers and direct mail when advertising. Getting a deal and supporting a local business is a double-win.
Shop early
Consumers nearly always spend more when they wait until the last minute. With no time to comparison shop, you just have to pay the price that's in front of you.
Remember those marketing emails people usually delete without reading? This is the time of year to pay attention to them as sales and deals — especially one-day or a few hours only bargains — generally hit email inboxes first.
And that's not all, according to McKinsey, "Many retailers have kicked off the holiday-shopping season earlier than ever. Some retailers are doubling down on membership benefits to drive loyalty and increase their share of wallet. Others are announcing price match guarantees and widening return windows during the holidays to reach more consumers."
And yes, sometimes even getting out on Black Friday is worth the effort.
Check to see whether any of your credit cards offer warranty extensions on purchases
Depending on your gift purchase, you might be given a warranty offer from the retailer. This is especially common in Big Box stores that sell electronics and appliances. Before forking over a few dollars to a few hundred dollars, check your credit card's provisions.
Not every card provides an extended warranty benefit, nor does every card issuer include it on all their cards, so you will need to read the fine print on cards you have and research any you are interested in.
On the high end, coverage can reach up to $10,000 and extend an item's warranty by a year or more, so it is worth looking into it.
Furthermore, some cards offer purchase protection as well, meaning you could be reimbursed for items that are damaged or stolen within a certain time frame after your purchase. The bottom line is it's worth familiarizing yourself with the fine print benefits your credit cards might offer.
So, make your list, check it twice, order online, then finish on time
Ordering online has saved my family untold amounts of money in fuel and time standing in long, barely moving lines. However, even with multiple e-commerce sites and enough advance prep to embarrass Napoleon, sometimes there are a few gifts left to get coming down to the wire.
Rather than leaving home and driving to store after store, plan your shopping day so that you can get everything done in one trip. If possible, map out where you are going to make all your purchases so you can avoid backtracking.
If you are driving your own vehicle, make sure you're taking simple steps to save money and time. Carpool and save even more. Every dollar saved now is a dollar that won't come around with interest in 2023.
With a little strategic planning, you might even finish your holiday shopping early this year!
As most consumers know, holiday shopping can be the best of times and the worst of times. If you put these financial steps in place, however, it can bring you that much closer to the more joyful time you hope for each year.