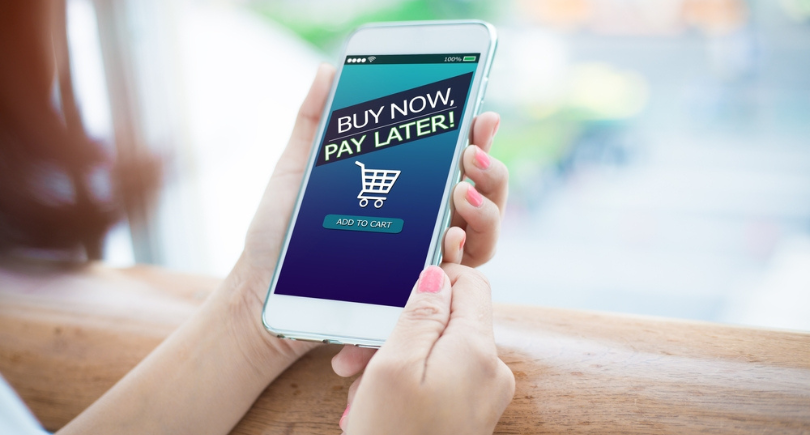 If you're feeling overwhelmed with holiday shopping, you've probably noticed the array of buy now, pay later plans that are offered with online shopping and even inside some stores as well.
So what are buy now, pay later plans? Are they a smart strategy for making purchases? Or is it better to stick with a tried-and-true credit card (which, we'll consider a decades-old version of "buy now, pay later")?
It's a reasonable question, especially in light of higher prices, and the fading away of some popular strategies for buying expensive gifts, like layaway plans, which are disappearing from many stores. For instance, Walmart recently discontinued their layaway program and has replaced it with buy now, pay later financing.
So what's an uncertain shopper, perhaps cash strapped, to do? As with anything, you want to think about what you're doing and look at all of your options, before you make a purchase.
What is buy now, pay later?
Buy now, pay later programs, sometimes referred to as BNPL plans, are almost exactly what they sound like. You purchase a product and then make the payments later.
Well, actually, no, you make the first payment when you checkout; the other payments you will make later, generally over the next six weeks.
"In what seems like one transaction, two things are happening," explains Christine Hagedorn, assistant professor and discipline coordinator in the business department at Rosemont College. "The retailer is taking the order for the good or service they sell and the BNPL company is contracting with the consumer to take later payment for this good or service."
Some of the big names in the BNPL arena include Afterpay, Klarna, Zip (formerly Quadpay) and Affirm. Some stores associate themselves with one BNPL program, and some retailers offer several buy now, pay later plans.
Many of these same names that offer point-of-sale financing in stores also offer apps that allow you buy now, pay later purchasing power through the app with any merchant. In other words, just because your retailer doesn't specifically mention "buy now, pay later" as a payment option when you check out online or in a store, you can still take advantage of a buy now, pay later option through several of these apps with any merchant.
That flexibility could come in handy or could have you spending more than you realize if you don't keep up with it.
How does buy now, pay later work?
Beyond buying something and making the first payment – and then several others later – all of the programs work pretty similarly.
Generally, you pay the first payment at the checkout, along with the taxes. After that, the next payments are usually staggered two weeks apart. So if you made a purchase on the first of the month, the second purchase might come on the 14th. The third on the 28th. The fourth, two weeks after that, on the 18th or 19th, somewhere around there. So the whole process would take about six weeks.
"Using BNPL, the retailer is happy because they have successfully sold goods or services and the consumer is happy because they got the desired goods or services without having to hand over the full cost up front," Hagedorn says. "This is a desirable situation for consumers who do not have credit cards, or who have already maxed out their credit cards."
There is often no interest – one of the main attractions of a buy now, pay later plan – but if you make a BNPL payment late, you will pay a late fee.
Is buy now, pay later a good idea?
It may be a wonderful or terrible idea. In other words, that's a question that only you can answer. As with any financial decision, it really depends on your financial situation.
"Some call [BNPL] an alternative to credit cards, others say it is the next wave in convenient payment methods – sort of like how PayPal revolutionized online billing back at the turn of the century – and others have called BNPL a dangerous entre into spiraling consumer debt," Hagedorn says.
Buy now pay later can be a good idea if your situation goes like this:
Your cash flow is healthy and you're very responsible with paying your bills and sticking to a budget. That said, you really want to purchase something that you can't afford at the moment, but you know that you'll have the money to pay the additional payments. You're just a little low on cash at the moment, and you either don't own a credit card, feel like you shouldn't use it right now or know you'll need longer than one billing cycle to pay for the item and don't way to pay interest on a credit card. In this case, you can make the argument that "buy now, pay later" is a good idea.
"Spreading a cost over four payments seems 'doable' to many consumers who think they may not have the money now, but they feel they will a few months down the line," Hagedorn explains.
Buy now pay later can be a terrible plan if your situation goes like this:
You're broke, and your cash flow is a mess. You know you can make the first payment (and, indeed, you won't be able to get the item if you can't), but you feel like it's anybody's guess as to whether you'll be able to make the next payments. But you like the idea of rolling the dice and seeing what happens.
In this particular case, you are obviously taking a financial risk and setting yourself up for a lot of stress later. Because there are BNPL late fees you may have to contend with – possibly multiple fees if you're late with each installment payment – and so whatever you're paying for this item, if you add on additional charges, it's going to be more costly. Of course, in this scenario, a credit card isn't going to be a good idea either as that will likely rack up interest charges. If this is your reality, it's time to think about whether you need or want the items in question and if they are true needs, consider the best possible ways to pay for them with the least amount of interest or fees (more on that below).
Furthermore, the industry is still relatively new even though it's rapidly growing in popularity. All that growth has, in fact, caught the eye of the Consumer Financial Protection Bureau, which In December announced an investigation into the industry. Specifically, the CFPB has requested information related to the risks and benefits of the programs from Affirm, Afterpay, Klarna, PayPal and Zip, with expressed concerns around "accumulating debt, regulatory arbitrage, and data harvesting in a consumer credit market already quickly changing with technology."
Hagedorn points out that because the BNPL industry isn't heavily regulated yet, many of the BNPL platforms look more like shopping apps than banking or credit apps, which could lull consumers into ignoring the financial consequences of buying anything on an installment or credit plan and blind them to the differences, good and bad, between credit cards and BNPL.
"I think the idea behind [BNPL platforms] is to help the consumer 'get stuff,' whereas the idea behind a credit card is to yes, 'get stuff,' but to concurrently help the consumer responsibly build a good credit score along the way," Hagedorn says.
What stores accept buy now, pay later?
It's becoming difficult to find stores that don't accept buy now, pay later programs. Most of the big ones do, including Walmart, Target, Best Buy, Neiman Marcus, Pottery Barn and Saks Fifth Avenue, and a lot of smaller but still potent brands, from Purple to Peloton, offer buy now, pay later programs. Amazon recently launched its own BNPL program known as Amazon Monthly Payments.
And, as mentioned earlier, just because a retailer doesn't specifically partner with one of these programs doesn't mean you can't use the app to make your purchase with the retailer.
What are the fees associated with buy now, pay later apps?
Late fees are the big one to be aware of. While maybe there's some weird BNPL service that we aren't aware of that charges some obscure fee, generally, if you're going to pay a fee with a buy now, pay later service, it'll be a late charge.
As to how much the late fee is, it completely varies by the service and, with many stores, you may not have a choice as to which BNPL you use.
Some BNPL late fees can be as high as $35, which sounds scary, but it's very unlikely you'd ever pay a late fee of $35 if you're making payments on a $27 shirt. The fees are often tied to how expensive the item is.
More commonly, BNPL fees are in the neighborhood of $5 or $10, or perhaps you'll be charged 25% of the order.
On the other hand, the BNPL program Affirm, for instance, doesn't charge any late fees but will charge interest if the BNPL payment isn't made. It will tell you upfront how much the interest will be if the payment isn't made. So, interest charges aren't out of the question with some of these programs.
Is buy now, pay later better than a credit card?
Assuming you can qualify for a credit card and are responsible with it, then no, buy now, pay later is not better than a credit card. That's because credit cards offer far more advantages than buy now, pay later plans.
Here's what we mean.
Credit cards can improve your credit score. Sure, you can hurt your credit score if you misuse a credit card. Still, if you make your credit card payments on time, and especially if you pay your payments off in full each month, your credit score is going to rise.
If you make all of your BNPL payments on time, that's great – but your credit score isn't likely to improve. Currently, few BNPL programs report on-time payments to credit bureaus; however, if you make a BNPL payment late, and if things get really out of hand, where you simply don't make your payments, and you're reported to a collection agency, you will see your credit score damaged.
In other words, fall wildly behind on a BNPL, and just as with a credit card or any sort of bill, you could pay dearly for it later.
Credit cards can help control your debt. Qualifying for a credit card, and therefore access to more potential debt, usually requires a credit check and financial review by the bank. If you already have poor credit, the bank can deny you the credit card and effectively prevent you from taking on additional credit card debt.
BNPL transactions, however, require no credit approval. Furthermore, each BNPL transaction you complete is considered a separate contract, a situation that Hagedorn says results in a shopper "being afforded a non-monitored shopping spree, rather than a regulated line of credit."
With multiple contracts scattered across multiple BNPL providers, Hagedorn says, consumers can lose track of what automatic payment will come out of their bank accounts and when.
"There have been reports that BNPL users lost track of these commitments and were hit with later [sic] fees and interest rates when they did not have the correct amount of money in their account at the time the BNPL second, third, or fourth payments came due," Hagedorn explains. "This can only deepen that well of debt and serve to mitigate the convenience of using this form of payment in the first place."
Credit cards can offer rewards, like cash back. In other words, if you have a credit card that offers rewards, like cash back or points that can be redeemed for a free airline ticket or stay at a hotel, you'll get something for your money when you buy products. You'll make your credit card payments, and you will be rewarded for that. If you make all of your buy now, pay later installments on time, that's great, but you get nothing extra for doing that.
Credit cards sometimes offer 0% APR periods. The payment plans for BNPL purchases are generally locked in, but what if something comes up and you need an extra month to pay off that item? There are many credit card options out there with 0% APR introductory periods that extend far longer than the typical six-week payment plans offered by BNPL options. You obviously still want to pay off your purchase in full before the 0% APR period ends in order to avoid paying interest, but you'll also have much longer to do it than a BNPL offers.
Credit cards offer protection for the merchandise you're buying. It depends what you're buying and what type of credit card you have, of course, but many credit cards have purchase protection, a benefit that allows people to receive a replacement, repair or refund on eligible stolen or damaged items. Many credit cards also have extended warranty programs. If you break something expensive that you purchase with a BNPL plan, you could still have to make payments on it, and you could still need to buy a new replacement.
Credit cards can be used more widely. It's rare, if ever, that a service will allow you to buy something now and pay for it later. You can't pay for a plumber on a buy now, pay it later plan (though many do offer in-house financing). You can't take an Uber somewhere or stay at a hotel or rent a vehilce. So even if you do love BNPL, you'd be wise to hang onto your credit card.
Offers purchase protection
Offers extended warranty protection
Interest charges on unpaid balances
Credit damaged by missing payments
There's no doubt that a buy now, pay later option can be a useful tool for some people, especially people who don't qualify for a credit card just yet, but to call it better than a credit card is a stretch.