British Airways Visa Signature® Card Review
Earn 75,000 bonus Avios (details below) and enjoy the opportunity to earn a companion ticket each year of card membership.
British Airways Visa Signature® Card
CardRatings Editor's Analysis: Pros & Cons
Earn 75,000 Avios when you spend $5,000 in the first three months of account opening.
Going forward, each calendar year you make $30,000 in purchases you will earn a Travel Together Ticket good for two years.
British Airways Avios can be redeemed for flights with a wide range of partner airlines, so this card doesn't restrict you to only British Airways flights.
The annual membership fee of

AnnualFees

means card members need to spend enough to offset the cost of carrying the card, but, given the opportunity for a companion ticket each calendar year plus the solid bonus opportunity right now, the fee could turn out to be quite reasonable for regular British Airways guests.
Terms and Limitations Apply.
Issued by Chase, the CardName offers an opportunity to collect airline rewards that can get you reward flights with, obviously, British Airways but also through a number of partner airlines as well. Therefore, don't overlook this card even if international travel on British Airways isn't a regular activity for you.
With each purchase, cardholders earn "Avios," the currency of rewards programs for a number of airlines, including multiple associated with the popular Oneworld Alliance, of which British Airways, American Airlines, Finnair, Cathay Pacific and others are members. You can redeem Avios through any of the member airlines, providing attractive flexibility and potentially high value.
Recently, Chase updated the longstanding signup bonus for the British Airways card, simplifying it and dramatically reducing the required spend. Rather than requiring $20,000 in purchases over the first 12 months to earn 100,000 Avios, as was the offer for a long time, you now need to spend just $5,000 over the first three months to earn 75,000 Avios with the current offer.
Additionally, CardName cardholders are now eligible for up to $600 per year in "award flight" credits. This feature can help offset the sky-high taxes, surcharges and fees required when redeeming Avios for a "free" British Airways flight (more on these in the Downsides section below). Depending on the city of origin, these charges can easily run several hundred or even a $1,000 per ticket. With the award flight credits, cardholders can earn $200 for each award flight ticket in First Class or Business Class and $100 per ticket in Economy or Premium Economy, for up to $600 in statement credits each year spread over three individual bookings to London in a calendar year.
Beyond the signup bonus, cardholders earn three Avios per $1 spent on purchases with British Airways, Aer Lingus, LEVEL and Iberia; two Avios per $1 spent on hotel accommodations when purchased directly with the hotel; and one Avios per $1 spent on all other purchases.
The most attractive perks associated with CardName remain intact. Topping the list is the 10% discount on all British Airways flights originating in the U.S. when you book through the website provided in the welcome packet provided with your card. In addition, you can earn a free Travel Together Ticket each calendar year when you make $30,000 in purchases on your card.
Additional perks include no foreign transaction fees and lost luggage and baggage delay insurance.
All of which makes the annual fee of AnnualFees easy to offset for the right cardholder.
Top Features
Rewards
Earn 3 Avios per $1 spent on purchases with Iberia, British Airways, Aer Lingus, and LEVEL. Earn 2 Avios per $1 spent on hotel accommodations when purchased directly with the hotel. Plus, earn 1 Avios per $1 spent on all other purchases.
Bonus Rewards
Earn 75,000 Avios after you spend $5,000 on purchases within the first three months of account opening.
Regular APR
21.49%-28.49% Variable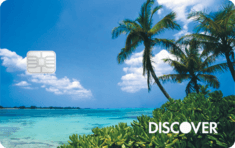 UNLIMITED BONUS: Only Discover gives you an unlimited match of all the Miles you've earned at the end of your first year. For example, if you earn 35,000 Miles, you get 70,000 Miles. There's no signing up, no minimum spending or maximum rewards. Just a Miles-for-Miles match.
Automatically earn unlimited 1.5x Miles on every dollar of every purchase - with no annual fee.
Redeem Miles to pay any part of your monthly bill, including your minimum payment.
Turn Miles into cash in any amount, any time. Or redeem as a statement credit for travel purchases like airfare, hotels, rideshares, gas stations, restaurants and more with no blackout dates. However you redeem, Miles keep the same value. And Miles never expire.
0% intro APR for 15 months on purchases. Then 17.24% - 28.24% Standard Variable Purchase APR will apply.
Discover could help you reduce exposure of your personal information online by helping you remove it from select people-search sites that could sell your data. It's free, activate with the mobile app.
Discover is accepted nationwide by 99% of the places that take credit cards.
Freeze your account in seconds with an on/off switch either on the mobile app or website to prevent new purchases, cash advances, and balance transfers.
Get an alert if we find your Social Security number on any of thousands of Dark Web sites. Activate for free.
Click through to Discover's website to see terms and conditions.
Credit Needed:
Excellent, Good
Partnerships make it easy to accumulate Avios in your British Airways Executive Club account (that's where your Avios are housed).
Besides earning Avios directly with flights or spending on your CardName, there are also some options for transferring other credit card or loyalty points to your Executive Club account. If you have a Chase Ultimate Rewards-earning credit card, for instance, you can easily transfer your Ultimate Rewards points to your British Airways Avios account at a rate of 1:1. Additionally, Avios are the reward currency for Iberia Plus, Aer Lingus AerClub and Qatar Airways Privilege Club, which means you can redeem Avios directly with those airlines. Remember, too, that British Airways is a oneworld Alliance airline, so you can redeem and earn Avios with any of the member airlines of that alliance.
Marriott Bonvoy points can also transfer to Avios at a rate of three Bonvoy Points for one Avios, which isn't a receommended use of your points from a value perspective even though you also earn a 5,000 Avios bonus for each 60,000 Bonvoy points you convert.
British Airways is also a points transfer partner with Capital One, American Express Membership Rewards and Bilt Rewards, meaning credit card rewards earned in each of those currencies can be converted to Avios.
Due to the taxes and fees charged by British Airways on international flights into London Heathrow Airport, it could be more beneficial to redeem your accumulated Avios with other airlines that are part of the oneworld Alliance. These include American Airlines, Iberia, Alaska Airlines, Japan Airlines, Qatar Airways and Cathay Pacific, among others.
For most people in the U.S., the absolute best redemption value for Avios is in short-haul flights. The program charges just 9,000 Avios for trips of between 651 and 1,151 miles. For domestic travelers, this makes American Airlines an excellent partner redemption option. This is also a benefit for a business or vacation trip featuring multiple destinations.
If you are a creative traveler, for whom a non-stop flight is not a priority, a longer journey could be broken up into separate, shorter flights to make the most of your Avios.
In simplest terms, free tickets aren't actually free. As mentioned above, British Airways imposes hefty taxes, fuel surcharges and fees – often topping $1,000. As a result, redeeming Avios for "free" flights on British Airways can still be pricey. Luckily, the partner airlines generally charge much lower fees on reward flights.
Another thing to keep in mind is that Avios expire if you don't earn, spend, purchase or share Avios in your account for 36 months. This is important to know if you obtain the card specifically for the signup bonus and then set it aside to redeem the Avios in the future. Of course, a single British Airways Visa card purchase will reset that 36-month deadline, so it shouldn't be difficult for cardholders to keep their points from expiring.
CardRatings conducts a survey annually to learn what actual cardholders think of their cards. Here are the results:
| | Current Scores | Past Scores |
| --- | --- | --- |
| Overall Score | 74.5 | 58.9 |
| Rewards Program Satisfaction | 7.4 | 5.8 |
| Customer Service | 7.9 | 5.8 |
| Website/App Usability | 7.5 | 6.1 |
| Likelihood of Continuing to Use | 7.5 | 6.4 |
| Recommend to a Friend/Colleague | 7.1 | 5.8 |
*Scores above reflect the results of surveys with actual cardholders. Full methodology below.
CardName

vs.

CardName

discontinued

The 60,000 bonus points you can earn as a new CardName holder (after spending $4,000 in the first three months) are nothing to scoff at, especially considering they are worth 25% more when redeemed for travel. When redeeming for airfare, hotels, car rentals, and cruises through Chase Ultimate Rewards, 60,000 points are worth $750.

With the CardName, you aren't restricted on where/how you travel. If you plan to heavily use your card (especially within the first year), and are loyal to the British Airways brand, the CardName could be an excellent card to hold. However, if you're looking for more flexibility with how you travel, you might want to further consider the additional perks of the CardName.

The CardName earns users 5X total points on all travel purchased through the Chase Ultimate Rewards portal; 3X points on dining, including eligible delivery services and takeout; 3X points on online grocery purchases (excluding Target, Walmart and wholesale clubs); 3X points on select streaming services; 2X points on travel purchases; and 1X point on all other purchases. The card has no foreign transaction fees, and comes with a number of travel protection benefits, such as auto rental collision damage waiver, baggage delay insurance, trip delay reimbursement, and travel and emergency assistance services. There is a AnnualFees annual fee associated with the card, but the bonus offer alone far outweighs that cost.
CardName

vs.

CardName

discontinued

New CardName discontinued cardholders can earn 50,000 American Airlines AAdvantage bonus miles after they spend just $2,500 on the card in the first three months and that certainly isn't a bad offer for those loyal to the American Airlines brand (Citi is a CardRatings advertiser).

The CardName cardholders earn two AAdvantage® miles for every $1 spent at gas stations, restaurants and on eligible American Airlines purchases and can also earn a $125 American Airlines Flight Discount after spending $20,000 or more in purchases during your card membership year and renew your card. If you're exclusively making flight purchases with American Airlines and also want to earn some on your everyday purchases, the CardName is a fine choice, but if you often fly with British Airways, the CardName may be the way to go as you can still use Avios to fly American Airlines since it's a British Airways oneworld® airline partner and there's no opportunity for a companion ticket with the American Airlines card.

The CardName's annual fee is AnnualFees.
CardName

vs.

CardName

discontinued

This is another general travel rewards card as compared to an airline-specific card, which means you can redeem your rewards for a wide range of travel opportunities. Plus, with the CardName, you earn two miles per $1 spent on all your purchases, making this an excellent card for people who don't want to worry about earning more rewards for purchases in certain categories or keeping track of a spending cap.

The CardName offers new cardholders a one-time bonus of 75,000 miles once you spend $4,000 on purchases within three months from account opening, equal to $750 in travel. Miles can be redeemed without worrying about a particular brand or blackout dates. So, for example, you can fly any airline, stay at any hotel, anytime and not have to worry about blackout dates. Plus, you can transfer your miles to numerous leading travel loyalty programs.

Lastly, as you would expect from a card with "venture" in the name, you won't be paying foreign transaction fees if you use the card abroad. The CardName's annual fee is AnnualFees.

Bottom line is that you'll want to consider your loyalties and plans for your rewards; if you want flexibility, the CardName is probably a better fit.

As with almost all airline-affiliated credit cards, the answer is somewhere between "maybe" and "it depends."

The potential perks associated with the CardName are lucrative. But you need to closely examine your travel and spending habits to determine if you can take full advantage. In particular, you will want to make sure you will be making the required purchases in the first three months after application to earn your 75,000 Avios signup bonus.

Before applying, you should also remember that the British Airways Visa Signature card falls under Chase's 5/24 rule. If you have been approved for five credit cards in the past 24 months with any issuer, Chase will likely reject your application, even if you have near-perfect credit.

Survey Methodology: CardRatings commissioned Op4G in September and October 2022 to conduct surveys among 1,554 cardholders nationwide. CardRatings website analytics from Jan. 1, 2022-Aug. 31, 2022 were used to determine a selection of the most popular cards and additional cards were included to add survey breadth. Responses to each of nine questions were given on a scale of 1-10 and respondents' scores were then averaged under broad topics. To determine the overall score, responses from questions 1-8 were summed and the answer to "How likely are you to recommend this card to a friend, coworker or family member?" was double weighted. "Current Scores" reflect scores from the most recent survey (2022); "Past Scores" reflect scores from the 2021 survey.
British Airways Visa Signature® Card Compared to Other Airline Cards

Compare a different card

Southwest Rapid Rewards® Priority Credit Card
Rewards
Earn 3 Avios per $1 spent on purchases with Iberia, British Airways, Aer Lingus, and LEVEL. Earn 2 Avios per $1 spent on hotel accommodations when purchased directly with the hotel. Plus, earn 1 Avios per $1 spent on all other purchases.
Rewards
Automatically earn unlimited 1.5x Miles on every dollar of every purchase - with no annual fee.
Rewards
Receive 7,500 anniversary points, 4 upgraded boardings when available, and a $75 Southwest® travel credit each year. Enjoy benefits including 3X points on Southwest purchases, 2X points on local transit and commuting, including rideshare, 2X points on internet, cable, and phone services; select streaming, 10,000 Companion Pass® qualifying points boost each year, and more.
Bonus Rewards
Earn 75,000 Avios after you spend $5,000 on purchases within the first three months of account opening.
Bonus Rewards
Earn 50,000 bonus points after spending $1,000 on purchases in the first 3 months from account opening.
Regular APR
21.49%-28.49% Variable
Regular APR
17.24% - 28.24% Variable APR
Regular APR
21.49%-28.49% Variable
Disclaimer: The information in this article is believed to be accurate as of the date it was written. Please keep in mind that credit card offers change frequently. Therefore, we cannot guarantee the accuracy of the information in this article. Reasonable efforts are made to maintain accurate information. See the online credit card application for full terms and conditions on offers and rewards. Please verify all terms and conditions of any credit card prior to applying.
This content is not provided by any company mentioned in this article. Any opinions, analyses, reviews or recommendations expressed here are those of the author's alone, and have not been reviewed, approved or otherwise endorsed by any such company. CardRatings.com does not review every company or every offer available on the market.