Finding a few coins on the sidewalk can put a smile on your face and a jingle in your pocket. Now imagine receiving a similar unexpected reward because an online product has your back. As it turns out, there are ways to save money after you make your purchase, a relatively new way to slice and dice the savings paradigm.
How Low Can You Go?
Many apps exist to help you find the lowest price as you shop. They include Amazon Price Check, GasBuddy, InvisibleHand, Kayak. Nifti, Pricegrabber, Purchx, ShopAdvisor, Shopsavvy, Smoopa and more. These price comparison apps often run in the background while you browse stores or scroll through online retail pages. The apps then alert you in real time with the lowest nearby price for that specific item. But what happens when you forget to use one of those apps and plunk down $3,000 for a new mocha leather sofa?
That's where a price adjustment app, sometimes called a financial concierge app, can watch your back and save you valuable time and money not to mention the age-old buyer's remorse prone to set in after a hefty purchase. "Did I get the best price?" "Should I have looked a few more places?" What if I just spent $100 more than I had to?"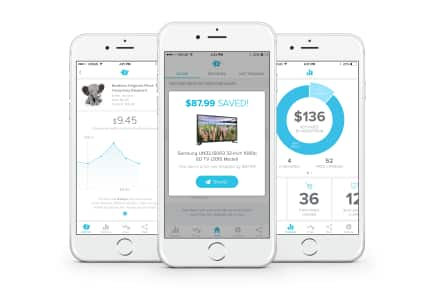 Personal price protection products, like those offered Paribus and Slice, have been around for awhile and automatically net you cash back should your online purchase drop in price within the retailer's specified price-adjustment timeframe – usually seven to 30 days, according to Marc Atiyeh, head of growth with Paribus.
But, seven days, even 30 days, doesn't allow a lot of time for items to drop in price. Luckily, a number of credit card issuers offer similar protection that extends well beyond the retailer's price-adjustment period. The problem with that, of course, is that the burden is on you to know your credit card issuer's policy and be willing to jump through the necessary hoops should you want to take advantage of a sale price three or even six months (depending on your credit card issuer) after your purchase.
At least one company, the aforementioned Paribus, is now taking steps to make that process a bit less consumer-driven with a new product that will interact with credit card issuers on consumers' behalves to take advantage of that lengthy price adjustment period.
"We want to build a product that makes it as easy as possible for you to get money back," Atiyeh explained. "What's really great about this new product is it extends beyond the one week, two week [retailer period] – usually it's seven days. We will obviously save people much, much more."
Paribus' new product works like this:
Make an online purchase using a supported credit card with one of the 25 retailers Paribus is currently set up to support.
Paribus will automatically track your purchase for the duration of the price adjustment period – it could be six months or more – depending on what credit card you used to make the purchase.
When and if the price drops in that period, Paribus contacts your credit card issuer on your behalf and initiates the price adjustment process – as much as possible handling everything for you.
If Paribus gets you a refund, Paribus will take 25 percent of the refunded amount as a fee for its service. There's no pre-paid fee for users to take advantage of the service.
The refund will be credited directly to the card you used to make the purchase.
"There's not a membership fee, there's no money out of your pocket," Atiyeh emphasized, explaining that Paribus is set up to track email receipts for your online purchases made with the select retailers, which today range from Walmart to Nordstrom to Amazon to Sephora with more retailers coming soon.
"There are very few companies that just use your data for your own good, and that's really what we want to do," Atiyeh said, emphasizing that emails are specifically tracked through the retailer's email address and consumers' other personal email is not tracked. "We want to be the consumer's agent that always has the consumer's back.
Paribus plans to roll out the new product in June in addition to its current product that works within individual retailer's price-adjustment policies (more on that below). Individuals already using Paribus' current product will automatically be included under the protections of the new product if they shop online with an eligible credit card.
Other Price Protection Options
Price protection isn't new. Shoppers can ask for it at the time of purchase, although that's not always top of mind. It generally allows a consumer to go back to the retailer if the purchased item goes on sale. Most big box and online retailers allow a seven to 30-day window after purchase or delivery to claim the reduced price match. This option, of course, has a catch: You. You have to stay on top of it or you will miss out.
In contrast, apps like Paribus and Slice do the work for you, from start to finish. They are on your savings team while you are at work, entertaining friends or even sound asleep. Here's how: Their super techy computer algorithms scan your e-receipts for several weeks and if their computer software detects a price drop at the store where you made the purchase or at a competitor store, a price match rebate email is generated and sent to the retailer. The price difference is then credited to the credit or debit card you used to make the purchase.
As with its new product, Paribus charges 25 percent of the refund for its services while Slice offers a complimentary basic service and enhancements for a fee.
Getting Started with Price Adjustment Apps
Step 1: It's probably best to set up a separate shopping email account for all your e-receipts. This helps prevent a wave of sales promos flooding your everyday email inbox and keeps all your shopping-related email, like shopping history, receipts and special offers, in one location.
Step 2: Sign up for Paribus or Slice. The process is easy and takes about 10 minutes. The most personal information they ask is credit card information. The credit card info is for verification purposes – with both products your refunds will be made to whatever card you use to do your shopping.
Step 3: The fun part: Start shopping. Your price-matching guarantees are in place and the computer algorithms are ready to work.
Side-by-Side Comparison of Paribus and Slice
Paribus:
Pros: Delivers on its claims; does its best to fully automate the refund process (in most cases, you don't have to do anything); offers extended protection by working under credit card issuers' price adjustment timeframes; supports 25 merchants.
Cons: Despite the website's simplicity, navigation is not intuitive; fee of 25 percent of each rebate; eligible purchases only from a limited number of websites (though that list is growing); for extended protection under a the new Paribus service, you must shop with one of the supported cards (discussed above).
Bottom Line: Might be the best after-purchase app out there today. A must have for people who do a lot of online shopping via the list of supported websites (which ranges from Amazon to J.Crew to Walmart as of this article.) This app has your back and, like most technology, it will probably just keep getting better..
Slice:
Pros: Delivers on its claims; free basic service; sends alerts; tracks packages
Cons: Not fully automated – users must click to send an auto-generated email to a retailer in order to claim a refund; currently supports fewer (but different) merchants than Paribus.
Bottom Line: Package tracking is a plus, especially since so many purchases now are being made online. Price-matching guarantees put your mind at ease.
Related But Different Apps That Help You Save
While we're on the subject of saving money, check out these apps that collect the spare change in your designated account or round your purchases up to the nearest dollar before stashing those nickels and dimes into a savings or investment account.
Like the jar filled with spare change at home, these accounts can quickly grow to tens and hundreds of dollars. Here are four:
Acorns: This app is ideal for people under 24 as all fees are waived and spare change is invested into an Exchange Traded Fund of the customer's choice. This is a great way to get market exposure and potentially earn more than the paltry interest currently paid by traditional bank accounts.
Digit: Every few days Digit transfers money from your checking to a Digit savings account, which you can access at any time. Digit monitors your spending habits and only takes money when it feels you will not need it in your checking account.
Keep the Change®: When you use a Bank of America debit card, purchases will be rounded up to the nearest dollar and that extra change will be transferred to a savings account.
Way2Save: Wells Fargo has a couple of options with this app. A customer can set up regular withdrawals from checking to be added into savings or $1 can be transferred from checking to savings every time a debit transaction occurs or bills are paid online.
Let's face it, life is busy. The beauty of all these apps and services is they do the thinking for you. They put more than just dollars in your wallet; they kick buyer's regret to the curb so you feel more confident about your purchases. A plethora of online stores and traditional retailers might make winning the get-the-best-price game a bit more complicated, but price adjustment apps give consumers a definite advantage.
No need to wait until your must-have pinstripe Armani suit or apple red Mixmaster go on sale. Buy it now because getting the best price – even after you make your purchase – is just a click away.