Terms apply; see the online credit card application for full terms and conditions of offers and rewards.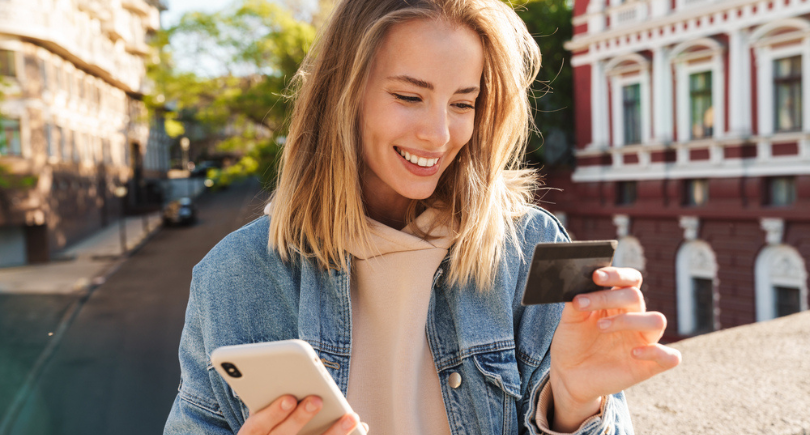 When it comes to maximizing travel rewards, Capital One miles are often overshadowed by more well-known travel programs like Chase Ultimate Rewards and American Express Membership Rewards. However, because of Capital One's unique redemption offering, Capital One miles are some of the easiest travel rewards there are to redeem. Simply swipe you card for purchases, and then you'll have 90 days to cover eligible purchases from your account using your rewards.
There's also the option to transfer miles to more than a dozen travel partners, possibly making them worth even more. We'll get into rewards values below, as well as the available travel partners.
Lastly, and adding to the simplicity theme for Capital One miles, if you have multiple Capital One miles-earning cards, you can even pool all the miles you earn with your cards into one account, making it easy to quickly accumulate the rewards needed to redeem for your next adventure.
But does a simple rewards program also mean less rewards value? We cover all this and more. Let's dive in.
How much are Capital One miles worth?
The value of your Capital One miles will depend on how you redeem them. The company doesn't publish a redemption chart and values may change without notice, but here's an idea of what you can expect using the CardName as an example.
Erase travel expenses charged to card
Book travel through Capital One Travel
Redeem for select vendors
Shop on Amazon
Varies based on program (usually 1:1 transfer value)
Request transfer to select travel partners
Capital One travel partner transfer values
If you decide to transfer your miles to one of Capital One's travel loyalty programs, be aware that the value of your rewards will vary depending on which partner you choose. Keep in mind, though, that since no two rewards programs are the same, a lower transfer ratio doesn't necessarily mean it's a lesser value. The Areomexico Club Premier program features a 1-to-1 transfer ratio, for example, meaning 1,000 Capital One miles gets you 1,000 Aeromexico premier points. With EVA Air, on the other hand, 1,000 Capital One miles gets you 750 Infinity MileageLands Miles. It's always possible though that 750 miles from EVA Air will get you further than 1,000 Aeromexico premier points. Just be sure to do the research with your preferred partner before making any final transfer decisions.
The great news is that Capital One recently improved the transfer ratios for several of their existing airline and hotel partners, as well as added new partners, furthering the value of your Capital One rewards.
How to redeem Capital One miles
Capital One offers a number of flexible mile redemption options. These include redeeming miles for a statement credit, gift cards or travel. You can even use miles to shop on Amazon. The most popular – and usually the most valuable – options for redeeming Capital One miles, though, are to use your rewards to cover a travel purchase, book a trip through Capital One Travel, or to transfer miles to a travel loyalty program.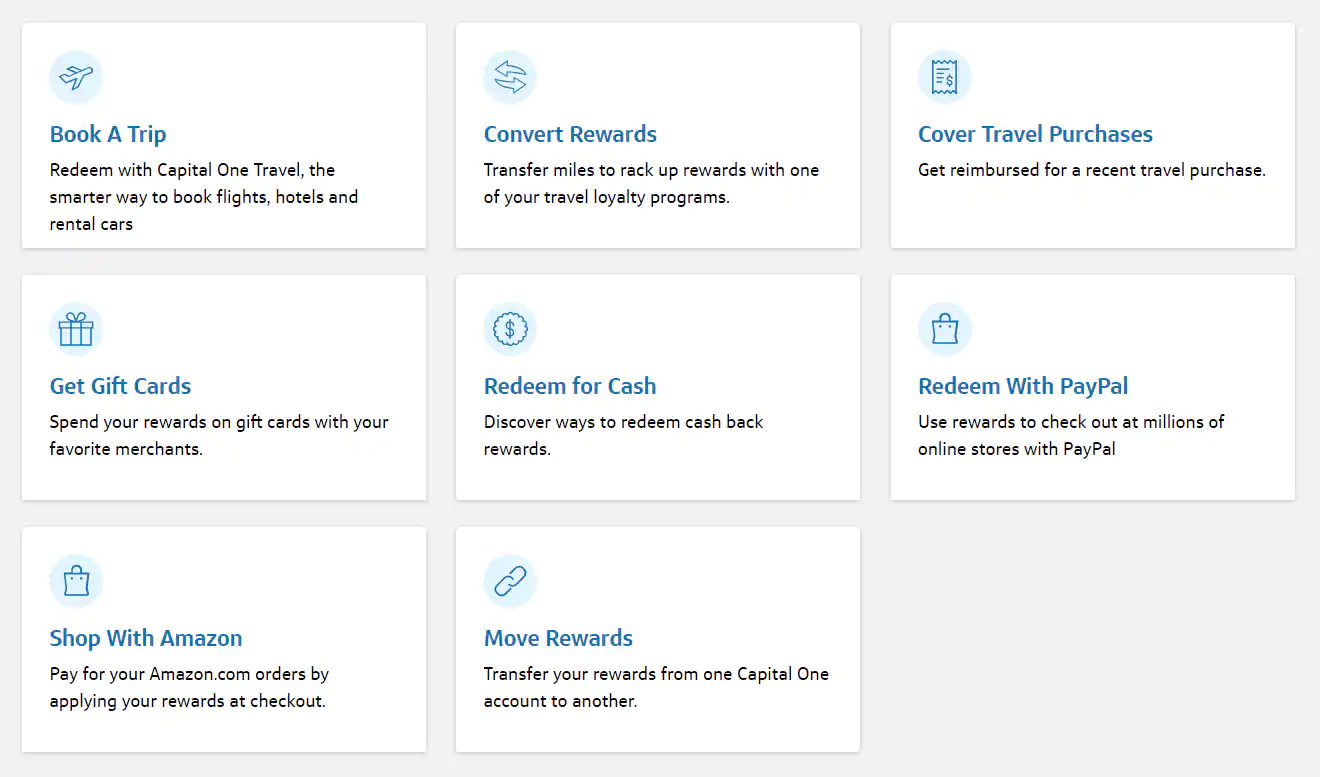 Cover a travel purchase
Covering a travel purchase with your miles is one of the easiest ways there is to redeem rewards. In the rewards redemption center simply select the "Cover Travel Purchases" option and you'll be presented with a list of eligible transactions and how many miles are required for redemption. Just choose which costs you'd like to cover and you'll be credited that amount back to your account. It's essentially like the purchase never happened!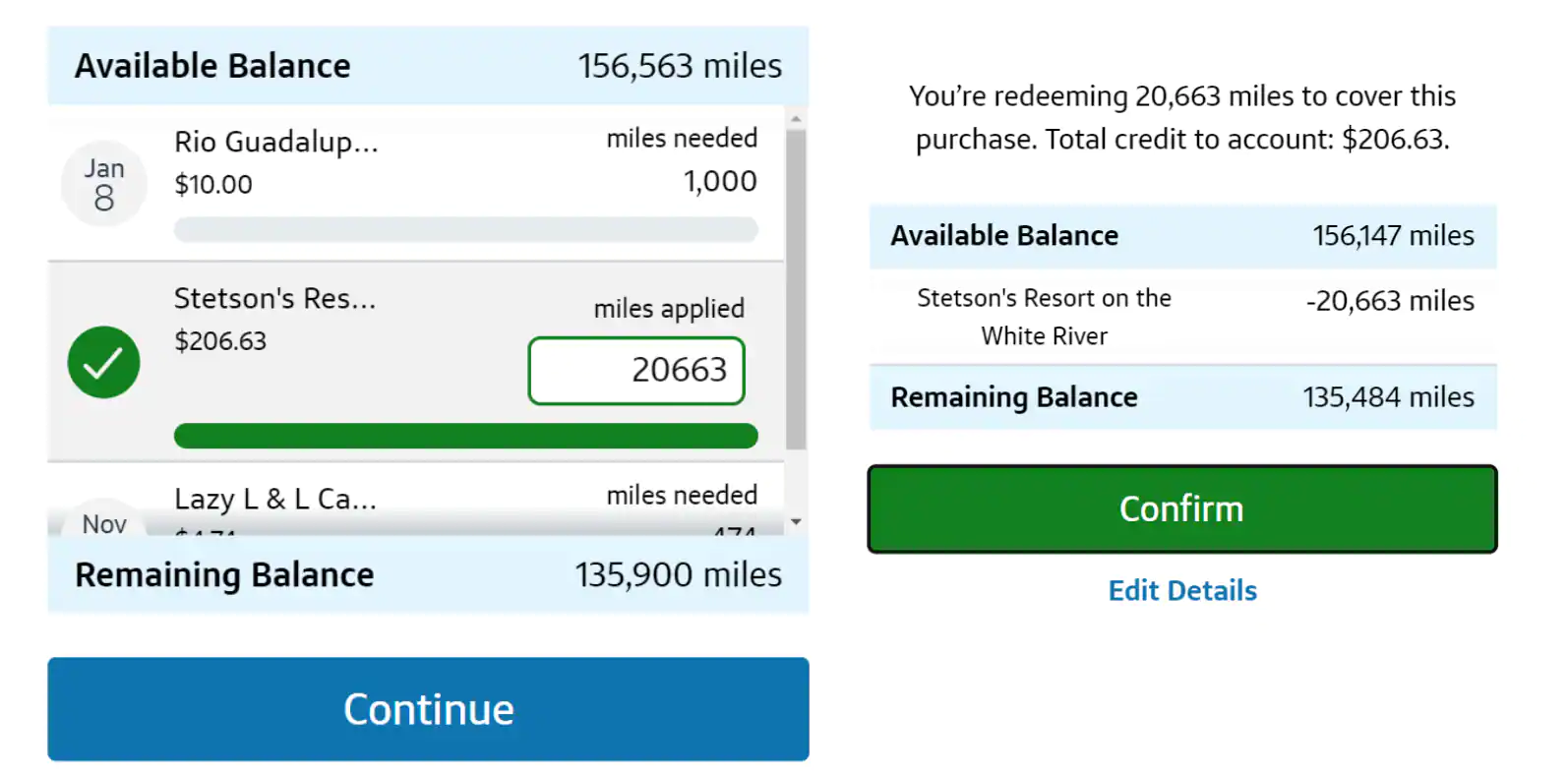 Capital One's definition of travel is extensive. Whereas some travel cards only allow you to redeem miles for things like hotel or airline expenses, Capital One allows you to cover everything from campsite bookings to Airbnb rentals to train tickets. Capital One miles can be used to cover almost any travel purchase you make.
➤ LEARN MORE:How do credit card issuers define travel?
Capital One travel partners
Though it's usually easiest to use miles to cover travel purchases, Capital One does have numerous travel partners who may offer a better redemption value if you transfer your miles directly to their rewards program.
Currently Capital One is partnered with:
Accor Live Limitless
Aeromexico Club Premier
Air France KLM Flying Blue
Air Canada Aeroplan
Asia Miles
Avianca LifeMiles
British Airways Avios
Choice Hotels
Emirates Skywards
Etihad Airways Etihad Guest
EVA Air Infinity MileageLands
Finnair Plus
Qantas Frequent Flyer
Singapore Airlines KrisFlyer
TAP Air Portugal
Turkish Airlines Miles&Smiles
Virgin Red
To transfer miles to a travel partner, choose the "convert rewards" section of the redemption page. You'll then be redirected to a page of available loyalty programs. Once you choose which loyalty partner you'd like to transfer miles to you'll be asked for your membership information with that particular partner, and proceed from there.
Transferring Capital One miles
If you'd like to transfer miles between your various Capital One miles-earning accounts, or to another person, you're in luck. Capital One makes this process simpler than just about any other issuer out there. Log into your account and select the "move rewards" section of the rewards redemption page. From there you'll have two options:
Where do you want to move your rewards?
One of your accounts – choose which account and the amount you'd like to transfer
Someone else's Capital One account – please note, this option cannot currently be completed online. For now you must call Capital One to complete this request.
One other thing to note, Capital One also allows you to convert rewards earned on their cash-back cards into "miles." For example, if you have a CardNamediscontinued and you've accumulated $500 worth of cash back rewards, you can transfer that $500 to your Capital One miles account (assuming you hold a Venture or Spark product) at a 1:1 rate. That means that $500 converts to 50,000 miles. Combining card rewards this way means you could craft a powerful rewards strategy in which you use your SavorOne card for purchases that earn at a higher rate – specifically, for the 3% cash back on dining, entertainment, select streaming services and at grocery stores (excluding superstores like Walmart and Target) – and use your miles-earning product to earn miles on other purchases where that earn rate is higher. Then convert all your rewards to miles.
Capital One Travel portal
Depending on which Capital One credit card you have, there are a number of incentives for booking travel through the Capital One Travel portal. To start, Capital One recently announced that eligible cardholders who book a flight through Capital One Travel will soon have the option to cancel that flight for any reason, up to 24 hours before the scheduled departure, and receive most of the cost of the ticket back. Given how much uncertainty there's been surrounding travel the last couple of years, this is a nice benefit for cardholders who may be anxious about booking flights right now.
An opportunity to earn bonus rewards is another perk of booking through Capital One Travel. For Venture and VentureOne cardholders, hotel and rental car bookings made through Capital One Travel earn cardholders 5X miles per dollar spent, while Venture X cardholders earn 10X miles on hotels and rental cars, and 5X miles on flights book through the portal.
Additionally, Venture X cardholders can look forward to the following price protection benefits:
Price prediction and alerts – Capital One uses AI-powered technology to predict prices. If it's not a good time for you to buy, set a price alert and Capital One will notify you when the price of your flight drops.
Price drop protection – If you book a flight when Capital One recommends, and that price later drops, you can receive a refund for all or part of the price difference (depending on the terms of the booking).
Price matching – If you book your trip through Capital One Travel and then find a better price on another site within 24 hours, Capital One will refund the difference.
Price freeze – Not quite ready to book? For a small fee you can freeze the price of a flight you find and enjoy some extra time to search without worrying about the price of that flight going up.
Do Capital One miles expire?
No, Capital One miles do not expire so long as your account remains open. However, once you close an account you will lose any rewards not yet redeemed. With that said, be sure to redeem your miles before closing an account, or, if you have more than one miles-earning Capital One card, transfer your miles to the account that will remain open so that you don't lose your rewards.
Which credit cards earn Capital One miles?
Capital One offers miles on both its Venture and Spark credit cards. Venture cards are intended for consumers while Spark is a line of products for businesses. Regardless of which cards you use, miles can be pooled together for redemption purposes.
Here's a closer look at each card:
➤ SEE MORE:Capital One Venture vs. Venture X: Should you upgrade your account?