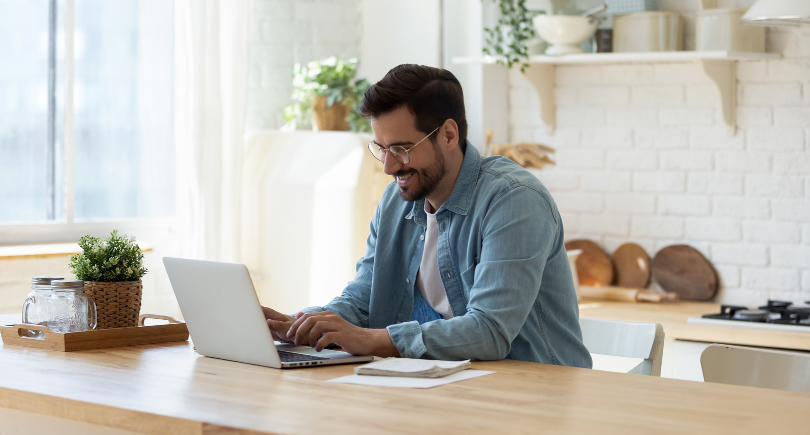 Applying for a credit card is pretty straightforward. Just fill out the form with the requested information and wait for a response. Yet while the actual application process is easy, it is important to pursue and choose the right card for you. That means taking a few steps before leaping in.
Here is what you need to know about how to apply for a credit card.
Pull your credit report and ensure accuracy
Because most credit card issuers will review your credit history when you apply for a credit card, it's important to find out what's on your credit report before they do. Even if you've never had a credit card before, you likely still have a credit report. This would be the case if you took out loans (such as student or car loans), co-signed for other credit products, or are an authorized user on another person's credit card account.
You can obtain a free copy of your credit report from each of the three credit bureaus – Equifax, Experian and TransUnion – at annualcreditreport.com. Read your reports carefully, checking for errors. If you see any mistakes or information that should have aged off (such as collection accounts for debts older than seven years), file a dispute.
Know your credit score
Before you can know which credit cards you're eligible to apply for, you'll need to know your credit score.
Credit card issuers depend on credit scores to make fast and objective credit-granting decisions. The most-commonly used credit scoring model is the FICO Score, which ranges from 300 to 850. Good credit scores start in the 670 range, with excellent scores starting at 800.
Credit card applications will state the required credit score necessary for that card. Make sure you're only applying for credit cards appropriate for your credit score.
➤ LEARN MORE:Guide to understanding different credit scoring models
What credit score do you need to apply for a credit card?
The great news is that there are credit cards for just about every credit score range. When you start looking, be sure to check what the card requires, then compare your score against it.
For example, if your FICO Score is 630, concentrate your search to credit cards that are designed for people with fair credit. If you apply for a card that demands a score of at least 740, you will probably receive a rejection notice, but if you apply for a card that is developed for people with scores under 579, you may miss out on account benefits that you deserve.
Does applying for a credit card hurt your credit score?
Almost all credit card issuers will send the three major credit reporting agencies a notification that you applied for a card. This will show up as a hard inquiry on your credit file and is included in the "new credit" FICO Scoring category.
An overabundance of hard inquiries in a short span of time will likely result in a credit scoring decline because it could be an indication that you are desperate for money. However, if you have limited information on your credit file or your scores are already very low, a hard inquiry can have a stronger impact.
For this reason, it is very important to only apply for a credit card that you really want and that is within your scoring range.
Your income matters too
There is more to getting approved for a credit card than credit scores. Issuers want to know that you have the financial capability to manage your line of credit. That means your income is also important.
Your credit report and credit score does not indicate the amount of money you make or where you work. Instead, you will be listing that on the application.
Acceptable forms of income include:
Money you and/or your partner earns
Social Security income
Unemployment benefits (sometimes)
Child and spousal support
Grants and scholarships
Retirement account and pensions
Savings account assets
Guaranteed gifts and allowances
Trust fund or inheritance distributions
Investment returns
Identify the right type of card for you
There are several types of credit cards, so focus on those that best match your credit rating as well as your lifestyle:
Secured credit card. The credit line for these credit cards is collateralized by the amount of money you put down as a security deposit. The issuer assumes virtually no risk, so qualification is generally easy. If you run up a debt and then don't pay, the issuer can claim the funds held as security. You will get the deposit back when you close the account with no balance due, or if the issuer converts the card into an unsecured account.
Unsecured starter card. Some credit card issuers offer low limit cards to people who have low or undeveloped credit scores. They typically come with few, if any, extra perks but they can be a perfect way to begin without having to tie up funds. With responsible use, the issuer may increase the line of credit.
Rewards credit card. Many cards come with rewards programs. Some are cash-back cards where you earn a percentage of each charge back as cash, while with others you will earn points or miles that you can redeem for things like travel and gift cards. If you use the card for purchases you can afford to pay off in full, you can really profit from one of these cards.
Student credit card. College (and sometimes trade school) students can get student cards even without an established credit history. Approval is usually based on verified income. If you are under the age of 21 and can't prove that you have enough independent income you will have to have a creditworthy cosigner to act as guarantor.
➤ SEE MORE:What are the different types of credit cards?
When you're trying to figure out which card is within reach, consider taking advantage of pre-approved offers. Many credit card issuers give you the option to enter your basic information into their website. They will let you know if one or more of their cards are probable matches, without triggering a hard inquiry. You may also receive a pre-approval offer in the mail or via email, which means the issuer reviewed your credit profile and considered you a good candidate. Pre-approval offers aren't guarantees, but they can put you in the right direction.
Compare credit card terms and benefits
After deciding the card type that's most appropriate, compare a few so you can narrow your choice to one.
Check out the APR, which is the interest rate you will be charged on revolved balances. Although it's best to pay the bill in full when it comes due, there may be a time when you want to pay in installments. A lower APR will help you keep the financing costs down.
Some cards have annual fees. You may be able to avoid them for basic cards, but for those that have valuable rewards programs and special perks, the fees can be high. If the card is right for your lifestyle, chances are you can easily offset its fee thanks to the card's perks and rewards.
➤ LEARN MORE:Are credit cards with annual fees worth it?
And there are other factors to consider too. For example, if you'll be traveling internationally, a card that doesn't charge foreign transaction fees is best. Want insurance for your cell phone? A card that has cell phone protection can protect you against loss, theft, and damage. Shop heavily in one category? Look for a card that earns rewards in that category, such as credit cards for gas and grocery rewards.
What information is required when applying for a credit card?
When you apply for a credit card, you will be providing quite a bit of information to the issuer. Prepare to enter:
Personal identification. You will list your first and last name, as well as your Social Security number or Individual Taxpayer Identification Number.
Mailing address. This may be your home or business address, but post office boxes are not permitted.
Monthly or annual income. You will usually be asked for the gross income amount.
Employment. Here you will check employed, self-employed, or unemployed.
Housing or household costs. The credit card issuer may ask whether you are a homeowner or a renter, and what your basic household costs are.
Contact information. You will submit your phone number and very often your email address.
You will most likely apply for the card online, and if you do, you will receive notice about whether or not you have been approved right away.
➤ LEARN MORE:How to apply for a business credit card
What to do if your credit card application is denied
If you are denied, the credit card issuer will send you an adverse action letter in the mail. It will explain the reason, such as not meeting the credit scoring requirement, late payments on your credit file, insufficient income, or you recently applied to many other accounts.
Whatever the case, use the reason for the rejection to make changes so next time you have a better chance for approval.
When you're ready to apply again, first make sure it is for the one account that you have a high probability of getting.
➤ SEE MORE:Credit card application denied? Next steps to consider
If you need to begin with a low-limit starter card or one that requires a security deposit, that's okay. Use it responsibly by paying your bills on time and keeping the balance to zero or very low compared to the credit limit. That activity will all be listed on your credit file and your credit score should rise. When your score is at least in the good range, you'll be in a far better position to get a credit card with a higher limit and more bells and whistles.