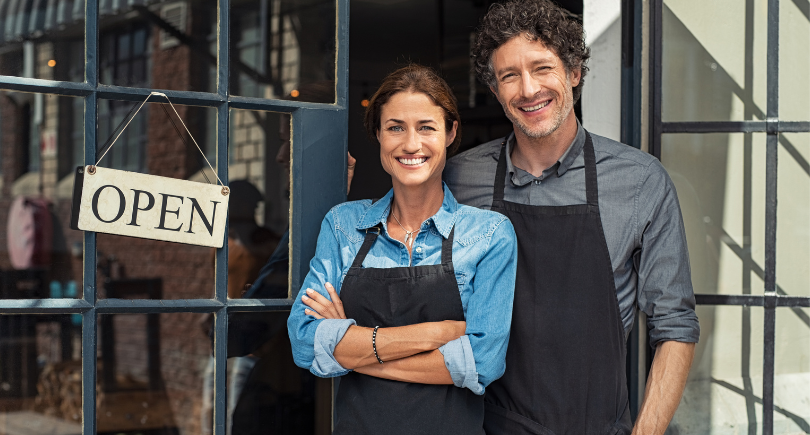 Some of today's best rewards credit cards are reserved for business owners. Cards such as the CardName from Chase and the CardName have lucrative welcome offers, robust cash back rates and useful account management tools.
You don't need to have a traditional business with a storefront or employees to apply for one of these cards either. Anyone who is self-employed – from freelancers to gig workers to online resellers – could qualify for a small business credit card.
Keep reading to learn how to apply for business credit and which cards are best.
How to get a business credit card
The process for getting a business credit card is similar to that of a personal credit card. You'll need to follow these steps:
1. Check your credit
Before you even start looking at credit cards, check your own personal credit score. Why? Because even though you are applying for business credit, the card issuer is going to ask you to make a personal guarantee that you will pay back any debt owed. And they will pull your credit report to ensure you are able to do so.
Request your free credit reports through an official website such as AnnualCreditReport.com. If you find any incorrect information that could be dragging down your score, dispute it before applying for a credit card.
➤ SEE MORE: How to dispute and fix credit report errors
2. Consider your business needs
Next, have a plan for how you will use your business credit card. What sort of expenses do you expect to charge? Will you be giving cards to employees? How much do you think you'll be spending on the card?
These answers will help guide you through the next step, which is finding the right card for your business.
3. Compare small business credit cards
Now it's time to research your options. Here's what to look for as you compare available cards:
Costs: Annual fees and interest rates are important, but don't forget to consider other expenses such as costs for employee cards or foreign transaction fees, which can add up if you travel overseas often.
Rewards: Many small business credit cards offer cash back, but if you travel frequently for business, you may be better off with a card that offers miles instead.
Spending requirement: Credit card welcome offers can draw in customers but make sure the spending requirement is something you can realistically meet.
Extra perks: As with other rewards credit cards, small business cards may offer benefits such as statement credits for certain purchases or travel upgrades. However, if you plan to use the card for business, look for features such as year-end statements, employee card management tools, and the ability to import transaction data to financial software.
4. Complete the application
Once you have settled on the card you want, it's time to complete the application. Pull together the necessary information and find a time when you can work undisturbed. It shouldn't take long, but it can be inconvenient to start over should you be interrupted and have the application page time out.
After you submit your application, you may get an instant decision, or you may have to wait for the card issuer to complete its review.
Information needed for a small business credit card
The application process for a small business credit card can be more involved than that of a personal credit card although it usually isn't anything too onerous. Expect to spend about 10 minutes filling out the necessary information.
You should be prepared to supply the following:
Business name and address.
Tax identification number, which could be an employer identification number (EIN) or Social Security number.
Names and addresses of all business owners.
Social Security numbers of all business owners.
Annual business revenue and spending.
Details about the legal structure and registration of the business.
When asked about the business structure, self-employed individuals can indicate they are sole proprietors.
Although it may not be requested on the initial application, self-employed individuals should be prepared to provide a copy of a business tax form – such as a Schedule C – to show that they qualify for a small business card.
What is the easiest business credit card to get?
If you are looking for the credit card with the highest chance of approval, you may want to look for a card available to those with fair credit, such as the CardName. Cards with lower credit requirements are usually easier for most people to get.
However, rather than focusing on the easiest credit card to receive, it would be better to spend time finding the best one for your business needs.
Choosing the right small business credit card
The right business credit card isn't necessarily the one with the lowest fees, the best rewards or the biggest welcome offer. All those things are nice, but they aren't as important as having a card that matches your business spending patterns.
For instance, the CardName discontinued has an impressive welcome offer: Earn a one-time cash bonus of $1,200 once you spend $30,000 in the first three months. However, this is also a charge card which means you need to pay off your balance in full each month. If you need a credit card that will let you finance purchases, this one probably isn't for you.
Likewise, CardNamediscontinued comes with an impressive line-up of features and rewards. However, its AnnualFees annual fee may be a stretch for a cash-strapped start-up. American Express is a CardRatings advertiser. See Rates and Fees.
Rather than going with a card that sounds good, look for the one that will be good for your business. If you're ready to get started, take a look at our choices for the best small business credit cards.