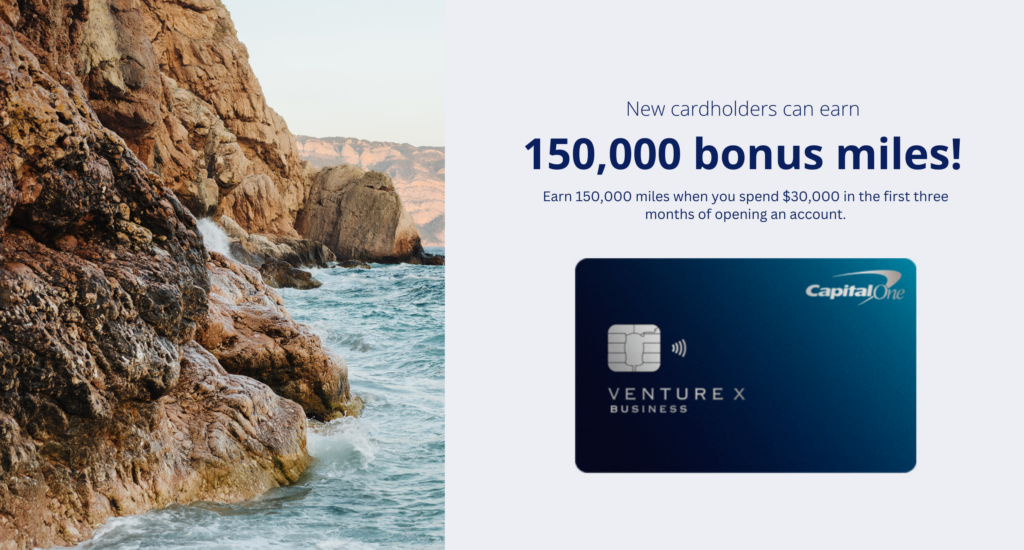 Since its launch in 2021, the Capital One Venture X card has become a top choice for travelers seeking flexible rewards and great value. Now, Capital One is introducing the Capital One Venture X Business card that is specially designed for high-spending small business owners.
The CardName card includes many of the same perks and rewards as the consumer card but with added business capabilities. These include free employee cards, flexible rewards redemption, and automatic syncing with accounting software. Plus, the CardName card has a reasonable annual fee and straightforward rewards options to ensure you're always getting the best value for your miles.
Keep reading to learn more about this new card option and how it can help your business save time and money.
CardName

card top features
Earn 150,000 miles when you spend $30,000 in the first three months of opening an account.
Unlimited 2X miles on every purchase with no limits or category restrictions.
Additional rewards for travel: Unlimited 5X miles on flights and 10X miles on hotels and rental cars booked through Capital One Travel.
A $300 annual credit for bookings made through Capital One Travel.
No preset spending limit to meet the needs of your growing business.
Flexible travel redemption options that make it easy to maximize your miles.
Free employee cards that earn rewards and can be set with customized limits.
The Capital One Venture X Business card also comes with all the perks you'd expect from a top-tier rewards card: lounge access, anniversary bonus miles, transfers to partnering loyalty programs and more.
With free employee cards, business owners can earn rewards on more of their company's spending. Then, those miles can easily be redeemed for travel. Flights, hotel rooms and rental cars can be booked directly through Capital One Travel, or there is the option to transfer miles to 15+ partnering loyalty programs.
Between robust travel rewards and valuable business tools, the CardName card makes a strong case for being the only business card you'll need.
Flexible travel rewards from the
CardName

card

While some rewards cards can be lucrative, they can also come with confusing rules and different redemption levels depending on how you redeem them.

For instance, with certain cards, your best bet for getting the full value of your points is to redeem for flights through the company's travel portal or transfer points to a partnering program. Using most other redemption options could result in the value of your points dropping significantly.

However, with the Capital One Venture X Business, you can redeem your miles for all travel – not just flights – booked through Capital One Travel. What's more, Capital One offers a purchase eraser feature that lets you use points to offset any travel expense, from the hotel room you book to the Uber you took to get there. And, of course, you can always transfer your miles to any of the 15+ partner programs.

Other travel benefits that come with the CardName card include the following:
$300 annual travel credit for bookings through Capital One Travel
10,000 bonus miles ($100 value) at each account anniversary
Price drop protection when booking through Capital One Travel
Added amenities for bookings at Premier & Lifestyle Collection properties
Access to Capital One lounges and those of partnering lounge networks
Up to a $100 statement credit for TSA PreCheck or Global Entry
Miles never expire so long as your account is open, and there are no blackout dates.
If you've ever watched in frustration as your favorite airline devalued your miles by increasing redemption rates, you'll appreciate the simplicity of the CardName card. You can book travel anytime and to anywhere and then cover the expense with your miles. It's that easy.
Business tools to save you time and money
While the travel rewards with Capital One Venture X Business are impressive, small business owners will also appreciate the many ways in which this card can make running a company easier. For instance, cardholders get the following:
Free employee cards: With Venture X Business, you can set customized limits for these cards, and you'll earn rewards on employee purchases too.
No preset spending limit: The

CardName

card is designed to adapt to your company's needs. Enjoy purchasing power that adapts to your business's spending habits, and you can use a "confirm purchasing power" tool in your account for peace of mind before a large purchase.*
Cellphone protection: If you pay your cell phone bill with your Venture X Business card, you'll be eligible for up to $800 in reimbursement should your phone be lost or stolen.**
There is also the option to request virtual cards to protect your account number, and that is only one of the many digital tools that comes with the CardName card. Small business owners can also assign account managers, sync data and review itemized year-end summaries.
How much does the
CardName

card cost?

There is a AnnualFees annual fee for the Capital One Venture X Business card. That amount is easily offset by the annual travel credit and anniversary bonus miles. It is also far less than some prestige cards that can charge annual fees that are as much as $695. (See Rates and Fees)

Venture X Business isn't a credit card but rather a charge card, also known as a pay-in-full card. Each month, you'll have to pay your balance in full. As a result, you won't have to worry about racking up interest charges, and there is no APR with this card.
Who should apply for the
CardName

card?

Any business owner with the right credit score can apply for the Capital One Venture X Business card and benefit from its rewards and perks. However, we think it is an especially good fit for business owners who:
Have employees
Want the flexibility to spend as needed
Are able to pay monthly balances in full
Like knowing they can easily redeem miles for maximum value
Don't want to pay a lot for a top-tier rewards card
Overall, the CardName card offers excellent value at a price far below its competitors. Its annual credits can be easily redeemed for a wide variety of travel spending, unlike other cards that provide credit for niche products or narrow spending categories.
If you are ready to simplify your business with a single account that comes with no preset limit, allows your employees to use free cards and offers valuable rewards, consider applying for the CardName card today.
*New information including suspected fraud or changes in your balance, account status or credit profile may result in a declined transaction.
** Mastercard World Elite: Certain terms, conditions, and exclusions apply. See Mastercard Elite Guide to Benefits for details.