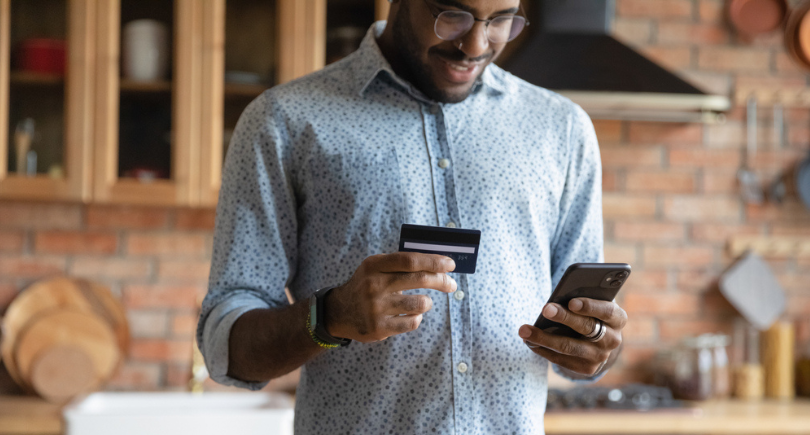 The headlines are ominous. Rising credit card rates are at levels we haven't seen in 30 years according to ABC. Card debt has jumped from $736 billion in April 2021 to $993 billion this July according to Fox Business.
Simultaneously, card volume or how much we are spending on our cards (not necessarily debt) is jumping. Americans are spending "big on their cards" according to The Wall Street Journal. Wells Fargo, for example, is reporting card volume shot up 13% during the second quarter of 2023 (compared to the same time frame last year).
Such headlines would historically signal a potential financial disaster… a perfect storm if you will. I believe, however, that you shouldn't press the panic button quite yet!
My reasoning is not just because I'm an eternal optimist. The current economic scenario is unique and there are shockingly some positive credit card trends that are worth highlighting, especially given all the negative financial news.
Article goals
To challenge you to not always assume that what appears to be bad financial news is actually 100% bad. Financial knowledge is empowering!
To help you "think outside of the box" when it comes to your personal credit and learn to use your card(s) more effectively as powerful financial tools in the current economic environment.
Increased card debt is 'just' a post-pandemic return to normalcy
A major reason the current economic environment is so unique is thanks to the Covid-19 pandemic.
"During the COVID-19 pandemic, consumer card loans dipped dramatically as the U.S. government injected stimulus into the economy to insulate consumers' finances from the pandemic's economic fallout," according to Fox Business.
In plain English, the decreased card debt that consumers enjoyed during the pandemic was simply due to the government checks many people enjoyed.
Therefore, you can argue that the recent rise in card debt represents, at least partially, a "return to normalcy" following the pandemic. We can't assume the spike in card debt is entirely due to consumers using their cards irresponsibly.
Another encouraging sign involves credit card delinquencies, which have remained mostly flat according to recent data.
Increased card spending suggests increased consumer confidence
The same Fox Business article referenced above notes that rising levels of card debt show "that American consumers feel confident enough about the economy to spend their hard-earned money and carry credit card balances."
The University of Michigan's consumer sentiment index, which tracks national consumer confidence, agrees. The index is up an impressive 40% over last year.
The logic here is simple. As consumer confidence grows, people are more likely to pull out their cards to make purchases. Furthermore, according to the Britannica, the increase in consumer spending in turn helps the economy sustain its expansion.
BONUS TIP!

Always scrutinize statistics. Case in point, Laura Levine, the president and CEO of the Jump$tart Coalition for Personal Financial Literacy, notes that one recent study claims 45% of consumers carry a revolving card balance.

She says this isn't ideal, of course, but points out that the study "speaks to the number of users with a balance, not the amount of the balance or how manageable the amount is for the consumer." She also wisely suggests to "probably look a little deeper into that before you draw any conclusions."
Don't over-worry about card usage being up among young adults
There are other possible explanations for increased spending that aren't necessarily bad. Levine for example makes a great point regarding the migration towards a cashless society:
"I think we're all pretty aware of the lingering financial effects of the pandemic, but I wonder if the increased use of credit is also fueled by our evolution into a cashless (or less cash) society," she posits. "We used to encourage consumers to use cash on small purchases as a way to manage spending. But today, that's harder to do when we're shopping online and more vendors have moved to non-cash transactions."
Levine's organization partially focuses on financial literacy among young adults, whom a recent study shows are shifting 43% more of their spending to credit cards, a trend to which she adds some perspective.
"Even with debit cards, they're linked to your checking account, which is linked to your savings account – technology makes it easier to get to your money, which is convenient, but easier access to spending might be contributing to this trend.
"And, I'm generalizing here, but younger consumers probably utilize technology more than older consumers, so then trend isn't surprising from that perspective," she continues. "This emphasizes the need for financial education.
"Jump$tart was formed in the mid-90s when card debt and bankruptcies, especially among young adults, was rising at an alarming level, but I don't think we've returned to the same scenario," Levine concludes.
BONUS TIP!

Young adults are also utilizing reward cards in a savvy manner, particularly travel reward cards. Rather than racking up card debt, they are using hacks to lower their travel costs, including using cards with travel benefits and paying with card points to book a trip
How to leverage card reward programs during tough economic times
Another possible explanation for increased card usage is the growing popularity of card reward programs. Some experts, myself included, maintain the growth of these programs has been at least partially fueled by economic hardship.
Some consumers, for example, are using card cash bonuses to help supplement their income during times of financial stress. A 2022 study by Wells Fargo Bank yielded some interesting related findings:
With Americans concerned about rising inflation, nearly half of rewards cardholders (49%) say they are leaning on their credit card rewards to help offset some of the costs of everyday purchases.
➤ READ MORE:Inflation busting perks your credit card offers
While inflation may have slowed, gas prices are soaring. According to the NY Post, gas prices recently hit an eight-month high and there's no relief in sight. The good news is that gas rebate cards can help you slash gas prices by as much as 5%.
Sharon Freedman (name changed for privacy) recently applied for the Sam's Club Mastercard. The card allows her to earn 5% back in Sam's Cash on gas anywhere Mastercard is accepted (up to $6,000 spent annually). This could represent significant savings over time as it takes about $60 to fill up her tank and she doesn't have to get gas from Sam's in order to earn the rebate.
Final thoughts
I hope this article has inspired you to dig deeper when you see a distressing financial headline. Negative financial news tends to create a negative financial outlook, which can also affect your personal finances.
While this article is intended to encourage and perhaps challenge your thinking about credit, I will be the first to admit that credit cards aren't for everyone and they can certainly cause financial havoc if not used with discipline.
The key is to use cards shrewdly. Gerri Detweiler, credit and small business expert and coauthor of Finance Your Own Business: Get on the Financing Fast Track, expounds:
"Over half of consumers don't carry a balance at all," Detweiler explains. "If that describes you, increased spending may be manageable, but it's still important to take a careful look at where your money is going to make sure you're spending on things that really matter. Try to make sure you're also sticking to your savings goals!"
I sincerely hope these insider tips are helpful to you and would love your thoughts on this topic, as well as any tips on how you've been able to leverage cards to your advantage. Who knows, I may include a tip from you in a future article!