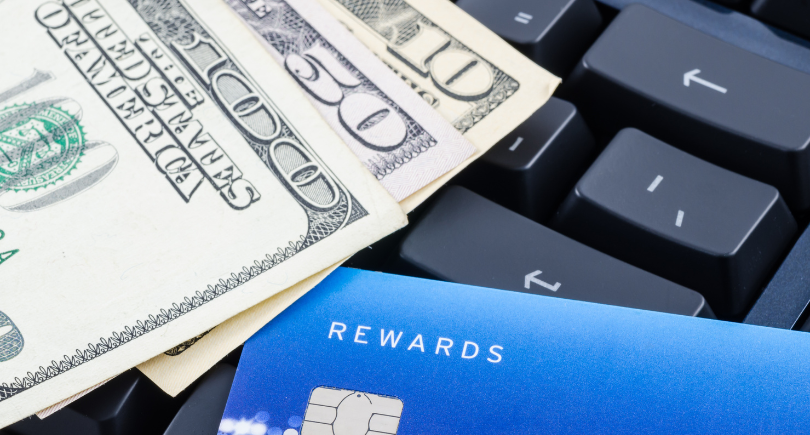 It seems that the popularity of cash back credit cards has grown steadily since Discover Card introduced the concept of earning cash rebates on every purchase you make way back in the 1980s. At the time, Discover was taking a significant business risk on a new concept.
Fast forward to today when a card issuer that doesn't have a cash rewards card offer exposes themselves to significant risk! As the old saying goes, cash seems to be king and more so now than ever before.
Case and point, a 2019 CardRatings survey found that 72% of consumers say they have a cash-back credit card. This stat alone speaks volumes about how much cardholders like cash back, especially when considering that the next most popular category was store credit cards at only 31.6% of consumers..
An even more recent survey featured by NewsEnterpise.com and conducted in December 2022, also indicates the most popular card feature is cash rebates.
No big surprise there, but what I found amazing (and arguably disturbing) from the more recent survey is that cash rewards are over three times as popular as low interest rates and over five times as popular as low fees. It's a particularly intriguing result given that rates and card debt are at historic highs.
While the results may seem alarming on the surface, I think there are some underlying reasons for the apparent resilience of cash-back cards in the face of very high rates and growing card debt.
What makes cash-back cards so attractive?
There is a lot of variety and innovation when it comes to rewards cards. Yet, despite all of the innovation, "plain Jane" cash-back cards that offer a percentage rebate on your purchases still reign supreme. The obvious question is why.
Cash-back cards offer simplicity
I'm convinced one reason is simplicity. I have personally always loved how simple a flat-rate cash back card is. One popular example is the CardNamediscontinued that offers a flat 2% rebate (no tiers) on all purchases in the form of unlimited 1% when you buy and another 1% when you pay for your purchases (as long as minimum payment is made on time). (Citi is a CardRatings advertiser)
➤ FIND THE BEST CREDIT CARD:Best cash back credit cards
While some consumers love strategizing in order to maximize their rewards, it does take time and energy.
"Cash-back cards are popular because everyone can use cash!" observes Gerri Detweiler, credit and small business expert and coauthor of Finance Your Own Business: Get on the Financing Fast Track. "Plus many people don't want to work too hard to try to figure out which type of reward is best. Many people crave simplicity these days and cash-back cards can provide that."
Abigail Perry, a personal finance blogger and founder of IPickUpPennies.net agrees the complexity of other rewards cards can be a deterrent for some people.
"Most non-cash rewards cards are for travel companies, whether that's a specific brand of hotel or airline or one that lets you redeem for a variety of options, and those can be a huge headache," explains Perry. "Cards for hotel chains offer tens of thousands of points — but each hotel has a different threshold for a free night. So more points doesn't necessarily equal more nights. Instead, you have to go the hotels' websites to find out what those points actually translate to."
Most hotels have different rewards thresholds for different properties depending on the quality of the hotel or even the time of year, Perry continues, and your points may not go as far as you expect.
Airline rewards follow a similar pattern in that it can vary wildly how many miles/rewards you need for a given trip depending on destination, airfare class and peak vs. off-peak time, Perry adds.
"General travel cards are a bit less headache, but the different tiers of points you get for different categories can be confusing," she says, adding that the encouragement to use the card's proprietary travel portal can add to the frustration and confusion. "So, it's just… a lot."
Versatility makes cash-back cards popular
Versatility is another reason that cash-back cards resonate more with cardholders. The redemption process usually has several options. I personally prefer to redeem my cash rewards for statement credits, but options often include a direct deposit into your bank account or a check sent to your home.
"Cash is more versatile," Perry advises. "Hotel points are all well and good, but they don't help much if you have an unexpected car repair bill."

Speaking of versatile, cash-back cards often have an option of cashing out for gift cards. So it's a great way to get a holiday or birthday gift for someone without spending a dime.
Cash-back cards can help offset rising prices
I have covered the card industry for 20-plus years and have always viewed card rewards as an extra perk or icing on the cake. But more and more consumers seem to be using reward cards, at least cash reward cards, to help offset rising consumer costs associated with inflation.
Mike Dugan, who has taken advantage of card rewards for years, is no exception. He and his wife both work full time, but her real estate business has taken a nose dive in the past year or so partly due to rising interest rates.
Dugan sees their cash-back card that offers 2% flat rewards as one way to help relieve inflationary pressures, saying he "definitely uses his card to save on [higher] costs and especially uses it on larger purchases and to offset [merchant] fees that may be charged for using a card where it makes sense."
Detweiler believes that the cash-back cards have become increasingly popular in the current economic environment partly because consumers have less discretionary income to spend on such things as travel.
"With a cash-back card, you're getting a discount every time you buy something, even if that discount is relatively small," Detweiler says. "It feels like you're saving money. With so much economic uncertainty many people don't know whether they can afford to take a vacation and use travel rewards, but they know for sure they can use cash back."
Detweiler further speculates that practicality drives the popularity of cash-back cards even in the face of flashy travel rewards card offers.
"If rising costs are making people struggle, travel gets put on the backburner," she continues, adding that travel rewards rarely cover the full cost of a vacation. "So why fight to accrue points for future travel when you could be getting cash that helps right now?"
BONUS TIP!

Most cards, including cards that don't offer rewards, offer "built-in" features that can help you fight inflation. Check out "Inflation-busting perks your credit card already offers" that outlines some perks your current card may offer that you're not aware of.
Cash-back cards overshadow low rate cards
As noted above, the most recent survey indicates that cash-back cards are much more popular than low-rate cards. Record levels of card debt and card rates made this stat raise some eyebrows among personal finance experts.
While there is no argument that card debt and rates are high, we shouldn't assume there is a direct correlation between those factors and the types of cards people choose. After all, it's worth noting that about 60% of card accounts have a zero balance from month-to-month, according to the most recent data from the American Bankers Association.
Detweiler explains that card issuers these days offer a range of rates you may qualify for depending on your credit score. While a card may advertise "as low as 12.99%," many applicants actually get a higher rate. Offering a range of rates can be confusing and could explain one reason why low-rate cards may have lost some appeal with consumers.
Perry opines that while 0% low introductory rates are popular, they feature rates that are temporary, which may be another related explanation:
"I think we also need to remember the nature of low-rate cards" she explains. "Almost every one I've ever seen is offering 0% — but only for a set amount of time, usually. This is great while it lasts, but then you're back to the high interest rates that most cards have.
"Obviously, that doesn't explain the whole trend," Perry continues. "Many folks don't truly understand just how quickly interest stacks up, so they go for the short-term gain of immediate cash back. Others may be exhausted by the mere thought of changing credit cards every six months to a year."