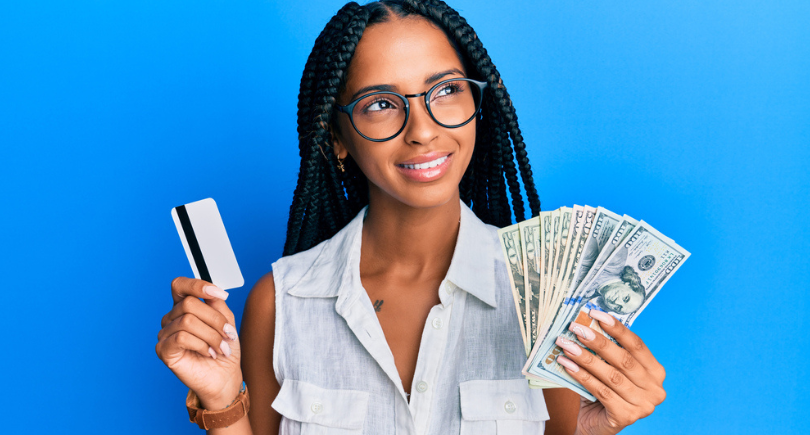 Cash back credit cards are credit cards that offer cash rewards on purchases made with the card. A cash back credit card can be a convenient and safe way to put money back in your pocket, with little to no effort on your end.
What does cash back mean?
Cash back credit cards aren't the same as getting cash back at a grocery store checkout, nor are they simply cards that waive the fees if you make a withdrawal from an ATM. They are cards that incentivize cardholders to use their plastic frequently in exchange for rewards like statement credits, cash deposits and gift cards. Cash back rewards typically range from 1%-6% depending on your particular card and, in some cases, where you're doing your shopping . In general, there's very little you have to do beyond just using your card and then deciding when and how to redeem your rewards. Your transactions automatically accumulate rewards on your behalf in an account usually held with the issuer.
Cash back credit cards typically fall into one of three types: flat-rate, tiered and rotating categories, but there's also a still-somewhat-unusual fourth category to be aware of: cardholder's choice rewards. They each have their pros and cons, but your ultimate choice should depend upon your spending habits and the level of planning you want to do when it comes to which card to use for each transaction.
Flat-rate cash back credit cards
Flat-rate credit cards are the simplest cards to understand and are a great place to start for the person who is new to cash back credit cards. With flat-rate cash back credit cards, you earn a flat percentage back – often 1%-2% – on all your purchases. You won't earn bonus cash back for shopping at particular stores or spending in particular categories, but you also don't have to keep up with tiers or categories so "maximizing your rewards" just means using your card regularly. An example of a popular flat-rate cash back credit card is the CardName. (Citi is a CardRatings advertiser.)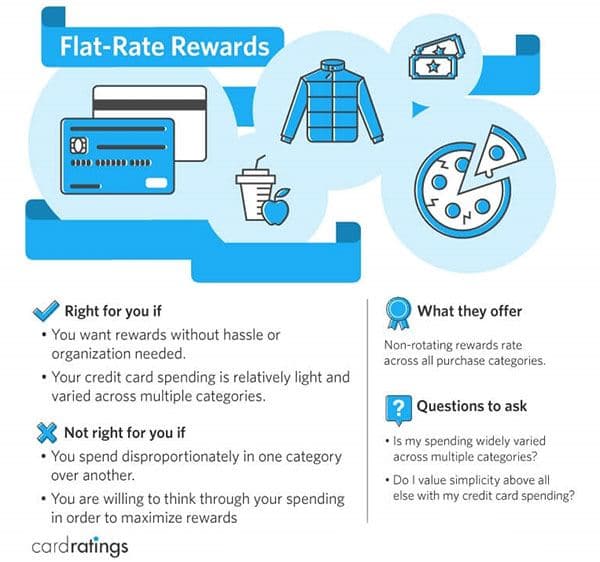 Tiered-rate cash back credit cards
The next step in cash back credit cards are tiered reward cards that offer differing percentages of cash back depending on where you make your purchase. These levels of cash back do not rotate, but do often come with spending caps. For instance, you may earn 3% back at grocery stores on up to $1,500 in spending each quarter as well as 2% back at gas stations and 1% back on all other purchases. Unlike flat-rate cash back cards, tiered-rate cards do require a bit of planning in order to maximize your rewards. If the tiers don't match up with your typical spending categories, you'll be leaving rewards on the table. The CardName is a good example of a tiered-rate cash back credit card.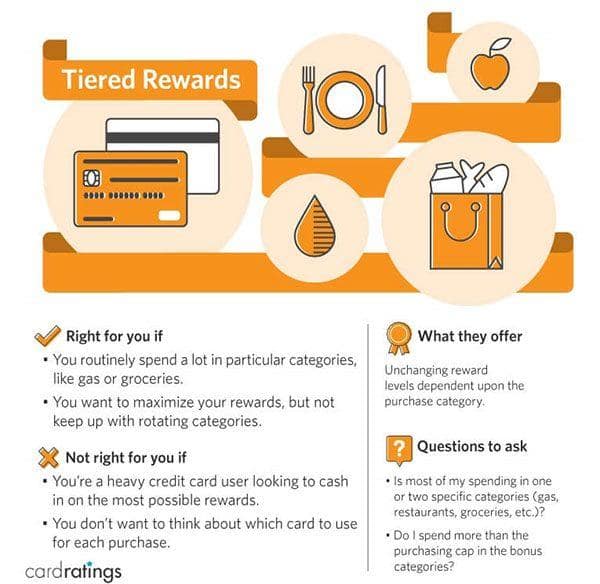 Rotating category credit cards
Rotating-category credit cards are the most complex of the cash back credit cards, but also the ones with the highest rewards-earning potential (assuming, of course, that the categories mesh with your spending habits and you max out the spending caps). In a nutshell, a rotating-categories card offers bonus cash back, usually in the 5% range, for particular transactions during a given period of time. Often, cardholders must sign up for the bonus categories each period (often quarterly) and there's usually a spending cap, meaning cardholders will earn the bonus cash back up to a particular spending threshold ($1,500 is a pretty typical spending cap) and then rewards will revert to the non-bonus level (usually 1%). A popular example of a rotating category credit card is the CardName.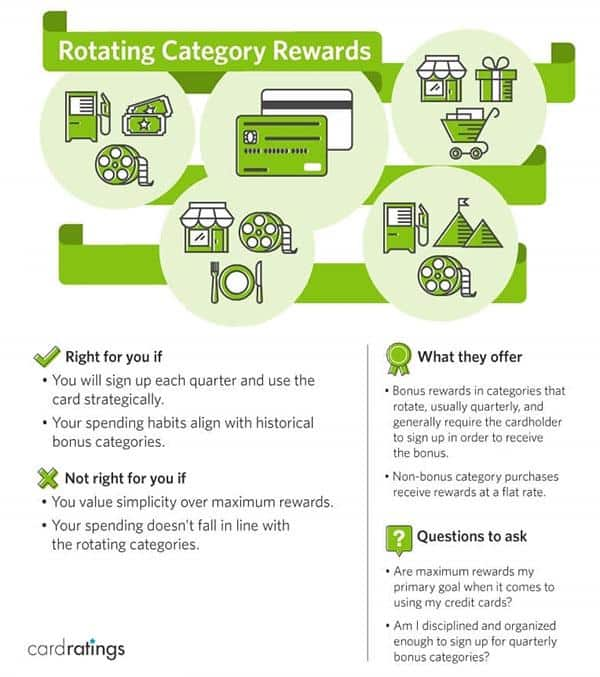 Credit cards with cardholder's choice rewards
Cardholder-choice-reward cards are still rare, but you might see more of them in the future. Think of them as a sort of combination tiered rewards meets rotating categories with a dash of customer choice thrown in. The rewards structure generally involves tiers of some kind, along with the spending caps you see with traditional tiered cards. In addition, the cardholder gets to decide a category or two in which to earn rewards.
An example of this type of card is the CardName, which allows cardholders to choose from among six categories where they'll earn 3% cash back along with 2% back on grocery store and wholesale club purchases (3% and 2% rewards apply to the first $2,500 spent in combined choice category/grocery store/wholesale club purchases each quarter) and 1% on other purchases. Cardholders can change their choice category once each calendar month.
What are the pros and cons of cash back credit cards?
A cash back credit card may not be right for everyone. While they come with great benefits, other cards may be better, depending on your particular needs. Take a look at the following pros and cons to decide if a cash back card is right for you.
Pros of cash back credit cards:
Cash rewards are simple to earn and redeem.
No need to worry about the value of rewards changing, as can happen with points and miles.
Welcome bonuses, offered by many cards, can be worth hundreds of dollars.
Many cash back cards don't charge an annual fee.
Cons of cash back credit cards:
There may be a cap on how much cash back you can earn.
If you plan to travel, you may get more value through rewards cards that offer points or miles.
Interest rates on cash back credit cards can be higher than those on non-rewards cards.
If you're looking for a simple way to earn rewards, adding a cash back credit card to your wallet could be a wise option. Even if it isn't your go-to, everyday card, these cards can complement the other cards in your wallet by earning you rewards where those cards don't. If you're considering adding a cash back credit card to your wallet, check out our top cash back credit card picks for a full breakdown of the best cash back credit cards on the market.