Guide to the Chase Pay Yourself Back program
Chase Ultimate Rewards® points have long enjoyed cult status in the credit card travel rewards world. And, frankly, they've earned that status with excellent redemption options, extra value when redeemed through certain accounts or transferred to popular hotel and airline partners, and solid earning categories and opportunities. If you have travel rewards dreams, Ultimate Rewards points need a place in your plan.
But then COVID happened and travel dreams disappeared in a puff of smoke.
Knowing this, Chase rolled out the Pay Yourself Back program in May 2020. It allowed cardholders to redeem their Ultimate Rewards® points for numerous "everyday"-type purchases and not sacrifice the value of those points. Now, Chase has announced a continuation of the program as well as an expansion of eligible cards and purchases, arguably making Ultimate Rewards® points – and several of the cards that earn them – even more valuable.
Basics of the Chase Pay Yourself Back feature
You can think of the Chase Pay Yourself back program as a kind of statement credit opportunity for specific purchases. Much like the Capital One Venture Rewards Credit Card allows you to redeem miles to erase travel purchases from your statement, the Chase Pay Yourself Back program allows you to redeem Ultimate Rewards® points to erase certain categories of purchases from your statement.
To take advantage of the offer, cardholders simply need to log into their account, navigate to the Pay Yourself Back portal and you'll see your eligible purchases listed alongside the number of points necessary to cover that purchase. Check the purchases you'd like to cover with Ultimate Rewards® points points and click "Continue" at the bottom to move the process forward.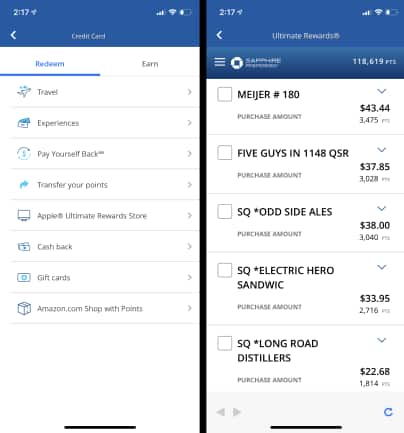 A couple of important rules to note:
1. You can only Pay Yourself Back for purchases made within the past 90 days. A small countdown number appears next to a purchase as your days to redeem for that purchase are running out.
2. You can only Pay Yourself Back for purchases in particular categories and those categories are dependent on the card you have. (Take a look at the categories that are eligible for Pay Yourself Back).
3. It could take 2-3 business days for the credit to appear on your account. It could take one or two billing cycles for those credits to appear on your monthly statement. Remember, you will still need to make at least your minimum monthly payment on your card.
What cards are eligible for Pay Yourself Back?
When Pay Yourself Back first hit the scene back in May, it was only available to Chase Sapphire Reserve® and Chase Sapphire Preferred® Card cardholders. At the end of September, however, Chase announced an expansion of the program to some cards within the Ink family of small business cards as well as to the Freedom family of cash-back cards. All of these earn Ultimate Rewards® points even though several are marketed as "cash-back" cards.
One note, while Chase no longer accepts applications for the Ink Plus® business card, existing cardholders are also eligible for the Pay Yourself Back program.
Here are the details on still-available cards:
Chase Pay Yourself Back categories
While all the cards above offer cardholders the option of Pay Yourself Back rewards redemption, the categories for which they offer it differ depending on your card.
FOR SAPPHIRE RESERVE® AND SAPPHIRE PREFERRED®
As mentioned above, points redeemed through Pay Yourself Back are worth the same as they would be if redeemed for travel through Ultimate Rewards, that is 50% more for Sapphire Reserve® cardholders and 25% more for Sapphire Preferred® cardholders. It has also been extended until April 30, 2021.
Categories for Pay Yourself Back include purchases at the following:
grocery stores

home improvement stores

dining at restaurants (including takeout and delivery services)

contributions to eligible charitable organizations (list below)
FOR THE FREEDOM® FAMILY OF CARDS
Points redeemed via Pay Yourself Back through any of the Freedom cards – that is Freedom Flex℠, Freedom Unlimited® or Chase Freedom® (no longer accepting new applications) – are also worth 25% more when redeemed through the Pay Yourself Back program; however, these cards only have one eligible category:
contributions to eligible charitable organizations (list below)
If you are earning Ultimate Rewards® points on a Freedom® card, but also have one of the Sapphire® cards in your wallet, you can still transfer your Freedom points to your Sapphire card and then redeem through the Pay Yourself Back program under that Sapphire® family card for more options.
FOR
INK BUSINESS PREFERRED&REG CREDIT CARD

AND INK PLUS®

From Oct. 1, 2020, through the end of the year, Ultimate Rewards® points redeemed under these cards will be worth 25% more when redeemed for the following:
select online advertising
shipping purchases
contributions made to eligible charitable organization (list below)
What charities are eligible for Chase Pay Yourself Back?
The current list of eligible charities includes:
American Red Cross
Equal Justice Initiative
Feeding America
Habitat for Humanity
International Medical Corporation
Leadership Education Fund
NAACP Legal Defense and Education Fund
National Urban League
Thurgood Marshall College Fund
United Negro College Fund
United Way
World Central Kitchen
Is Pay Yourself Back worth it?
Most people open Ultimate Rewards®-earning cards with travel dreams floating around in their heads. COVID-19 has, in many cases, put those dreams on hold. Meanwhile, everyday expenses have continued or, given all that time people are spending at home, even increased as home improvement projects, grocery purchases and takeout expenses have become even more frequent.
Yes, Pay Yourself Back is worth it since Chase is allowing people to redeem points for the same value as what you'd be getting when redeemed for travel.
There is, of course, nothing wrong with holding onto your points in anticipation of the day when travel can again take place, but if you're looking to save a little money on purchases you're making right now, you can rest assured that Chase Pay Yourself Back does offer solid value.