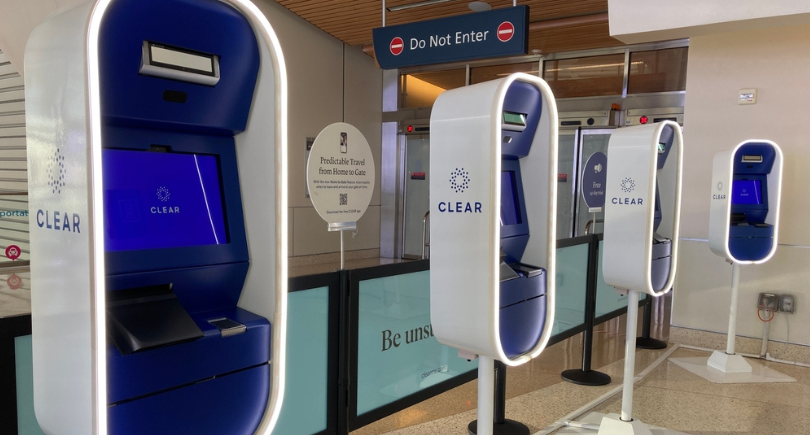 Now that the COVID-19 pandemic is in the rearview mirror, travelers are taking to the sky in droves. That can mean long airport security lines and frayed nerves, but there may be a way to minimize the chances of both.
TSA PreCheck and CLEAR are two options to shorten your time going through airport security. One is a government program while the other is offered by a private company. While they work differently, they both can help you bypass long lines and get to your gate with time to spare.
What is TSA PreCheck?
As one of the government's Trusted Traveler Programs, TSA PreCheck is offered by the Transportation Security Administration within the U.S. Department of Homeland Security. The program comes with the following benefits for travelers:
Expedited security screening lines at more than 200 airports and with more than 85 airlines.
Exemption from some security procedures such as removing shoes, belts, liquids, laptops and light jackets.
Opportunity for parents and guardians to bring their children, age 12 and younger, through dedicated TSA PreCheck security lines.
Having TSA PreCheck doesn't guarantee you'll always be able to skip the extra security steps. There is always a possibility you may be selected for additional screening, and not all airports are equipped with TSA PreCheck lanes.
Still, the TSA says 89% of TSA PreCheck passengers spent less than five minutes waiting in security lines during April 2023.
Applying for and using TSA PreCheck is a three-step process:
Complete a short online application form and schedule a meeting at one of more than 500 enrollment centers.
Visit the center for a 10-minute in-person appointment that includes fingerprinting.
Once approved, add your Known Traveler Number to airline reservations to receive TSA PreCheck authorization on your boarding pass.
TSA PreCheck costs $78 and is valid for five years. Most people can renew their membership for $70.
What is CLEAR?
CLEAR is another way to speed up the airport security screening process, but it isn't a government program. Instead, it's offered by a private company, Clear Secure.
Unlike TSA PreCheck, CLEAR doesn't allow you to skip parts of the screening process, such as removing belts and shoes. However, it does allow you to jump to the front of the line. Here's how it works:
Travelers enroll in CLEAR Plus – the company's airport membership program – either online or at a CLEAR airport location.
Once enrolled, travelers use dedicated CLEAR lanes available at more than 50 airports.
At a CLEAR pod, travelers verify their identity using their fingerprint or eyes.
After being verified, a CLEAR ambassador escorts the traveler to the front of the security line.
A CLEAR Plus membership costs $189 per year although the company offers discounted rates to students, military members and government employees. Up to three family members can also be added for $60 each, and children younger than 18 can join members in the CLEAR airport lane for free.
What are the differences between TSA PreCheck and CLEAR?
Both programs have the goal of speeding you through airport security, but they go about it in different ways. They also have different price points and eligibility requirements. Let's see how they compare side-by-side:
TSA PreCheck vs. CLEAR
Transportation Security Administration
Expedited security line
Opportunity to skip some screening procedures such as the removal of shoes and belts
Dedicated line for identity verification
Move to the front of the TSA security line after verification
U.S. citizens, U.S. nationals or lawful permanent residents age 13 and older who have not been convicted of certain crimes
Individuals age 18 and older with valid U.S. identification or Global Entry card
➤ SEE MORE:Global Entry vs. TSA PreCheck
Which credit cards offer CLEAR for free?
If you are interested in TSA PreCheck, there are a number of travel rewards credit cards that will reimburse the application fee. These include popular cards such as the CardName and the CardName.
You can review all the cards offering this perk on our list of the best credit cards for Global Entry and TSA PreCheck.
Reimbursement for CLEAR application fees is more difficult to come by, though. American Express cards are your best bet to get a free CLEAR membership although some other cards offer discounted rates.
The following cards provide statement credits that will cover the entire $189 fee for CLEAR Plus membership:
American Express is a CardRatings advertiser. Information related to the American Express Green Card has been collected independently by CardRatings and was neither reviewed nor provided by the card issuer.
Additionally, United MileagePlus or Delta SkyMiles members with elite status or one of the airline's credit cards could qualify for membership discounts, while members with the top tier or elite status could be eligible for CLEAR membership for free.
Is CLEAR better than TSA PreCheck?
It's hard to say one program is better than the other since they both do different things. CLEAR gets you to the front of the line while TSA PreCheck may put you in a shorter line and eliminate some of the hassle of the security process.
If you hate having to pull out your laptop and liquids from your carry-on, TSA PreCheck may be for you. For those who hate waiting in line, CLEAR might offer the bigger benefit.
But keep in mind that this doesn't need to be an either or proposition. You can belong to both TSA PreCheck and CLEAR. In that case, after completing the identity verification process at the CLEAR pod, you'll be taken to the front of the TSA PreCheck line where you can quickly move through security without removing shoes, jackets and carry-on items.
By using the right credit cards, you can get your memberships for free. Armed with CLEAR, TSA PreCheck and your travel rewards credit card, you'll be ready to speed through security and get to the good part of your vacation.