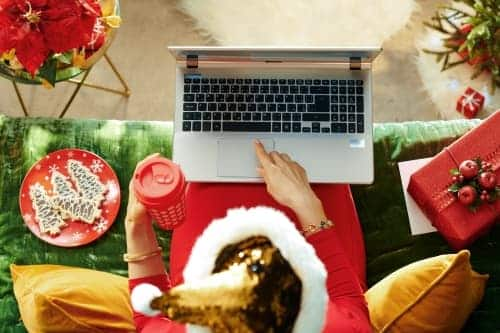 If you have more gifts than usual under the Christmas tree this year, or you're able to give more gifts than you usually do, interestingly, you may have the pandemic to thank.
That's one of the surprising conclusions from our latest holiday money habits survey, which surveyed 1,000 Americans nationwide.
While 40% of those surveyed said that the pandemic didn't have an overall effect on their gift-giving plans, 21% of respondents said they actually had more money to spend on holiday shopping this year.
That's because they ended up saving money that would have otherwise throughout the year been spent on travel, dining and other costs; expenses that were shuttered due to sheltering-in-place during the pandemic.
The pandemic, in fact, has affected Americans' holiday shopping in a multitude of ways.
Some Americans' ability to holiday shop has been damaged
Not everybody has more money for holiday shopping this year. When the pandemic first started reshuffling the economy in March and April, 22 million jobs were lost - and many of those jobs have not yet returned. For those people, the pandemic has been an economic disaster.
So it isn't a surprise that 16% of respondents said that they had less money for holiday shopping due to a loss of income.
Meanwhile, you could keep your job and still find yourself spending more than you anticipated. Fifteen percent of respondents said that they plan to spend more this year on holiday shopping, or rather, on holiday shipping. Because these respondents no longer plan to travel to visit family and friends, they expect to spend more to ship holiday gifts to loved ones.
As noted, 40% of respondents said that their overall gift-giving plans weren't affected by the pandemic, but 51% said they believe whatever they end up spending per person, the amount will remain the same.
Twenty-one percent of respondents—the same number of people who said that they had more to spend on gift giving overall—said they would spend more per person this holiday than last year.
Almost a third of respondents (28%) believe they will spend less per person this year.
As for how much people are spending, the average total gift amount per person will be almost $133 ($132.65) and the average total spend will average almost $710 ($709.76).
That's generous, of course, but the average total spend—because of the consumers whose economies were considerably hurt by the pandemic—is down significantly from last year. During the holiday season of 2019, consumers were spending on their credit cards an average of $1,214.
The pandemic may help some Americans avoid carrying holiday debt
Perhaps due to having extra money this holiday season, many people don't expect to leave the holiday season in too much debt, which is an improvement from last year.
In last year's survey, 49% of respondents said that they would pay off everything in full on their credit cards at the end of each cycle throughout the holiday season.
This year, 66% of respondents said that they expect to pay everything off in full and on time.
Of course, some credit card users aren't doing better in this pandemic. Seventeen percent of this year's survey respondents said that they would likely carry a balance over the holiday season. Another 5% said they also typically pay off their balances over the holidays but will carry one this year, due to having less money.
And for some people struggling with debt, nothing has changed—12% of respondents said that they usually carry a balance on their credit cards, pandemic or no pandemic, and will be carrying one this holiday season as well.
The pandemic has had an effect on new credit card accounts
Last year, 23% of respondents anticipated opening a new credit card during the holiday season; this season, only 14% said they have these plans.
It's hard to say if that's because credit scores are down due to the pandemic economy, and it's harder to get credit, or if people feel that they don't need credit cards this holiday season because they have extra money due to having lower entertainment costs, canceled vacation plans, etc. this year.
But the consumers considering getting a new credit card may not be feeling too wealthy. Of the 14% who said they were in the market for a new credit card, 86% of them said that they were considering opening a credit card that offers a 0% intro APR on purchases and/or balance transfers to help get through the holiday season.
Whatever your situation, whether the pandemic has helped or hurt your holiday spending, it's a safe bet that nobody will be sorry if next year, shoppers can get back to worrying about getting a good parking space at the mall instead of pandemic woes.
Methodology: In November 2020, CardRatings commissioned Op4G to conduct surveys among 1,000 holiday gift-givers nationwide. All participants self-reported demographic and personal information.
Featured Partner Cards