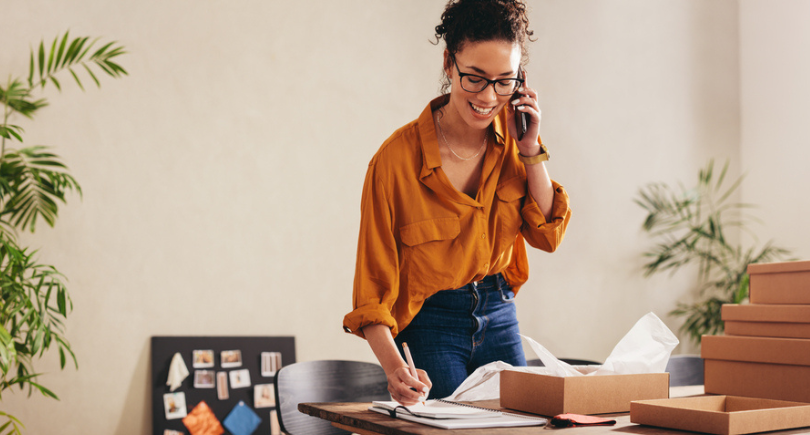 Applying for your first small business credit card can be exciting, but it can also at first seem like a daunting task. This is especially true when your business is fairly new and you don't know the first thing about how business credit and/or how to go about filing out an application.
Fortunately, the process isn't nearly as bad as you might think. I hope the following insider tips will empower you as you seek to leverage the many benefits of business credit cards.
As is often the case in business, advice from an expert can be invaluable. Special thanks to Gerri Detweiler, credit and small business expert and coauthor of Finance Your Own Business: Get on the Financing Fast Track, for her assistance with this article.
Getting a business card without a business credit score
No business credit? No problem. Most business cards only consider your personal credit score when you apply.
I remember when I launched my first online business and was salivating to get my first small business card in the name of my business. I was ecstatic about the prospect of showing off my card that prominently displayed the name of my business to a waiter during a business lunch, but while I had good personal credit, I had no business credit established.
Fortunately, I soon discovered that a good personal credit score goes a long way in helping you get approved for a small business card. In fact, most issuers check only your personal credit score and don't even consider whether you have credit established in the name of the business.
"Most small business credit cards rely heavily on the cardholder's personal credit score to make decisions about whether to issue the card, what kind of credit limit you'll get as well as the types of offers you may see," Detweiler explains. "Put simply, good credit scores will get you better offers.
"What's more, limited business income will not usually ruin your chances of getting approved, especially if you have a new business After all, banks recognize that new businesses need credit but don't necessarily have a sky-high business income just yet.
BONUS TIP!

One notable exception, according to Detweiler, is there are a few corporate cards that don't check personal credit, and you often need strong revenues to get approved. These are not typically the cards you see offered as "small business credit cards."
What credit score qualifies for a business credit cards?
Warning! You'll need good credit to get approved, but don't stress as most business owners already have good credit!
You might be concerned that getting an excellent business card with amazing benefits and rewards will require that you have perfect credit. Your concerns are likely to be greater if you have had credit challenges in the past.
If this is the case, your fears are likely overblown. Case and point, in April of 2021, the average FICO credit score was 716, which is considered a good score in the card industry (different industries have different ranges).
What's more, small business owners tend to have better credit than the general population. According to a study done by Experian about five years ago, the average personal credit score for a small business owner was 721. And a score of 721 is 48 points higher than the average consumer score (go ahead and pat yourself of the back)!
While the minimum threshold for approval certainly varies by issuer, according to Detweiler, "Most small business card issuers only require credit scores of roughly 680 or higher (for approval)."
If your credit is bad, there are still a few options to consider. There are even secured business credit cards, for example, that operate similarly to secured consumer cards.
Business credit cards often offer higher credit limits
Concerned your purchasing power might be too limited? Don't fret as you may be approved for a larger business card credit line than you expect!
A significant advantage of business cards is that credit lines for business cards overall tend to be higher than lines for consumer cards. According to the same study by Experian referenced above, the average limit or line of credit on a business card was an impressive $56,100; while consumers only had an average limit of $26,900.
How do you get the largest line possible? According to Detweiler, it's fairly straightforward. Good personal credit scores and higher income can help you get a larger line.
BONUS TIP!

A generous credit line can be a powerful tool when managing your cash flow (see a recent related article by my colleague for more great cash flow tips).
Business credit cards simplify your accounting
Want to cut your accounting costs? Apply for a business card and don't put business expenses on your personal card.
This sounds like a no-brainer, but using a business card can be a real lifesaver at tax time and save you a lot of potential accounting headaches. While it may seem like a hassle to get a business card (in reality, you can apply online in just 10 minutes or so), putting business purchases on your personal card can come back and bite you.
A friend of mine who has also been a colleague (and who prefers not to be identified) has run a consulting business for years. He learned firsthand how mixing personal and business credit can lead to problems. He notes:
"It has made things way harder and a lot of extra work (by not getting a business card). I didn't get one because I was just being lazy. You can use me as a poster child for why you should get a separate card for business!"
BONUS TIP!

If you don't have a traditional business, you still may be approved for a business card. Gig workers, freelancers, sole proprietors, independent contractors, Airbnb hosts, etc. are all situations that can qualify for a small business card.
Earn rewards for everyday business purchases
Want to significantly improve your bottom line with almost no effort? Simply get a business card that offers rebates on everyday purchases – most do!
The small business card market is ultra-competitive, but why should you care? Well, put simply, this competition fuels excellent rebate offers for small business owners.
These rebates typically come in the form of earning cash back, airline miles (free airline tickets), etc. on your normal business purchases. If you like cash back, I would consider a card that at least offers you 2% cash back on your purchase with no caps (unlimited cash back). You can easily compare small business credit cards from multiple banks online these days.
I personally prefer cash rebates and got a cash rebate card soon after launching my small business many years ago. I vividly recall earning thousands of dollars (yes, thousands!) in monthly rebates during some months when my spending was high. Needless to say, I quickly became a believer that these offers can significantly and quickly enhance your cash flow.
The bottom line is that using a small business reward card can help your business' bottom line when you make purchases you'd be purchasing anyway – as opposed to using a check or debit card for those purchases.
BONUS TIP!

Many small business cards offer generous signup bonuses when you first apply. These bonuses typically require you spend so much money within a certain time frame, such as within the first 90 days your account is open. If you can meet the requirements, you stand to cash in.

These bonuses aren't "chump change." The CardName card discontinued, for example, allows you to earn a one-time cash bonus of $1,200 once you spend $30,000 in the first three months! Sure, that's a high spending threshold, but if you're going to be spending that money to grow your business anyway, you might as well get something back for that spend.
Final thoughts
In conclusion, applying for a small business card is a relatively simple and painless process, especially when you're armed with a bit of knowledge before you apply.
Moreover, taking five to 10 minutes to apply definitely yields a good ROI as there are several benefits associated with business cards that personal or consumer cards typically don't offer.
I sincerely hope these tips are helpful and would love your feedback on how you've been able to utilize small business cards to grow your business. Who knows, I may include a tip from you in a future article (and link to your business site)!
Best wishes in leveraging business credit to your advantage!