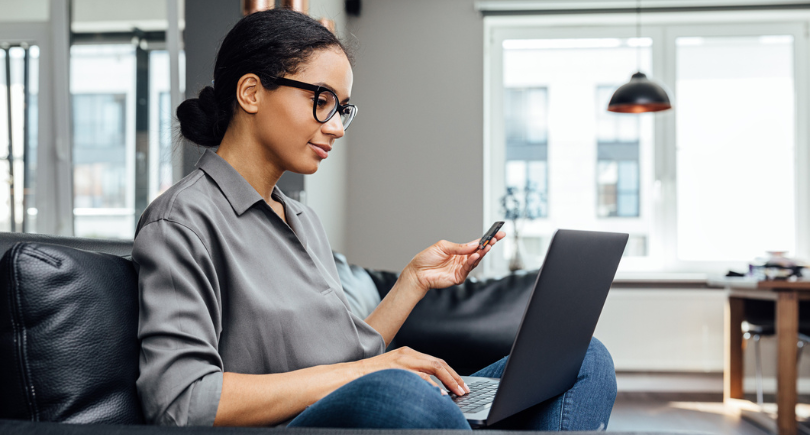 According to the Freelancers Union 2020 survey, about 59 million Americans, or 36% of the U.S. workforce, are freelancers. For those of us who've abandoned the 9-to-5 grind in favor of the freedom and flexibility that comes with self-employment, managing the small business banking part of freelancing can be the trickiest part of the journey.
Between the endless cycle of invoicing and waiting with bated breath for the check to come in the mail, self-employed people who want to ease the financial ups and downs that come with freelancing should consider one particular option: a small business credit card. If used responsibly, a small business credit card allows you to invest in resources that will help your business grow when you may not have cash on hand. There are other benefits, too. Here are five reasons freelancers and other self-employed individuals should consider getting a small business credit card:
Why get a business credit card
Separate business and personal expenses
One of the most important reasons to get a small business credit card is that it keeps your business and personal expenses separate and allows you to track your business spending.
This makes record-keeping a lot easier come tax time. With a business credit card you can easily see your overhead and itemize as many deductions as possible. Every swipe is an opportunity to lower your taxable income, and most credit card companies and banks that offer these cards allow you to export your monthly or year-end statements, which you can send to your tax preparer when it's time to do your annual return.
Some cards even offer special functionality and tools to assist with expense tracking. The CardName discontinued and CardName discontinued, for instance, both provide cardholders with access to American Express® Business App, which allows you to use your phone to snap picture of receipts and match them to card transactions, which in turn, could help tremendously with tracking your business expenses. American Express is a CardRatings advertiser.
In the unfortunate event that you're subject to an IRS audit, having your credit card statements as a backup can be beneficial. It definitely beats keeping receipts in a shoe box (though, still, any good accountant will tell you it's best to hang onto them for at least three years).
Enjoy financial flexibility
Cash flow is often an issue for freelancers, but business credit cards offer a revolving line of credit that can be used when you need to make an expensive business purchase, when work is slow or when you're waiting for incoming client checks. Just be aware that like personal credit cards, business credit cards also carry interest charges, and in some cases, an annual fee. Shop around for a no annual fee card or one with a 0% introductory APR to cover some of your business expenses when cash is tight.
Take advantage of perks not offered by personal credit cards
Business credit cards often have better terms than personal credit cards, including higher credit limits and the ability to extend your billing cycle. CardName discontinued, for example, allows cardholders to carry a balance for up to 60 days with no interest when you pay your minimum amount due by the due date. It also an unlimited 1.5% Early Pay Discount on eligible charges within 10 days of your statement closing date. You'll see the discount applied to your next statement when you pay at the least the Minimum Payment Due by the Please Pay By date. (See Rates and Fees)
Getting a business credit card also allows you to access lucrative welcome bonuses. For instance, the CardName offers 100,000 bonus points – the equivalent of $1,250 in travel rewards when redeemed through Chase's rewards center – after you spend $8,000 in the first three months. Chase also allows customers to combine Chase Ultimate Rewards points across multiple cards, so you can accumulate rewards even more quickly if you combine a Chase rewards business card with a personal one.
Another advantage of business cards: many credit card companies, including American Express® and Capital One®, among others, offer benefits like free employee cards to help you better control business spending (and rack up rewards), access to private airport lounges, free WiFi, airline fee credits, and detailed reporting to help you better keep track of business expenses.
Earn rewards
Whether you sell handmade soaps on Etsy or design ads for a living, every freelancer has ongoing expenses. So why not get rewarded for money you would have spent anyway?
Business credit cards come in all varieties, including cash-back cards that reward you for everyday spending or travel rewards cards with tiered points systems for different categories. Before you sign up for a card, it's important to determine which rewards structure is right for you. Someone who spends all day working from home likely wouldn't benefit much from a card such as the CardName discontinued which offers rewards on flights and prepaid hotels booked on amextravel.com. Instead, a card like the CardName, which offers unlimited 1.5% cash back on all purchases made with the card, would likely be a better fit.
Build credit
If you get a business credit card, you'll likely have a business credit score if your card issuer reports to the major credit bureaus. The upside is that if you use your card responsibly, you could improve your score and get lower interest rates in the event you need to take out a business loan. If your card issuer reports your business card activity on your personal report, this could improve your credit score, too – but, as with any credit card, it could hurt it if you don't pay your bills on time or use too much of your available credit. Before signing up for a card, find out how your card issuer handles credit reporting.
Should I get a business credit card?
In today's gig economy, more people will take the leap and work for themselves. There's plenty of rewards and risks in freelancing, but you can prepare for the latter with a business credit card. Whether you have temporary cash flow issues, want to earn rewards to offset some of your business spending or need to make a necessary business purchase, a business credit card can be a godsend – if you use it wisely.
To see the rates and fees for the American Express cards mentioned in this post, please visit the following links: CardName (See Rates and Fees); CardName (See Rates and Fees); CardName (See Rates and Fees)