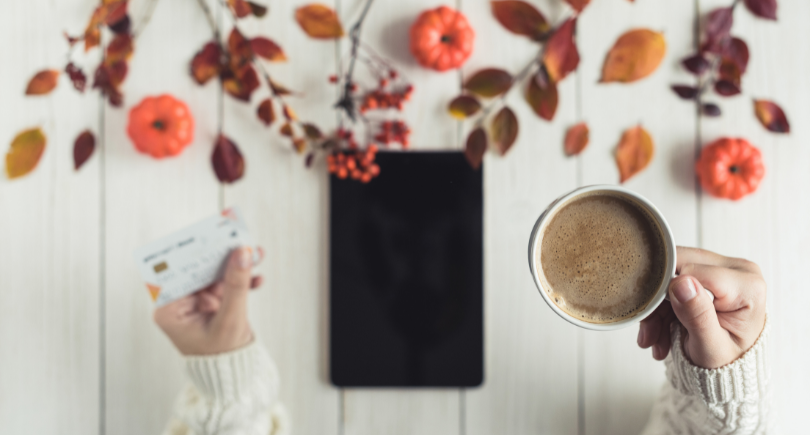 As you load up on candy this Halloween, this is a good time to remember that credit cards have some similarities to America's favorite spooky holiday.
With many credit card offers, there are a lot of treats that credit card companies are giving out to cardholders – but if you get too excited about the perks that come with a card or the rewards or sign-up bonuses, and you don't carefully read the fine print, you could end up feeling like you were tricked.
So think of what we're about to tell you as a handy guide for not bamboozling yourself when you're applying for a credit card. After all, credit card companies are not actively trying to fool you. That's not a great business move, to pull something over on one's customers.
With that said, here are some of the treats and "tricks" you'll want to be on the lookout for when it comes to credit card offers.
The treat: points, miles, or cash back rewards
What this treat is: Many credit cards offer cardholders rewards on purchases made with the card. Commonly, you'll earn 1% cash back on everything, and then you may have categories that will give you 2% back or 3% back or even 5% or 6% back on certain purchases.
For instance, if you have the CardName, most of your purchases would give you 1% cash back, but every time you fill up at the pump, you get 3% cash back.
The trick: Most credit cards are upfront about any limitations that come up with reward offerings, but if you get too excited about all of the rewards you're going to earn, you might miss certain facts such as that credit cards sometimes limit how much rewards you can earn, or that rewards categories may rotate.
For instance, the CardName discontinued rewards cardholders with 6% at U.S. supermarkets, but there is a cap, which American Express clearly spells out in its terms. You'll get 6% on the first $6,000 you spend at U.S. supermarkets in a year, and after that, 1%. It's certainly a good deal during these inflationary times, but if you aren't paying attention and forget about the cap or never notice it in the first place, after several months of shopping, if that 6% cash back offers goes away the rest of the year, you could feel duped. American Express is a CardRatings advertiser.
You'll also want to be mindful about credit cards with rotating bonus categories. The CardName, for example, earns 5% cash back on everyday purchases (up to $1,500 spent each quarter), but the categories for where you'll earn 5% rotate each quarter, and you'll need to activate in that category each quarter. Otherwise, you'll only earn 1%.
The treat: sign-up bonuses, sometimes called welcome offers
What this treat is: Earn 50,000 points, 80,000 miles, $750, etc. when signing up for a new card.
The trick: As usual, credit card issuers aren't playing tricks on you, but your eyes may play tricks on you. You don't want to get so mesmerized by the 50,000 points (for example) that you don't read up on what the offer actually entails.
Though these bonuses often sound too good to be true, they're real bonuses, but they aren't just freely given. Usually, you have to spend a certain amount of money with the card, within a certain timeframe, to earn the bonus.
For example, with the CardName, you truly can earn 60,000 bonus points (worth $750 toward travel through the Ultimate Rewards portal) when applying for the card, but you must first spend $4,000 on the card within three months of opening an account. If you aren't careful and end up spending $3,000 in three months, then $1,000 in the fourth month, unfortunately, you won't qualify for the bonus.
Some spend thresholds are much easier to meet. The CardName discontinued, for instance, offers a one-time $200 cash-back bonus to new cardholders who spend just $500 in the first three months.
The treat: cell phone protection
What this treat is: Some credit cards offer cell phone insurance which covers the cost of your phone if it's broken or stolen.
The trick: Again, credit card companies aren't actively trying to trick you, but you generally will need to be paying your monthly cell phone bill with your credit card, or at least have purchased the phone with your credit card, in order to take advantage of this offer. This makes sense. Why would your credit card company replace or fix a cell phone that doesn't have some financial tie-in to your credit card?
In any case, you'll want to read the fine print in the "terms and conditions" section on your credit card's website, so you know how to make sure your cell phone insurance is actually something you can someday use, if you're unlucky enough to break your screen or have your phone stolen.
➤ SEE MORE: Top credit cards with cell phone protection
The treat: access to airport lounges
What this treat is: Many credit cards, especially travel rewards credit cards, offer access to airport lounges as a cardholder perk.
The trick: No trick, but you'll want to be aware of the rules. You may not be allowed to bring in the whole family, for instance, which, you know, your in-laws will love, if you're like, "Oooh, sorry, you can't come in here with us." Or there may be a time limit on how long you can hang out at the airport lounge. You may wind up at a lounge that doesn't allow kids, or you could find yourself at a lounge at 3 a.m., only to find that it's closed. Your access may allow you in one type of airport lounge, like the American Express Centurion Lounge, but not another, like the Delta Sky Club, etc. So, learn about your credit card's lounge access before you travel to help avoid any unpleasant surprises.
➤ SEE MORE: Best credit cards for airport lounge access
The treat: 0% APR purchase and balance transfer offers
What this treat is: Some credit cards offer intro 0% APR on new purchases made with the card or on balance transfers transferred to the card.
The trick: It's no trick. Some credit card offers do indeed allow you a period of time to enjoy 0% interest on your purchases, or on balances transferred to your new card. Notice though how we said "period of time." Just because a credit card has a 0% APR offer doesn't mean you'll never face interest charges. These offers are usually only introductory offers, meaning, the offer is only good for a set period of time which is clearly stated in the credit card terms. For instance, if you have the CardName card you can enjoy intro 0% APR for 15 months on purchases and new balance transfers before the regular RegAPR kicks in. What's really important to remember with these offers is that you'll want to pay off, or at least pay down as much as possible, any balances you're carrying BEFORE the intro period expires. Because once that intro period is over, you'll be charged the full APR on any balances that remain.
You'll also want to remember that there is usually a balance transfer fee to consider if you transfer debt from one credit card to another. For instance, the aforementioned CardName card charges BalanceTransferFees.
That isn't much, but it's something. If you transfer $5,000 from one credit card to another, 5% would be $250.
Trick or treat?
It's all there in writing. Credit card companies aren't trying to trick anyone this Halloween, or any time of the year – but if you get too excited by all the exciting treats credit cards can offer, you could later wind up with egg in your face. And nobody wants that. Or eggs on the driveway, for that matter…
By paying close attention to credit card offers and terms you can enjoy the sweet treats that many cards afford. No costume required.