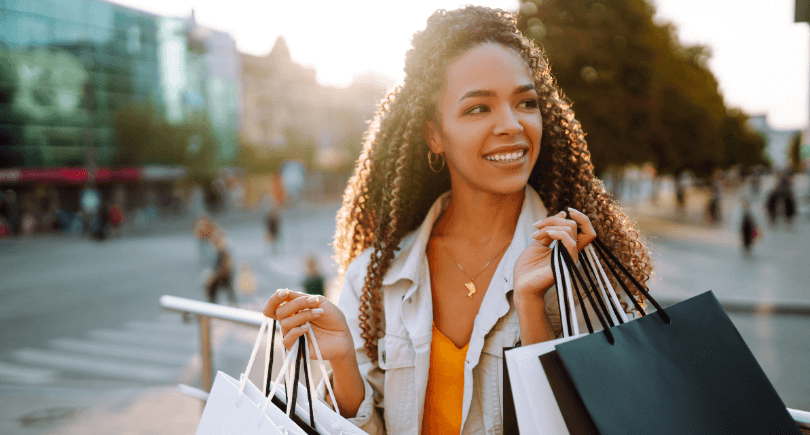 Store credit cards (aka retail cards since they are branded with a specific retailer) are as common as candy canes during the holidays. It's understandable given that holiday sales average almost 20% of total retail sales (higher for some retailers) according to the National Retail Federation.
Many of these cards offer generous ongoing reward programs and instant savings of up to 20% on your purchases when you apply. For example, the Macy's Card currently gives applicants 20% off what they buy on the day they apply and 20% off the next day. The program limits savings to $100 over the two days, but this savings alone is obviously still alluring. Information related to this card has been collected by CardRatings and was neither provided nor reviewed by the issuer.
Despite the admittedly nice perks, store cards have a dark side that many consumers aren't aware of. The main criticism of these cards by consumer advocates like myself is that their APRs (interest rates) are often sky-high. In fact, some retail card rates have recently gone topped the 30% mark, which is an exceptionally high rate when compared to the historical rates of regular (non-retail) credit cards.
Given this reality, when, if ever, does a store or retail card make sense and can you leverage these cards to your financial advantage? I hope you will be able to adequately answer these questions after reading this article. To that end, let's discuss in more detail some characteristics of store cards.
What differentiates a store credit card from a "regular" credit card?
We've already noted some basic differences between store cards and regular cards; however, there are other differences worth noting:
You are more likely to qualify for a store card if your credit score is average or below average (aka limited or bad credit) because store cards tend to not require that applicants have good credit for approval.
Similarly, store cards can be a good way to build or rebuild your credit when compared to secured credit cards that often charge an annual fee in addition to a security deposit.
The credit line or limit of store cards are often lower than standard cards.
Store cards may or may not have a Visa, MasterCard or American Express logo. If they don't have one of these logos, they are true brand-only cards and can only be used with the retailer they are affiliated with (instead of anywhere as with a regular or even co-branded card).
Similarly, there are some basic differences in the reward or rebate programs of store cards vs. traditional cards.
Many store cards offer instant savings off purchases, whereas regular cards tend offer bonus cash rebates when you apply (sometimes these cash rebates are not instant, but rather are tied to reaching certain spending thresholds over a period of time).
Some store cards offer more generous ongoing rebate programs. Case in point, I have had the Target RedCard™ for years and have enjoyed 5% rebates on all my Target purchases. In contrast, my fave rewards credit card in my wallet only gives 2% off my Target purchases. Information related to this card has been collected by CardRatings and neither provided nor reviewed by the issuer.
"I would say there are [good] perks to having a store card if you are a loyal shopper," says Linda Sherry, a nationally recognized consumer advocate affiliated with Consumer Action. "The perks may include early notice of sales and coupons.
"I could see someone who is doing a home renovation, for example, applying for a home center big box store card. There are perks and rewards on these cards."
BONUS TIP!

Store cards are known for offering "special or private shopping events," particularly during the holidays. These events give cardholders perks such as shopping at a retail store outside of normal business hours, additional discounts, etc.
Some store cards charge eye-popping interest rates
Despite attractive perks, store cards, as noted above, have significantly higher interest rates than regular cards. As of this article's publishing, regular cards have an average rate of 22.91% according to LendingTree. In comparison, a recent survey found that 24 store cards have rates right at 30%!
But does this really matter? Well, yes and no. Here's the bottom line:
You should definitely not apply for a store card if you are EVER planning on carrying a balance, even if only for a month or so.
One exception would be if you are taking advantage of a promotional rate, such as the 0% rates offered on credit cards. More on this below.
While charging such high rates bothers me as a consumer advocate, if you don't ever carry a balance, these cards can definitely benefit you financially. The key? Practice discipline when using the card.
However, I can't emphasize enough that carrying a balance on a store card for even a month can more than wipe out any rewards that you might earn.
"Like other cards, most retail cards have a variable rate, so they will go up when interest indexes rise," Sherry explains. "It has been a long time since the rates were at this [high of a] level. As a result, these are not cards you should carry a balance on. Pay in full each billing cycle [or you'll pay way more in interest or finance charges than any rebates you might get]!"
A simple example of how much a 30% rate would cost you if you carry a balance of around $1,000 underscores my point. You can use an online calculator to quickly calculate the interest. The results are staggering:
If you carry a $1K balance at 30% interest and make a $35 monthly payment, it would take you 49 months to pay off the balance and you would pay $598 in interest alone.
On the other hand, paying $350 per month lowers the time to pay off the balance to only four months and you will only pay $37 in interest!
"This scenario is a very good illustration of why you should pay high interest rate credit cards off every month," Sherry sums up. "It simply negates any benefit in points or perks if you don't."
BONUS TIP!

Applying for multiple cards in a short period of time can hurt your credit score. This can be particularly tempting during the holidays. A recent survey from LendingTree found that 35% of Americans are "at least somewhat likely" to apply for a retail card over the holidays — up from 29% last year.

Each time you apply for any type of credit, it shows as a new credit inquiry on your credit reports. The good news is that such inquiries generally only adversely affect your score for a year or so.
Final thoughts
Store cards are a double-edged sword. The rates can soar, which may cause you to pay interest charges "through the nose" after the holidays if you blow your holiday budget. On the flip side, they offer better perks in some respects than regular cards.
One personal example is that I applied for the Forever 21 card earlier this year because my teen daughter seems to want to visit this retailer on a regular basis (frequent basis is probably more accurate!). One of the reasons I applied is that my daughter will get a special coupon on her birthday, a benefit I haven't seen with a "regular card."
Only truly responsible, on-top-of-their-finances people should carry multiple credit cards (and they're usually doing it to maximize rewards). For most people, I suggest having one or two general-purpose rewards cards or one general rewards card and one retail card if you shop frequently with a particular retailer.
I sincerely hope these insider tips are helpful to you and would love your feedback on your personal experiences with store cards. Who knows, I may include a tip from you in a future article! Best wishes in using these cards to your financial advantage and Merry Christmas!