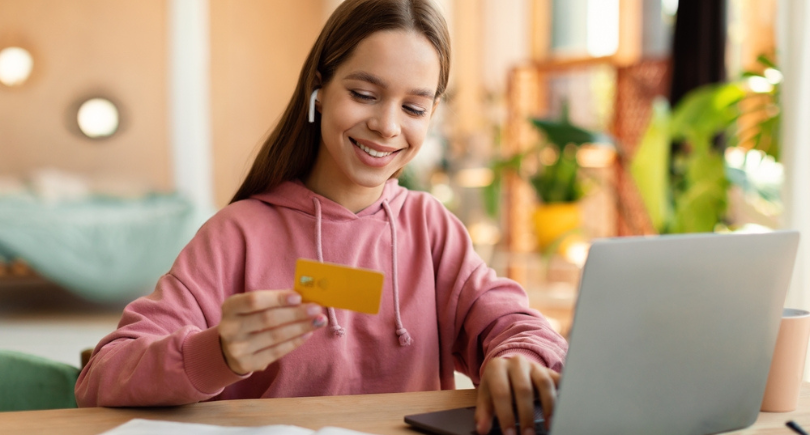 As parents, we are responsible for teaching our children many things. Instilling important money lessons can not only set your kids off on the right financial path, but also helps ensure that they will be self-sufficient in the future.
One possible way of helping your children learn positive money habits and start building their credit scores – even while they're still young – is by adding them to one of your existing credit card accounts, as an authorized user.
Here's a look at what that process entails, when you can add your child to your account and what the benefits are to doing so.
When can you add your child as an authorized user?
The eligibility requirements for authorized users will vary from one card issuer (and bank) to the next. Here is the minimum age requirement for the top banks as of this article's publishing (note that these ages may change):
How old do authorized users need to be?
It's important to note that while many of these banks may not have a minimum age requirement for authorized users overall, individual card products might. For example, an airline- or store-branded card may be issued through one of these banks, but set their own rules for eligibility. So, it's important to check with your card issuer to know exactly what to expect.
You should also note that not all authorized users are treated the same. For instance, Chase allows you to add an authorized user of any age, but they won't report any account activity to the credit bureaus if that authorized user is a minor.
Reasons to add a child as an authorized user
If you're considering adding a minor child as an authorized user on one (or more) of your credit card accounts, here are some ways it can benefit them.
It can jumpstart your child's credit history (and build a credit score). If you add your child to a credit card that reports to the credit bureaus, he or she will begin to build up a credit history based on that account. This means that the credit utilization, payment history, and even the age of the account will be taken into their own credit score in the future.
"Adding your children to your credit card can have a significant impact on their credit score," says Travis Hughes, of Downshift Financial. "My parents did this for me, and I ended up with an American Express account on my report that was opened 10 years before I was even born! By the time I graduated college, my credit score was over 700… and I had done nothing to earn it."
As long as you practice positive account habits, your child's authorized user status can benefit their credit history – and in turn, their credit score – even if they haven't made any financial moves of their own.
You may be able to rack up more rewards. Some credit cards may offer bonus rewards in exchange for adding an authorized user, and/or having authorized users meet a minimum spend requirement on their own card. By adding your child to your account, you may be able to snag these valuable bonuses.
At the very least, the purchases an authorized user makes on their own card will earn rewards under the primary account. It's one way to help children begin to understand the value and possibilities of credit card rewards. If your family routinely travels using travel rewards, your authorized user can even think of it as doing their part to help "pay" for the family vacation.
Your child has access to emergency funds. Whether your kid goes to the mall alone, is a teenager behind the wheel or is headed off to college, adding them to your credit card account can give them emergency access to funds if they ever need them. This means that if your child is shopping for school clothes, runs out of gas, or needs help with groceries this month, they can use your card without you needing to transfer funds or get money to them somehow.
It can help your child learn responsible credit card management. Being added to a credit card as an authorized user can also help your child learn how to responsibly manage their own money from a young age. This is what Rachel Murphy, author of "I Am Not Your ATM: A Practical Plan for Teaching Your Teen to Manage Money," does with her own children.
"When my kids get to about sixth grade, they get put on the salary system and start managing their own expenses," she explains. "They all have their own budgets with their own cards that they use for all expenses related to them."
By giving your children limits and letting them track their own spending, credit cards can be a great way to teach those difficult budgeting and planning lessons – before your kids are old enough to make the really big mistakes.
Important things to note
Before adding your child to a credit card, here are some things you may want to keep in mind.
The account can help (or hurt) their credit. Adding your child as an authorized user often means that your account's payment history, age, balance, and credit limit can work to boost your kid's credit history. But if that account is managed poorly – like being maxed out or having late payments – those can negatively affect your child's credit.
If you're going to add your kid as an authorized user on an account, make sure that the account will do more good than harm to their credit. If you're struggling to manage your own credit score, do them a favor and leave them off your cards for now.
Authorized users can have access to your whole credit limit. Most personal credit cards default to offering the same credit limit to all authorized users. This means that if you add a child to an account and give them a physical card, they have access to your entire credit limit – whether that's $500 or $50,000.
Lee Huffman of Bald Thought, a travel-based personal finance website, is the father of a 7- and an 11-year old. He's chosen not to add his kids to a credit card yet, simply because the thought of giving a child access to that kind of money is concerning.
"I honestly don't see the need to do it yet," he says. "When they're around 14, I may add them to a business credit card, so that I can place a spending limit on their individual cards. But I don't need to give a teenager access to a $20,000-plus credit limit."
As Huffman mentions, business cards generally allow the primary cardholder to set individual limits on the cards of authorized users, but that isn't as common among personal cards. Before adding your child as an authorized user, check your account online or call customer service directly to learn whether authorized user credit limits are an option in your case.
If the idea of your teenager being able to rack up charges scares you or you just don't like them carrying around a card that they could lose with that sort of credit limit consider adding them but not giving them a physical card or access to make purchases. They'll benefit from your credit history, but won't be able to charge anything themselves.
You can add a child to just one account… or all of them. When it comes to making your children authorized users, you can choose to add them to one credit card account or to all of them. It's completely up to you, as long as they meet the issuer's requirements.
Remember that your length of credit history can benefit them, so if you're looking to choose a single card to which you'll add them, consider making it the one you've held the longest.
Whatever you decide, be sure to keep any additional user charges in mind (some cards, especially premium travel cards, charge fees for authorized users) and remind them to keep track of their physical cards so they don't get misplaced or stolen.
You can always add or remove them later. You have the ability to add or remove authorized users on your credit card accounts at any time. So, if you don't feel that it's the right time to add your child, there's no harm in waiting. Additionally, if you add them to an account and no longer feel that it's the best decision, you can usually have them removed with just a click online or a quick phone call to customer service.
Just note that removing an authorized user from an account is a bit different than closing your own account. If you were to close a credit card, the account would still remain on your credit report for up to seven years. However, when you remove someone as an authorized user, the account will typically drop off of their credit report shortly thereafter, and will no longer provide them with a credit history.
Also keep in mind that removing them as an authorized user does not remove any debt they've racked up. As the primary cardholder, you're responsible for the debt regardless of whether it was you or an authorized user who made the charges.
Should I add my child to a credit card?
The decision to add a child to an existing credit card account really comes down to your goals, as well as the maturity of your child. If you simply want to help your child establish a credit history – and don't plan to give them access to a physical card or the number – there is little harm in doing so; however, if you plan to actually give your kid a card or access to make charges, it's important to note the risk that presents.
Spend some time considering the benefits and downsides of adding your child. And no matter what you decide, if you later change your mind, you can add or remove them at any time.