If you're in the market for a credit card, chances are there's one from Chase, the U.S. consumer and commercial banking portion of JPMorgan Chase, that will slide into your wallet and your financial plans as easily as you slide into your favorite, most comfortable shoes.
That's because "Chase" and "credit cards" have been nearly synonymous for years, meaning there's been plenty of time for Chase to come up with a wide variety of credit card products to meet the needs of its diverse customer base.
Not one to rest on its laurels, Chase routinely updates its product offerings, so even if you've held a Chase card in the past, there could very well be a reason to add another one to your portfolio.
So, with so many options from Chase, we wanted to take a head-to-head look at a few Chase credit cards to help you decide which card from the Chase family is best for you.
CardName

vs.

CardName

The Chase Sapphire brand of credit cards includes both the Sapphire Reserve® and the Sapphire Preferred® cards. Each of these cards primarily targets travelers, and each offers a slew of rewards and benefits that can be used to balance out the cards' annual fees.

Both cards come with an annual fee: the CardNamediscontinued is AnnualFees per year while CardNamediscontinued comes in at a hefty AnnualFees annually. However, each card earns points on every $1 spent, with bonus points on flights, hotels, rental cars, dining and other travel purchases.

These points can be exchanged for statement credit, gift cards, cash, or used to pay for travel through the Chase Ultimate Rewards portal. When redeemed through Ultimate Rewards, those points will be worth even more: 25% more for Preferred cardholders and 50% more for Reserve cardholders, in fact. Points can also be transferred to many airline and hotel partners' loyalty programs. For a full description of the rewards program, check out the CardRatings Guide to Chase Ultimate Rewards.

Neither card charges foreign transaction fees and both offer travel protection and purchase coverage, and currently have introductory bonus point offers for new cardholders.

So who should consider each card?

CardName could be best for you if you:
want a "starter" card to serve as an intoduction to the Ultimate Rewards universe
want better earning on everyday purchases
travel a few times a year
want a solid signup bonus without a high annual fee
will use the card enough to make the 10% annual points bonus add up
can use a $50 hotel credit each year (for a booking through Ultimate Rewards)
don't live near or frequently pass through an airport with a Priority Pass lounge
CardName could be best for you if you:
want to level up your Ultimate Rewards experience
spend a lot on travel-related purchases
travel frequently
can easily offset the annual fee with rewards earning and redemptions
prefer redeeming points directly through Ultimate Rewards rather than transferring to another loyalty program
can fully use a $300 annual travel credit
do live near or frequently pass through an airport with a Priority Pass lounge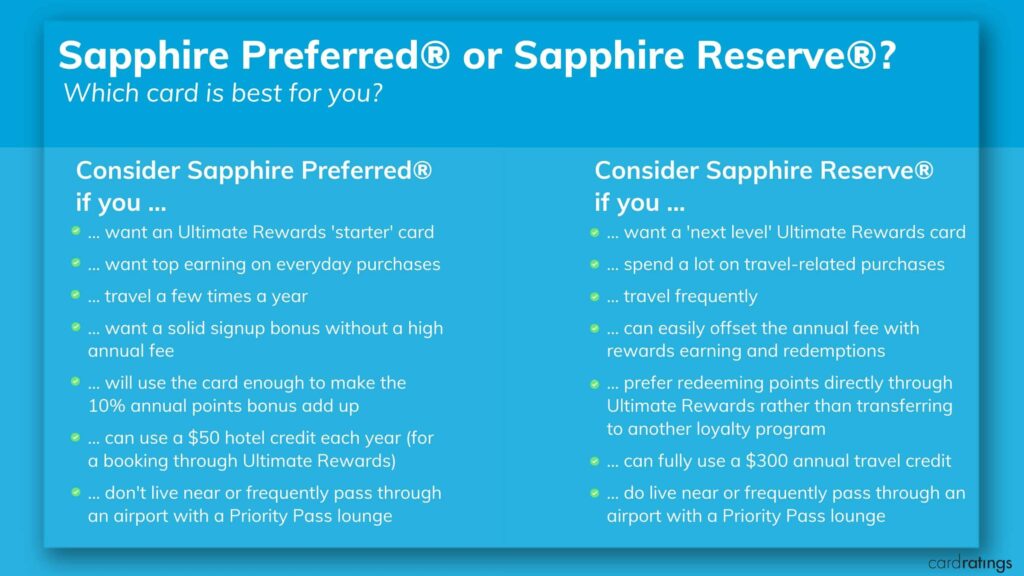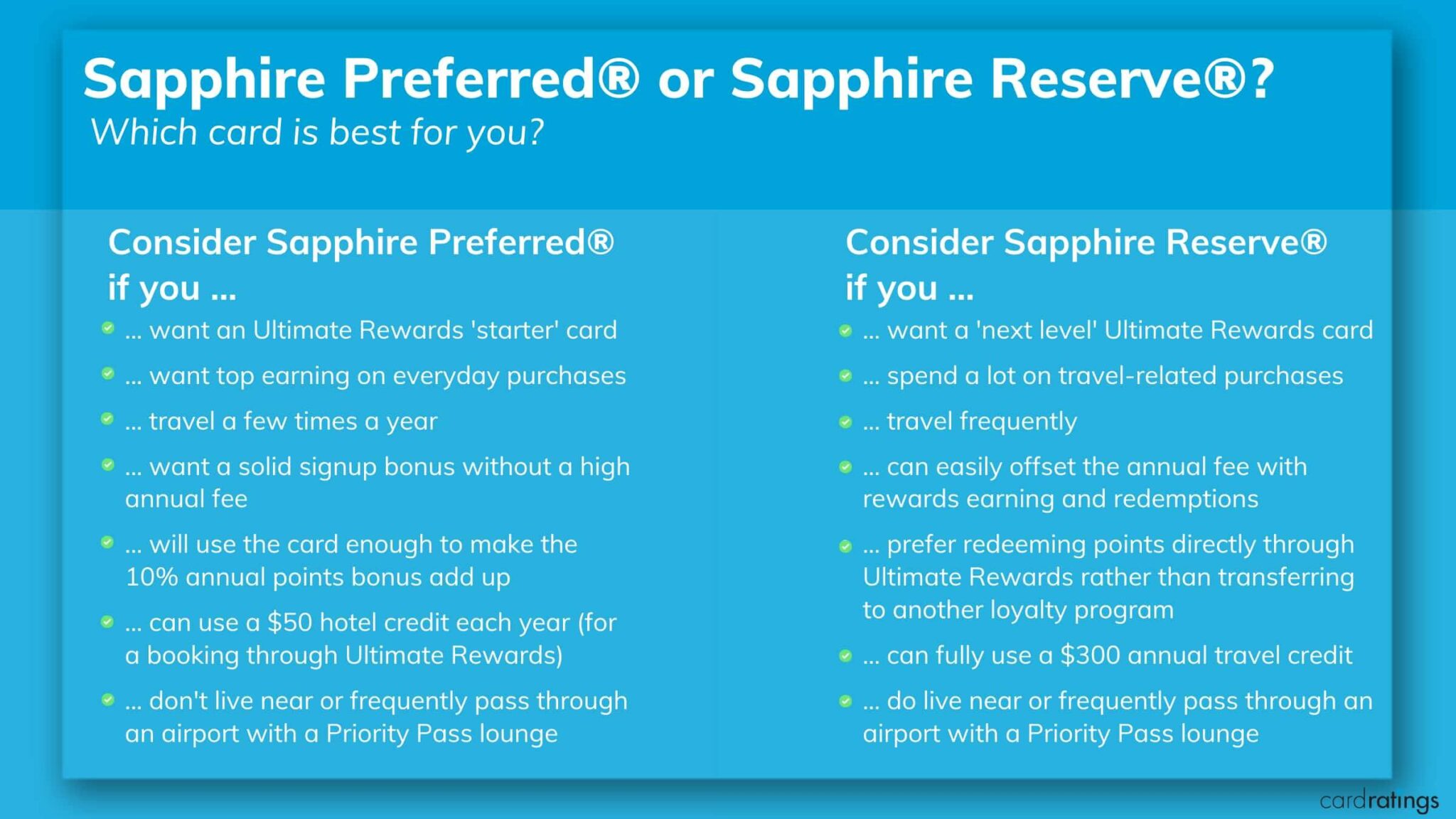 For more head-to-head details about these cards, you can read our full head-to-head comparison here.
CardName

vs.

CardName

credit cards

Other Chase credit cards to consider that accumulate rewards in the Ultimate Rewards program belong to the Freedom brand, which includes the CardNamediscontinued and CardNamediscontinued (as well as CardNamediscontinued, which is a solid option to consider if you're among the co-ed set). (Information related to Chase Freedom FlexSM has been collected independently by CardRatings and was neither reviewed nor provided by the card issuer)

Neither of the primary Freedom-brand cards charge an annual fee and both offer an introductory 0% APR offer on new purchases and balance transfers for 15 months (then, RegAPR for Freedom Unlimited® and RegAPR for Freedom FlexSM). Each card earns cash back (in the form of Ultimate Rewards points) on every $1 spent, ranging from 1% to 5% back depending on the card and the purchase category.

Cash-back rewards can be redeemed in any amount. As long as the account is active and in good standing, that cash back will never expire. Remember, too, that these rewards are marketed as "cash back," but officially accumulate as Ultimate Rewards, which means they can be redeemed for travel and more and are combinable with Ultimate Rewards earned through other cards.

Here's how to determine whether CardName or CardName is best for you:

Freedom Unlimited® could be best if you:
want the highest possible base earning among Ultimate Rewards cards (1.5%)
are looking for a single card to use for most or every purchase
do not want to keep up with rotating categories or sign ups
Freedom FlexSMcould be best if you:
want the highest possible earning on as many purchase types as possible (5% on rotating categories up to a quarterly cap)
want to be strategic with when to use this card vs. another in your wallet
don't mind keeping up with rotating categories, spending caps and quarterly sign-ups
would use the included cell phone protection available when paying your bill with your card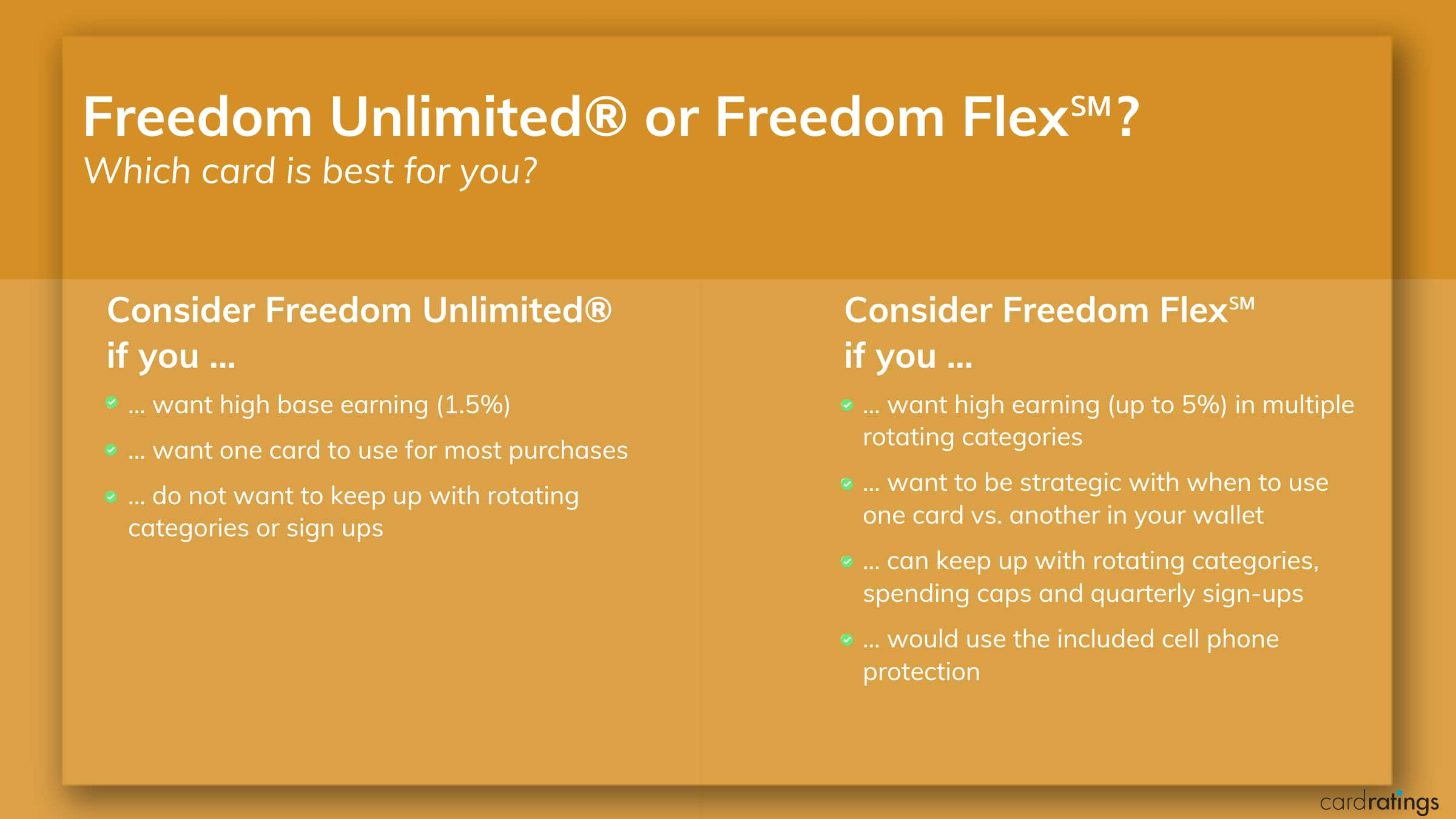 For more about how Freedom Unlimited® and Freedom FlexSM compare, you can read our full head-to-head comparison.
Chase hotel credit cards
In addition to their own cards, Chase offers a number of co-branded cards; that is, cards associated specifically with a non-Chase brand or product. For instance, the cadre of Chase hotel cards are some of the popular co-branded options the bank offers.
If you are loyal (or willing to be loyal) to a specific hotel brand, choosing a Chase hotel credit card can be a great way to earn status as well as rewards. There are currently eight different hotel-branded credit cards offered through Chase, including the:
Depending on where you stay when you travel – and where you'd like to redeem the rewards you earn on daily spending – these cards may be worth considering.
For example, the CardName has an annual fee of AnnualFees, but features a limited time welcome offer of 100,000 points for new cardholders who spend $3,000 in the first three months.
Information related to Marriott Bonvoy Bold®, Marriott Bonvoy Boundless® and The World of Hyatt credit cards has been collected independently by CardRatings and was neither reviewed nor provided by the card issuer
Chase airline credit cards
As with the hotel credit cards, if you have a loyalty to a particular airline (or two) – or are willing to remain loyal to a specific carrier – opening a Chase airline credit card account could be lucrative.
Chase currently offers 14 different branded airline credit cards, which include cards connected to a variety of airlines including Southwest Airlines, United Airlines and British Airways among others.
If you fly any of these airlines, your everyday purchases can help you earn not only status but also points that you can use toward travel and travel-related expenses.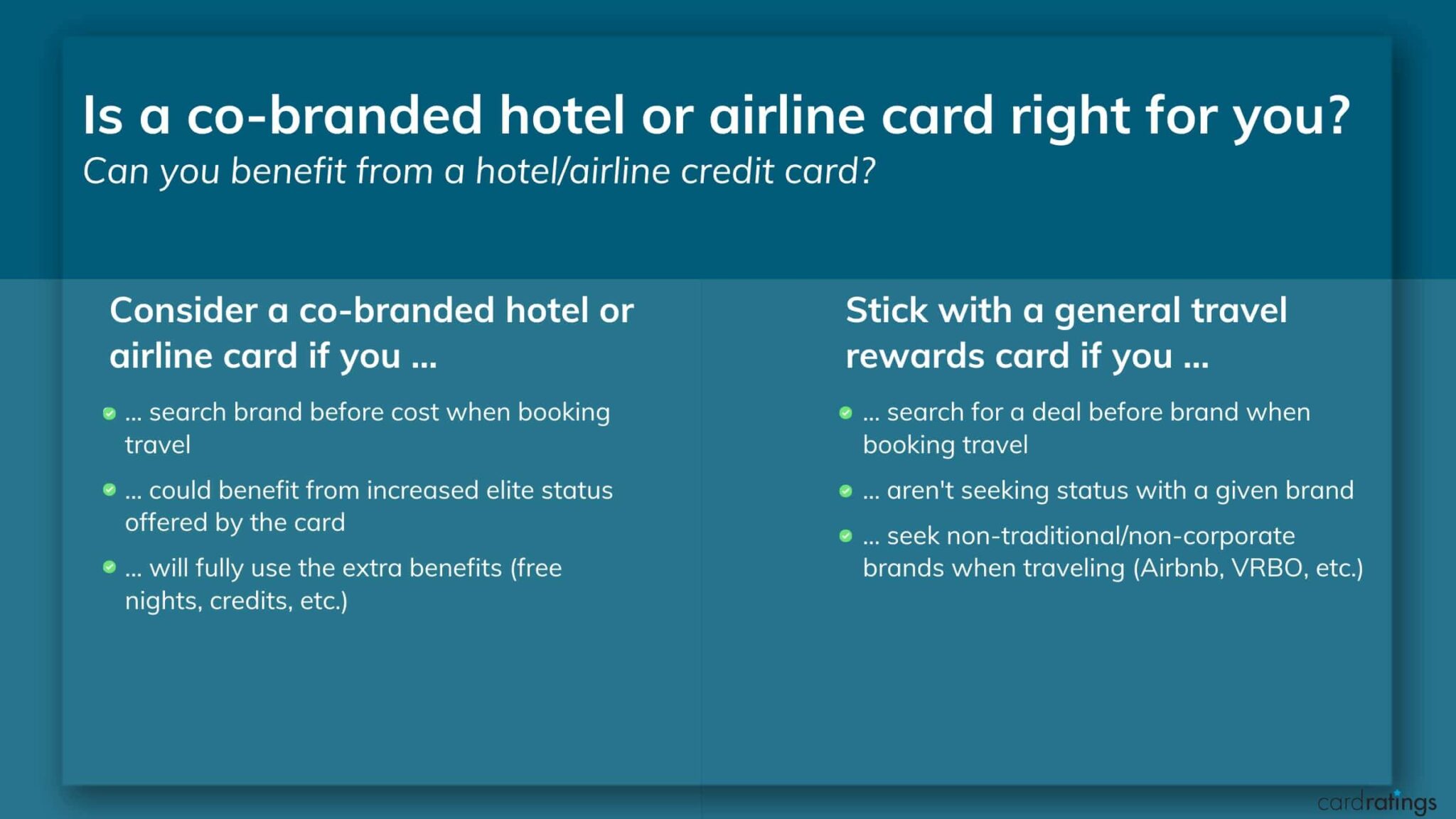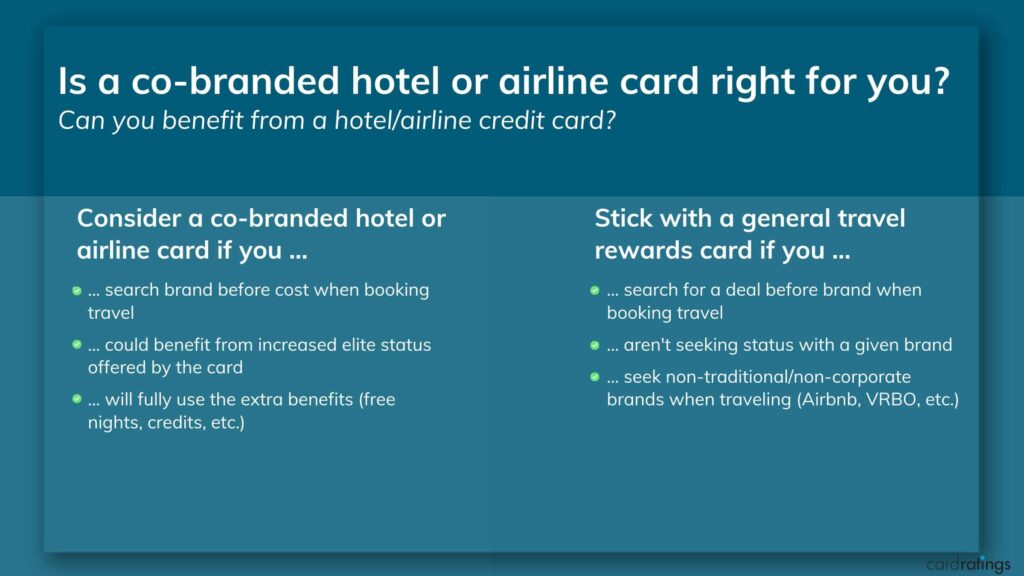 Chase business credit cards
If you're a small business owner – and you might be surprised who qualifies for a small business credit card – a Chase business credit card can be one way to earn points and/or cash back on your everyday business-related expenses. These rewards can then be put toward statement credits, gift cards, cash or even travel, depending on the type of card you get. Plus, you can pool points from your business and personal cards to help your Ultimate Rewards bank grow.
Chase offers three general business credit cards as of this writing (January 2022), as well as several co-branded business cards. These include:
The annual fees on these cards range from $0 to $199, and all of them earn rewards on spending in a range of categories. The business credit card that's right for you depends on how your business spends money, what sort of benefits will serve you and your business most, and how you prefer to redeem your earned rewards.
Among the Ultimate Rewards-earning business cards are the Ink-brand cards, including CardName, the CardName, and the CardName. Neither the Ink Unlimited® nor the Ink Cash&reg charge annual fees, while Ink Business Preferred® charges AnnualFees per year, though it does NOT charge foreign transaction fees and the other two do.
All three cards currently have an introductory bonus offer for new cardholders. All three also earn rewards on every purchase made, though the rewards rate varies by category and the card chosen. Rewards can be redeemed for cash, gift cards, travel and more, especially when redeemed through Chase Ultimate Rewards.
To learn more about the different Chase Ink business credit cards and choose the right one for your situation, check out "Which Chase Ink business credit card is right for you?"
Which Chase credit card is right for you?
Choosing the right Chase credit card for you depends on how you plan to spend and how you prefer to redeem your earned rewards.
Several Chase credit cards have no annual fee, if you're looking for a card that won't cost you anything extra to use it. Almost all Chase cards earn rewards on purchases, which can be redeemed in a variety of ways. And whether you're looking to stick with a specific airline or hotel brand, snag an introductory bonus offer, or even enjoy an intro 0% APR on purchases and/or balance transfers, Chase has a card for you.
Take some time to consider how you spend, where you spend it and what you want most from your card. That will help you decide which Chase credit card is right for your wallet.