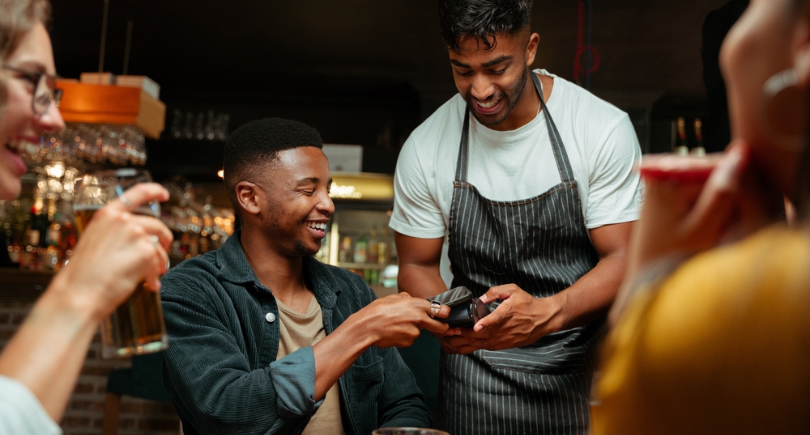 Credit card surcharges are fees an increasing number of merchants, particularly restaurants and small businesses, charge consumers for paying with a credit card. This fee is generally 2-4% of your total purchase price. Merchants claim that credit card surcharges help offset fees accessed by card networks (also known as credit card processors), such as Visa and MasterCard, that they have to pay in order to accept credit cards as a form of payment.
These merchant fees, also sometimes called interchange fees, have been the source of much political and consumer debate for years. Ed Mierzwinski, Senior Director at the Public Interest Research Group, has been involved in the surcharge fight for many years and has testified several times before Congress. He notes that there is an ongoing lawsuit surrounding credit card surcharges that is still not settled.
While these fees are still not very widespread, more and more cardholders are encountering them and, not surprisingly, more consumers are complaining. A recent personal experience of my own was the impetus for this article.
Key takeaways
Better understand what a credit card surcharge is and how it compares to other related fees
Help you learn how to avoid and/or minimize these fees
When did credit card surcharges start? Are they here to stay?
A 2012 settlement involving anti-competitive practices by Visa and Mastercard allowing merchants (i.e. businesses) to begin charging surcharge credit card transactions in some circumstances seems to have been the genesis of surcharge, aka swipe fees.
Since that time, there have been more related lawsuits (and as noted above, there are still pending lawsuits) and proposed legislation such as the Credit Card Competition Act of 2022. According to Fortune, one significant lawsuit resulted in a 2017 U.S. Supreme Court ruling that "paved the way for more widespread use of surcharges."
The bottom line is that these fees appear to becoming more of the norm, at least for certain types of businesses and likely aren't going away anytime soon. Though virtually unheard of a decade ago, 23% of small merchants now report that they charge an extra fee to credit card users, according to a 2022 article by The Strawhecker Group.
➤ SEE MORE:Common credit card fees and how to avoid them
Beverly Harzog, consumer finance analyst with U.S. News and World Report and author of "The Debt Escape Plan: How to Free Yourself from Credit Card Balances, Boost Your Credit Score, and Live Debt-Free," explains that many small businesses, in particular, have started charging these fees to customers "because they have trouble paying the fees and still making a profit." Alternatively, some businesses just add a bit to the cost of their goods or services to help offset fees.
Lynnette Khalfani-Cox, author of the New York Times bestseller "Zero Debt: The Ultimate Guide to Financial Freedom" and affectionately known as the Money Coach, "thinks the pandemic has been a factor. So many businesses struggled just to survive. As a result, we saw — and continue to see — increased prices and added fees" across the board.
BONUS TIP!

There has been some pushback from consumers and card companies. In recent months, for example, Visa lowered the maximum surcharge amount merchants can charge Visa card customers from 4% to 3%. The company has also "started sending in-person auditors to ensure stores are complying with its rules when levying such surcharges."
How do surcharges differ from convenience fees and cash discounts?
The terms surcharges, convenience fees and cash discounts are sometimes used interchangeably. The end goal of all three terms is the same- to help merchants pay for interchange fees. However, there are subtle differences that are worth noting.
A working definition of these terms will hopefully help you understand the differences:
According to Payment Logistics, a cash discount is a "discount applied to the total amount when a customer pays with cash (as opposed to a debit or credit card). The customer pays less than the advertised price for paying with cash."
Case in point, according to Visa policy, a merchant is "permitted to offer discounts for paying in cash, however, the discount must be given as a reduction from the standard price." Interestingly enough, merchants were offering discounts to cash customers before surcharges were instituted.
Convenience fees are very similar to surcharges with one major caveat. According to Fiserv, this fee can only be charged by a merchant for offering customers the privilege of paying with an alternative non-standard payment method.
Convenience fees are historically associated with payments for utility bills, online concert tickets and college tuition, etc. Mierzwinski notes that "some small merchants are now also charging a convenience fee."
For instance, if your enrolled in college and your school offers the option to pay your tuition with a credit card, there's a good chance they will tack on a 2-3% convenience fee. The justification for this is that most students don't pay tuition with a card. Thus, it's a non-standard payment form and simply "offered for your convenience."
BONUS TIP!

Restaurants, in particular, seem to be more prone to charge fees due to the fact that most restaurants are considered low margin businesses. So, if you are wanting to avoid paying a fee, be sure to inquire prior to ordering your food.
How do you know if a merchant is charging a surcharge fee?
The old saying that "knowing is half the battle" certainly applies with surcharges. Unfortunately, many consumers still aren't even aware that these fees exist and those who are aware, often have confusion about which merchants levy fees and how much they charge.
This confusion has led to consumer discontent. A survey by PYMNTS.com showed that 21% of consumers who were asked to pay a surcharge felt increased dissatisfaction with the merchant, which "means that merchants have an opportunity to limit the damage to customer relationships by clearly explaining the fees."
The good news is that card processors, such as American Express and Discover, explicitly require that merchants clearly disclose fees and that these policies are enforceable (as noted above). Moreover, some states are enacting new laws that promote transparency. New Jersey, for example, recently established new transparency standards merchants in that state must follow.
Merchants should provide multiple disclosures:
Harzog explains that merchants are required to tell you about any fees "at the point of purchase (when you are checking out) and on your final receipt."
Khalfani-Cox adds that "to find out if a business has a fee, you can check for signs at the checkout counter or ask a staff member. It's also a good idea to review their payment policies on their website or menu if available."
Ultimately, though, you should take the initiative in order to determine if there is a fee and the amount of the fee. As Khalfani-Cox notes, "regulations regarding disclosures can vary by location. So it's really up to you, as a consumer, to be proactive and vigilant in watching out for extra fees, or inquiring about questionable surcharges you spot."
BONUS TIP!

According to LawPay.com, surcharging laws also vary from state to state. For instance, Colorado caps some fees at 2%. Furthermore, it is illegal to charge any fee in Connecticut, Massachusetts and Puerto Rico. So, it's a good idea to be familiar with the laws of your home state.
How to avoid or minimize credit card surcharges
No one likes to pay fees. Two to 4% may not sound like a lot, but it can certainly add up over time. While it's hard to avoid every fee in most areas, I hope the following suggestions will at least help you to minimize how much you pay.
1) Look for merchants that charge lower fees (in the 2% range) or flat fees. However, be aware that flat fees can sometimes cost you more than fees charged on a percentage basis.
Gerri Detweiler, a credit expert and coauthor of "Finance Your Own Business: Get on the Financing Fast Track," recently had to pay a 40 cent fee in order to "get her coffee fix." She doesn't often carry cash so she had no choice but to pay it.
Turns out that the merchant assesses a flat 40 cent fee for all card transactions. For a cup of coffee around $4.00, that would equate to a 10% fee!
2) Consider paying with a cash back credit card or other rewards card to help offset the fee.
According to Khalfani-Cox, "some cards offer rewards that can basically reduce and/or totally wipe out fees, so using a rebate card might be an option" worth considering.
Doing the math in this scenario is important, though. Khalfani-Cox adds that "paying a fee can make sense if you earn rewards or cashback that outweigh the cost of the fee. However, it's important to calculate whether the benefits justify the fee," especially considering that other payment methods may be more cost-effective. Herzog adds that "you have to weigh the costs and benefits based on your personal situation."
3) Consider alternative payment forms, particularly if the fee seems high (and depending on the amount of your purchase).
Khalfani-Cox suggests considering "paying with cash, a debit card, or a payment method that the business doesn't charge any fees for." Merchants cannot add surcharges to debit card payments. Be mindful, though, that debit cards don't have the consumer protections that credit cards do.
BONUS TIP!

Higher surcharges (in the 3-4% range) are sometimes associated with specific card networks that charge higher interchange fees, such as American Express. So, if a merchant is charging more if you pay with an American Express card, consider paying with a Visa or MasterCard instead.

Similarly, higher surcharges can be linked to premium rewards cards, such as Visa Signature cards. Often, such premium cards have annual fees, as well as higher interchange fees. As a result, paying with a "no frills" rewards card with no annual fee may lower your surcharge.
Final thoughts
The fight between merchants and card processors over surcharge fees isn't likely going to end soon. Khalfani-Cox observes that the future is "challenging to predict, but that trends in payment methods and regulatory changes could influence whether these fees continue to increase."
Given this reality and the increasing number of merchants charging a fee, it's definitely best to be proactive in order to mitigate fees. As I often say, knowledge is power and you can indeed profit from credit cards (which happens to be the name of my book!).
If you are bothered by these fees, you might consider approaching the subject with decision makers at a given business. Mierzwinski also suggests "supporting the FTC's and CFPB's relentless campaign against junk fees."
At the end of the day, while surcharges are certainly frustrating to many cardholders, you should bear in mind that most merchants genuinely try to balance increased costs with customer satisfaction. Merchants also generally don't want to discourage cardholders from using a card because, as Herzog notes, most "business owners know that customers prefer the convenience of paying with plastic."