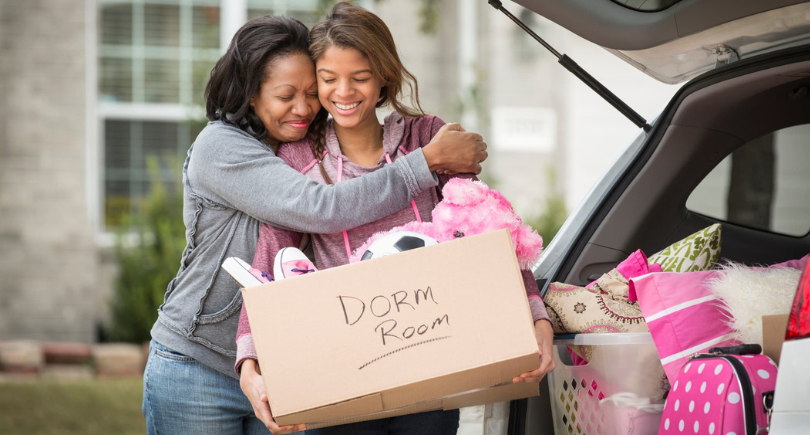 Credit cards are becoming more widely accepted as a form of payment for college expenses, but is paying tuition with a credit card actually a good idea?
If you're a college student, there's a good chance you may not even qualify for a high enough credit limit to handle tuition costs, as student credit cards typically start with lower limits. However, if you're an authorized user on a parent's account or you are a parent handling these costs, using a credit card to pay tuition could be a good rewards strategy if done wisely. But do the pros outweigh the cons? We weigh the benefits with the potential risks.
Risks and benefits of paying for college with a credit card
Convenience fees
If your university offers the option to pay for tuition with a credit card, there's a good chance they will tack a convenience fee on to your tuition cost. These fees tend to average around 2%-3%. Knowing if and how much you'll be charged in fees can help determine whether or not paying tuition with a credit card will outweigh the costs in every benefit scenario presented below. If you're considering paying college tuition with a credit card, knowing this number is a crucial first step in making a wise decision.
Credit card rewards
If you have a credit card that earns rewards you might be thinking, "Wouldn't it make sense to put a large purchase on my card so I can earn extra points?" Possibly, but not necessarily. Again, it all comes back to convenience fees.
If your card only earns 1% on "other" purchases (which is likely the category tuition would fall under) and your college charges a 2% fee on credit card payments, the fee would outweigh any rewards you might earn.
Some fees may be lower than 2% though, or you might have a card that earns a bit extra on "other" purchases. Branded hotel credit cards in particular usually offer a bit more on "other" expenses. Some Hilton credit cards, for example, offer three points per dollar on qualifying purchases outside of bonus categories. If you're loyal to the Hilton brand, using one of these cards to pay tuition could benefit you.
Other more general credit cards, such as the CardName discontinued, offer a higher flat-rate reward on all purchases. This card offers two miles per dollar spent, so it may be a good option for paying tuition if the convenience fee is less than 2%.
Hotel cards are a bit specific though, and on average, convenience fees seem to start at 2%, so even if you stand to earn some rewards, it likely isn't worth the risk; that is, forgetting to pay your bill in full on time and facing a high APR on that expense.
➤ LEARN MORE:Guide to credit card rewards: Points, miles, vs. cash back
Credit card welcome bonuses
Paying tuition with a credit card, or even just making a partial payment, may make better sense if you are trying to earn a credit card welcome bonus.
Some credit cards offer great welcome bonuses, but reaching the spend threshold required to earn the bonus can sometimes be difficult. Take the CardName discontinued, for example. It has a great bonus offer of 60,000 points, but to earn it cardholders must spend at least $4,000 within three months of opening an account. Because points are worth 50% more when redeemed for travel through the Chase Ultimate Rewards portal, this bonus alone could be worth as much as $900. Therefore, it makes good sense to do what you can (within reason) to qualify for this reward. Making a tuition payment within that three-month time frame could help you to earn the bonus with ease. Even taking credit card convenience fees into account, this move might still pay off.
Say you pay $15,000 towards tuition with this card. You'd earn the welcome bonus (60,000 points), as well as an additional 15,000 points (Chase Sapphire Reserve® rewards one point per dollar on purchases outside of bonus categories). This puts you at 75,000 points, which are worth as much as $1,125 in travel through the portal. Even if you have to pay a 2% fee ($300 in this case), you'll still come out way ahead.
Clearly, this can be a winning approach, but remember, it only makes sense if you're able to pay your credit card balance in full. If you use this strategy to earn a bonus but can't pay your balance in full by the time it is due, interest charges will wipe out any rewards you may earn.
It's also worth noting that not all welcome bonuses are quite so generous, or so hard to qualify for. Many only require a $1,000-$3,000 spend in three months, and some require much less. If a spend threshold appears unreachable, that particular card might not be the best fit for you. If you consider this strategy, make sure you'll come out ahead both by taking convenience fees into account, and also by assuring the card you're applying for is a good fit for your spending habits and lifestyle.
Student loan interest rates vs. credit card interest rates
According to the U.S. Department of Education, the average cost of federal loans disbursed on or after July 1, 2023, and before July 1, 2024 average between 5.50%-8.05%. Not even the best credit card interest rates come close to this. Depending on the credit card, interest rates can range anywhere from upper single digits well into the high 20s. These numbers make it immediately clear that a credit card should never be used as a substitute for a student loan if you anticipate carrying a balance. Even if you have to pay in installments, fees for doing this are likely to be much less than credit card convenience fees, and no bonus offer or amount of rewards will outweigh credit card interest charges if you can't pay your credit card bill in full by the time it's due.
With that said, there is one option that could make sense if you want to use a credit card to pay tuition but need a little extra time to pay off a balance, and that's to use a credit card offering a 0% intro APR period.
Introductory 0% APR credit cards
Credits cards offering a 0% intro APR period on new purchases can act, for a time, like an interest-free loan. These offers only make sense, however, if you pay off your balance in full before the promotional period expires.
Take the CardName discontinued for example. It offers new cardholders an introductory period of 15 months 0% APR on new purchases and balance transfers (then RegAPR). It also offers 1.5% cash back on all non-bonus spend. This is in addition to 5% on travel purchased through Chase Ultimate Rewards, 3% on dining at restaurants and on drugstore purchases, and an opportunity to earn an extra 1.5% cash back on all purchases (up to $20,000 spent) during the first year, which is worth $300 cash back. So using the same $15,000 payment/2% fee scenario from above, if you use this card within your first three months of membership to make a tuition payment, you stand to earn $225 in base rewards plus an additional $225 in bonus rewards, totaling $450 cash back. Subtracting the $300 fee, you'd only end up pocketing $150, BUT, you also have 15 months to pay off the balance interest free. This can be a smart move if you know you're able to pay the balance before the promotional period expires. Otherwise, you're looking at paying RegAPR on your remaining balance, which is a far worse rate than that of a federal student loan.
➤ LEARN MORE:Best practices: Saving with an intro 0% APR card
Will paying for college with a card hurt your credit?
It shouldn't, as long as you're paying your bill in full and on time. It could take a small temporary dip, however, if you use up too much of your available credit. Credit utilization counts for 30% of your credit score, so if you use a lot of your available credit to make a payment and don't pay it off quickly, you might see your score drop. Rest assured though that it shouldn't drop by much, or stay that way for long. A smart approach would be to use your card to make the payment, and then pay it off immediately.
Whereas a rewards credit card could prove beneficial for parents handling tuition costs, students looking for a credit card for other related, smaller expenses such as library fines, parking tickets, groceries or gas purchases, would likely fare better with a credit card designed specifically for students. These credit cards are often easier for students to qualify for, and are a good way to build credit.

Having a credit card and using it responsibly can help a student build their credit profile. This may help them better qualify for other kinds of credit, including private student loans. On the other hand, amassing too much credit card debt and missing payments can make it very difficult to qualify for other credit products, including private student loans.
Parents might also consider making their children authorized users on their account as certain credit cards could be helpful for students to have on hand. The CardName, for example, earns 3% cash back on dining and at grocery stores (excluding superstores like Walmart and Target), 3% cash back on popular streaming services and entertainment, 8% cash back on Capital One Entertainment purchases, and 1% cash back on all other purchases. These are categories that students spend often in, so using a card like this responsibly can help students build their credit, while parents reap the rewards.
➤ LEARN MORE:Guide to adding children as credit card authorized users
How to find out if a college accepts credit cards
Now that you know the risks and benefits of paying for college with a credit card, if you're still eager to do so, the best way to find out if a college accepts credit cards is to contact your school's bursar's office. They'll be able to tell you if the school accepts credit cards as a form of tuition payment, and provide you with information about any associated fees.