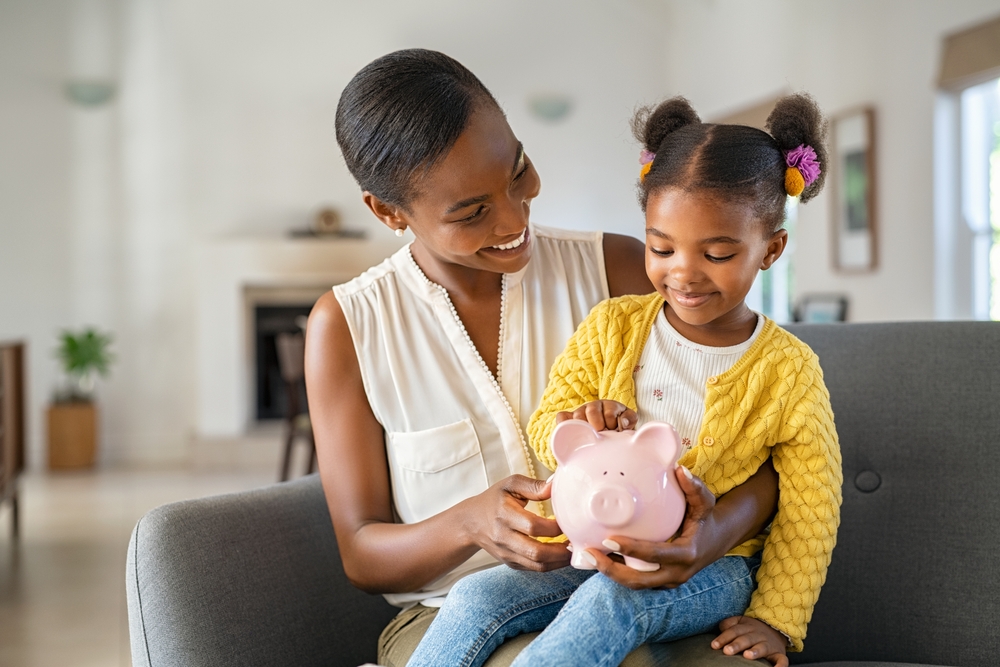 Early financial education can make a lifetime's worth of difference. It's a gift that keeps on giving. Unfortunately, women are less likely to receive this gift than men.
A 2021 CardRatings.com survey reveals a gender gap in how today's adults were taught about financial responsibility by their parents. This gap has lingering impacts on whether respondents consider themselves to be financially responsible later in life.
One piece of good news though: the survey also shows that today's women, at least, are doing a good job equitably handling financial education with their own children, both boys and girls. Men, however, still have some work to do when it comes to the age and frequency with which they introduce the topic with their children – particularly their girls.
These findings are not surprising to me, but they are disappointing," said Kim Holder, director of the UWG Center for Economic Education and Financial Literacy and a senior lecturer of economics in the Richards College of Business at the University of West Georgia.

The capacity to learn about finances is not limited by gender and when parents choose to treat girls and boys differently in terms of financial education there is potential for damage in the long run.
➤ SEE MORE FROM KIM HOLDER:Q&A: Women and financial literacy education
The financial education gender gap
The CardRatings.com survey asked 800 American adults about their experiences with financial education. This included questions about both the background their parents/caregivers gave them as children and about how they are now addressing financial education with their own kids.
One of the survey questions asked adults about when their parents or primary caregivers began discussing financial responsibility with them. There is a wide variety of responses, as shown in the chart below: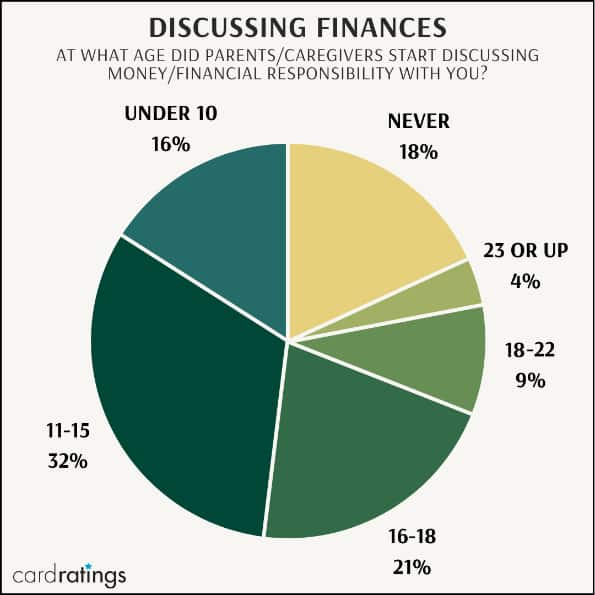 Some parents or caregivers started financial education very early – by age 10. By age 16, 58% of those who would receive financial education at home had already done so.
In contrast though, some 18% of adult respondents report they never received financial education at home.
This 18% whose parents or caregivers did not address financial education with them becomes more revealing when broken down by gender. The generation that raised today's adults was more likely to neglect financial education with their female children than with males.
Twenty-two percent of female respondents never received financial education at home, compared with just 15% of male respondents.
Ideally, the number of both females and males who don't receive financial education would be lower – as it is, nearly 47 million people apparently did not.
In other words, almost 47 million Americans started making financial decisions as adults without having received any background on financial principles at home. The financial health of U.S. households could benefit from reducing this number in the future, and a good place to start is by closing the gender gap in early education, a task it appears women are tackling with more frequency than men.
Today's generation of female parents is closing the gender gap
Parents were asked the gender of their eldest child and when they began discussing financial matters with that child or whether they hadn't yet but planned to in the future. The very good news is that it appears this generation of parents has already done a far better job talking about money and personal finances with their children than their parents did with them (or plans to, assuming those who say they will actually follow through on that plan).
While this is an encouraging trend – overall, a much smaller percentage of today's adults are failing to give their kids any financial education at home – there remains a divide between how male and female children are educated on this topic and, in fact, the relative gap has widened as more children overall receive that education at home.
Said another way, among survey respondents, for every 10 male respondents who didn't receive financial education at home, there were 14 female respondents who didn't. When it comes to survey respondents' children, for every 10 male children who didn't receive education at home (or whose parents don't indicate the intend to introduce the topic), there are 17 female children in the same situation.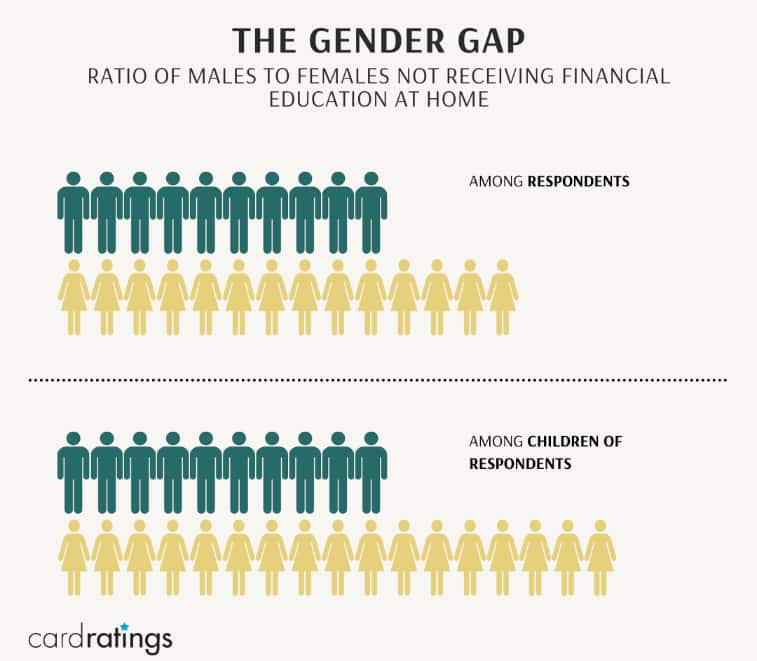 That widening, however, is being disproportionately driven by male parents. Male respondents are three times more likely to say they didn't or have no plans to educate their girls on the topic of money and finances as compared to their boys. Female respondents on the other hand, have successfully closed the gap, choosing to educate or saying they plan to educate their sons and daughters with nearly equal frequency on finances and money.
There is a small percentage, 8%, of survey respondents with dependents who indicate they have not yet talked about money and finances, but say they intend to. Among those, 36% indicate they plan to introduce the topic before their child is 11 years old; another 20% say they will do so between ages 11 and 15, and about one-quarter of these respondents say they don't yet know when they'll introduce the topic.
As it turns out, the age at which the topics of money and personal finances are introduced could have lasting repercussions. Additional survey data indicates early financial education at home correlates to more satisfaction with that education as well as whether respondents consider themselves financially responsible as adults.
Early financial education matters
Teaching children about personal finance makes a difference, but does it matter how early you start?
The results of the survey suggest it does.
Respondents were asked two questions that reflect the lasting impact their financial education had on them:
In retrospect, how satisfied are you with how/when your parents/caregivers discussed money/financial responsibility with you?
Do you consider yourself to be financially responsible?
When the answers to each of these questions is compared to how respondents' parents or caregivers handled their financial education, it's clear early education had the most positive impact.
More than half of adults, 53%, whose financial education started before age 16 are satisfied with how it was handled. The number drops to just 41% for those whose financial education started later, and only 12% of those whose parents or caregivers never taught them about money are satisfied with this aspect of their upbringing.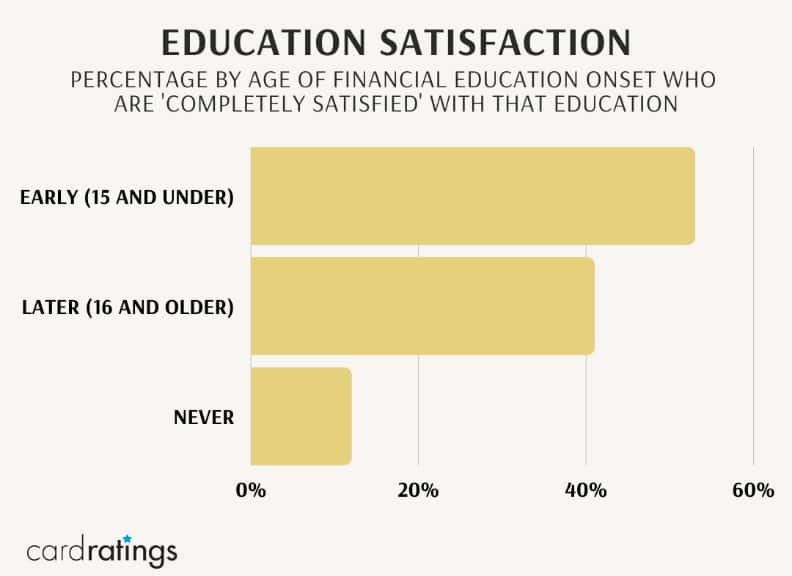 Similar trends emerge when looking at a breakdown of respondents who say they do not now consider themselves financially responsible. People whose financial education at home started later or not at all are more likely to describe themselves as not being financially responsible.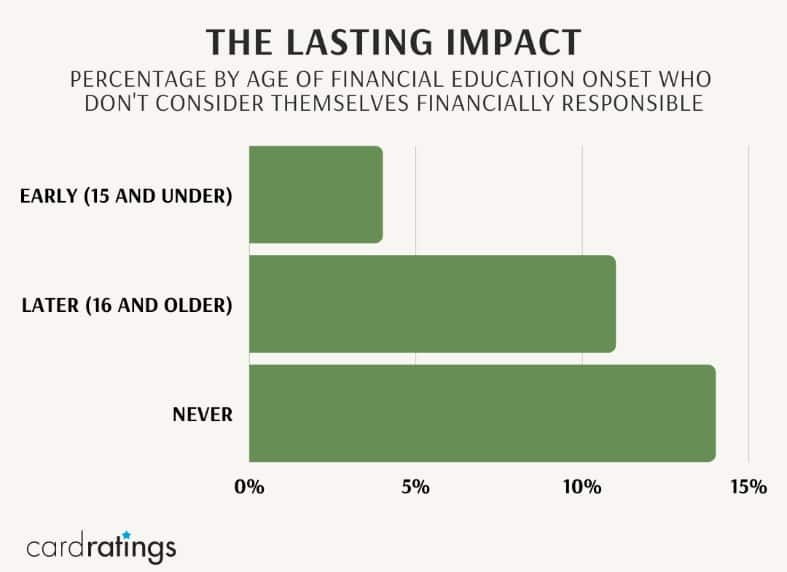 Fourteen percent of adults whose parents or caretakers never addressed their financial education now describe themselves as not being financially responsible. That's more than three times the percentage among those whose financial education started early (4%).
Significantly, while a late start to financial education is not as bad as never getting any financial education at home, it's not much better. Just over 11% of the late starters say they do not now consider themselves financially responsible.
Teaching financial responsibility to your children
Personal finance is a big topic. Since it helps to start when children are young, how should you go about it?
Here are five general guidelines for teaching kids about money:
Keep your lessons age-appropriate. Though an early start to financial education is good, start simple. Think in terms of both what your child is capable of understanding and what things matter to a kid that age.
Give positive as well as negative examples. Teaching responsible behavior often focuses heavily on the "thou shalt not" aspects; however, it's important to also give positive motivation by showing the rewards for planning and saving.
Let kids learn by doing. Giving your kids some experience with financial products can give you plenty of opportunities to teach the right way to handle things. You can open a bank account for your kids and have them learn by helping to choose the bank and regularly balancing the account. With the right supervision, allowing a child to be an authorized user of a credit card can also have a positive impact. The survey found that people who were made authorized users of their parents'/caregivers' credit cards were more likely to grow up to describe themselves as financially responsible than those who were not given this hands-on experience with credit cards.
Set a good example. Your lessons will have more impact if you practice what you preach. Showing consistently responsible financial behavior is the best way to teach it.
Show that financial responsibility is an attitude. Decisions about money come in many different forms, and you can never hope to teach your kids about every type of situation they'll face in the future. However, passing along to your children an attitude of thinking ahead when making financial decisions will put them in a better position to figure out whatever situation they face.
"Building a financially literate generation is a shared responsibility between the people raising children at home as well as their educational partners," Holder explained. "[Financial literacy education] should emphasize opportunity and the power of financial choices with a focus on being financially fit for a lifetime."
Richard Barrington contributed to this report
Methodology
CardRatings.com designed a survey dealing with a range of financial topics that was administered by Op4G in March 2021. A total of 800 people were polled, including 411 women, 386 men and 3 people who describe their gender as non-binary.