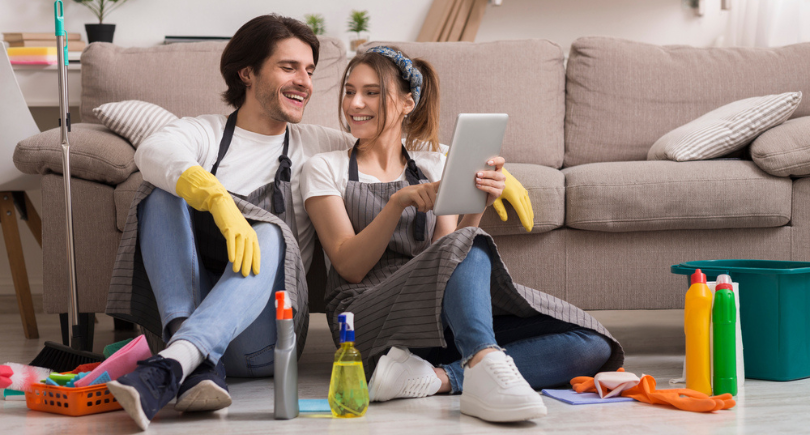 With spring around the corner, you may be already thinking about spring cleaning. Which means, you guessed it! It's time to spring clean your credit cards.
Okay, that sounds a little ridiculous because of course we aren't talking hosing down your credit cards. But hear us out: summer is approaching quickly, and you're probably going to be using your credit cards for everything from summer vacations to paying for summer camp or back-to-school purchases. It's never a bad idea to take stock of your credit card situation no matter the time of the year, but during the spring is an especially great time to do it. That said, if you're the organized type, and spring cleaning is kind of your thing, don't forget about spring cleaning your credit cards.
Let's break down what this means:
Pay off your debt
If you're carrying revolving credit, and you plan on spending a lot of money on your credit cards this summer, obviously shedding all or as much of your debt as soon as you can would be the prudent thing to do.
➤ HELPFUL RESOURCE:Credit card payoff calculator
Consolidate balances
If you're carrying a balance on multiple credit cards you might want to consider using a balance transfer credit card to consolidate your debt. Not only can this help make things easier to manage, but it could offer you a period of time to pay your debts off interest free. You'll likely have to pay a balance transfer fee on each transfer, usually around 3% to 5% of what you transfer, but this is likely worth it if you're dealing with high APRs on your accounts. Just make sure to pay your transferred balances before the introductory period expires as regular APR will apply afterwards.
➤ HELPFUL RESOURCE:Balance transfer calculator
Apply for a new credit card
As noted, if you have debt, you may want to look into balance transfer cards. If you don't have debt, or it's under control, there are a number of reasons you may want another credit card. If you don't have a good travel credit card, for instance, and you plan on taking a big vacation or some small trips this summer, a travel credit card could save you a lot of money. Now is the time to apply so that you can start earning rewards or discounts on travel purchases. Also, by applying now, you'll have plenty of time to reach any spend thresholds that might be required in order to earn possible credit card welcome bonuses.
➤ FURTHER READING:Airline credit cards: What are they, how do you use them, are they worth it?
Choose new rewards
If you have a credit card that offers cash back rewards in various categories, like gas and airfare and the supermarket, during different quarters, you'll need to select those categories sometime this spring. You're doing that throughout the year, of course, but consider this your friendly reminder to start thinking in the spring about where you do the most spending in the summer and what categories you'll want to choose to save the most money.
➤ SEE MORE:Freedom Flex and Discover it quarterly categories
Take advantage of any credit card anniversary year-based perks
If you applied for new credit card last spring ahead of summer travel, you may have a credit card perk or benefit coming your way soon. Some credit cards will offer statement credits or other rewards that are triggered when the new year starts. But other credit cards offer rewards timed to the date that you applied for the credit card.
Take the CardName, for instance, which offers bonus points that are equal to 10% of the total purchases made the previous year, each year on the anniversary of opening your account. That's potentially a windfall of points. You could redeem those points for travel and reduce the costs on your next vacation.
Keep in mind, too, that some cards offer credits or perks that might expire before your account anniversary. Check your cards' perks to make sure you're not about to miss out on any lucrative offers.
Make sure your credit score is in good shape
If your credit score is already in great shape, nice work! Keep up what you're doing. If it's not where you want it to be however, now is a good time to revaluate your habits. The main thing is that you should always make your credit card payments on time. After that, you'll want to try and pay everything off in full and not carry revolving debt. You also want to try and borrow no more than 30% of your available credit. If you max out your credit cards or come close, that can affect your credit score, and potentially bring it down.
Now is also a good time to check your credit report. It's good to do this every once in a while to make sure your credit past hasn't somehow been co-mingled with the credit past of somebody else who shares your name. It can happen. You've got somebody with your name living 500 miles away, who owes a bunch of money, but your credit report shows that you're the one who owes the money…
If you go to AnnualCreditReport.com, you can get a free credit report every year from each of the three main credit bureaus – Equifax, Experian and TransUnion. If you stagger your requests every four months, you could be getting a free credit report every three months, and that can be a free way to continually monitor your credit report.
Add an authorized user to your card
If you've been thinking about adding someone as an authorized user on your account, now is a good time to do it. If you're a parent of teenagers, for example, and you think your teenager can manage the responsibility, adding them as an authorized user can be a great way to help them build their credit history before they someday get their own credit card. On the other hand, if you occasionally miss payments, it can be a good way to damage their credit history, and so you'll want to keep that in mind, too.
Having an authorized user on your account could also help you boost your rewards earning, which might come in handy with the summer travel season ahead.
➤ FURTHER READING:Guide to adding authorized users to your credit card
You could actually clean your credit cards
This actually isn't a terrible idea. Your credit cards get used a lot. They touch a lot of people's potentially germy hands. You could use a little soap and water with a damp cloth and rub it on your cards without hurting them. Why not? Everything else is getting cleaned!