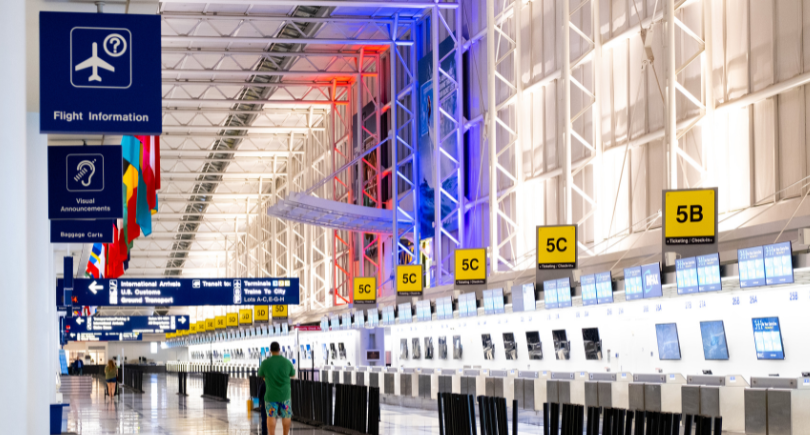 After being grounded by the COVID-19 pandemic, many travelers are ready to get back in the air. However, rising inflation and fuel costs may mean you have to pay more to take that long-awaited trip.
Fortunately, you can cut costs and earn free airfare with an airline credit card. While these cards are most valuable for frequent flyers, even occasional travelers can benefit from airline card perks such as free checked baggage and priority boarding.
Keep reading to learn more about these cards and why one might be right for you.
What is an airline credit card?
An airline credit card is one that is focused on providing rewards for air travel. In many cases, these cards are co-branded with a specific airline.
For instance, Citi and American Airlines have teamed up to offer the CardName. Meanwhile, the CardName is backed by Chase and United Airlines. Citi is a CardRatings advertiser.
Some airline credit cards aren't co-branded, though. These include cards such as the CardName and CardName. Both cards can be used as general travel rewards credit cards, but they provide enough value to frequent flyers to be considered valuable airline credit cards as well.
How do airline credit cards work?
Airline credit cards are simple to use. They typically award miles for purchases made with the card, and those miles can then be redeemed for flights through an airline's loyalty program. Cards may also come with additional perks such as statement credits and discounts on ancillary services.
When it comes to earning miles, they are usually awarded in two ways:
Welcome bonus: Also known as a sign-on offer, these promotions award extra miles or points to cardholders who spend a certain amount on purchases within a specific period after opening an account. For instance, the CardName awards a one-time 75,000 bonus miles to new cardholders after they make $4,000 worth of purchases within three months of account opening. This bonus is worth $750 towards travel.
Miles or points for purchases: Outside the welcome bonus, airline credit cards also award miles or points for everyday purchases. In many cases, these rewards are tiered with more miles awarded for purchases made with the affiliated airline and fewer for other purchases. The CardName

discontinued

, for example, offers two miles per dollar spent on Delta purchases, at restaurants worldwide and at U.S. supermarkets. All other eligible purchases earn one mile per dollar spent. American Express is a CardRatings advertiser.
What are the benefits of airline credit cards?
Perhaps the biggest benefit of an airline credit card is the opportunity to quickly earn miles or points that can be redeemed for free travel. However, there are many other valuable benefits that shouldn't be overlooked.
Depending on the card, you may receive one or more of the following:
Free checked bags: With few exceptions, you can expect to pay anywhere from $25-$65 to check one bag on a flight, according to TripAdvisor. However, airline credit cards often let cardholders – and their travel companions – check bags for free.
Statement credits: Airline credit cards may offer you a credit for travel-related expenses such as TSA PreCheck or Global Entry. Others have credits specific to their airline. For example, you'll get a $75 Southwest travel credit each year with the CardName.
Discounts: When you use your airline credit card, you may be entitled for discounts on certain purchases, such as in-flight food or beverages. That's a perk of many American Airlines AAdvantage cards.
Priority boarding: If you want to beat the rush onto the plane, an airline credit card may be able to move you up in line. Many provide cardholders with priority boarding privileges.
Elite status: While you aren't likely to automatically be awarded elite status by an airline credit card, points earned by the card could put you on the fast track. Be sure to carefully read each card and airline's rules though to see if miles earned from credit card spending are credited toward elite status.
Lounge access: Being able to access an airport lounge is a nice perk for long layovers. Complimentary lounge access often comes with higher-end travel and airline credit cards such as the CardName and CardName.
Travel services and protections: With your airline credit card, you may also get travel concierge service, trip interruption insurance, lost luggage reimbursement and much more.
➤ SEE MORE:What airline credit cards offer that general travel cards don't
What credit score do you need for an airline credit card?
Airline credit cards generally require you to have a good or excellent credit score. This can fall anywhere from 650 and above or 700 and above, depending on which credit scoring model is referred to. Other factors such as your payment history may also be taken into consideration.
➤ LEARN MORE:VantageScore vs. FICO® Score: A guide to understanding different credit scoring models
If your credit score isn't quite where it needs to be to qualify for an airline credit card, don't ding it further by applying for one of these cards before you're eligible. Instead, work towards building your credit with a card designed for your current score. There are a number of great credit cards for fair credit scores as well as options for those with bad credit or who are new to credit. These cards might not offer all of the same lucrative benefits that airline credit cards can offer, but some of these cards still come with rewards and other money-saving perks. With time and responsible use you can work your way up to where you need to be for an airline credit card if you're not there already.
Are airline credit cards worth it?
Even occasional travelers may find that an airline credit card is worth it. While many charge an annual fee, a card can easily pay for itself if it offers statement credits or allows your family to check bags for free.
But before you apply for a card, consider the following:
What is the annual fee and what is the value of the benefits you expect to use? If you aren't sure how much value you'll get from a card, select one without an annual fee – such as the CardName – or one that doesn't have an annual fee for the first year, such as the Delta SkyMiles Gold American Express Card, which has a

AnnualFees

. See Rates and Fees
Do you have a preferred airline? If you are loyal to a specific carrier, get a co-branded card designed for its frequent flyer program. If you tend to fly multiple carriers throughout the year, a general travel credit card such as the CardName, which allows you to transfer rewards to various frequent flyer programs, might be better.
Can you comfortably meet the initial spending requirement? One of the best ways to rack up miles is to earn a card's welcome bonus. If you don't think you can comfortably meet the spending requirement, look for a different card or wait to apply until you have a large expense looming.
Will you pay off your balance each month? An airline credit card may not be worth it if you carry a large balance. Like other rewards cards, these cards can have higher APRs and paying interest charges can quickly negate the value of the benefits you receive.
If an airline credit card sounds like a good way for you to earn free travel, check out our picks for the best airline credit cards and start planning your next vacation today.