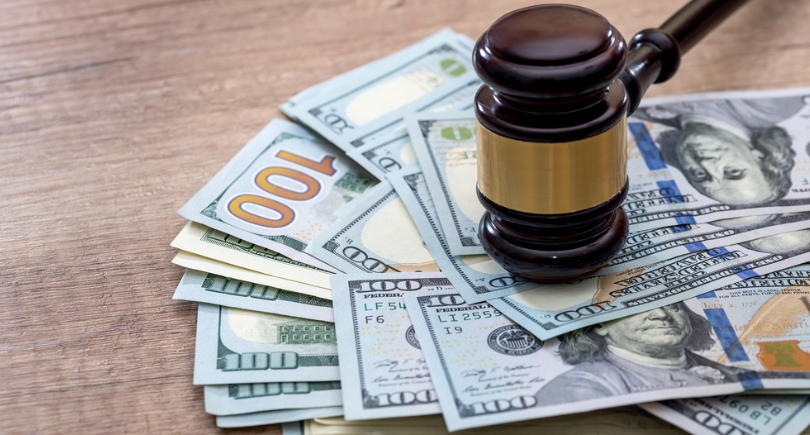 Ending a marriage can certainly take an emotional and physical toll on a person. Divorce can also take a financial toll — including how the split-up affects the splitting of responsibilities surrounding credit cards.
Unfortunately, dealing with those responsibilities isn't as simple as cutting up credit cards or closing credit card accounts. However, carefully resolving credit card issues can help divorcing spouses move on with their separate lives.

A divorce is an opportunity to start fresh and establish financial independence. Taking the necessary steps to handle credit card accounts will make the process smoother and set you on the path to a healthy financial future.
Which credit cards should a divorcing couple cancel?
Credit cards are among the many financial affairs that a divorcing couple must address.
One of the key concerns revolves around what the spouses should do with credit card accounts opened in both of their names — commonly known as joint accounts. In the case of a joint credit card, each spouse bears responsibility for the account's debts and enjoys the account's benefits.
Bari Zell Weinberger, managing partner of Weinberger Divorce & Family Law Group of New Jersey, recommends that divorcing spouses shut down any joint credit cards.
"This prevents a hurt spouse from running up 'revenge debt,' and it also makes it easier to divide the debt in the divorce because it creates a clean break," Weinberger said.
Jonathan Schiller, a marital and family law attorney at law firm Brinkley Morgan, pointed out that joint accounts typically don't need to be canceled while a divorce is pending. Keeping a joint account open won't interfere with a judge's ability to determine whether one spouse or both spouses are responsible for credit card debts accumulated during their marriage, he said.
"Ideally, both parties should cancel joint credit card accounts to prevent any misuse or miscommunication regarding financial responsibility," Wasser said. "Closing these accounts will help eliminate any potential disputes over credit card debt, and it's a crucial step in establishing financial independence."
➤ LEARN MORE:How to cancel a credit card
Weinberger said that if a divorcing couple wants to close a joint credit card account, it takes more than cutting up the credit card to do so. The card issuer must be contacted to formally close the account.
"Cutting up a credit card may prevent physical use of the card, but is meaningless given online access to cards and the ability to easily order a replacement card. This is just not a viable tactic and can lead to trouble if debt is being secretly run up," she said.
How does someone change a credit card account to remove the name of one of the spouses?
If a card was opened in one spouse's name and the other spouse was added an approved user, removing the approved user may simply require contacting the card issuer and asking that the user's authorization be revoked, Weinberger said. Once the revocation happens, the spouse who was an authorized user will no longer be able to access the account.
In the case of a joint account opened in both spouses' names, a spouse who wants to keep using the card should contact the card issuer to explore the options.

Credit card companies can have very different policies on what happens next. Some may allow for the removal of one person from a joint card. Others may require the account to be completely closed and a new account created in the individual's name. Typically, spouses must co-sign any documents associated with removing their name.
Generally, a card issuer will request a copy of the divorce decree in order to remove the name of a spouse on a joint account, according to Wasser.
Should a joint credit card account be kept open under both names after a divorce?
In situations where obtaining separate credit cards might be difficult due to credit problems, maintaining a joint account may be a good option, according to Weinberger. However, a written agreement would need to be created to identify who can use the account and who is responsible for the credit card debt.
Generally, though, it's not wise to keep joint accounts open under both names after a divorce, said Wasser. Doing so exposes both spouses to financial risks, she said, and can make it difficult to establish separate credit histories.
"Closing joint accounts and opening individual accounts is a safer option," Wasser said.
➤ SEE MORE:How to build credit after divorce
Divorce and credit card debt: How should divorcing couples handle outstanding credit card bills?
The spouses' attorneys can draw up a written agreement that spells out how much each spouse must pay toward outstanding credit card debt.
"This may be a 50/50 split or a share based on how much debt each spouse accumulated on the card," Weinberger said. "For example, if one spouse just purchased a new computer for their personal use on the joint card, that may factor into a larger share of the payment on their end."
In many states, credit card debt accumulated individually or jointly is subject to "equitable division and distribution" by a judge if the debt was racked up during the marriage, said Schiller. While the divorce is pending, a judge may order the spouses to chip in to cover credit card payments, he added.
"Savvy" spouses who are splitting up often choose to wipe out joint credit card debt once their divorce settlement is finalized so each of them can get a fresh start, said Weinberger. If the divorcing couple is selling their home, for example, some of the proceeds may go toward paying off credit card debt, with the spouses splitting the remaining money.
Wasser noted that a couple might decide to transfer the shared debts to individual credit cards to keep their post-split finances separate.
What happens to credit card points, miles and other rewards in a divorce?
A divorcing spouse should pay attention to credit card points, miles and other rewards earned during their marriage, Weinberger advised. In a divorce, these card benefits are considered assets "and can be quite lucrative," adding up to perhaps thousands of dollars' worth of airline tickets, hotel stays and other perks, she said.
"Spouses can negotiate these assets just like any other marital property. In some cases, points can be converted into dollar amounts that can be applied to paying down the debt," said Weinberger.
How can divorcing couples protect themselves when it comes to credit card accounts?
Experts suggest that a divorcing spouse check — and regularly monitor — their credit reports to uncover potential headaches.
"There may be joint accounts that you are unaware of, perhaps an old joint card that is still open or a card that a duplicitous spouse took out in your name," Weinberger said.
If you spot something in your credit reports that indicates your soon-to-be former spouse committed identity fraud, raise the issue with your attorney, she suggested.
"Disentangle your joint finances as soon as possible, and ensure that all joint accounts have been closed or transferred to individual accounts," Wasser recommended. "Be proactive in addressing any discrepancies on your credit reports and communicate openly with your ex-spouse to resolve outstanding financial obligations."