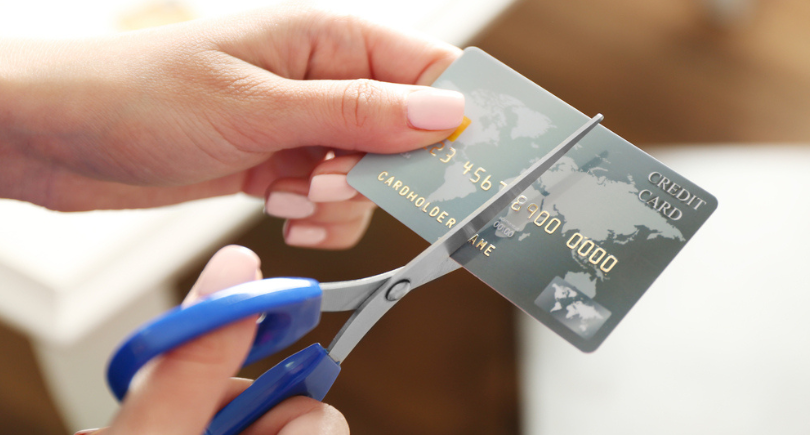 You've paid off your credit card balance and are ready to say "hasta la vista" to debt. Good for you!
Now, about that credit card, should you close the account or keep it open?
At one time, conventional wisdom may have said to cancel the account as quickly as possible. Then, savvy consumers learned that arbitrarily cancelling old credit cards could negatively affect their credit score. The result has led some to have an almost irrational fear of closing old accounts.
However, there is no reason to keep old accounts open indefinitely. Instead, determine which cards are worth keeping and when to say goodbye to the rest. Keep reading for help on how to do just that.
Pros and cons of cancelling a credit card
Before you can make an informed decision about whether to close a credit card, you need to understand the pros and cons of doing so.
There are a couple reasons to keep a paid-off account open. These include the following:
Maintains your credit score: By far, the most important reason to keep an account open is to protect your credit score. We'll talk more about this in a minute.
Keeps access to perks and rewards: Once you cancel an account, you lose access to all the perks that come with it, and once an account is closed, you may not be able to reopen it. Depending on the terms of the card, you may also lose any accumulated rewards.
Provides payment options: Even if you don't need the credit card now, keeping the account open gives you more options for future purchases.
On the other hand, there are certain times when it may be best to let a card go. These include the following scenarios:
You have too many cards: Although some individuals certainly have excellent credit scores and several cards, potential creditors may see red flags if your available credit is already reaching to the stratosphere.
It no longer fits your lifestyle: That travel credit card may have been perfect when you were you were a jet-setting single. But three kids later, a trip to the local amusement park may be the most travelling you do.
It charges an annual fee: No reason to pay for something you never use. Unless you get some excellent benefits and plan to use and pay off the card every month, it is probably in your best interest to cancel accounts charging an annual fee.
Does cancelling a credit card hurt your credit score?
Since your credit score is one of the most important reasons to keep an account open, let's take a closer look at how the two are related.
Your credit score is calculated on a number of factors including the age of your accounts as well as your utilization rate. Payment history accounts for 35% of your FICO score while length of credit history is weighted at 15%.
If you cancel your oldest credit cards, you risk losing a long history of timely payments which can be an asset when it comes to your credit score. In addition, if you are carrying a balance on your other cards, cancelling an account could negatively impact your utilization rate.
Your credit utilization rate is the ratio of your debt to available credit. For example, if you have maxed out your cards, your utilization rate is 100%. If you have a $5,000 balance and your cards have a total limit of $10,000, you have a utilization rate of 50%. According to some credit experts, consumers should strive for a utilization rate below 10%.
FICO, the most popular organization for credit scores, looks at your total balances and total available credit so don't stress about keeping each card below that rate. But if you have a $3,000 balance on one card, you shouldn't close a different credit card account if it will drop your combined available credit to below $10,000.
Other options to consider
If you're not sure whether to keep an account open, there are other ways to handle an inactive account without closing it. Here are two options to consider:
Request a waiver of the annual fee: If the card charges an annual fee, contact the issuer to explain that you're thinking about cancelling the account. Ask if it would be possible to waive the annual fee for a year while you decide. Some issuers may also offer to downgrade a card to one that doesn't charge a fee.
Store the card: You don't have to do anything special to simply stop using the card. Remove it from your wallet and store it in a safe place. Then, if you need it in the future, it will be ready for you. With it out of sight, there shouldn't be the temptation to use it for impulse purchases. Some issuers will close a dormant account, but that usually only happens after years of inactivity.
How to cancel a credit card
Closing an account responsibly isn't as simple as calling your card issuer. To do it right, follow these steps to cancel a credit card:
1. Pay off or transfer your balance: If you haven't already, pay off your balance or transfer it to a low-interest card before contacting your issuer to close the account.
2. Redeem or transfer rewards: In many cases, you'll forfeit any rewards points or miles in an account that you close. Make sure you redeem the rewards or, if allowed, transfer them to another loyalty program.
3. Be mindful of annual rewards: If your card offers extra bonuses on the anniversary of your account, such as free night at a hotel, check to see if that date is near. It may make sense to wait until after the anniversary date has passed so you can redeem that reward. However, be aware, that if your card charges an annual fee, that will also likely be charged on the anniversary date. In that case, be sure the value of the annual reward is worth more than the annual fee.
4. Contact authorized users: Inform anyone who may be using the card – such as a child or spouse – that the account will be closed. Ask them to return any physical cards in their possession.
5. Check for automatic payments: Look through your statement records for automatic payments that need to be updated to another payment method. These include monthly subscriptions as well as irregular bills such as quarterly or annual insurance premiums.
6. Cancel the card: Depending on the company, you may be able to cancel a card via a live chat or over the phone with a customer service representative. The representative may offer you a lower APR, additional rewards or a waived annual fee to entice you to keep your account open. Know in advance what it will take to get you to maintain the account and ask for that if the opportunity presents itself. Also, if you have two cards from the same issuer, ask if you can transfer your available credit to your second card. Doing so will prevent your credit utilization ratio from being affected by the closure.
7. Follow up with a letter, if you want: Although not usually necessary nowadays, you can follow up with a letter in the mail to confirm that the account has been closed. Ask the issuer to respond with confirmation and to note that the account was closed at the consumer's request when reporting the change to credit bureaus. Keep the confirmation letter for your records.
8. Destroy physical cards: Once the account is closed, cut up your credit card before throwing it out. This should help eliminate the chances of someone fishing out the card from the trash and trying to use it for fraudulent purposes. If you have a metal credit card, you should be able to return your card to your issuer for proper disposal.
Next steps: After your account is closed
Once the card is closed, check your credit reports to confirm the change has been reported properly. By law, you're entitled to one free credit report from each of the three major credit reporting companies each year. To request your free report, visit AnnualCreditReport.com. However, be aware that it can take 30 days or more for the closed account to appear on your reports.
If you closed your account because it no longer fit your lifestyle, now might also be a good time to explore other cards that are currently available. Many credit cards are offering lucrative welcome bonuses right now to encourage new customers to sign-up. You can view some of the best cards here.
When it comes to whether to keep or cancel credit cards, every situation is unique. If you are worried closing a card might affect your credit score, remember that your score is constantly evolving and no one action will permanently damage your rating. In the end, your decision should be based on what is best for your overall financial picture, not just the three numbers that make up your credit score.