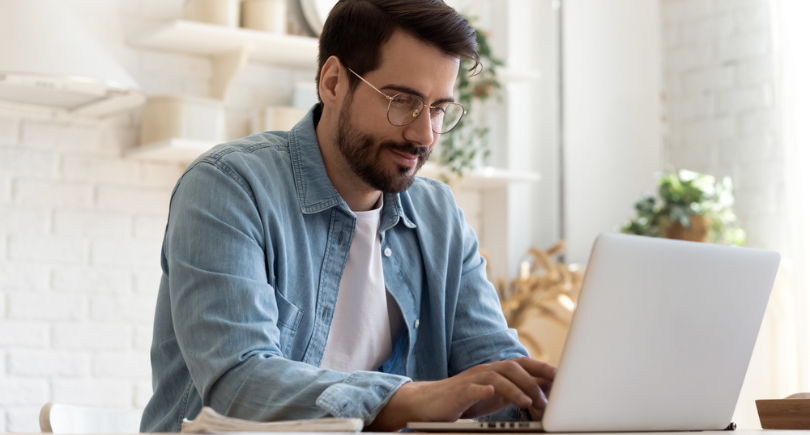 Opening your first credit card account is an exciting moment. With it you will have a credit line to safely and conveniently charge purchases. Depending on the card you may even earn rewards along the way. Your new card can also help you create a positive credit rating, because the issuer will be sending your activity to the credit reporting agencies.
Here are the steps involved in opening and using your very first credit card.
Check your credit report
Although you don't have a credit card yet, a consumer credit report may already have been generated in your name.
The three main credit bureaus in the United States are TransUnion, Equifax, and Experian. They collect financial data that is sent to them, then create reports that lenders can use to understand how you've been managing credit products. Any loans that are in your name or co-signed for will appear. If you are an authorized user on someone else's credit card, that will show up too.
Go to annualcreditreports.com to pull your report from each of the bureaus for free. If you see anything that isn't accurate or is too old (delinquencies and accounts in collections can only be reported for seven years), file a dispute with the credit bureau. They will remove the item if the information can't be verified.
BONUS TIP!

Utility and cell phone bills aren't reported on a credit file. However, you may want to have them added to your file with Experian's Boost program. It's free, and when you have little else that proves you're a good credit risk, the additional positive payment pattern can help you get your first card.
Know your credit score
If you have a credit report, you also have a credit score, which card issuers usually check. The most commonly used is the FICO® Score, which has a 300 to 850 scale. This number represents how much lending risk you pose. It is derived from the information on your credit report, with payment history and credit utilization as being most important.
Your credit scores will likely start out low, but should rise with responsible credit use.
FICO® Score range

<580 Poor

580-669 Fair

670-739 Good

740-799 Very Good

800+ Exceptional
As you begin your search for the best credit card, you will see that some cards are marketed to people who have high scores. Only pursue a credit card that is within your credit scoring range. When you apply, a hard inquiry will be noted on your credit report, and too many applications can lower your score.
➤ LEARN MORE:A guide to understanding different credit scoring models
Secure your income
Another crucial factor in credit card acceptance is your capacity to repay the amount you borrow. The income you list will also be used to determine the credit line.
As per the Credit Card Accountability Responsibility and Disclosure Act, card issuers must consider your ability to meet the required payments before granting a credit card account. In general they will go by your word, but if you're under the age of 21, you will either have to provide proof of independent income or someone else (such as a parent) will need to guarantee payment.
The income requirement is usually money you earn from a job, but can also be:
Spouse's income
Child and spousal support
Grants and scholarships
Social Security income
Investment earnings
Trusts and inheritances
Guaranteed gifts and allowances
Some issuers will accept unemployment benefits
Review credit card options
There are plenty of different cards for first-time applicants, including:
Starter cards. These cards are designed specifically for credit card beginners who are new to credit. They typically have few if any benefits, and start with a small credit limit. Use the card responsibly over time, though, and the issuer will typically increase the limit so that it is not so restrictive.
Credit builder cards. Instead of using a credit score to determine qualification, credit builder accounts look at your income and bank account information. Some require you to open a separate account where your deposits secure the credit line, others only allow certain types of charges and the inability to revolve balances.
Secured credit cards. Credit cards that are guaranteed by a cash deposit are perfect for credit card novices and for people with low credit scores. The cash you put down as a deposit guarantees the credit line, so the issuer assumes virtually no risk. If you falter on payments and the account goes delinquent, the issuer can claim the money held as security. If you treat the account well, many issuers will convert the account into an unsecured card and return your deposit. See our top secured credit card picks.
Rewards cards. Even as a first-time credit card applicant, you may qualify for a credit card that comes with valuable rewards programs. You may be able to score an introductory bonus when you open the account and spend a certain amount within a fixed number of months. You will also earn rewards as you charge.

Cash-back credit cards. With a cash-back card you will earn a percentage of cash back on each transaction you make with the card. It may be a flat-rate card, such as 2% cash back on every purchase or a tiered card where you will earn a higher percentage on some purchases and a lower percentage on others.
Points and mile-earning cards. With these types of rewards, you will earn either points or miles as you charge. When you have enough, you can redeem them for such things as airfare, hotel accommodations, gift cards, and products. You may also be able to use the rewards as statement credits to cover a payment or delete a balance.
Student cards. Student credit cards are developed for college (and sometimes trade school) students. In lieu of a credit history, approval is based on income. If you don't have that, you will need a creditworthy cosigner who is over the age of 21 to become a guarantor. However, what qualifies as income is usually pretty relaxed when it comes to student cards.
Be aware that some credit cards have annual fees, so weigh the cost against the benefits. Also review the terms, such as the annual percent rate (APR). If you pay partially and carry a balance over to the next month, interest will be applied to the debt. Therefore you will want to look for a card with the lowest APR because it will keep those finance fees down.
➤ LEARN MORE:Common credit card fees and how to avoid them
Apply for the right card, and use it effectively
Some credit card issuers offer a pre-approval process that does not include a hard credit check. You would complete a short online form that includes the basics of your financial, household, and credit information, and you will receive an answer about whether or not you are a likely candidate.
When you are ready to apply for a credit card that matches your needs and qualifications, complete the application. This is usually done on the issuer's website, though you may also be able to apply by phone, mail and in person at a bank or credit union. You will list your personal and financial information, and give permission to run a credit check. If completed online you should receive an answer within seconds.
➤ FURTHER READING:What to know before applying for your first credit card
If you are approved, you will find out how much the credit limit will be and receive any other instructions, such as how to make a deposit if it is a secured card.
The issuer will send you a credit card in the mail. Upon receipt, follow the activation instructions and you're ready to charge.
To ensure that the account will be reported on your credit file positively, send all of your payments by or before the due date. Paying the bill in full is ideal, but if you do revolve a balance, keep the debt well below the credit limit. Do so and you will develop a strong credit rating while enjoying all the perks of your first card!